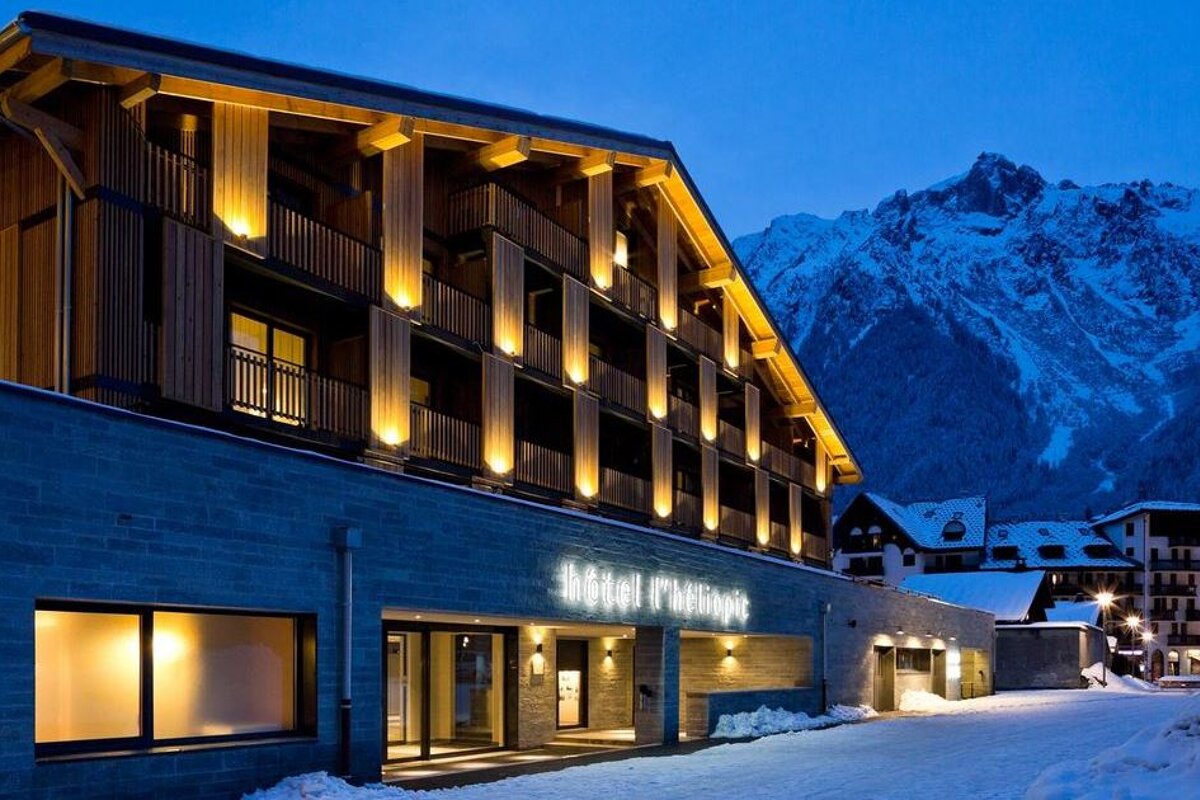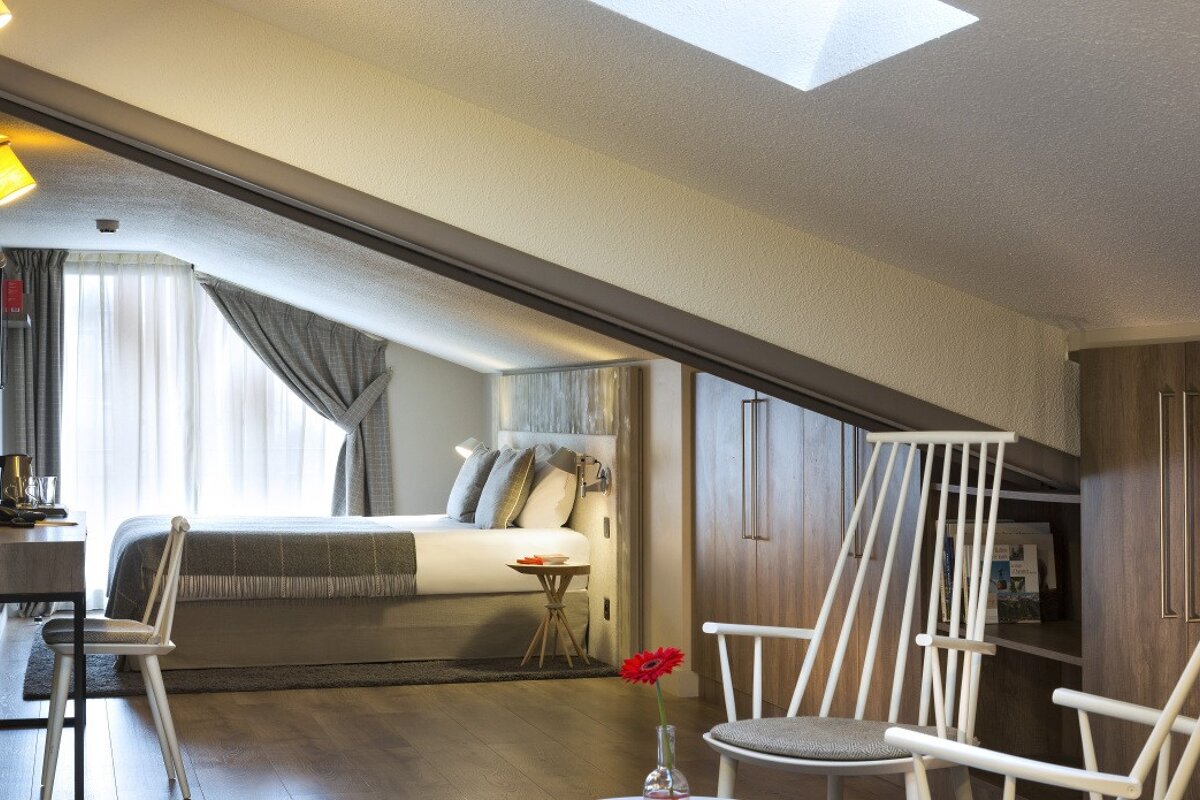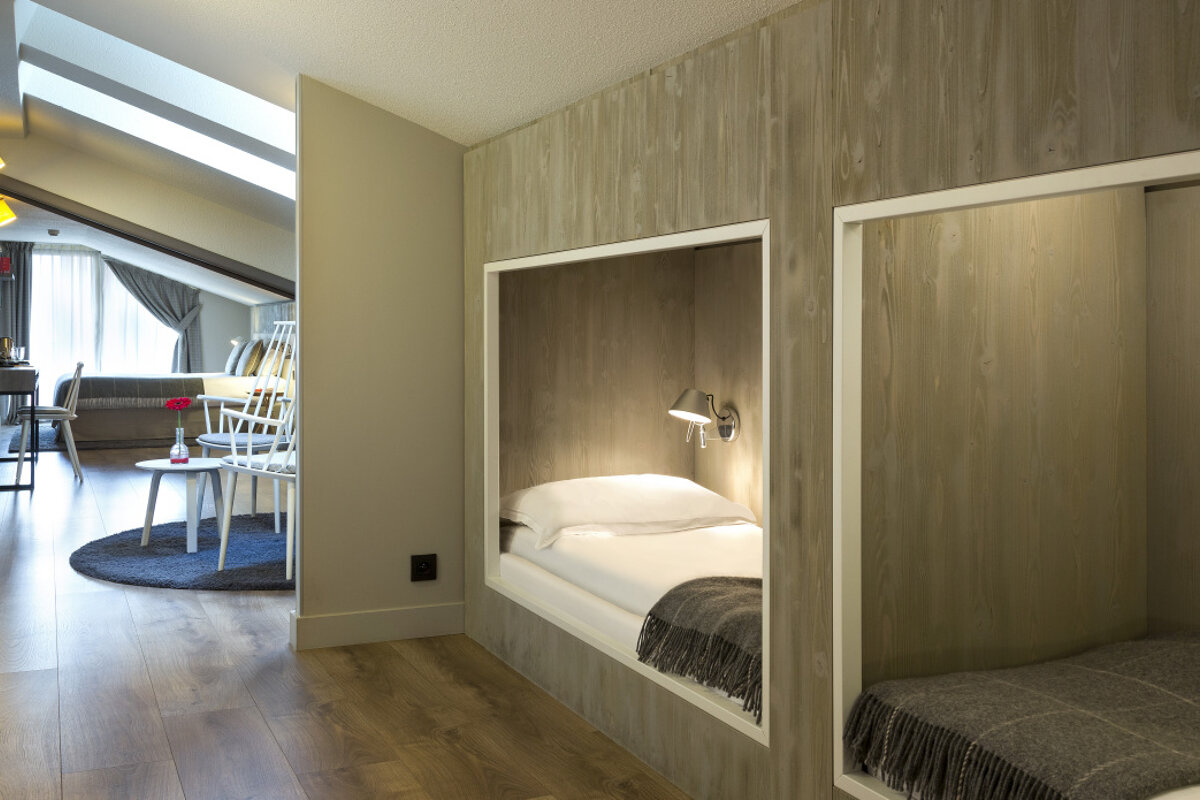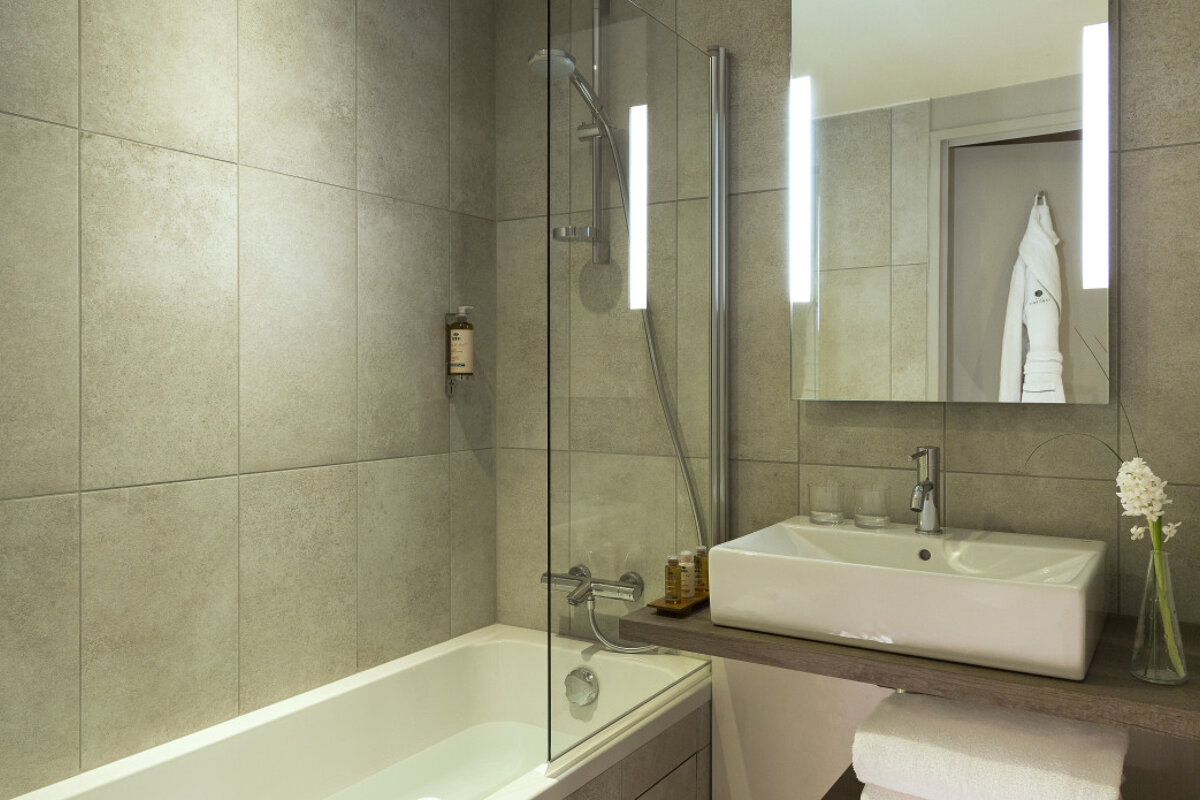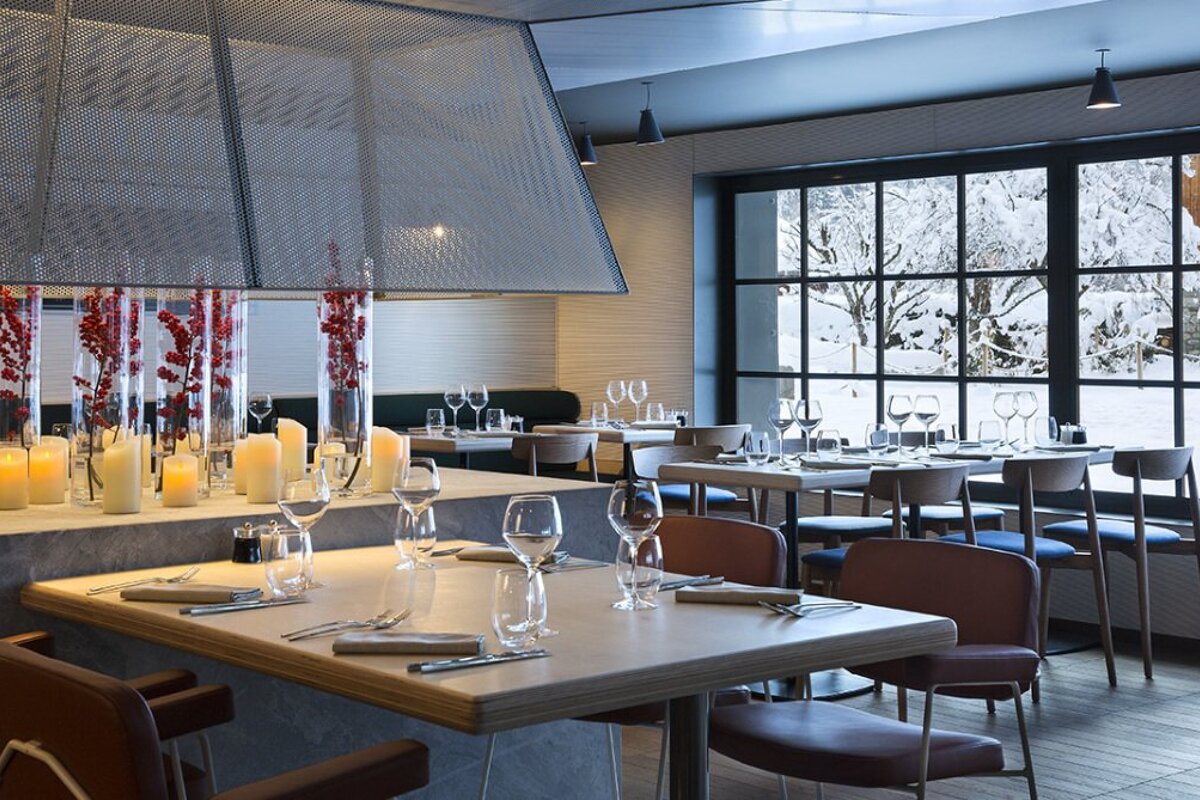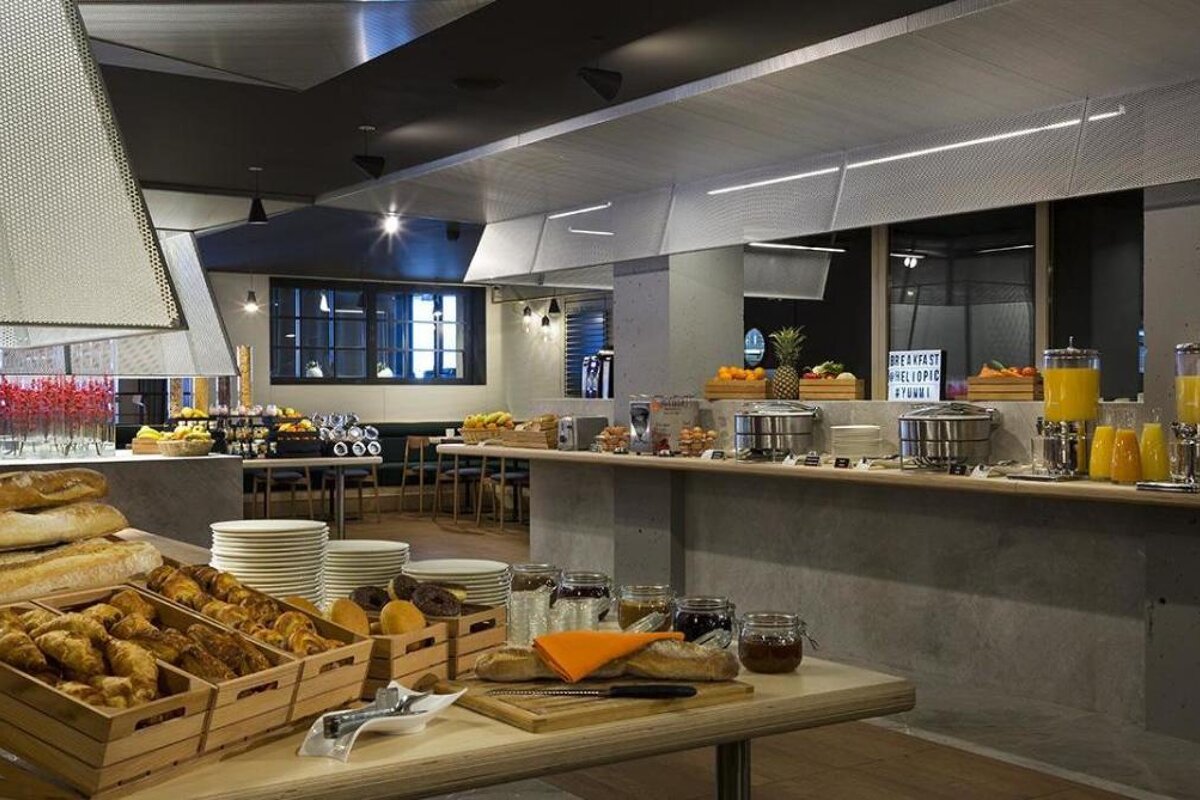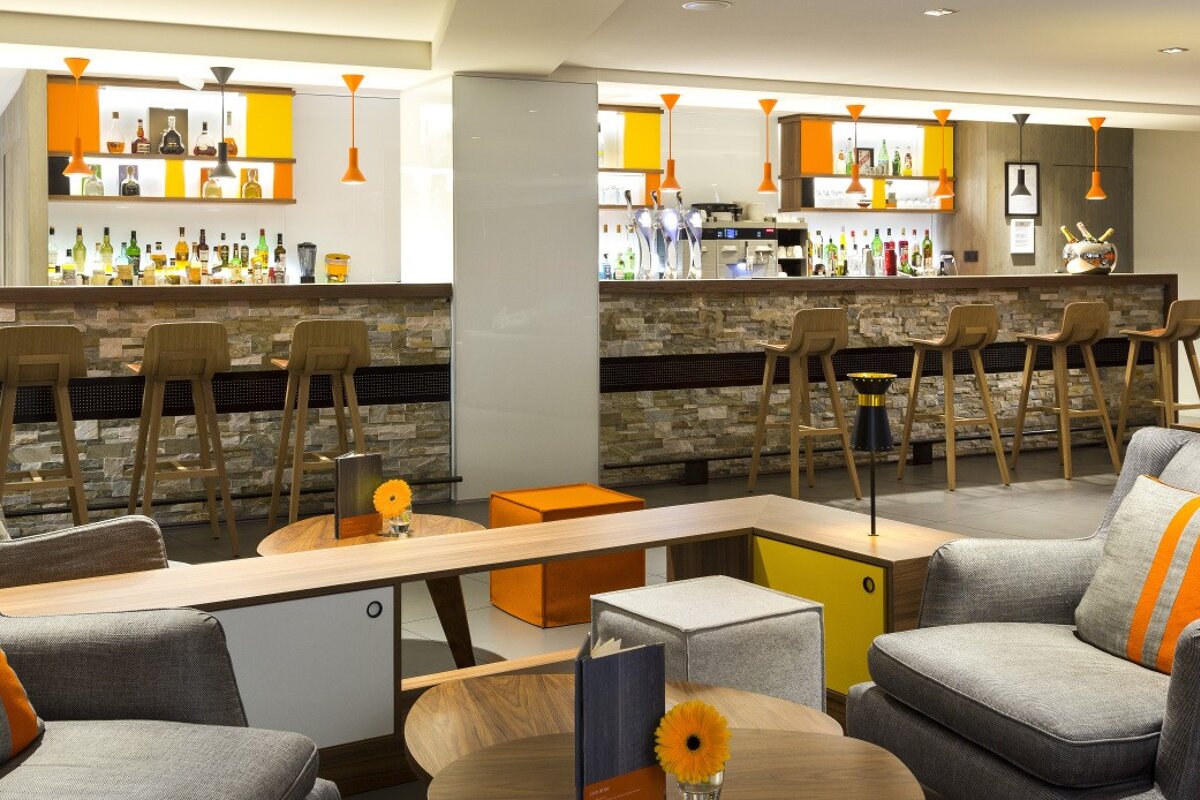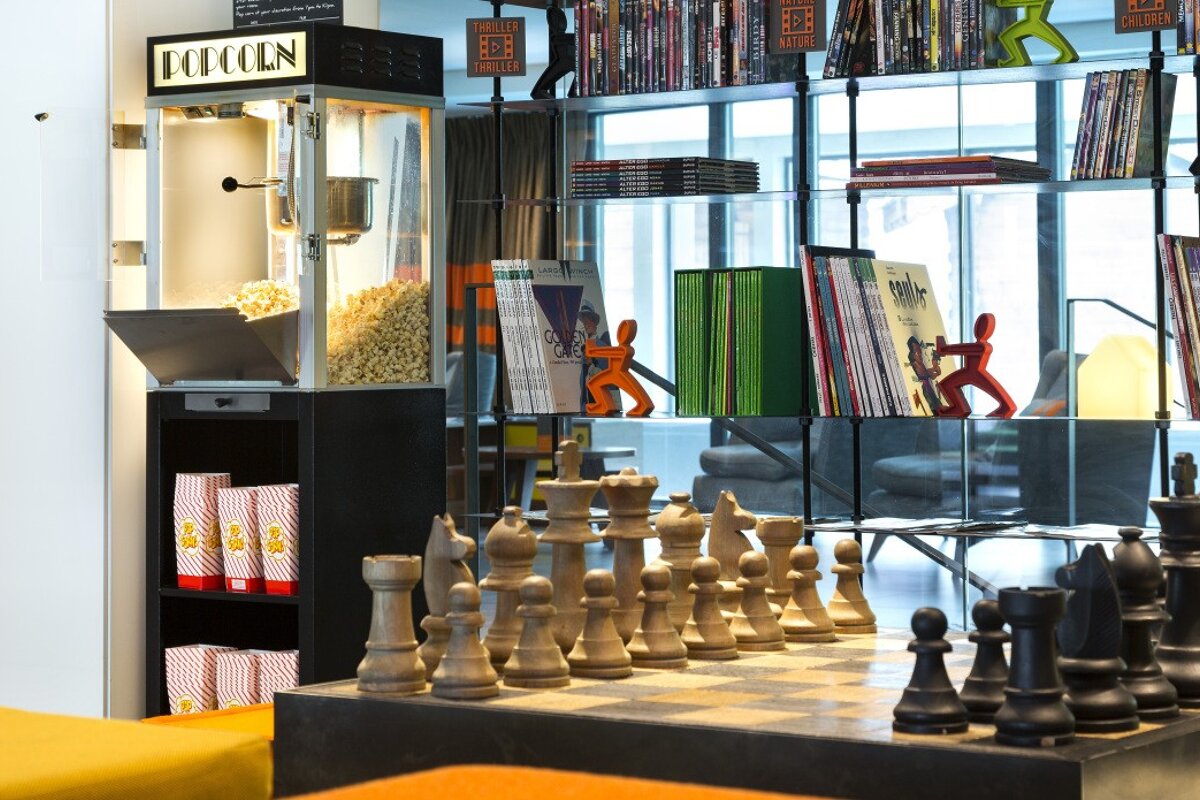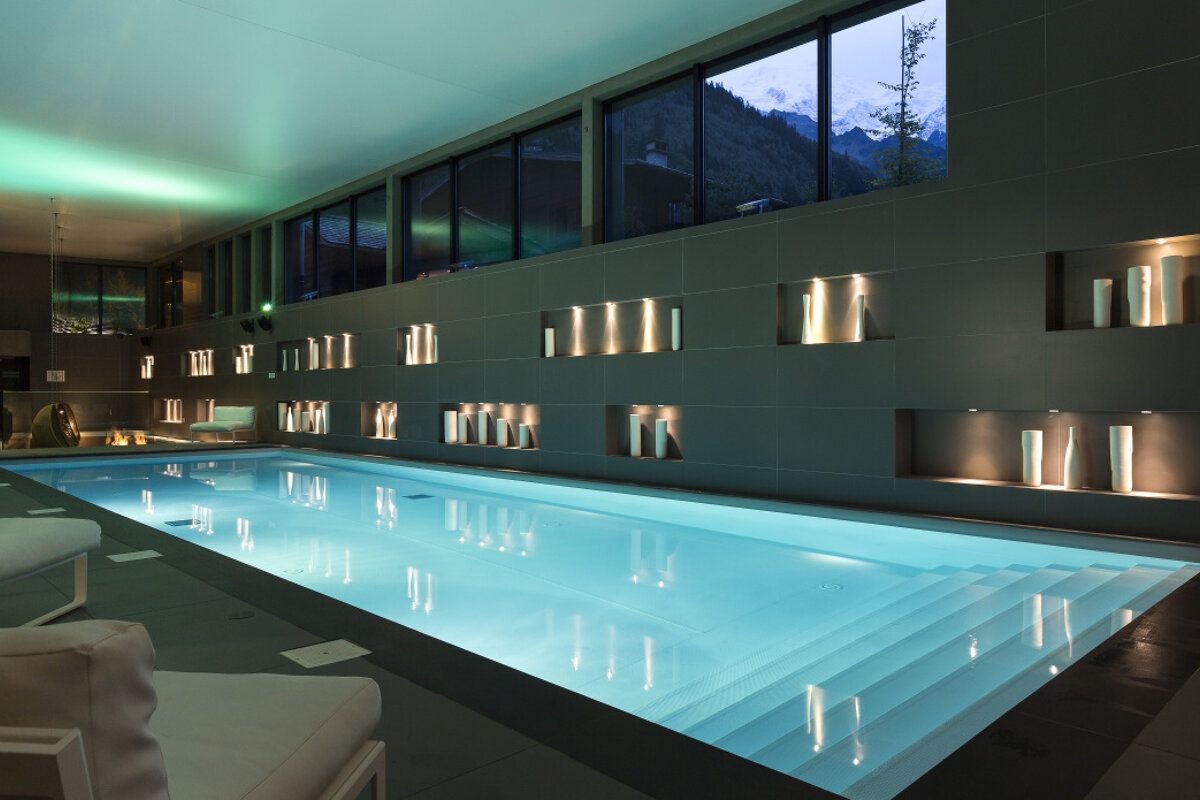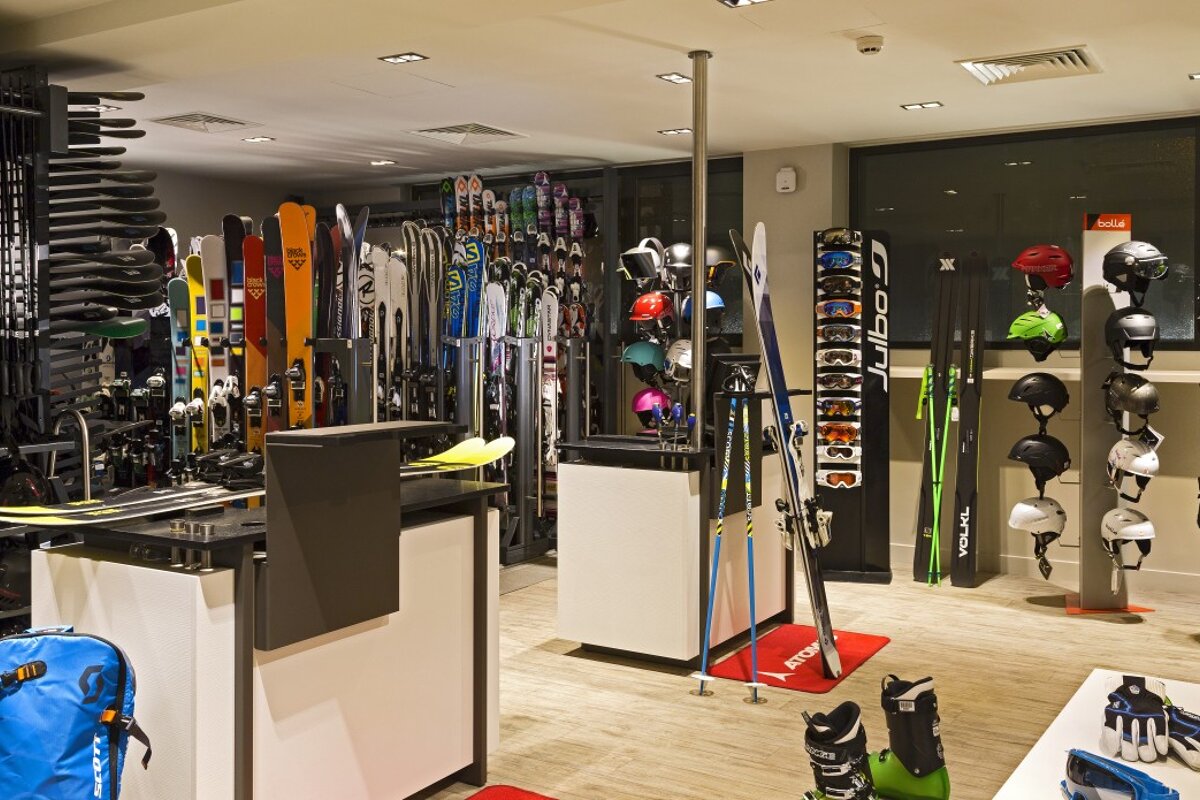 L'Heliopic Hotel, Chamonix
Large, stylish hotel with exceptional NUXE spa facilities & great restaurant
Opened in December 2013, this beautiful 4 star hotel is situated just a short distance from the Aiguille du Midi cable car, making it the perfect base for anyone heading into the high mountains or tackling the Vallee Blanche. It is also just a short five minute walk from the centre of town or two minutes from Chamonix's main bus stop.
The hotel's retro-chic interior oozes with the charm of the Great Age of Mountaineering of the 50s/60s. There are 102 rooms ranging from singles to superior and include family rooms with a double bed and a bunk bed. All of the rooms are modern and stylish and have the latest hi-tech equipment, including TV, DVD players, free wifi and a private balcony.
Want to be independent? Close to the hotel, the Heliopic Apartments welcome you for a mountain holiday in a vintage atmosphere. Facing south, offering a patio with private hot tub or a balcony with a great view of Mont-Blanc, with a personal wine cellar and a ski room... The four apartments are unique and can accommodate from 2 to 8 people (7 adults + 1 child) depending on the category. There is Le Gouter, Les Cosmiques, Le Lac Blanc Duplex and Le Nid d'Aigle.
After an active day on the mountain, you can relax in the hotel's stunning NUXE spa. It has everything you need to relax and revive your body. Facilities include an indoor pool, steam room, jacuzzi, sauna and ice grotto with ice bath. As well as indulging in massage and beauty treatments, here you can curl up next to the fire in a swing chair with a cup of green tea - the perfect way to unwind.
"L'Epicerie du Midi" just opposite the cable car provides top-quality ready-to-taste foods and doubles as a mini grocery store. Natural produce and recipes-of-the-day can be carried out or enjoyed in-house, right at the foot of the Aiguille du Midi.
In you're looking for somewhere to host a business meeting in Chamonix, this hotel has four meeting rooms around 60m2 each and can accommodate up to 225 people.
Reviews
3197 verified reviews by
"Excellent"
Good to know
"Shower can be a problem"
"Bathroom needs cleaning"
"Bathroom could be bigger"
"Good restaurant service"
"Excellent"
Good to know
"Good accessibility by car"
"Great desserts & fruits"
Watch this
The Pool
The stunning indoor swimming pool with a waterfall is located in the NUXE Spa. This chic space includes comfortable hanging wicker chairs around a roaring fireplace.
The Bar
The lounge bar has a feel of modern mixed with retro design from the 60's or 70's. Enjoy some live music over the winter months or sit back and relax with the papers or sup on a fine cocktail. Sweet and savoury nibbles are served from 16:00 to midnight.
The Restaurant
The Akashon restaurant is located on the ground floor of the hotel and is open from 19:00 to 22:00. Meaning "surprise" in local dialect, a visit to the "Akashon" will be an unforgettable journey for the senses. The innovative menu seamlessly blends seasonal local products, refined flavours and classic local recipes that Chef Julien Binet has revisited with a creative French twist. Their extensive wine menu perfectly compliments the creations from the kitchen.
Visitor comments
"We stayed one night in Chamonix and were grateful that there was such a great value available. Extra points for the hotel being open continuously, even in the off season! Our room was very clean and had all the amenities (including the best hair dryer I had during our week tour of France). Make sure to bring your swimsuit as they have a very nice pool and spa area. The staff were friendly and very accommodating." - Trip Advisor
"Ultra modern hotel at an affordable rate. Staff are friendly and the hotel's design was very welcoming. We travel with two kids 3yo and 18months. The location is superb right outside Aiguille du Midi cable car. Couldn't ask for more. We will surely stay there again for our next visit." - Trip Advisor
"Nice rooms, the spa area includes the basics: a pool, hot tub, steam rooms and saunas-but the ice room is quite unique! The swings off the far end of the pool are great for relaxing while enjoying a cup of their herbal tea. We traveled by train, this is 3 blocks from the train station. Be sure to get off at the du Midi stop though. The lift is just out the front door." - Trip Advisor
Location