Driving to Chamonix
Discover the top Chamonix driving routes
Taking your car with you on holiday gives you the freedom to go where you want. But is it the best way to get to the mountains?
Chamonix is one of the easiest resorts to get to by car. It's also one of the quickest to get to if you're coming from the UK. It takes 8 to 9 hours to drive the 840km from Calais to Chamonix.
Unlike driving to many resorts, you won't spend the final hour of your journey to Chamonix lurching from switchback to switchback with a paper bag between your knees.
It's dual-carriageway all the way and the roads are generally clear.
Even if you don't fancy driving all the way, you could hire a car at Geneva airport and arrive in Chamonix just over an hour later without breaking much of a sweat.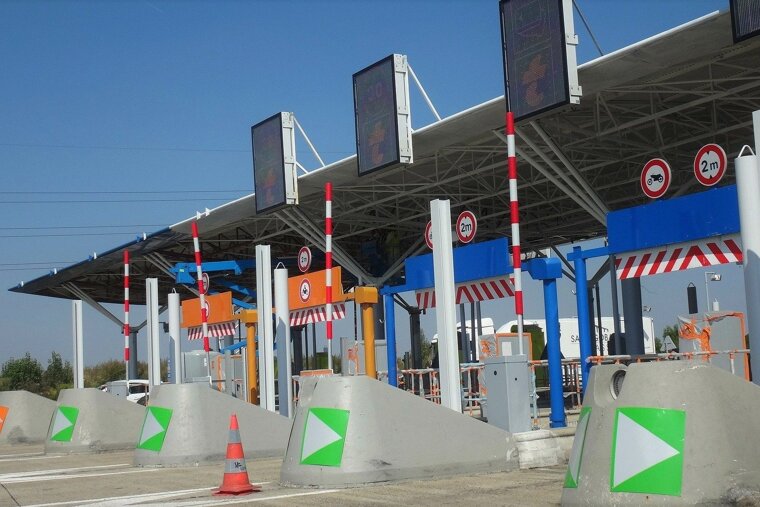 Cost of driving to Chamonix
You can use the ViaMichelin route planner to calculate the cost of your trip. This breaks down the cost of your journey into fuel, tolls and any other expenses.
The example below shows the cost of driving from Calais to Chamonix following the A26 and A5, via Geneva.
Example: cost of driving from Calais to Chamonix
Options
Cost
Diesel
€95
Tolls
€69
Swiss vignette
€42
Total
€206
Paying for tolls in France
In France, you can pay for tolls either:
with a debit or credit card at the barrier
with a 'Liber-t' toll tag - this deducts your toll fee automatically as you approach the barrier
If you're travelling alone and don't fancy reaching across the passenger seat every time you get to a peage, we recommend you apply for a Liber-t toll tag. It's a lot easier, and a tiny bit quicker if you're looking to shave seconds off your journey.
You don't have to use the toll roads of course. If you're in no hurry and you follow France's RN (route nationale) roads, you'll discover some of the country's hidden gems.
Where to buy a Swiss vignette
There aren't tolls on the motorways In Switzerland. Instead, you pay by buying a vignette. This is a 12 month pass that you stick on the windscreen. It costs around €42.
You can buy your Swiss vignette online before you travel, but it's not really worth the shipping costs if you're coming from overseas.
It's easier just to buy a vignette from a petrol station or at the border itself.
How to reduce your carbon footprint
Driving has its obvious attractions. There's no waiting around at the airport. You can bring all the luggage you want. And you've got the freedom to stop along the way.
But there are more environmentally-friendly ways to get to Chamonix.
If you want a smaller carbon footprint, consider
Tip!
If you want to drive and still be conscious of your carbon footprint, try to make sure you take as many passengers as possible. A diesel car with four passengers and luggage typically produces 43 grams of CO2 per person per kilometre. That's a lot less than the equivalent plane journey (156 grams).
Using a car in Chamonix
The Chamonix valley is made up of a number of different resorts, so having a car can be useful. But it's tricky to find a parking space in peak seasons and, again, driving isn't great for the local environment.
We'd all rather see fluffy white clouds hanging over Chamonix than exhaust fumes from traffic.
If you want to drive to Chamonix, we recommend leaving the car at your hotel, apartment or chalet and using the bus or train to get around.
The bus and train are both are free with a guest card - ask your hotel or chalet host for one.
When you need snow chains or winter tyres
Between 1 November and 31 March, you'll need either:
winter or all season tyres - these must be marked 'M+S' (mud and snow)
regular tyres plus chains - chains must be in the car at all times and fitted when required
You risk an on-the-spot fine if you're not properly equipped.
Tip!
From 1 November 2024, winter or all-season tyres must be marked with '3PMSF' (3 peak mountain snow flake).
Where to fit your snow tyres or chains
Tyre or chain
Where to fit them
Winter or all-season tyres with 'M+S' (mud and snow) marking

Front wheel drive vehicles: front 2 wheels at least
All other vehicles: all 4 wheels

Chains

Front wheel drive vehicles: front 2 wheels
Rear wheel drive vehicles: rear 2 wheels
All wheel drive vehicles: all 4 wheels
When to fit snow chains
Only fit chains if you're driving slower than 50kph (30mph) on snow-covered roads.
It's a good idea to practice putting them on before you come. It's a lot easier figuring out how they work on your driveway than in the middle of a snow drift.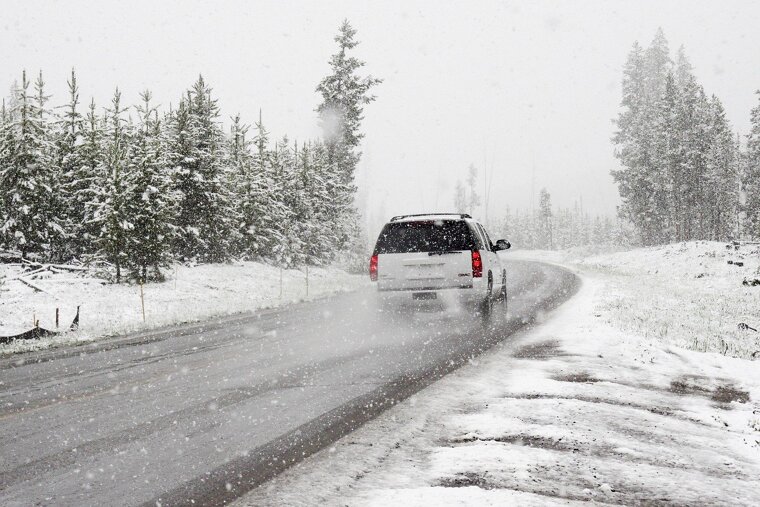 Top tips for driving on snow
Local municipalities are generally very good at keeping the roads clear. You'll hear the snow ploughs out long before dawn, making sure the roads are snow-free for people to get about resort.
Driving on snowy, icy roads does require a bit of extra care and attention though. Here are some things to consider.
Fit snow tyres: Snow tyres have a deeper tread than regular summer tyres with hundreds of tiny slits that grip the snow as the wheel turns. They considerably improve the handling and performance of your car in snowy conditions.
Keep topped up with fuel: In heavy snow, you may encounter road closures. It's a good idea to have plenty of fuel in the tank, in case of a long diversion.
Slow down: The first thing you should do when you encounter snow on the road is reduce your speed. By driving slowly and using your gears to slow down, there's less chance you'll have to brake suddenly.
Use high gears: To avoid wheel spin, try to drive in as high a gear as possible. The same principle applies when pulling away from standstill – try to do so in second gear, accelerating gently.
Keep moving: When driving up an incline on snow, do everything you possibly can to keep moving forward. Hill starting on a snowy road is difficult and may result in you slithering into other vehicles around you.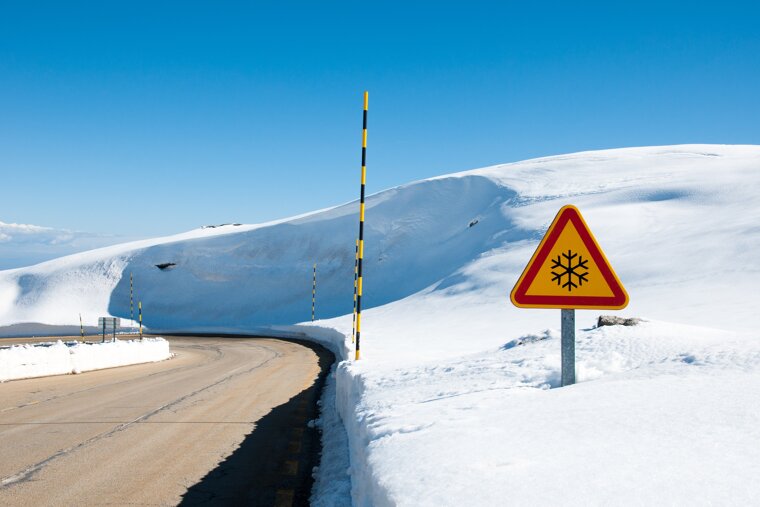 Road rules & regulations in France
These are the general rules for driving in France. For more information, check the French Ministry of Foreign Affairs' web page on driving in France.
Drive on the right: Same in Switzerland and everywhere else in mainland Europe.
Right of way: French drivers give way to the right. On roads in built-up areas and when approaching roundabouts, you also generally give way to traffic coming from the right. Signs saying 'Vous n'avez pas la priorité' or 'Cédez le passage' mean that traffic on the roundabout has priority.
Documents: You need to have your driving licence, your vehicle registration document (for example 'V5C' or 'carte grise') and insurance documents with you in the car at all times.
Mobile phones: You'll need a hands-free car kit to use your mobile phone while driving in France. Earphones and headphones are prohibited.
Horn: you're not allowed to use your horn in residential areas unless you're in immediate danger.
Speed limits in France
Speed limits on French roads
Road
Maximum speed
Speed in poor weather
Motorways
130km/h
110km/h
Urban motorways and dual carriageway roads separated by a central reservation
110km/h
100km/h
Built-up areas
50km/h
20km/h or 30km/h
Single-carriageways
90km/h
If there's thick fog (visibility of less than 50m) the speed limit is 50km/h.
Drink driving
The French drink driving laws are strict.
You'll be over the limit if your blood alcohol level is higher than 0.8mg/ml. In some cases, that's less than a pint of beer.
If you've been driving for less than 4 years, you should avoid drinking alcohol at all if you're planning to drive. The permitted blood alcohol limit in the first 3 years after you pass your test is just 0.2mg/ml.
If you're caught, you could be fined or lose your licence. In extreme cases, you could go to prison.
Speeding
You'll normally have to pay an on-the-spot fine if you're caught speeding by the French police. Expect to be escorted to the nearest cash point (complete with flashing lights in our experience!) if you don't have the cash on you.
You should be given a receipt to prove you've paid.
If you're caught exceeding the speed limit by more than 50km/h, you risk having your licence confiscated and your car impounded on the spot.
You're not allowed to use radar detectors in France.
Seat belts
It's compulsory in France for all passengers to wear seatbelts.
Children under the age of 10 must travel in the back of the vehicle unless:
there are no rear seats
all the other passenger seats are occupied by children under the age of 10
there are no seat belts fitted in the rear of the vehicle
If a child is travelling in the front, make sure they're strapped into an EU-approved child seat or restraint appropriate to their size.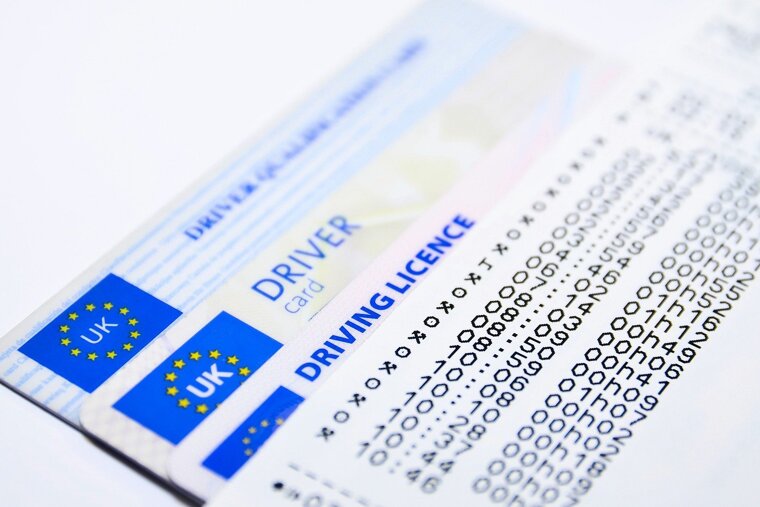 Legal documents & paperwork in France
In France, you're expected to have all of your vehicle registration documents ready for inspection on demand. You could be fined if you don't.
Documents you need to carry when driving in France
In order to avoid sticky situations with the law, always have the following documentation in your car with you:
full valid driving licence (not provisional) with any paper documentation you are required to keep
original vehicle registration document (ie your 'V5C' or 'carte grise')
motor insurance certificate and green card
your passport
If you're planning to drive in Grenoble, Lyon, Annecy, Paris or any other major French city, it might also be useful to have a Crit'Air vignette. This shows how polluting your vehicle is.
Motor insurance
Contact your car insurance company at least a month before you plan to travel. Make sure you're covered to drive in France. Many insurance companies will only insure a vehicle in foreign countries for a maximum of 90 days at a time, so you may need to ask for additional cover if you're planning on being away for longer than that.
Tip!
If you're coming from the UK, remember to bring your insurance green card with you.
It's a good idea to ask your insurance company to provide you with a 'constat amiable'. You'll need to fill one of these in if you have an accident with another vehicle. It's a duplicate document that both drivers agree on, sign and keep.
Breakdown cover
This isn't a legal requirement, but it's a good idea to have European breakdown cover, just in case something goes wrong.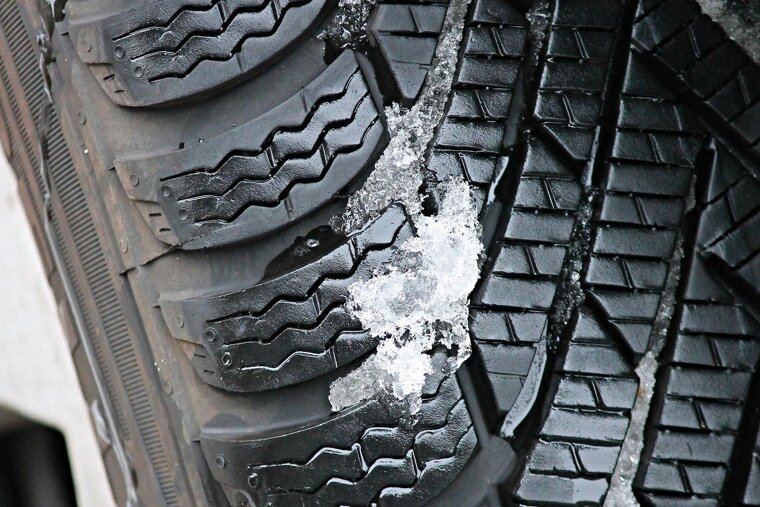 Equipment checklist for driving to Chamonix
There are several things you need to carry with you when driving in France. These include:
warning triangle
high-visibility vest for every person travelling - this must be accessible without you needing to leave the car, so don't keep it in the boot
an unused, certified breathalyser
a country sticker
spare bulbs
headlight converters (if you're coming from the UK)
If you're driving in mountainous regions between November and March, you'll also need winter tyres or chains.
It's a good idea to have plenty of screen wash. The roads in the Alps are salted heavily during the winter months. Your windscreen will get filthy very quickly.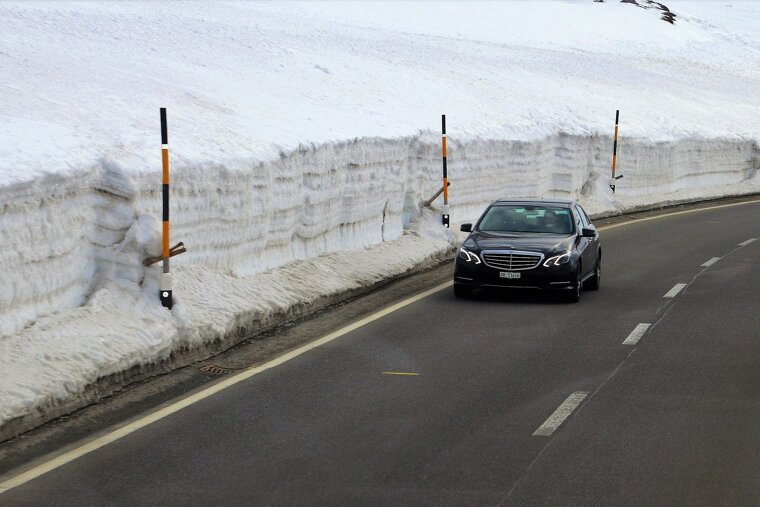 Breakdown procedure in France
If you breakdown on a French motorway, follow these 6 simple steps:
Pull into the hard shoulder and turn on your emergency warning lights
Put on your high-vis safety vests
Exit the vehicle from the right-hand side (the side away from passing traffic) and place the warning triangle at least 30m from your car
Make sure you and your passengers are all behind the safety barrier
Walk to the nearest emergency phone (do not cross the motorway to get to a phone on the opposite side) to alert the emergency services to your location (or call 112)
Return to your vehicle and wait for rescue - stay behind the safety barrier and not inside the vehicle
Breakdown procedure on French autoroutes
Call out and tow fees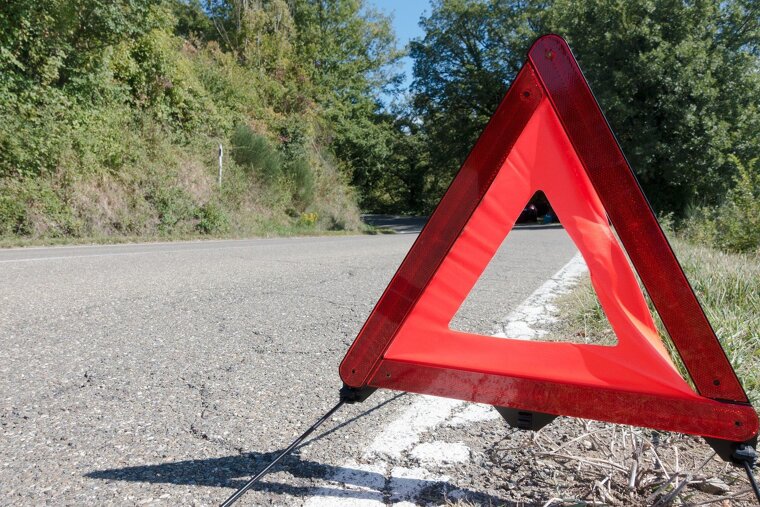 Road accidents in France & What to do
If you are unlucky enough to end up in an accident whilst driving in France, then there are certain procedures that you must follow.
For minor accidents where nobody's injured, follow these steps:
Pull over in a safe spot
Put on your high-vis safety vests
Alert oncoming traffic by placing your red warning triangle 30 metres down the road
If two cars are involved, you should both complete and sign a 'constat amiable' detailing the events that led up to the incident
Try to establish who was responsible for the accident and, if there were any impartial witnesses, note down their contact details on the form too
Take pictures
If you can't agree on who's at fault
Take a note of the other driver's registration number. You have five days to send it to your insurance company for the claim to be settled.
Major accidents
If you're involved in a serious accident resulting in casualties, contact the police on 112.
Complete the 'constat' if you're able to - or ask a passenger or witness to do it for you. If you are hospitalised, the authorities will deal with the paperwork on your behalf.
Make sure you get a medical certificate from the hospital stating your injuries. You'll need to enclose this with your claim form.
More inspiration...
If you'd rather leave your car at home, why not hire a car?
If you rent a car at Geneva airport, chances are your ride will be equipped with snow tyres. You'll also be able to add things like ski or bike racks to make your trip a bit more comfortable.
It's worth checking that you can cross borders into other countries in your rental car.