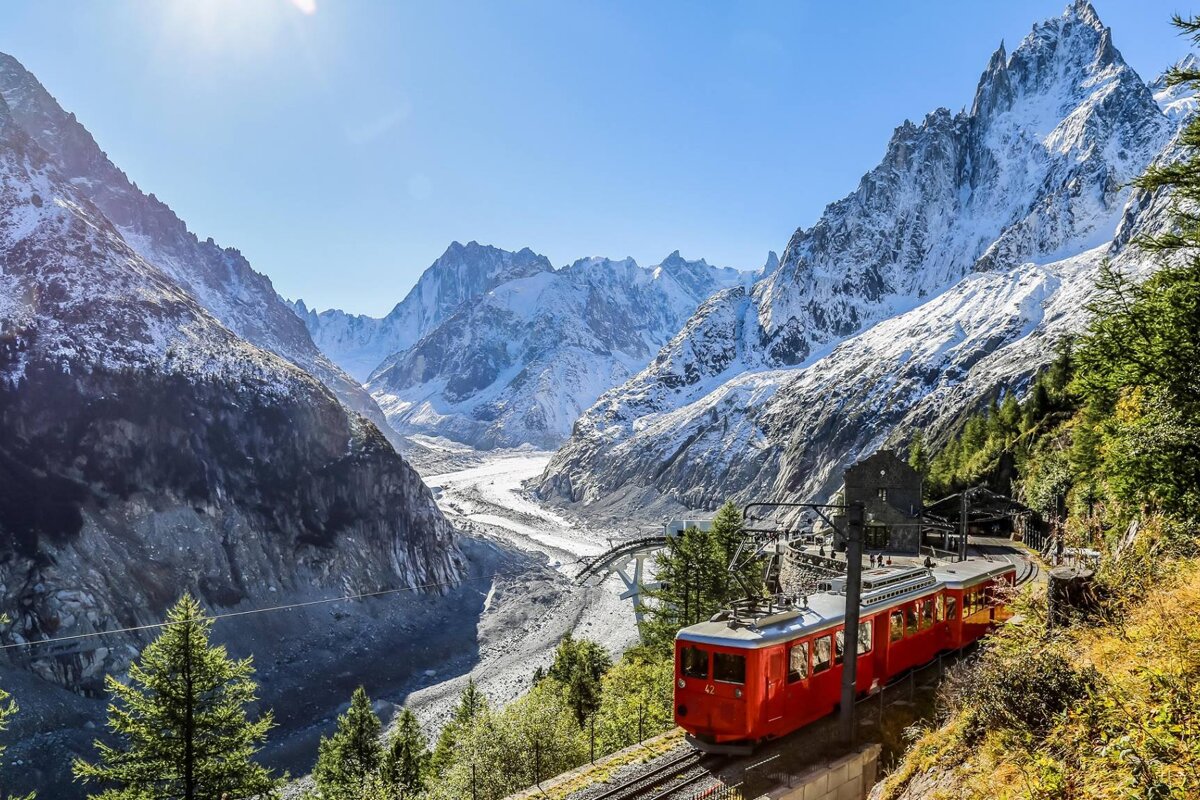 Trains in Chamonix
Discover & book Chamonix train services
Unlike most resorts, Chamonix has its own train station, which means it's possible to get all the way here by train.
Train travel is the most environmentally friendly way to get to Chamonix. You'll get more leg room and it's a great way to enjoy the passing scenery.
But there can be a lot of connections, especially if you're using the Eurostar to get from London to Chamonix. This can be difficult if you've got additional luggage like skis and bikes.
Tip! You may be able to get money off your accommodation or transfer to the resort if you mention you're coming by train.
Nearest train station to Chamonix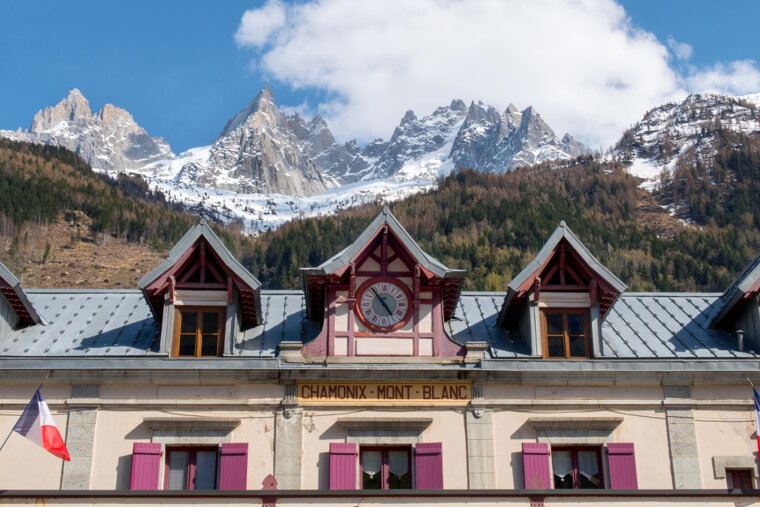 Chamonix's own station, 'Chamonix-Mont-Blanc', is on the Mont Blanc Express line between Saint Gervais Le Fayet and Vallorcine. All the main villages of the Chamonix valley are served by this line.
The closest SNCF train station to Chamonix is Saint Gervais, linking you to Geneva and many other locations in France.
If you're coming from the other direction, you'll need to get to Martigny in Switzerland. Trains run from Martigny to Vallorcine, where you can change for Chamonix-Mont-Blanc.
Nearest connecting stations to Chamonix
Station
Line
Journey time to Chamonix
Frequency
Changes
Saint Gervais Le Fayet
Mont-Blanc-Express
40 minutes
1 train an hour
0
Martigny
SBB (Swiss national rail trains)
Mont-Blanc-Express
1h 27
1 train an hour
1 at Vallorcine
Journey time to Chamonix by train
These are rough journey times for a number of destinations.
Journey times to Chamonix by train
Journey
Duration
Changes
Equivalent driving time
London to Chamonix (via Paris and Lyon)
10 to 12 hours
5
12 hours
Paris to Chamonix (via Lyon)
6 hours
3
6 to 7 hours
Geneva to Chamonix
3.5 hours
2
1h 15
Lyon (Bellegarde-sur-Valserine) to Chamonix
5 hours
1
2.5 hours
Bourg-Saint-Maurice to Chamonix
5 hours
5
2 hours
London to Chamonix by train

There's no direct link between London and Chamonix by train.
The Eurostar ski train goes from London St Pancras to Bourg-Saint-Maurice. Bourg-Saint-Maurice is only 120kms from Chamonix by car, but it's pretty difficult to do the journey by public transport.
Train prices to Chamonix
When you travel has a huge impact on the cost of train travel. Peak weeks like Christmas, New Year, February half-term and Easter are obviously more expensive.
Our top tip is to try to book as early as possible.
Eurostar ski train tickets usually go out for sale in mid-July and that's when they're at their cheapest.
TGV train tickets from Paris to other French cities are normally available to buy 120 to 90 days before your travel time.
From Geneva to Chamonix by train
By train, Geneva to Chamonix takes 3.5 hours and includes 2 changes.
If this seems too hard with armfuls of luggage, you might find it easier to book a coach or minibus transfer for this leg of the journey.
Coaches from Geneva airport or Geneva city to Chamonix take little more than an hour.
Booking train tickets to Chamonix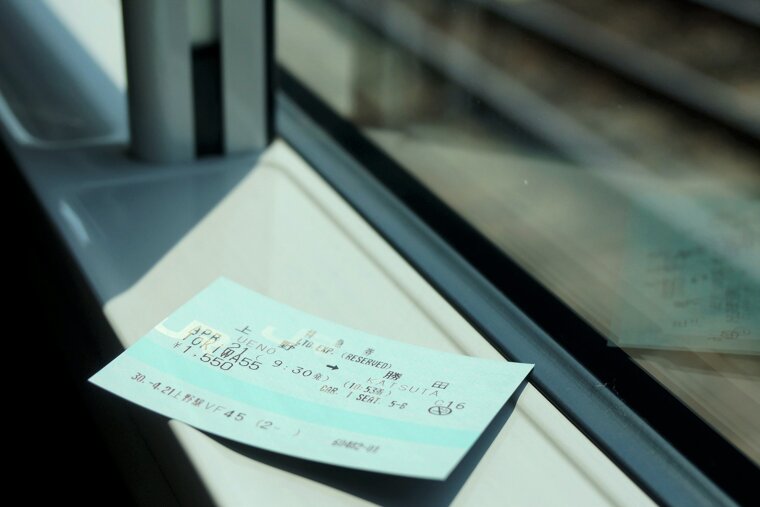 For more information on journey times or to book tickets online, visit these websites:
You can also book through the Trainline.
Top tip!
Book early! Journeys at Christmas, Easter and the French half term weeks get packed out quickly.
Luggage allowances on trains to Chamonix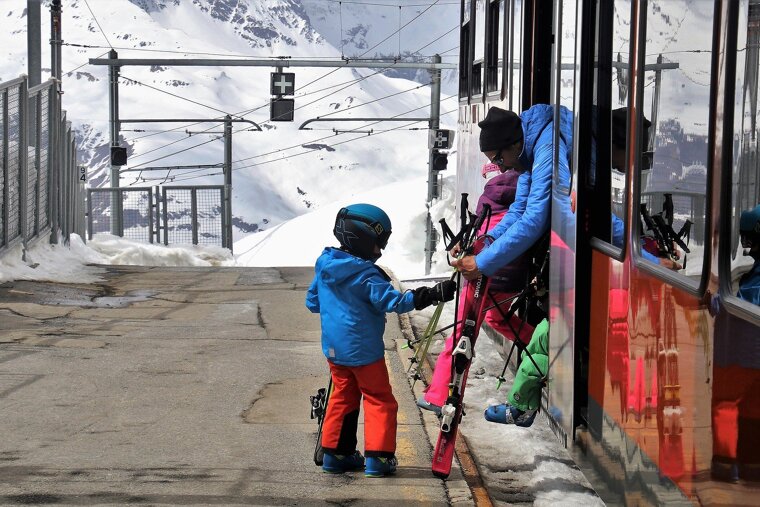 If you're coming to Chamonix, chances are you're lugging a pair of skis or a mountain bike.
Train lines tend to have more generous allowances than airlines, but there are some limits:
Luggage allowances on trains to Chamonix
Line
Large bags
Ski gear
Bikes
Eurostar to Paris
6 grams
1 pair of skis or snowboard - counts as one of your 2 large bags
Only if boxed. Email

travelservices@eurostar.com

for more information
Eurostar to Lyon
13 grams
1 pair of skis or snowboard - counts as one of your 2 large bags
Only if it fits into one of your 85cm pieces of luggage
French TER and TGV trains
No limit - must be able to carry all luggage yourself
Yes
Yes, if packaged in a bag measuring 120cm x 90cm or less
Swiss SBB trains
No limit - must be able to carry all luggage yourself
Yes
Free, if packaged and front wheel removed (you'll need to pay for a fully assembled bike to travel in the bike carriage)
More inspiration...
If you can make travelling by train work for you, you'll be helping to reduce your impact of your trip on the environment.