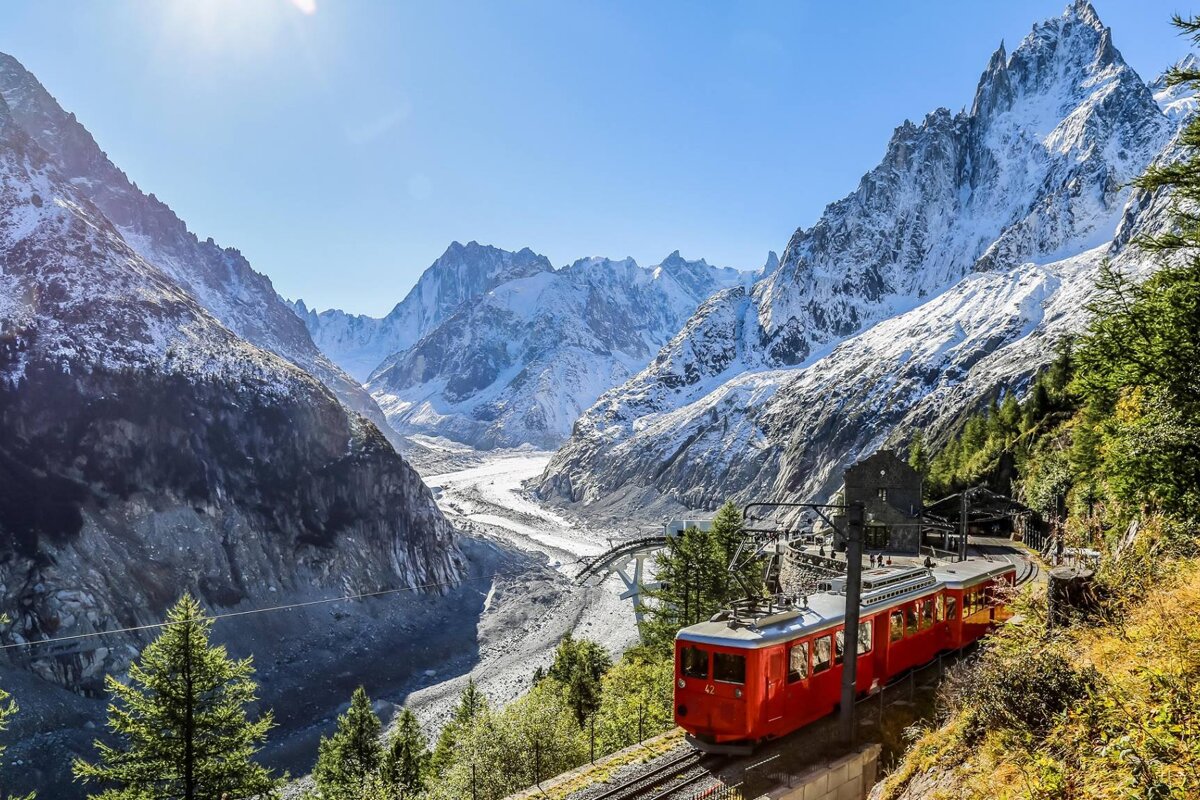 Trains in Chamonix
Discover & book Chamonix train services
Chamonix is fairly unique for a French alpine town in that it doesn't just have one railway line but several, not all of which are for travelling here but rather for getting up the mountains once in resort. This all adds to a bit of confusion which we will try to dispel here, allowing you to make the most of the rail network in the region and to hit the slopes full steam ahead.
More than ever encouraged as the sustainable and eco-friendly travel option, getting to Chamonix by train is most definitely the right way to go and more viable than you might imagine.
When discussing travelling by train to and from Chamonix, here in the valley we are mostly mean the Mont Blanc Express. In almost every sense, this is not an express service as it trundles scenically through the valley, with frequent stops in each of the villages. This guide is mostly concerned with travelling to and around Chamonix via the Mont Blanc Express and the connected mainline services to the outside world, rather than the "mountain trains" which get you up and down the local hillside.
If you decide to make your way here by train, relaxing with friends or family, scenery gliding by as Chamonix gets ever closer, it's is a great way to travel – a way to make the journey feel like it's part of the holiday. There's more legroom than flying or driving and you can get up and walk down to the café bar. As well as buying a meal and drinks on board, you can also bring your own food and drink and create your own picnic. You can chat with friends, play games, read, watch films, work, snooze – the train journey is time to do stuff you enjoy on your way to Chamonix.
Read on for more details on making the most of the train services to/from Chamonix valley.
Nearest train station to Chamonix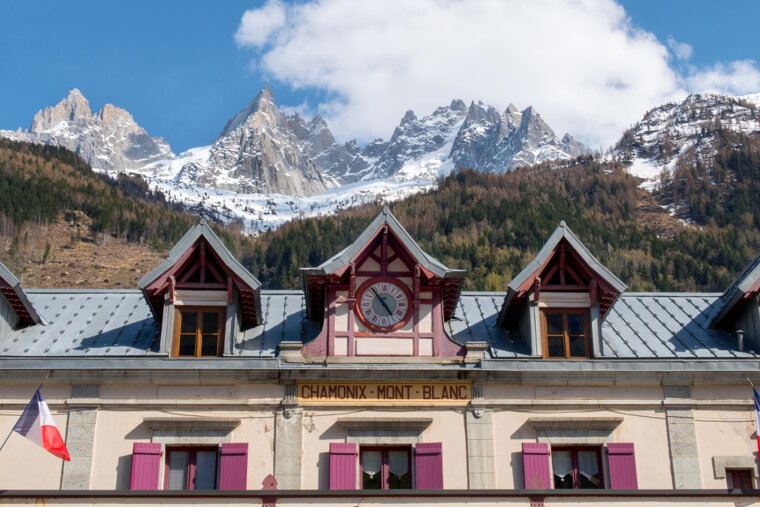 For the sake of clarity, here are all the "train" related services in Chamonix:
Travel trains
Mont Blanc Express: the main rail service connecting the villages in the valley and the main town, to/from Le Fayet terminus (at the very foot of the valley) leading to the rest of France and/or connecting into Switzerland. This is both an access service and a scenic trip in one.
Léman Express: a rail route opened in 2019 connecting Le Fayet along the Arve valley, to Geneva city centre and airport.
Geneva Centre and/or Airport terminus: the main city station is major international station, connected to Paris and other European cities and is well connected to it's own airport. From here coach or minibus transfers are readily available for the last leg journey to Chamonix (no different from if you flew to Geneva airport), or there is the Léman Express.
Mountain trains
Montenvers Cog railway: taking visitors from Chamonix town to see the Mer de Glace glacier, which is the end of the line. At the summit there is a visitor centre for exploring the glaciers (or what they once were when they have all gone...).
Tramway du Mont Blanc: another cog railway from Le Fayet, passed Les Houches and stopping half-way up the Mont Blanc where they ran out of steam. The terminus at the top is also the site of a major visitor centre redevelopment.
Electric tourist train: (ok, it's not really a train). Drives around the roads in centre of town on scenic tours and blocking traffic. Personally we would never get on it but it seems popular with families, the older generation, and those who don't come to Chamonix for the sporting challenges.
There's a train station in the centre of Chamonix, which means that you can reach the ski area using trains alone.
What's the closest train station to Chamonix?
The Gare de Chamonix-Mont-Blanc is the town's very own train station, located just a five minute walk from the main square where the church and town hall stand. Only one train line stops here, the Mont Blanc Express. This local narrow-gauge railway train service runs the whole length of the Chamonix Valley, from Saint Gervais/Le Fayet at the entrance of the valley coming from Geneva and Annecy, to Vallorcine which sits on the border with Switzerland. From Vallorcine you can change to a train that runs to Martigny, Switzerland, making the Chamonix Valley very well connected with the rest of France and Switzerland by train.
The train travel time from Saint Gervais/Le Fayet to Chamonix Centre is around 40 minutes and trains run every hour with increased frequencies during the high season. The Mont Blanc Express stops at the main towns and villages in the Chamonix Valley, including Servoz, Les Houches, Les Bossons, Les Praz, Argentière and Vallorcine.
Journey time to Chamonix by train
Coming to Chamonix by train cannot really compete on time with flying, in fact, it can take twice as much time as the nearest main stations are in the same places as the nearest main airports. However, train travel is more sustainable and environmentally-friendly – studies have shown that carbon footprint can be reduced by as much as 90% when travelling by train as compared to flying. Coming by train also has its charms. As well as more legroom, on a train you can enjoy the ever changing scenery – from urban London to the French countryside and the majestic Alps, it never gets boring.
How long does it take to get to Chamonix by train?
It depends on where you're travelling from. The London to Chamonix train travel time is around 10 to 12 hours, while the Paris to Chamonix train travel time is about six to seven hours, and the Geneva to Chamonix train travel time is 3h30, taking into account connections and transfers.
Train prices to Chamonix
Train ticket prices depend on multiple factors: the time of year (peak weeks like Christmas, New Year, February half-term and Easter can be considerably more expensive), your age (there are discounts for children), the size of your group, your destination and even how far in advance you've booked.
Our top tip is that you try and book as early as possible. Eurostar ski train tickets usually go out for sale in mid-July and that's when they're at their cheapest. TGV train tickets from Paris to other French cities are normally available to buy 120 to 90 days before your travel time and, again, the earlier you book the lower the price will be.
A few accommodation providers and transfer companies offer special discounts for those coming to Chamonix by train, so it's worth asking when booking.
Travelling by train in France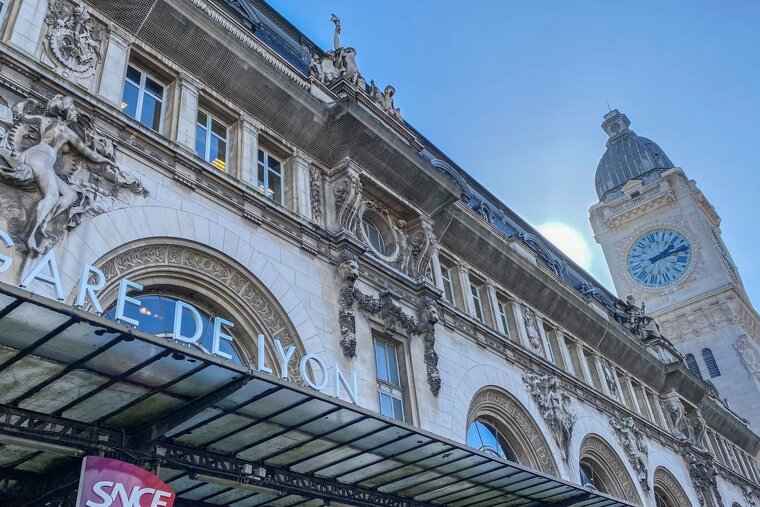 SNCF (Societé Nationale des Chemins de Fer Français) is France's national railway company, owned by the French state and operating throughout continental France and Monaco. There are over 32,000 kilometres of railway laid all across the country, a good chunk of them sustaining high-speed services, the world-renowned TGV (Train à Grande Vitesse) which reaches average speeds of around 320km/h. Trains connect cities and towns all around France and even cross the border into Spain, Italy, Switzerland and Belgium. Many routes will begin in Paris, stopping at convenient stations throughout the country before arriving near Chamonix.
How do you get from Paris to Chamonix by train?
To travel between Paris and Chamonix, hop on a TGV train from Paris Gare de Lyon to Bellegarde. These run a few times per day, taking between 2h40 and 3h to reach their destination. From Bellegarde, change to a TER train which will take you to Saint-Gervais/Le-Fayet in around 1h50. From Saint-Gervais/Le-Fayet, the Mont Blanc Express will bring you into Chamonix centre in around 40 minutes.
London to Chamonix by train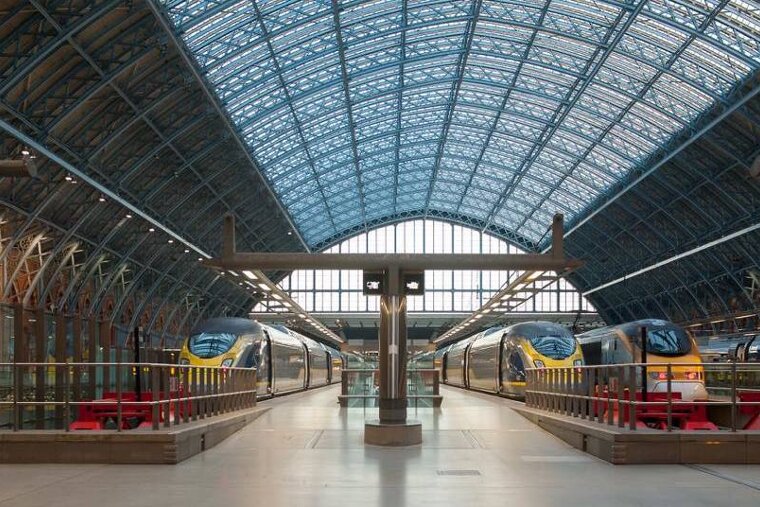 There are no direct Eurostar ski trains from London to Chamonix, which means that in order to come here from the UK's capital you'll need to take a minimum of two trains, plus a local Paris metro, commuter train or taxi.
How do you get from London to Chamonix by train? A step by step guide
Taking around 10-12 hours, the fastest and easiest route to get to Chamonix from London by train is via Paris. Here's what you need to do:
Hop on a Eurostar train from London St Pancras or Ashford (Kent) to Paris Gare du Nord. This journey takes around 2h15-2h30.
You'll need to change train stations in Paris, from the Gare du Nord to the Gare de Lyon. There are several ways to do it and you should allow at least one hour for this connection. The options are to book a taxi (it takes 20-50 minutes, depending on traffic); get on Line D of the RER ('Réseau Express Régional') suburban commuter trains towards Melun/Malesherbes (it takes under 10 minutes); or hop on Metro Line 4 towards Montrouge and change in Chatelet to Metro Line 14 towards Olympiades (it takes 15 minutes).
Then take a high-speed TGV Lyria train from Paris Gare de Lyon to Bellegarde-sur-Valserine. These run a few times per day, taking between 2h40-3h to reach their destination.
From Bellegarde, change to a TER train which will take you to Saint-Gervais-Le-Fayet in around 1h50.
From Saint-Gervais-Le-Fayet take the Mont Blanc Express that will bring you into Chamonix centre in around 40 minutes.
Summer only: From London to Chamonix via Lyon
In the summer, from June to September, Eurostar runs direct trains from London Saint Pancras to Lyon via Lille. This trip involves two train connections and the total journey time starts at around 10 hours.
Hop on a direct train from London St Pancras to Lyon Part-Dieu. These trains operate on Friday and Saturday morning, returning from Lyon on Friday, Saturday and Monday evening. The journey time is around six hours.
In Lyon, change to a regional TER train headed for Saint-Gervais-Le-Fayet (around 3h20).
From Saint-Gervais-Le-Fayet, get on the Mont Blanc Express to Chamonix.
From Geneva to Chamonix by train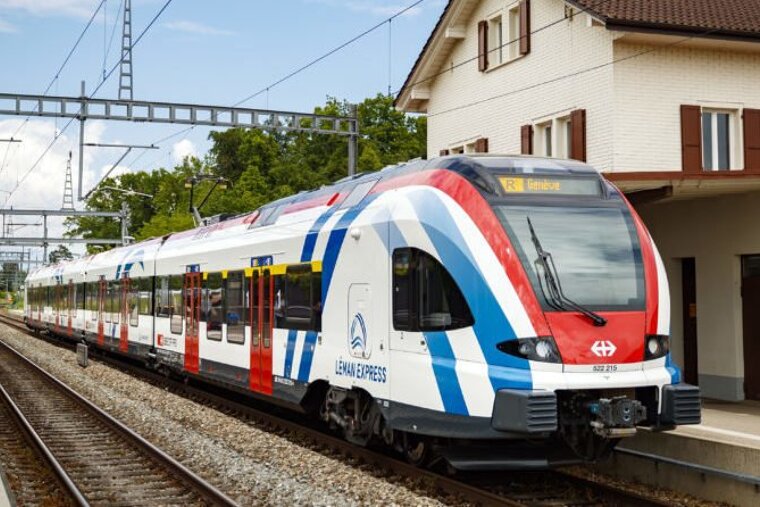 It's very easy to get from Geneva to Chamonix by train. You can either come via Martigny or via Annemasse, with both routes taking around three hours.
How do you get from Geneva to Chamonix by train?
Via Martigny: you'll need to take three trains. Hop on a train to Martigny from Geneva, this train stops at both Geneva airport and Geneva train station in the centre of the city – the journey takes around 1h30. Once in Martigny, change for a train to Vallorcine, which takes about 50 minutes, and then from Vallorcine, you just have to cross the platform to hop onto the Mont Blanc Express train to Chamonix – you'll be there in 35 minutes.
Via Annemasse: you can take the commuter rail network Léman Express, which runs six trains per day weekdays, and seven trains per day at weekends and on public holidays. Take the seven minute train journey from Geneva airport to Geneva Cornavin train station, then jump on an L3 train to St-Gervais-Les-Bains-Le-Fayet, which has a journey time of 1h45. Once in Le Fayet, you can take the Mont Blanc Express train to Chamonix which takes around 40 minutes.
Booking train tickets to Chamonix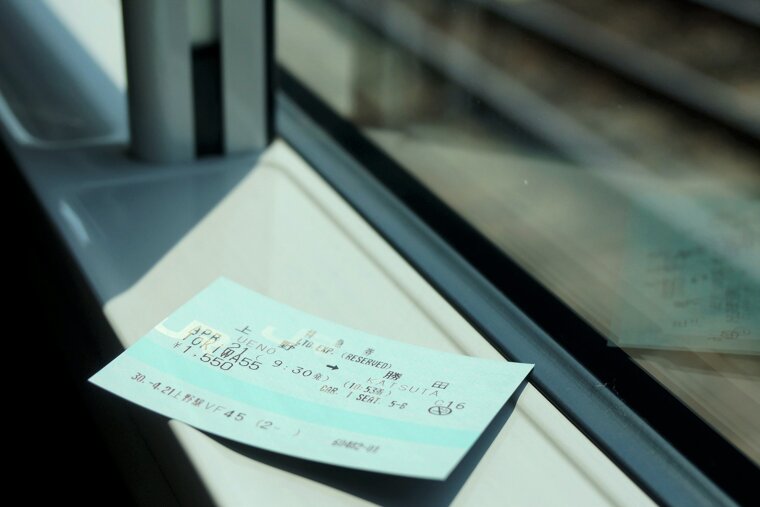 Luggage & sports equipment on trains to Chamonix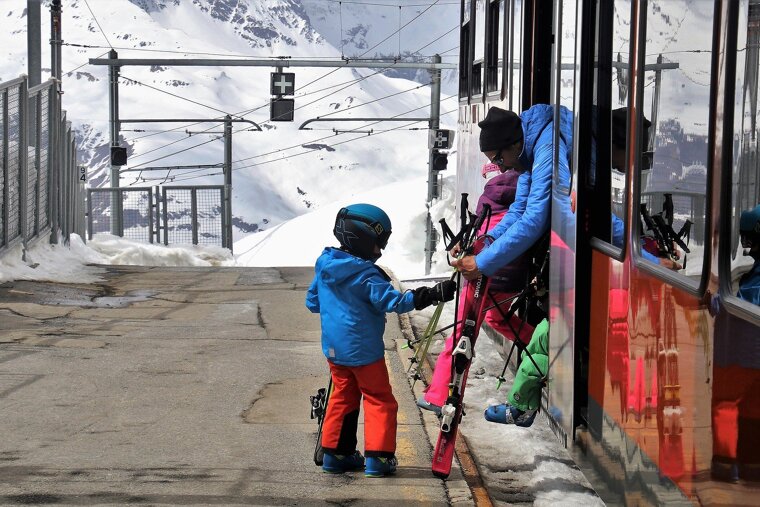 Being able to carry more luggage with you is one of the main bonuses of travelling to Chamonix by train, especially if you want to bring your fat powder skis, heavy split board or your bulky downhill mountain bike.
How much luggage can you carry on Eurostar trains?
Eurostar's standard luggage allowance includes two large bags (85cm max) and one small piece of hand luggage. On Eurostar trains to Lyon, you can carry one pair of skis or one snowboard with you in addition to your two bags. However, on trains to Paris, skis and snowboards are included as one of your two large pieces of luggage. They must be kept in a protective case that covers them.
Bikes can only be taken on Eurostar trains between London, Paris and Brussels. All non-folding bikes or those over 85cm long need to travel with EuroDespatch, Eurostar's luggage service. Boxed bicycles and fully assembled bikes will be transported for an additional fee. Limited spaces available. If you're travelling with any dangerous sports equipment, such as mountaineering gear: ice axes or crampons, you'll need to contact EuroDespatch in advance.
How much luggage can you carry on French trains?
French TGV and TER trains let you carry luggage and bikes (boxed or in a bag measuring max. 120 x 90cm). There is no maximum number of pieces or weight limit but you must be able to carry all your luggage by yourself. Skis are also allowed on TGV trains (max. 2m).
How much luggage can you carry on Swiss trains?
There is no official luggage allowance but you must be able to carry it yourself, this includes skis and snowboards. As for bikes, you can take them on most trains operated by SBB free of charge as hand luggage if you pack it into a transport bag, with the front wheel removed. There are also bike tickets that you can purchase to transport your equipment in special bike carriages (take a look at the sign on the carriage's door) – in this case, there's no need to dismount your bike or use a bag to carry it.
Montenvers Train & other tourist services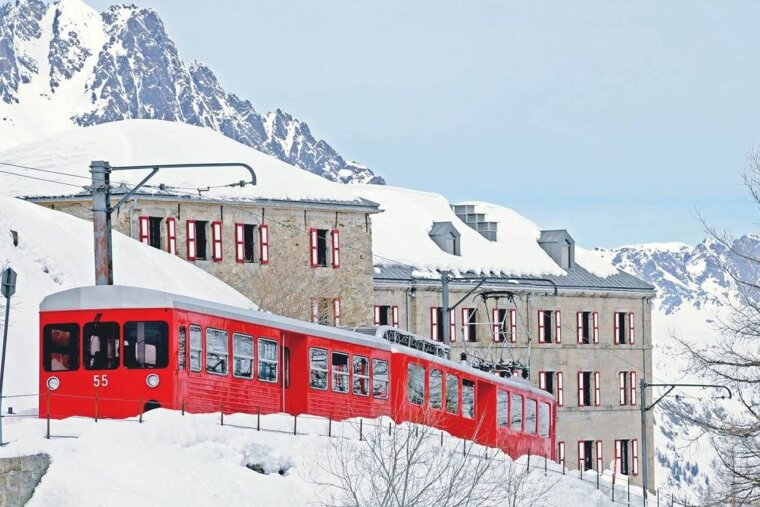 Montenvers Train
Take the Montenvers vintage train to visit the impressive Mer de Glace glacier and the ice caves. Ever since two English explorers, William Windham and Richard Pocock, first discovered the Mer de Glace ('Sea of Ice') in 1741, it has become one of the world's most visited natural sites and is a huge draw of visitors to the Chamonix Valley. The area became accessible by mule in 1802, but it was the opening of the Montenvers Train in 1908 that really opened the site up to the masses. The train to the Mer de Glace runs regularly throughout the year.
Check current prices and timetables on the Mont-Blanc Natural Resort's website.
Chamonix Petit Train
This small tourist train offers visitors to Chamonix the chance to take in the key sights of the centre of Chamonix at a leisurely pace, with commentary provided in 10 different languages. The train usually operates from the end of April to the beginning of October every year, with night-time tours to Les Bois and Les Praz in July and August. Hop on at the post office square. Departure every 40 minutes and night-time tours from 19:00.
VerticAlp in Chatelard
At the very edge of the Chamonix Valley (and technically on the Swiss side of the border) is a two-stage funicular and scenic train that takes you up to the Emosson Dam, called VerticAlp. The first part of the journey leads up the mountain on the steepest funicular ride you'll ever take. At an 87-degree incline you'll be wondering how they even built it. At the top, you join a small train that winds its way around the mountainside and then you hop onto another small funicular to the dam. Lots of hiking routes can be found up here or you can simply enjoy the views from the top.
Check current prices and timetables on the VerticAlp's website.
Tramway du Mont Blanc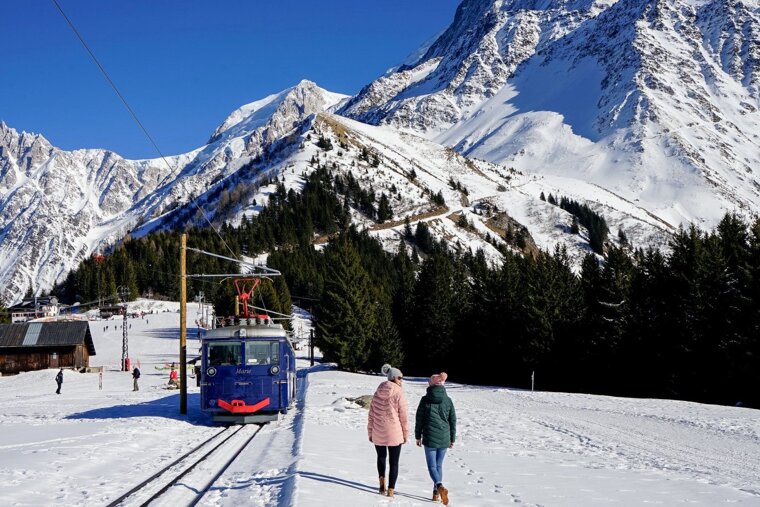 The Tramway du Mont Blanc is a tram line that runs from the bottom of the valley in Le Fayet all the way up to the Nid d'Aigle at 2,380 metres. The rack and pinion train stops at St-Gervais/Les-Bains, the Col de Voza and Bellevue before stopping at the Nid d'Aigle ('Eagle's Nest') viewpoint, from where you get a fabulous view of the Bionnassay glacier and from where expeditions to the summit of Mont Blanc depart. There are a number of lovely hikes in the area and mountain bikes are permitted on the tram subject to space. During the winter, the train stops at Bellevue and provides access to the Les Houches ski area.
Check current prices and timetables on the Mont-Blanc Natural Resort's website.
Snowcarbon Journey Planner to Chamonix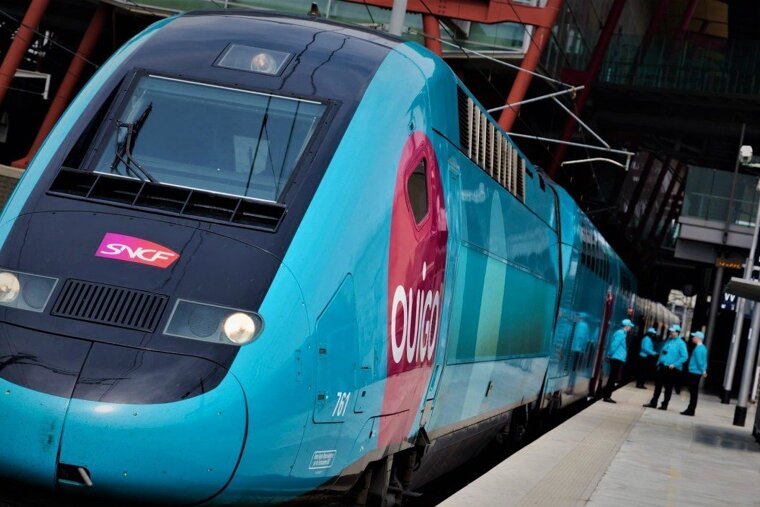 Snowcarbon was launched in 2009 as the one-stop source for train travel to the Alps after its founder, Daniel, realised how hard it was to figure out which ski resorts could be reached by train and how. They offer a very helpful tool, the Snowcarbon Journey Planner which you can use to design your train trip, from viewing the recommended journey times for any date during the season to journey and transfer information to and from the train station.
More inspiration...
If after you've read all this you can make travelling by train work for you, be safe in the knowledge that you're making great decisions for the planet, and if you'd like to learn more about the environment and skiing visit our environmental page.