Chamonix is the third most visited natural site in the world behind Mount Fuji (Japan) and the Niagara falls (Canada). With Chamonix being renowned as the world capital of alpinism, freeride skiing, ice climbing and ultra-trail running it's not necessarily the first place you think of as a place to shop 'til you drop! However, the town boasts a diverse range of stores that are guaranteed to suit all tastes and lifestyles.
Outdoor & Mountain Sports Shops
There's more to Chamonix than skiing and snowboarding, as a browse around some of the more diverse shops will reveal. Two of the best kit shops are Snell Sports on Rue Paccard and Ravanel General Store in Galerie Alpina; Snell is best for climbing and mountaineering gear and has a good range of shoes, ropes, harnesses, axes, etc, while Ravanel is a trail running specialist that stocks everything you need to train for your next ultra from brands such as Brooks, Inov-8, Scarpa and more. Both shops are good for general hiking gear and their staff are extremely knowledgeable and happy to advise.
Summer in Chamonix is when we swap our skis for wheels and there are a number of specialist bike shops in town. Slash on Rue Vallot is a small but well-stocked bike shop, run by the very approachable Guillaume; he's passionate about his riding and will help you choose the right bike to hit the Chamonix trails. Zero G at the other end of town is also where all the mud-spattered body-armoured crew go to drool over the latest mountain bikes and bits of kit - they also have a workshop where you can put your own bike in for services and repairs. Echo Base in Les Praz is a friendly little place that stocks the latest Cube and GT mountain bikes; the shop is really handy for hitting the trails on the Flegere and Balcon Sud side of the valley, so pop in and see what Jim and Tim can do for you. Road biking is becoming more popular these days and the guys at the snappily-named Cycle Sport Spirit in Les Houches are well-equipped with all the lycra and inner tubes that you need to tackle the local cols; they are mainly a repairs workshop so you can leave your bike in good hands if it needs a bit of TLC. There are a few branches of Intersport in Chamonix where you can rent mountain, road, town or electric bikes.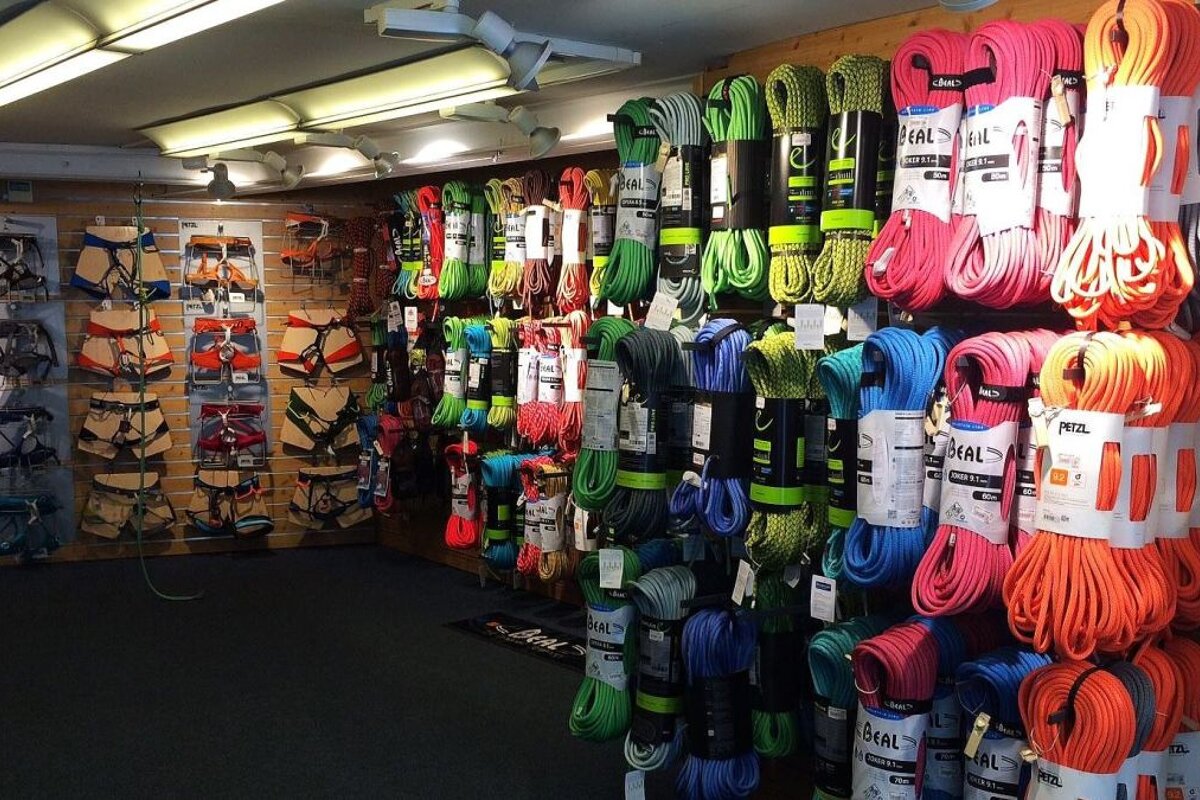 ---
Ski & Snowboard Shops
As you would expect from an outdoor sports Mecca, there are plenty of sports stores in Chamonix where you can get your hands on top mountaineering brands such as The North Face, Black Diamond, Salomon and Scarpa to name a few; as well as the fashionable mountain brands such as Peak Performance, Patagonia, Helly Hansen Chamonix, Napapijri and Quicksilver that also offer a good range of attractive outdoor mountaineering clothing.
Patagonia was one of the first big name brands to enter the Chamonix scene about twenty years ago. Patagonia chose Chamonix to promote its European sales instead of larger towns such as London or Paris as it preferred the strong mountaineering 'image' and historical charm Chamonix presents; in recent years they have worked hard to build an ethical image and now promote recycled and environmentally friendly materials that perform just as well as ever. Patagonia were joined in 1997 by well-known brands such as Napapijri and Peak Performance who selected buildings with character and stature in the heart of Chamonix, to reflect their high-end brand image. Helly Hansen Chamonix is situated at the top end of Rue Paccard and has a great range of quality ski and snowboard wear in the winter, changing to hiking and leisure wear in the summer. Along with many of the top mountaineering brands available, these stores have gone from strength to strength enjoying the specialist shopping atmosphere Chamonix whilst assisting in promoting Chamonix's reputation as a shopping destination.
If you're a young, hip, cool and trendy kind of person who favours boarding/surf wear then you'll not be disappointed either. Although not well known for its long sandy beaches, Chamonix is still home to big surfing and beach associated brands such as Billabong, Quiksilver and Rip Curl. Their colourful ranges of technical and dedicated sportswear have developed considerably over the past few years and their latest funky designs make for eye-catching window displays. During the winter, surf and beach wear is replaced by the latest snowboarding and ski wear, ensuring that they have a great selection all year round. Some of the sports shops such as Zero G, Legend'Chx and Boardriders not only stock a good clothing range but also have in-house ski and snowboard workshops where you can rent, buy or have your kit serviced. If your style is more 'street fashion' then there are further little boutique type shops in and around Chamonix's high street that sell the latest Volcom, Nixon, Nikita, Carhartt, Vans and Electric labels too.
---
High Street Fashion
If you prefer high street trends to Gore-Tex, you will also find popular brands such as Benetton, Timberland and Superdry to kit yourself out in "normal" clothes which can sometimes be hard to come by in Cham! Rummaging through the second-hand (or is that pre-loved?) items in Oh My Dressing could result in a vintage bargain or two; the proprietress is an enthusiastic fashionista who will delight in helping you put together a new look. For more basic items such as socks, underwear and plain t-shirts go downstairs in Super-U on Rue Vallot.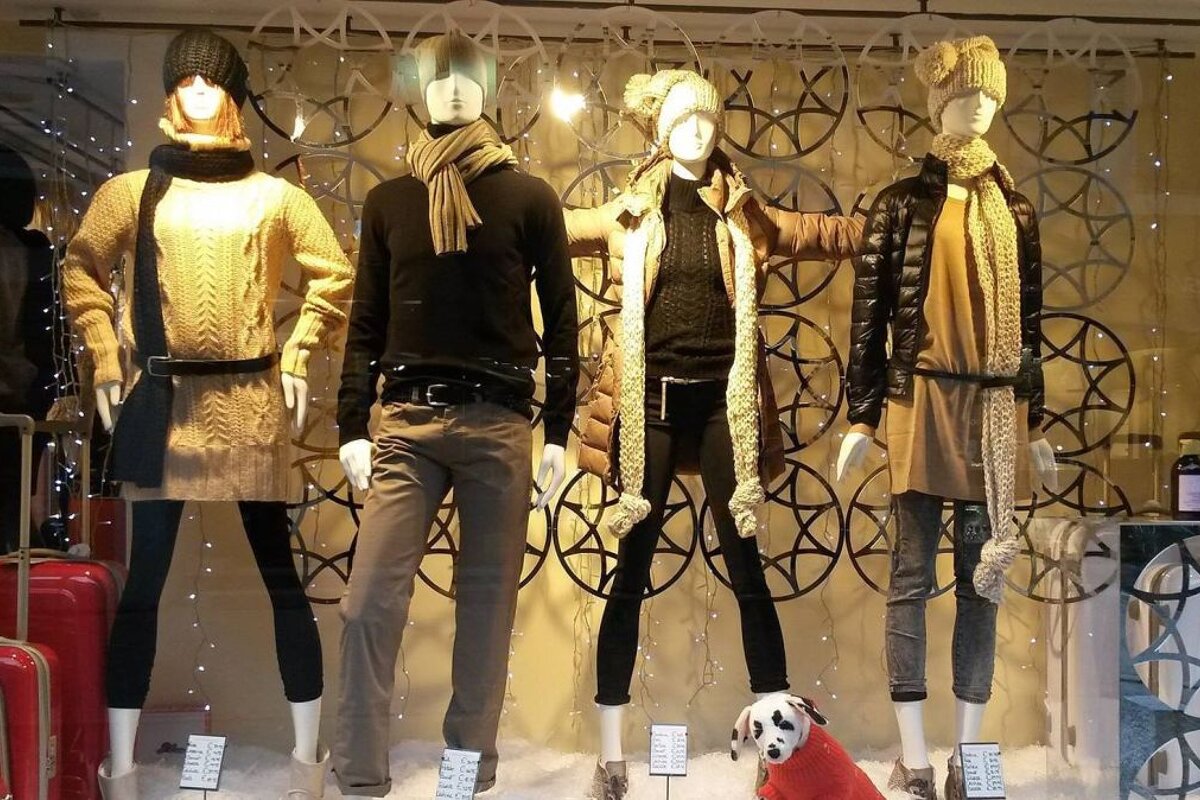 ---
Babies & Children
Not forgetting the little'uns... La Ville De Venise is an old-fashioned toy shop, crammed floor-to-ceiling with all sorts of puzzles, stuffed animals and games - if you're buying a gift they will wrap it for you at no extra charge. La Trace has a good selection of books, toys, face paints, jewellery, crafts and suchlike as well as alpine souvenirs such as whistling marmots, furry animal back packs and even a Chamonix version of Monopoly. On Rue Paccard you'll find some lovely items including teething toys, new baby gifts and wooden musical instruments at Chamonissimo.
La Petite Cordée on Rue Paccard has an adorable collection of outfits and accessories by Petit Bateau, Noukie's and Falke that will ensure that your children are dressed as stylishly as you are. At the less expensive end of the scale, United Colours of Benetton has a childrens' clothing section, as does the large Intersport in the centre of Chamonix. For warmer clothing such as snow suits and winter boots you should head to Technic Extreme or Quechua, where you can pick up an array of outdoor clothes that will keep your little ones snug without costing the earth. If you find that you need a few emergency items while you're here, the Super U supermarket on Rue Paccard has a small selection of children's clothes and footwear downstairs as well as nappies, wet wipes, dummies, etc.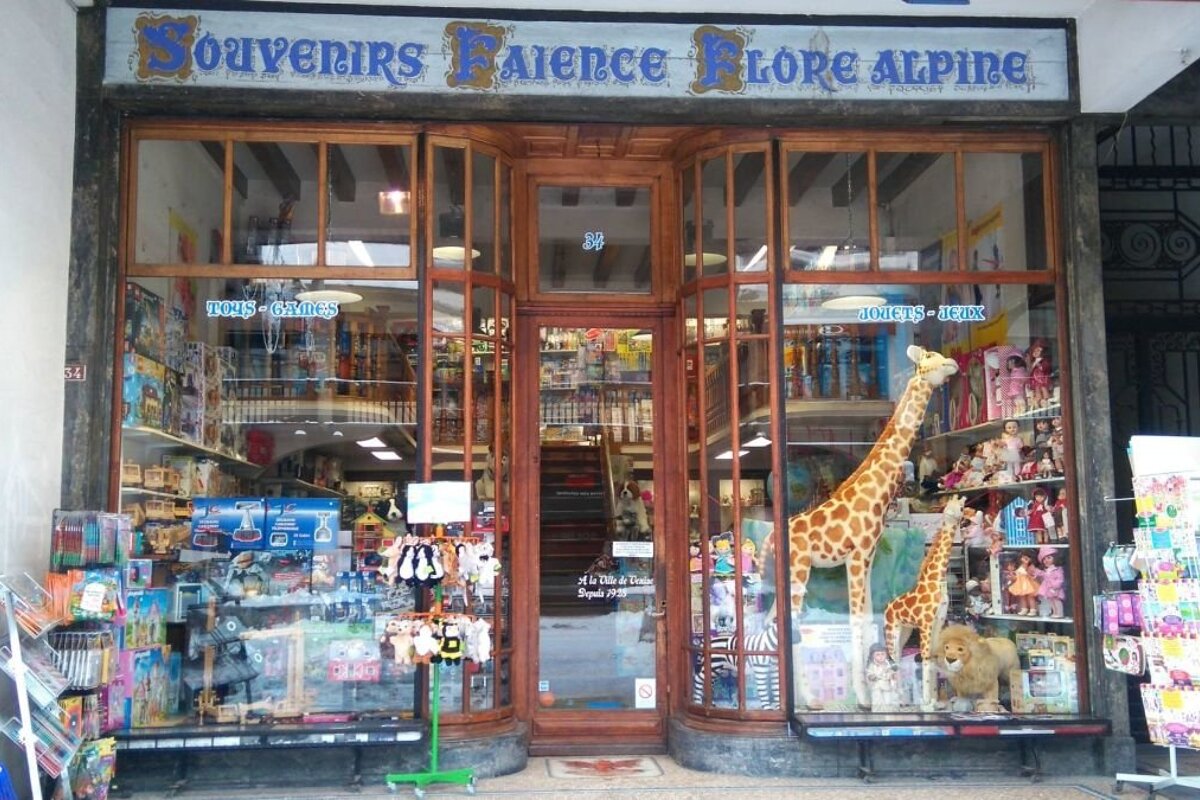 ---
Food & Drink
There are plenty of small supermarkets scattered along the valley - mostly Casino or Super U - which are fine for stocking up on general groceries. If you want to sample some of the local cheese or meats there are a number of 'Refuge Payot' stores selling fine local produce and many other gourmet food specialities. La Spiga d'Oro and Buonissimo are both excellent trattorias where you can enjoy a taste of Italy without even having to go through the Mont Blanc tunnel; they stock the finest Italian hams, cheeses, oils, and fresh pastas. At Buonissimo you can sample them with a glass or two of wine, as it is also a very welcoming bar. To try more of the local tipple, we highly recommend a visit to ChaChaCha - they have an excellent selection of wines, whiskys and plenty besides which you can discover at one of their tasting sessions, or simply pull up a stool at the bar and ask the staff for their recommendation.
Those with a sweet tooth will find it hard to resist temptation when faced with the delights of a French patisserie! All the bakeries in Chamonix offer a mouth-watering selection of cakes and pastries but Aux Petits Gourmands is perhaps the most decadent of the lot - their window displays alone are to die for and their chocolate creations make excellent gifts. Coté Macarons offers every flavour macaroon you can think of and plenty that you can't, as well as an array of cakes and speciality teas. Le Gouthe on Rue des Moulins is where all your healthy intentions fall apart when faced with their selection of fruit tarts, sticky pastries and creamy gateaux to eat in or take home. For a step back in time, have a look in the wonderful Ancey Chocolatier on Rue Vallot; stacks of chocolates, nougats, pralines and other delights are piled high in this old-fashioned sweet shop.
Organic foods, unusual ingredients and healthy snacks are the domain of the Organic Epicerie on Rue des Moulins - you'll find all sorts in here from gluten-free breakfast cereals and vegan cakes, to kombucha and freshly squeezed juices. Most of the supermarkets also have an aisle where you can find soya milk, tofu, gluten-free items, organic products and the like - all thrown together under the label "bio".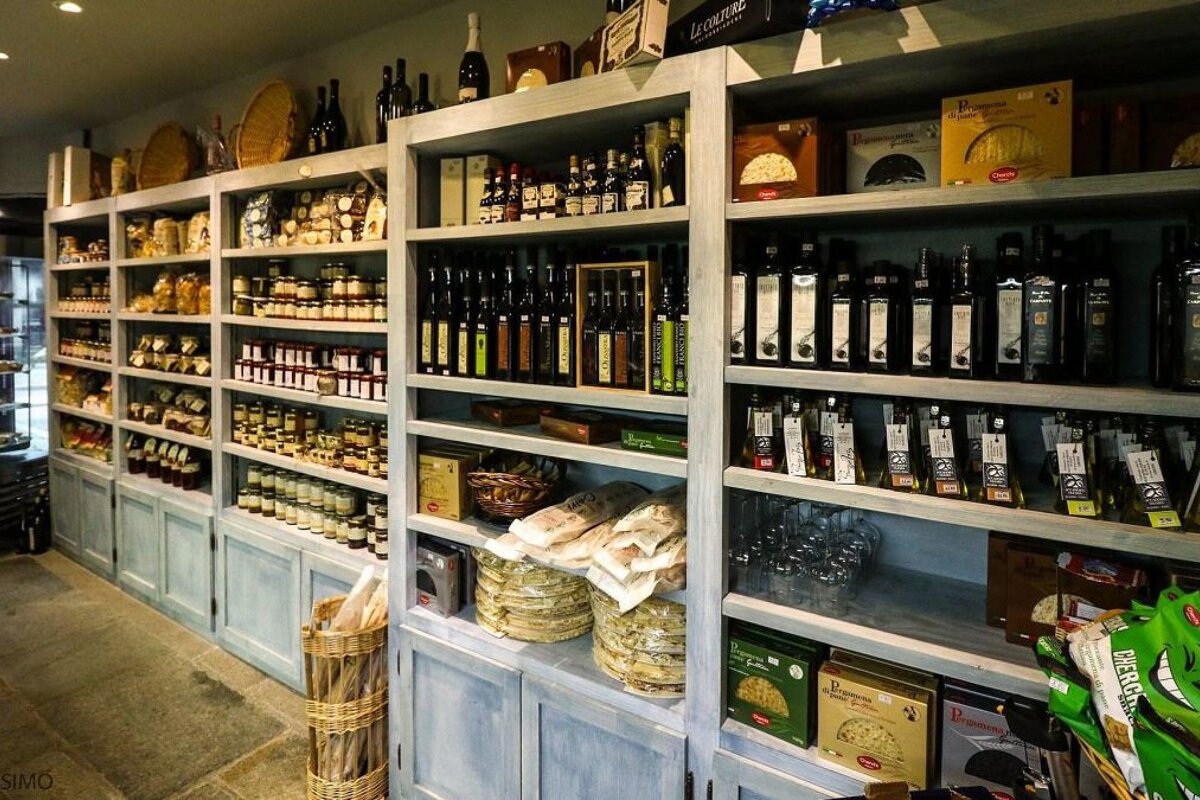 ---
Gifts & Souvenirs
Popular Chamonix gift shops include Galerie Photo Mario Colonel and Tairraz Photographie Alpine; both of which stock beautiful prints, postcards and art work of the local scenery. Mario Colonel veers more towards animals and nature, whereas Tairraz has some fascinating vintage photographs of alpine life and early mountaineers - look out for the ladies crossing crevasses in high-heeled boots and voluminous skirts! The Alpine Library bookshop and the Maison de la Presse both sell a wide range of English language guide books, Alpine maps and beautiful coffee table books.
Retro prints and kitsch household items with an alpine twist can be found at Alp-Chic, or head towards the train station and pop into Reves d'Hiver - a little treasure trove of unique knick-knacks and stylish gift items. Cowbells and cuddly marmots can be purchased pretty much everywhere but the best range is to be found at La Trace on the corner opposite McDonald's.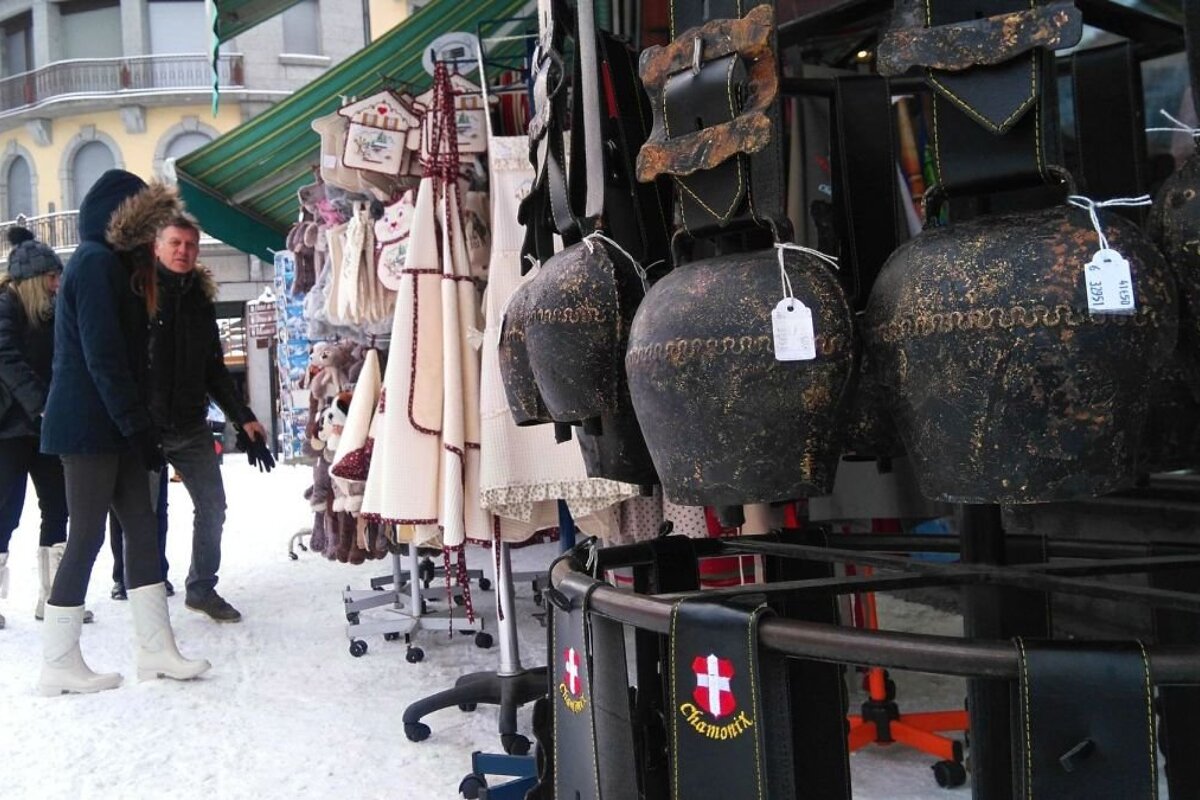 ---
Sales
If you're hoping to get a bargain when you're here, be it the latest Peak Performance ski jacket or Chanel handbag, you need to time your visit to very specific times of year. Unlike the UK when it appears that shops have almost permanent sales on, sale or "solde" time in France is strictly regulated and shop owners are not allowed to discount their products at any other time. End of the line ("Fin de serie") and "Promo" is acceptable but the real bargains are to be found at the specifically designated sale times, when you can get your hands on all the big brands for 40-70% less than the normal retail price. In Chamonix, sale time usually runs from the last week in June until the first week in August.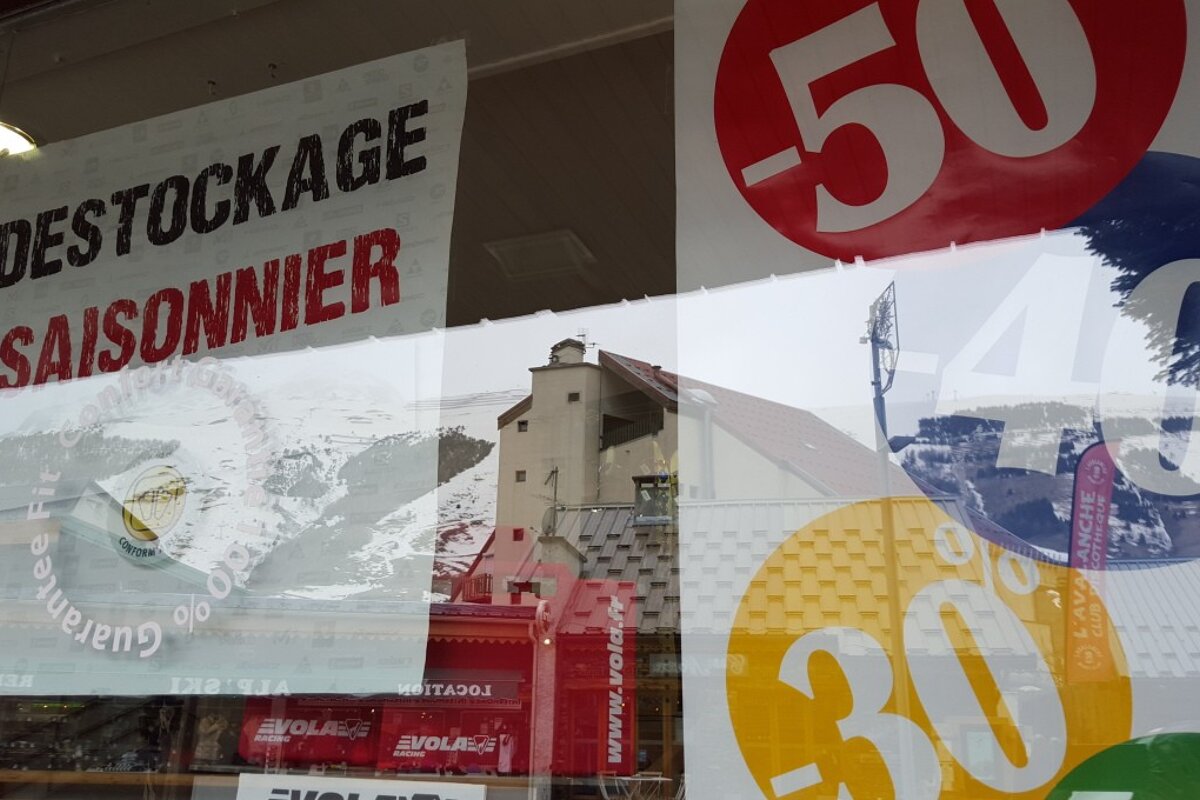 Highlights