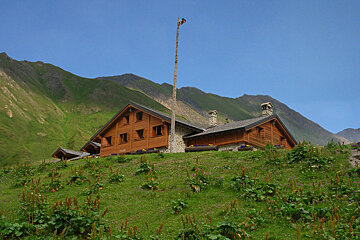 Rifugio Bonatti (Bonatti Refuge), Val Ferret
Very plush refuge with stunning views back over the Mont Blanc massif
Situated in the Val Ferret valley in Italy at the mouth of the vallee de Malatra this refuge has stunning views on all sides and is relatively easy to access at all times of year.
The refuge can be reached from Courmayeur. Once in Entrèves take the Val Ferret, continuing to Lavachey. The refuge is located on the orographic left side of this valley, at 2025 meters. Its location, at the entrance of the Valley of Malatrà, is a good vantage point of the Mont Blanc massif.
In addition to being an ideal starting point for tours of varying difficulty and length, it's a rest stop of the TMB (Tour Mont Blanc), the T.G.B. (Tour the Great St. Bernard) and Alta Via # 1.
Accommodation can be booked bed only, or including breakfast and/or dinner. Beds are provided with blankets and pillows but for hygiene reasons you must provide your own sheet or sleeping bag liner (they can also be rented at the refuge depending on availability).
Please contact the refuge directly for this season's prices and opening/closing dates.
Worth knowing
The easy accessibility of this refuge makes it very popular, be sure to reserve your places in advance of your trip.
Who should go
Perfect for a summer hike along the valley or in winter you can snow shoe or ski tour up to the refuge.
Check-in Arrangements
Check in at the reception when you arrive and you will be shown to your dorm room, told which beds are yours and issued with shower tokens.
Check-out Arrangements
You pay when you leave the refuge, they only take cash however, so be warned and make sure you have enough with you!
Directions
In the winter time you leave your car at Entréves (take a shuttle) or Planpincieux. Walk along the trail and reach the location Lavachey. Before the wooden bridge, the trail 28 that goes through the woods. At the junction for Sécheron / Val Arminaz, you turn left on the path and climb until you reach the open area in sight of the refuge.
Location