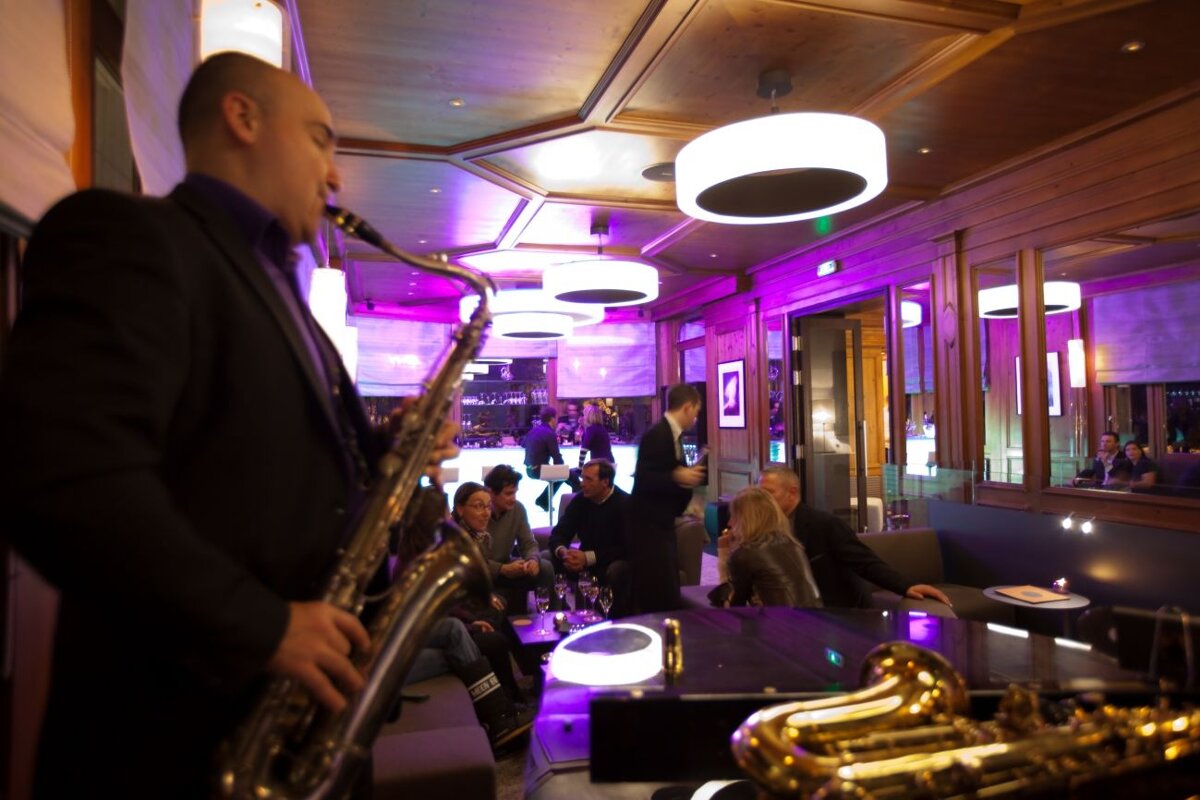 Nightlife in Chamonix
Discover the top Chamonix nightlife
Chamonix wouldn't be the resort that it is without a good dose of après-ski to end the day with! There's no shortage of places to go for a few drinks and some live music after a day on the mountain.
Whether you prefer to soak up the late afternoon sun with a quiet glass of French wine or dance on the tables in your ski boots, beer jug in hand, Chamonix has plenty of great spots when the lifts shut for the day.
Après-ski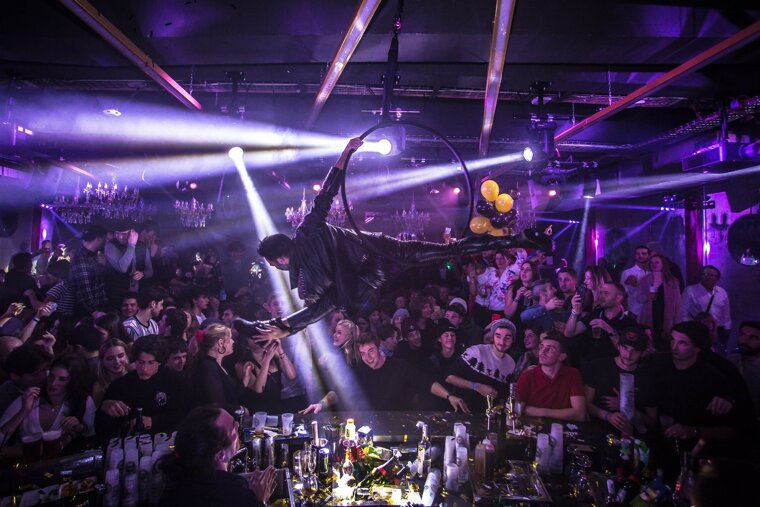 With a lively and vibrant après-ski scene, Chamonix has plenty of spots opening their doors to welcome you off the pistes.
One of the highlights is the legendary La Folie Douce, a hotel located at the foot of the Brevent slopes (the Savoy to be exact), you just need to follow the beats when you exit the cable car. It has a large deck for dancing and drinking, from which you can see across to the Aiguille du Midi and up to Mont Blanc. Après 'Folie style' gets going from 16:00 until around 20:00, and offers high-energy live music performances from a range of DJs, singers and musicians accompanied by dancers and acrobatic performers in crazy costumes. Much more than just an après spot, the hotel also has two gourmet restaurants, a cocktail bar, a café and even a spa.
One of THE places to après ski in Chamonix is Chambre 9. They know exactly what the après crowd is looking for and book the best après-bands each winter to blast out a wide range of crowd-pleasing songs that get everyone dancing (on tables, chairs, indeed, any available surface!) between 17:00 and 19:00 every night (except Saturday). Get in early as it's standing room only (and barely that at times!). Opposite you'll find two bars next to each other, both worth a visit for some après-fun. Elevation is an all-day bistro for locals and holidaymakers alike. Well worth trying for breakfast or lunch, or for grabbing a beer as you finish the Vallée Blanche. Next door is MOÖ Bar, run by Morten, Oscar and Örjan (whose names provide the initials for the bar's name), familiar faces to many of us who've après-ed our way round town over the last few winters. Offering a fantastic bar menu; tables with pour-your-own beer pumps; and all of the cocktails and smiles you'd expect from these guys - MOÖ is always a great night out, either for a few beers or for dinner and drinks.
On the main high street is the friendly The Pub, which as you might expect has a very British feel to it. A nice heated terrace on the pavement, making it a great people watching venue all year round, and the bar's big screen ensures that it has one of the best atmospheres in town during major sporting events, (but get there early if you want a seat or it's standing room only).
If real ale is more your thing, then head along to the Micro Brasserie de Chamonix (MBC) to sample their highly regarded, naturally produced real ales and lagers. Made from the finest malts, hops and yeasts available, they don't use preservatives or additives at all in their brewing process. Being slightly out of town, the MBC relies on its great reputation for good beer, food and live entertainment; there are often great live bands playing during après-ski and later in the evenings.
Late nights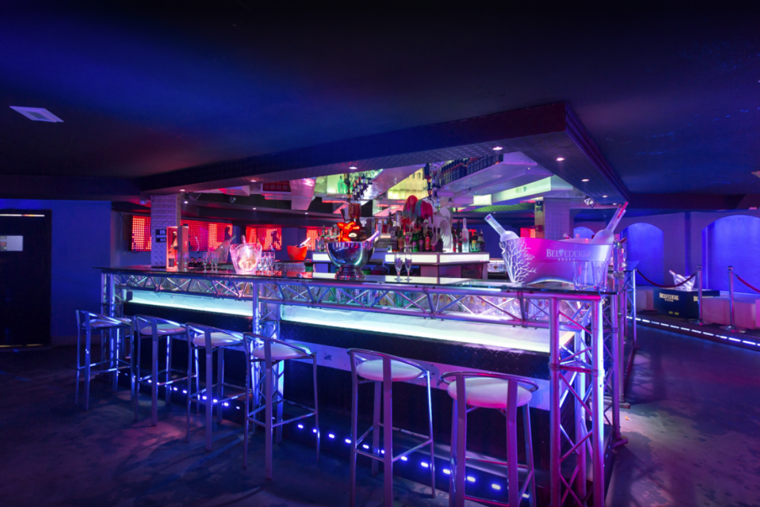 If you're looking for some late night fun you're in luck, there are several bars in Chamonix that stay open until the early hours of the morning, but there's only one nightclub.
In Chamonix Sud South Bar has a sunny south-facing terrace is a great place to chill out with a few beers and a burger in the afternoon, but once the sun sets, head downstairs to dance the night away in the dark, loud, sweaty confines of the underground cellar bar. They host some epic nights down here and their DJs know just how to get the crowd going. Don't plan on getting first lift tomorrow morning.
Chamonix's large nightclub and melting pot for all the late night (sometimes all-night) party-goers, L'Amnesia is also situated in Chamonix Sud. The club is very popular with the French, Scandinavians and British from all over town. Throughout the week it plays host to a number of theme nights with internationally recognised DJ's, and some scantily-clad and highly-talented 'dancers', usually on Thursday nights. Open around midnight and closing at 04:00 during the peak winter and summer seasons; opening hours vary during off-peak seasons.
Sophisticated spots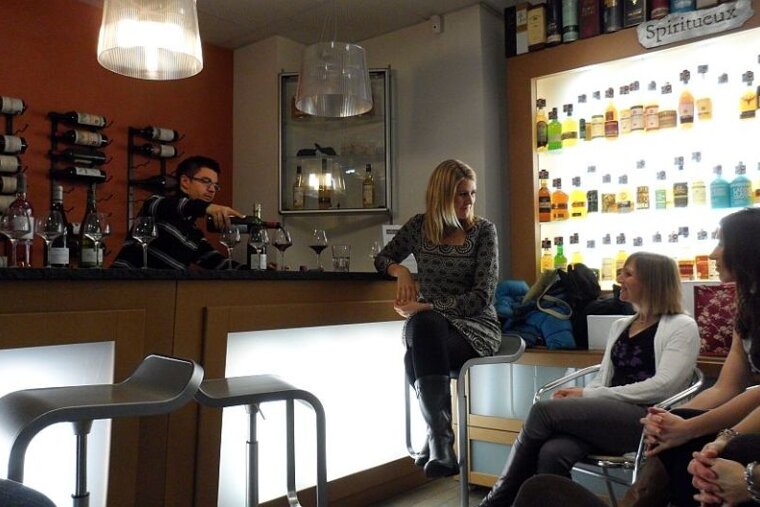 If you're looking for a more civilised evening or have something to celebrate, there are several chic bars and hotel lounge-bars in the resort that cater to wine enthusiasts, cocktail aficionados and casual drinkers alike, and many will also have live music. Some offer a little snack alongside your choice of beverages, ranging from a bowl of nibbles to an entire tapas board.
A stylish wine and spirit merchant on Avenue Ravanel Le Rouge (just past Zero G), Cha Cha Cha offers a varied menu of wine, beer and spirit tastings every night of the week during the winter season. You can also buy a glass or bottle of wine to enjoy at the bar or on the terrace throughout the day and evening. In the same area you'll find L'Hydromel, a trendy bar/restaurant with a buzzing terrace, full both summer and winter. Best known for their excellent cocktails, they also have a good range of beers, wines and soft drinks and they're open until 01:00, so pull up a stool and soak up the atmosphere. If you're down Rue du Moulin you can't go wrong with a visit to Les Caves Bar, with its killer cocktail menu and extensive wine list. It's perfect for a relaxing pre-dinner drink or post-dinner partying with friends, and is one of the few spots you won't feel out of place if you're all glammed up.
There are numerous hotel lounge-bars in Chamonix, Quartz Bar is a part of the prestigious Hameau Albert Premier hotel and fine dining restaurant, and offers a more refined place to drink, offering over 16 different wines available to buy by the glass. They have regular live music in the bar and you can also pop in for afternoon tea and admire some of the artwork on display. La Folie Douce is not just an après bar, away from the noisy terrace you'll find a relaxing lounge-bar with large windows looking up towards Mont Blanc. For something a little more lively try Pointe Isabelle in the centre of town, a favourite with locals and tourists alike, it's open all day for food and drinks, and you'll find comfy couches to relax on and enjoy something from their drinks menu.
Live music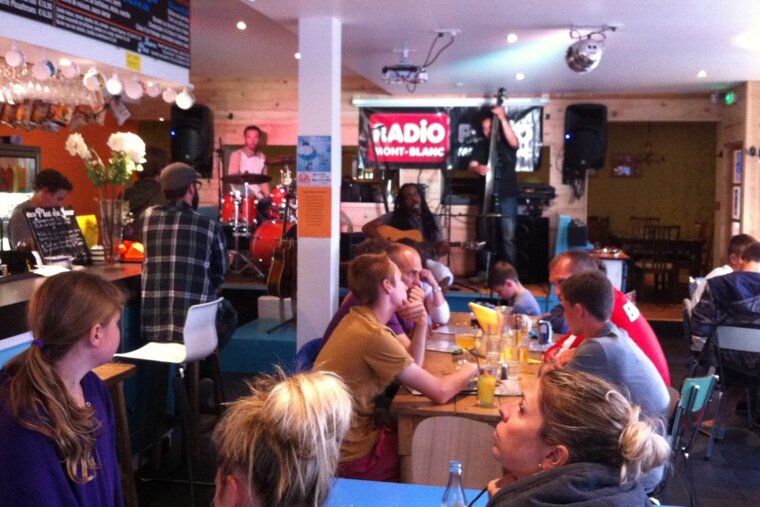 Live music is not hard to find Chamonix. From the smallest bar to the swanky hotel lounges, there's always something on. Specific information regarding weekly line ups can be easily found by simply looking at any of the numerous information boards around resort, where each of the individual bars will post their weekly programmes and promotions.
The ones we'd recommend to check out would include Kitsch Inn. This retro ski chalet at the foot of the Les Houches ski area loves a good old sing-song and is a regular place for après-ski concerts that include everything from indie, to folk, to old school rock. The décor is a mish-mash of eras with lots of random items that you'll recognise from years gone by, and the food is pretty decent as well. You'll find them at the bottom of the Bellevue cable car. On your way back towards Chamonix (Les Gaillands) you'll find Le Vert, a hotel/bar/restaurant which is well worth a visit. Hugely popular with locals and hotel guests alike, it has a friendly chilled out ambience and their kitchen turns out food to put some of the bigger restaurants to shame. As evening falls gather in the bar to chat, play pool and watch sports on the big screen. Le Vert hosts some legendary parties, often with quite big-name DJs playing, and is always a lot of fun.
In town head to Bighorn Bistro, a family friendly place in Chamonix Sud with American beers on tap and good home-cooked food. In the evening they have regular live music and open mic nights. Bar'd Up is a small and relaxed hang-out on the Rue des Moulins that regularly features live music and DJ's, as well as open mic sessions, singstar contests and party nights. They regularly screen English football matches, and when there's no sport on the TV, you can while away the hours with a game of pool or table football.
At the other end of town, La Yaute Café can be found not far from the lift station of Grands Montets, on the right hand side of the road on the way to Argentiére. It hosts live music most nights of the week in winter and has a separate games room with a pool table and lots of cosy corners to enjoy a drink in.
More inspiration...
Keep an eye on our Events Calendar for all the latest parties and events in Chamonix.