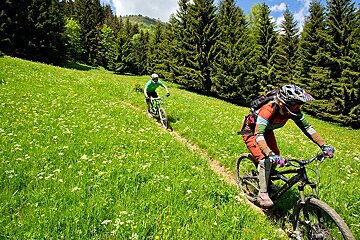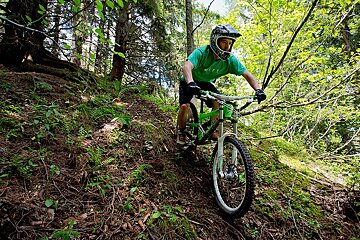 Les Houches MTB Trails
Mountain biking in Les Houches
Long descents to valley floor (950-1,900m). Trails here range from gentle intermediate to advanced tree and steep gradient runs. A favourite run with locals is the descent from the top of the Prarion gondola down to the village of St Gervais and Le Fayet. There are a number of different options, offering long and exhilarating runs down to the bottom.
A nice link up from St Gervais down to Le Fayet is the "Pipeline", which follows (you guessed it) a large water pipeline, from the bottom of the Bettex cable car in St Gervais, down to the Thermal baths in Le Fayet, close to the train station. There are a couple of sections with long wooden steps in and some tight switchbacks, which will keep you on your toes - a great end to the ride down from Les Houches.
Once you're in Le Fayet you can either take the valley train back to Les Houches or Chamonix, or the tramway back up to the Col de Voza and top of the Bellevue cable car allowing you another downhill descent for the way home.
The original purpose made MTB trails which descended from the Bellevue lift have been abandoned in favour of the recently built track from the Prarion gondola. These old Bellevue trails still exist, along with a small handful off hidden trails in the woods on this side that will definitely challenge you (i.e. definitely not for beginners), but they are no longer being maintained and Compagnie du Mont Blanc is not encouraging their use.
Fortunately the new Prarion track is excellent, with a variety of blue and red options on the way down to keep you interested and allow for a wider range of riders and bikes to use it, though a full face helmet and body armour is recommended.
Another local favourite ride is a long trail that comes off the fire road after the tunnel close to the Prarion gondola. The track hairpins back to your left, down through the woods and into meadows on some really fast and flowy single track. If you're really going fast it might take you between 12-15 minutes to get all the way back to the road near the lifts at the bottom, though remember it is a shared use trail so don't scare other users and risk losing the right to ride there!
Check out the trails near the Prarion gondola on this map (Passerelle = north shore, Balise = trail marked - blue/red)
More inspiration...
Find where to hire a bike in Chamonix.
Location