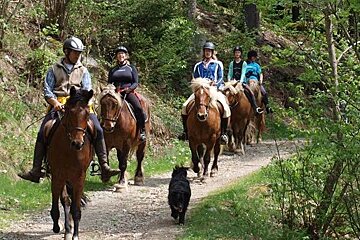 © Centre Equestre du Mont-Blanc
Centre Equestre Du Mont-Blanc, Les Houches
Discover the mountain on horse back or take lessons in their arena
This horse riding centre is situated in just up the hill from the train station in Les Houches. The centre is open all year round and has both an indoor and outdoor arena.
Whatever your level, they are able to provide both group and private lessons for one or two hours. For those more experienced riders there is also the opportunity to do some hacks ranging from a half day to several days of trekking! A fantastic way to see and discover new areas of the valley.
During the winter months, riders can also have a go a Skijoering were you can do some stunning cross country routes being pulled along on your skis by a horse!
They also cater for
- Horse rides for novice riders or confidant (one hour or two hours)
- Trekking on horseback (half-day, full day or several days)
- Special requests (wedding, birthday ...)
For further details, visit their website or contact them directly using the 'make an enquiry' box.
Location