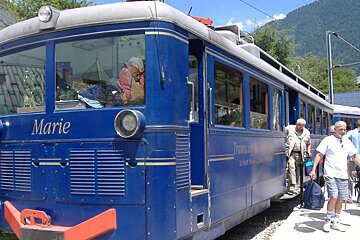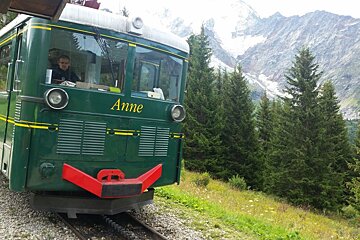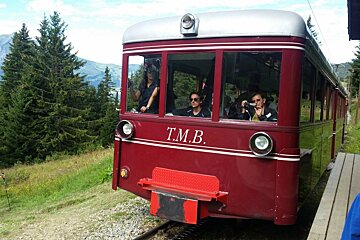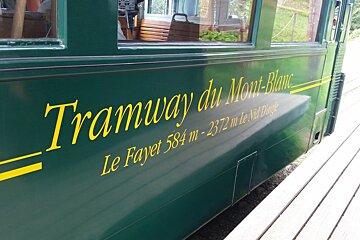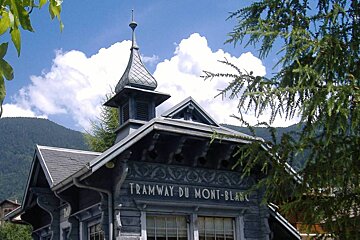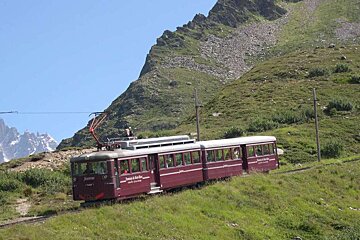 Tramway du Mont-Blanc, Les Houches
A classic tramway from St Gervais Le Fayet up to the Nid d'Aigle
The Tramway du Mont Blanc runs from the bottom of the valley in Le Fayet all the way up to the Nid d'Aigle at 2,380 metres, above Les Houches.
The rack and pinion train stops four times before getting to the end of the line at the Nid d'Aigle (eagle's nest) viewpoint, from where you get a fabulous view of the Bionnassay glacier, the beginning of one of the mountaineering routes up Mont Blanc.
The journey up from St Gervais Le Fayet takes around an hour and a quarter and allows you to climb from 580m up to 2,380m at its final stop. You'll have the pleasure of being in one of the retro tram carriages named Anne, Marie or Jeanne, after the daughters of the owner of the site.
There are a number of lovely hikes in the area and mountain bikes are permitted on the tram subject to space. During the winter, the train stops at Bellevue and provides access to the Les Houches ski area.
History
1904 : The construction of the site begins
1907 : On 25th July, the first section up to Col de Voza was inaugurated
1911 : Second part up to Bellevue
1912 : The line reaches the Nid d'Aigle ("Eagle's Nest")
1913 : First visitors to the top by train
1923 : Opening of the line in winter up to Bellevue (1800m)
1956 : The steam engines are replaced with electric ones
1997 - 2000: The three engines are renovated, one each year
Watch this
Who should go
| Access | Yes/No | Notes |
| --- | --- | --- |
| Elderly Access | ✓ | Although access at Nid d'Aigle is difficult |
| Babies | ✓ | Up to Col de Voza and Bellevue from 12 months, Nid d'Aigle from 24 months |
| Wheelchair Access | ✓ | Up to Col de Voza and Bellevue, not possible to Nid d'Aigle |
| Disabled Toilets | | Only at Col de Voza |
| Dogs | ✓ | Must be kept on lead |
| Parapentes | ✓ | From Nid d'Aigle |
| Mountain Bikes | | |
| Car Parking | ✓ | Le Fayet or St Gervais |
| Lockers | | |
| Reservations Required | | Recommended during peak season |
| Sports & Activities | ✓ | Alpinisme from the Nid d'Aigle - access to the Mont-Blanc, hiking, mountain-biking, trail running |
Directions
You can join the Tramway du Mont Blanc either down in St Gervais or in Les Houches. In Les Houches take the Prarion gondola up and walk left across the top of the hill in the direction of the Bellevue lift and Mont Blanc. The train stops at the Col de Vosa, the Bellevue and the final stop is the Nid d'Aigle where you'll see a lot of mountaineers re-joining the train or getting off to climb.
How to get passes
You can buy lift passes at the ticket office once you arrive, or buy a pass in advance on line. See all the Summer Lift Prices and if you're not sure which pass to buy, read our Guide.
Location