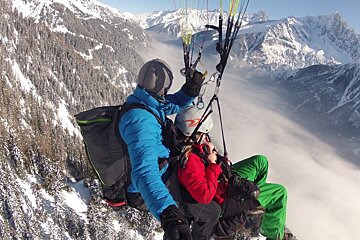 © Fly Chamonix - Sean Potts
Non-skier things to do in Chamonix
Can't ski, won't ski? It's not all downhill you know
When your family and friends want to go skiing, but it really isn't your cup of tea, don't panic.
You don't have to ski or snowboard to enjoy a memorable holiday in a ski resort.
Whilst Chamonix is a great place to come skiing, there are many activities here to suit a non-skier of all ages and tastes.
Here are some great ideas for you:
Buy a pedestrian pass and jump on a lift
Go to après-ski along with everyone else
Ride a train or husky sled
Book a tandem flight
Go snowshoeing or ski-touring
Go to the sports centre
Visit a spa for some relaxation
Book a restaurant for lunch
Visit a museum or see a film
Learn nordic skiing - you might just like it!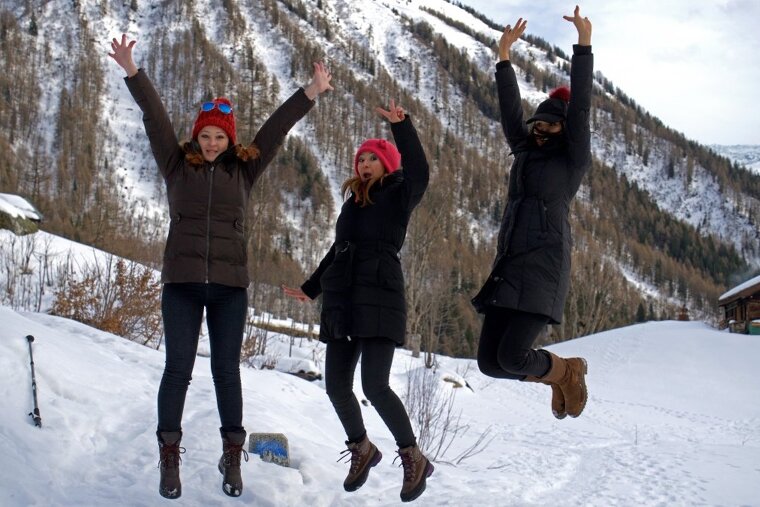 Snow fun without the skis
Buy a pedestrian pass
Enjoy the mountains as a non-skier by buying a pedestrian lift pass. It provides access to many activities, and many mountain restaurants. Over half of the mountain restaurants can be reached on foot by ski lift, so it's entirely possible to meet up with your family and friends for some fine dining. Or get up close and personal to Mont Blanc itself by booking onto the highest cable car in France, the Aiguille du Midi. Once onboard you'll travel to 3,482m where you'll have spectacular views over the glaciers towards Mont Blanc, and have access to multiple viewing platforms offering 360º panoramas that extend across France, Italy and Switzerland. Be sure to wrap up warm.
Après-ski with everyone else
You don't have to ski to enjoy "après-ski". Meet up with the rest of your group in a local bar and share stories from your day over a beer. La Folie Douce is legendary, and the original alpine party company opened its first hotel here, bringing its table dancing, cabaret shows and live music to the foot of the Savoy piste. Alternatively you could head to one of the ice rinks for a fun evening set beneath the snow-clad Alps. If you still want more, grab a sled and go to the nearest nursery slope, sledging access is free.
Ride on a train or a dog sled
The little red train that leaves from behind the main Chamonix train station has been chugging up to the Mer de Glace for over 100 years, and in our opinion a ride on the Montenvers train up to the longest glacier in France is a must. The train winds its way up the side of the mountain, amongst the pine forests and through dark tunnels of rock to emerge beside the Mer de Glace at 1,913m. As well as the glacier itself, you can also visit a crystal museum, ice caves, the Temple of Nature, the Glaciorium and the historic, recently refurbished Grand Hotel du Montenvers. If you are accompanied by a mountain guide you can even go onto the glacier to see the crevasses and bottomless holes close up.
You can also become a musher on a sledge pulled by huskies (or opt to be a passenger in the guide's sledge for a more sedate experience). Located near the golf course in Les Praz, booking in advance is recommended as this is a very popular activity. And don't forget there's also the alpine rollercoaster open all winter at the Planards slope, a 1,300m track with numerous twists and turns, the only thing you can control are the brakes.
Book a tandem flight
Take to the skies for a bird's eye view of the mountains with a helicopter tour, or book yourself a tandem paragliding flight. You'll be able to get as close to Mont Blanc as is physically possible (without actually climbing it yourself).
Snowshoeing and ski-touring
You can really get away from it all and disappear into nature on some snowshoes (raquettes). Either under your own steam with a printed guide from the tourist office or book a snowshoe excursion with an activity company to see a side of the mountains that most skiers will never see. Full-day, half-day and night-time options are available to take you into the heart of the mountains – from the highest peaks to the wildest valleys. Equipment and transport are usually included, check when you book.
For some at altitude hiking there marked and groomed walking trails dotted throughout the valley floor, they are well signed and criss-cross with snowshoeing and cross-country trails. Always dress for the weather - layers are the key, sunglasses and sun cream are vital even on a cloudy day. Stick to the trails, respect the environment and be aware of changing conditions.
If you've decided the days of skiing up the mountain all-day, every-day, are well behind you, those with previous skiing / snowboarding experience could try ski touring. There are marked ski touring routes across the valley's ski areas, and it's a great way to work up a sweat, earning your burger whilst the rest of the world takes the lifts. Hire a guide and pull on some skins for an adventure away from the madding crowd.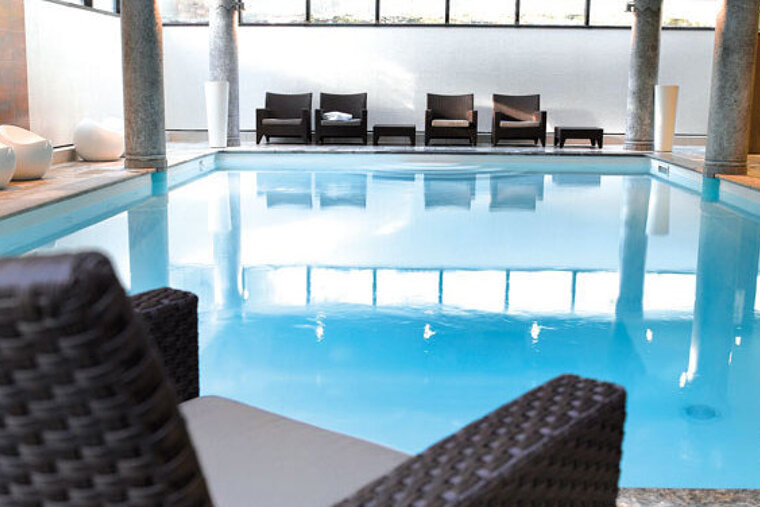 Not just a ski resort
Chamonix is so much more than a ski resort. In fact, you can really have a great time here without setting foot on a lift.
Go for a swim
The Richard Bozon sports centre is home to swimming pools, spa, indoor sports courts, a bouldering room, gym and a whole host more. Guaranteed to have something to keep you entertained if swimming doesn't tickle your fancy, perhaps a quick work out in the gym will help you feel better about over-indulging in the nearest patisserie? So don't forget to pack your gym kit and a swimsuit (speedo-style only boys).
Book a treatment at the spa
Or if all of that sounds far too active and you really just want to pamper yourself and read your book, or stare at the view, there are numerous spas and treatment rooms you can enjoy. Many hotels have exclusive luxury spas which are open to non-guests for a fee, and mobile massage companies will arrange to visit you at your chalet or apartment.
Book a table
And when you feel hungry, enjoy some slap up French cuisine with a glass of fine local wine - you deserve it. Many local restaurants have well priced lunchtime set menus offering the same cuisine as their main menus, but often with considerable discounts. Some offer wine tasting sessions also.
Visit a museum or go see a film
For a small town, Chamonix has a surprising number of museums and galleries. The Musée Alpin and the Espace Tairraz Crystal Museum are the two most well-known options but there are a few others dotted around such as the Maison de la Mémoire et du Patrimoine, a heritage centre on the Rue des Moulins that has lots of vintage photos and old footage of the Chamonix valley through the ages. They hold regular talks and guided tours so pop in and see what they have lined up. Or drop into the local cinema, grab a box of popcorn and catch up on the latest releases - look for VOST or VO (version originale) for English language films.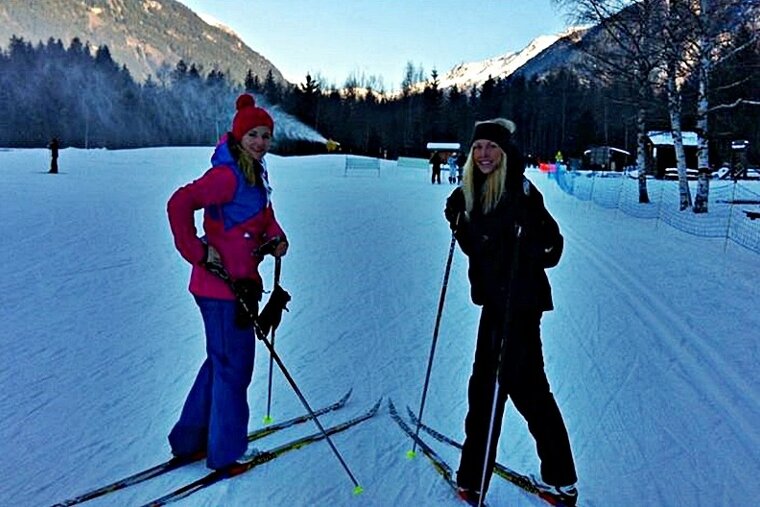 Skiing, but not skiing
Nordic skiing
Still looking for something to occupy your time? There's always cross-country skiing to try. An extremely popular mountain sport, known as 'ski de fond' in France, there are cross-country tracks available across the valley floor, usually with skating style and classic courses running alongside each other. You can hire equipment and arrange lessons locally, and the views are to die for!
More inspiration...
As you can see there is more than enough to keep you occupied here during a no-ski skiing holiday. So unpack all those books you planned on reading, you simply won't have time.