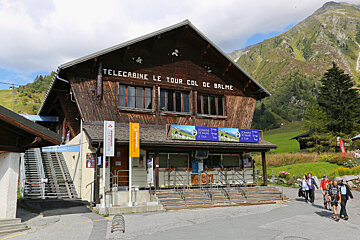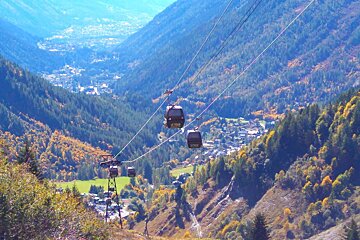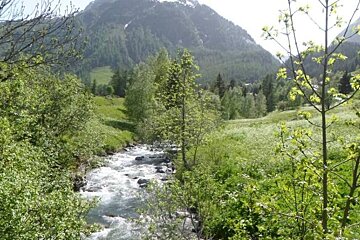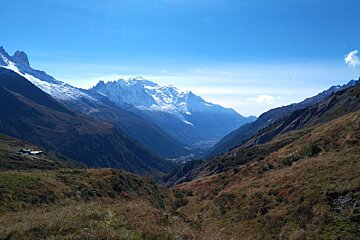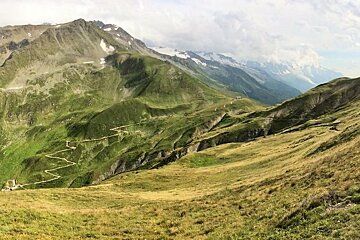 Le Tour & Vallorcine, Chamonix Valley
Summer lifts giving you access to the Swiss border, hiking & MTB trails
Le Tour is a small, quaint little village at the far end of the Chamonix valley in the 'Domaine de la Balme' area with access to some great hiking and mountain bike trails.
Take a stroll around the back streets to see some of the classically Alpine style houses and the church dome. Look up to see the glaciers reaching down towards you, which are really impressive even in the height of summer.
There are three lifts open in this area during the summer months, the gondola from the village to the mid station (Charamillon) the Autannes chair lift and the Vallorcine gondola on the far side.
You can take mountain bikes on all of these lifts in summer as Le Tour and Vallorcine have dedicated mountain biking trails.
Who should go
| Access | Yes/No | Notes |
| --- | --- | --- |
| Elderly Access | ✓ | |
| Babies | ✓ | From 12 months |
| Wheelchair Access | ✓ | |
| Disabled Toilets | ✓ | At Charamillon |
| Dogs | ✓ | Must be kept on lead |
| Parapentes | | Speed-riding possible in winter |
| Mountain Bikes | ✓ | Summer only |
| Car Parking | ✓ | Free |
| Lockers | | |
| Reservations Required | | |
| Sports & Activities | ✓ | Skiing, hiking, mountain-biking, trail-running |
Events in [locality]
During the summer you might find hundreds of trail runners passing through the area as part of the UTMB week, which sees races of varying lengths and difficulty set off around the trails of the Chamonix Valley.
Things to do in [locality]
Le Tour is a quiet village away from the hustle and bustle of Chamonix centre, with just a few cafés, restaurants and places to stay. If you're looking for somewhere close to beginner slopes this could be the place for you.
In summer the area is a hot-spot for hikers and mountain bikers, the latter ride on dedicated trails so that there's no cross over with walkers, so everyone can enjoy the mountains at the same time. The many walking trails offer spectacular views of the Chamonix Valley and the surrounding mountains.
Why not stay in a mountain hut, or take a guided glacier walk?
Dining in [locality]
There are a small cluster of mountain restaurants in Le Tour and a couple of cafés in Le Tour and Vallorcine, just by the bottom of the lift stations.
Directions
Le Tour can be reached best by car, as the train only takes you as far as Montroc. It takes around 25 minutes to drive here from the centre of Chamonix, or alternatively you can take one of the local buses which will also take around 30 minutes from the town centre.
How to get passes
You can buy summer lift passes at the ticket office once you arrive, or buy a Mont Blanc Multi-pass in advance on line. See all the Summer Lift Prices and if you're not sure which pass to buy, read our Guide.
Location