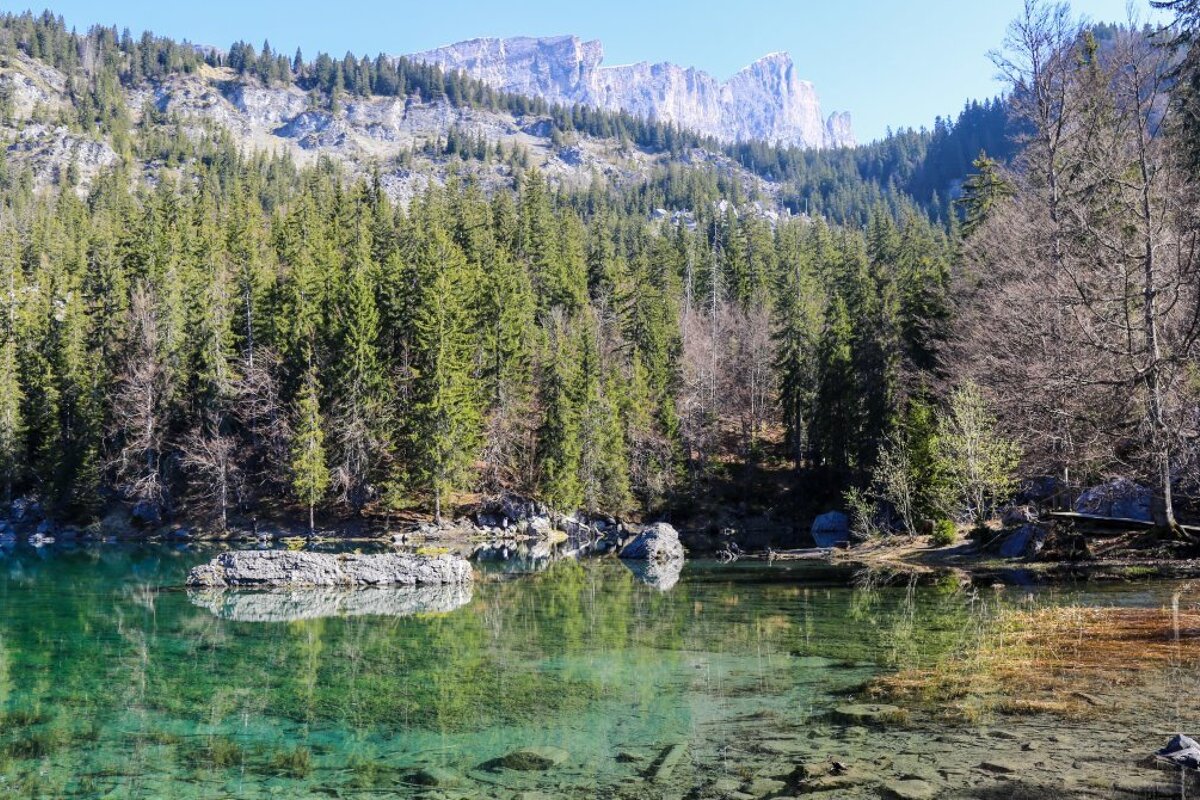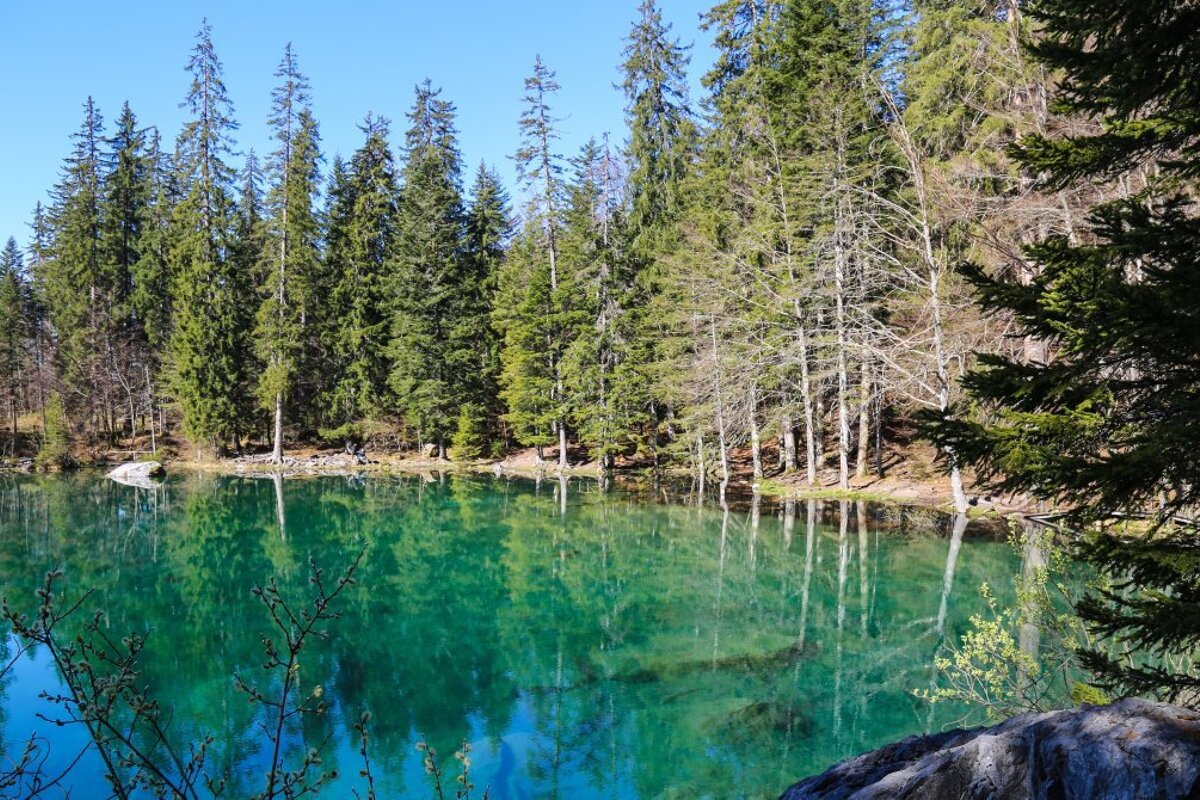 Lac Vert, Servoz
Hike up to an emerald green lake hidden in the pine forest
Lac Vert literally translates as "green lake" and is named for its emerald coloured waters. Sitting at the foot of the Rochers des Fiz mountain range it is in a stunning setting just above the charming village of Servoz.
Lac Vert is surrounded by high pine trees, which are reflected in its calm surface and offer a shady spot to sit and enjoy the view. The lake is not big and is quite safe to swim or paddle in, if you want to cool off. This tranquil little oasis is a popular swimming hole in the summer and there are a number of hiking routes that circle around it and venture further up towards the Rochers des Fiz.
The hike starts in the quiet village of Servoz, climbing up past old farmhouses and through small hamlets to reach the edge of the forest. Servoz is one of the most traditional communities in the Chamonix valley and you'll see some genuine old alpine chalets made from beautiful dark wood and local stone. Many people keep chickens in their gardens and grow their own vegetables, you may well pass the odd donkey keeping someone's lawn under control.
The last part of the hike ascends steeply through dense green forest; wild mushrooms, strawberries and blueberries can be found at the right time of year if you know where to look. The forest is crisscrossed with little streams and rivers, which are charming but mean that the path can become boggy in places, so wear decent shoes if the weather has been a bit damp lately.
The trail brings you out into a small clearing near to the lake where you'll find a car park (yes, you could have driven up but that would be missing the point of a hike) and a restaurant serving lunches, snacks and drinks. They're not open all year round, so check opening hours if you want to buy food here.
Lac Vert is a real beauty spot, a little gem of a lake secluded in an enchanting forest, well worth the effort of hiking up.
Who should go
This is a great family walk with plenty to see along the way and the possibility of a dip at the end.
What to bring
Decent hiking boots for the ascent, the first part through Servoz is easy but the forest path can be muddy and steep in places.
What to see
The scenic plateau of Plaine Joux is about 15 minutes walk from the lake, where you'll find more restaurants as well as parapenting and other activities.
Where to lunch
There is a cafe at the lake itself, as well as more cafes and restaurants at nearby Plaine Joux. If you want something a bit more upmarket then Servoz has two excellent restaurants, Le Sauvageonne and Hotel les Gorges du Diosaz.
Directions
Starting from Servoz train station, walk away from the busy main road along Avenue de la Gare in the direction of the village, turn right at the mini-roundabout onto Rue du Bouchet and continue to the crossroads. Cross over and carry on past the Hotel Gorges de la Diosaz, and look out for hiking signs on your left marked for Lac Vert.
You can reach the start of the trail by walking up the asphalt road (D143) or by taking little short cuts through the fields on sometimes quite overgrown paths marked by discrete signposts. There is a footpath called Chemin Ancien de Passy au Mont that cuts through the main road, taking a more direct and much more pleasant route up to the start of the trail.
As long as you're picking up signs for Lac Vert or Le Mont, you're heading in the right direction. Once you've reached Le Mont you'll come to a little junction with a stone fountain in the middle, look across the road to see the cluster of little hiking signs and follow the one for Lac Vert. Once you've run out of road you'll see a brown wooden signpost on your left, with Lac Vert being one of the many destinations marked on it.
Location
Servoz, Chamonix