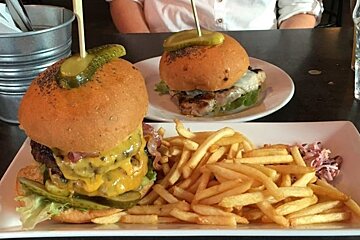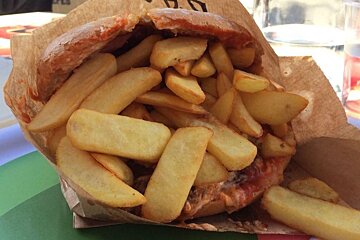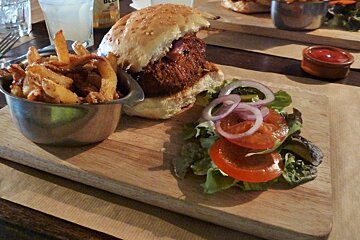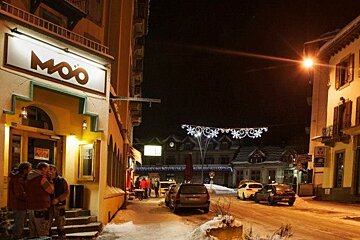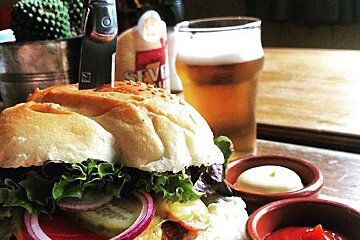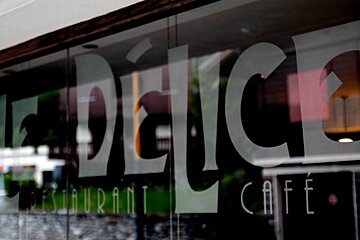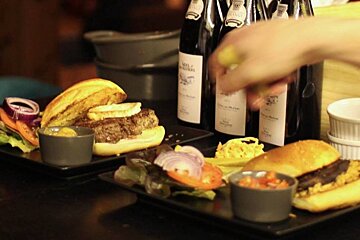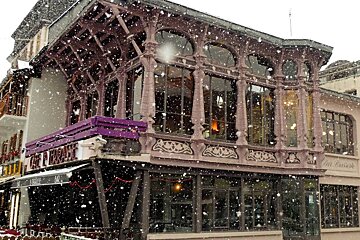 © Mountain Trading Company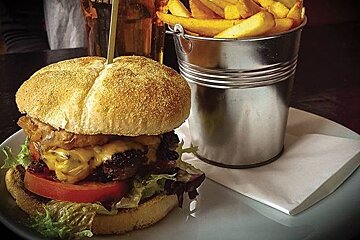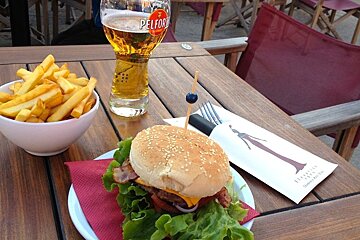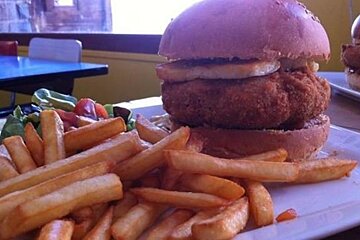 Best burgers in Chamonix
Chamonix has a pretty extensive mix of restaurants for almost every taste and budget, but sometimes all you're hankering for after a day on the mountain is a good, hearty burger
Our pick of the best places to grab a tasty burger.
Whether you prefer yours veggie, with chicken, pork, traditional minced beef or even without a bun, there's a great choice in Chamonix - you just need to know where to look. We like our burgers here in the Chamonet office, so we've put together a list of our favourites (in no particular order) to help you choose where to go for your next burger fix.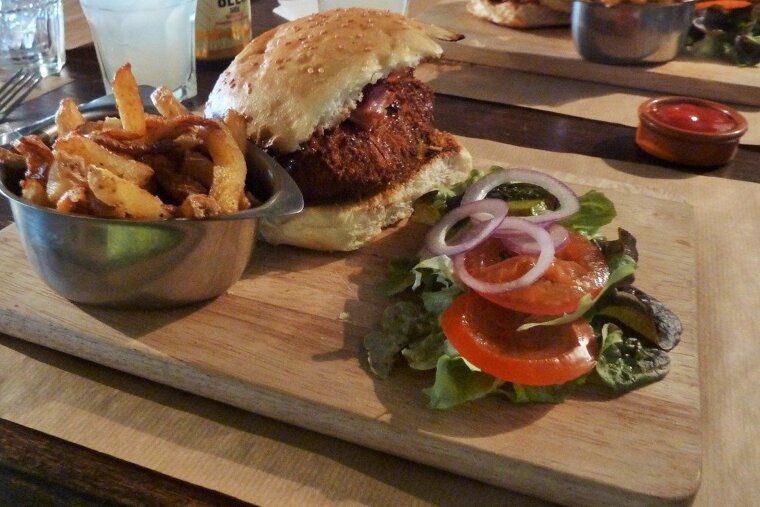 Monkey
Monkey in Chamonix Sud have a great choice of burgers, from Halloumi (the Marilyn Monroe) to the spicy Road Runner, the Dude (a chicken burger with lemon aioli) and the Mowgli, which is also available as a vegan burger. You won't find many of those in France! Burgers here start from €12 without fries.
Why we love it: Good for veggies/vegans, well priced, spicy options, love the lemon aioli on the Dude burger.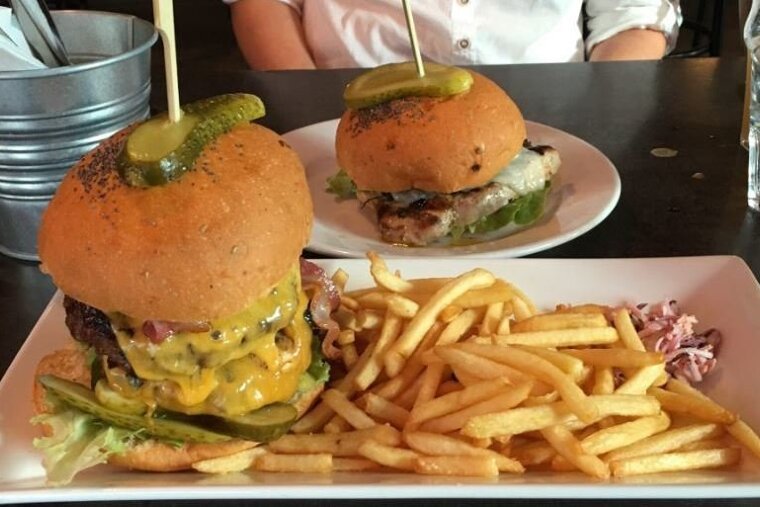 MBC
MBC (Micro brasserie de Chamonix) can be found near the sports centre on the road heading from Chamonix towards Les Praz. The have a great variety of burgers on the menu and you can order your burger with half a bun or no bun at all. On the menu are 7 beef burgers, 6 chicken burgers, 4 veggie burgers and one for the children. Prices start from €10.50 without sides.
Why we love it: The bun options, great choice, sides of poutine, great IPA, criss-cross fries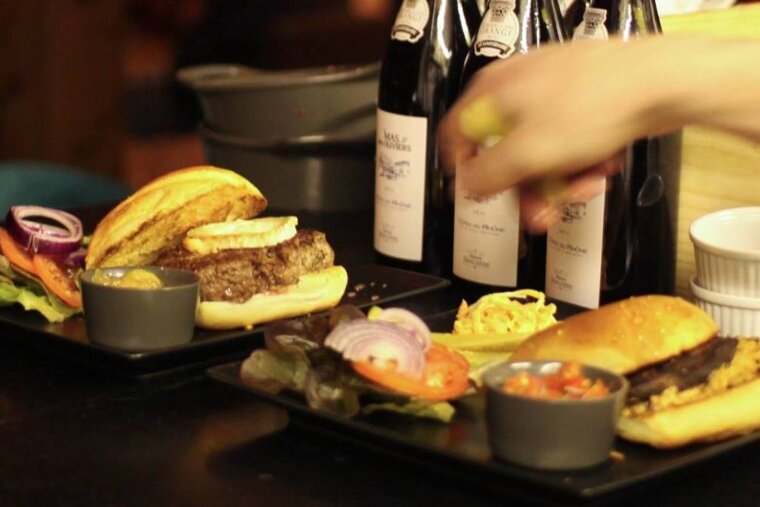 Moö Bar
Moö Bar is easy to find near the main train station in the centre of Chamonix. They serve delicious Korean or BBQ pulled pork burgers, a new beef and chorizo burger, a veggie burger and the more traditional Moö burger which is topped with bacon, cheddar and BBQ sauce. Prices start from €14.20 for the veggie option.
Why we love it: The beef & chorizo burger is 'game changer', great location, atmosphere, nice wine menu and prices are reasonable.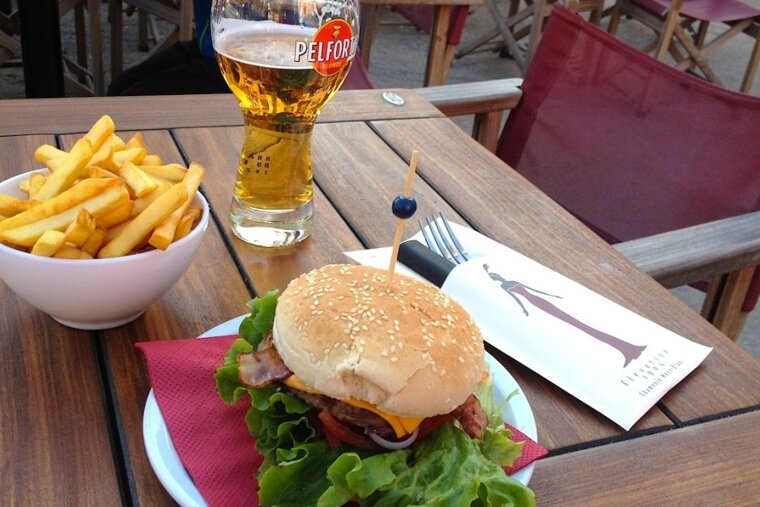 Elevation
Next door to Moo Bar, Elevation is also easy to find. Here you can have a fish finger burger, chicken and avocado burger, a XXXL cheeseburger, a BBQ Hawaiian burger or just a straight forward classic burger. Prices start from €5.10 for the classic. Ask for a hash-brown in your burger to beef it up a bit or a side of snack wedges.
Why we love it: Cheap, good atmosphere, great location.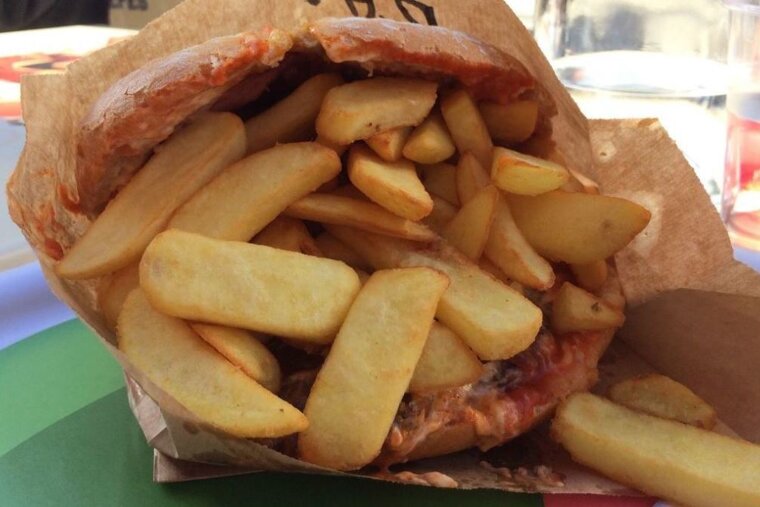 Poco Loco
Poco Loco in the centre of Chamonix is one of the easiest to find, just down the high street from the main square. If you're looking for a quick bite to eat get there ahead of the main lunchtime rush. They don't take bookings so getting there early or late, to grab a seat upstairs is a good idea. They serve burgers in the biggest buns in Chamonix, a with a choice of chicken or beef burgers and you can opt to have your chips in the bun or on the side. Prices start from €5 which makes it probably the cheapest burger in town too.
Why we love it: Cheap, big buns, quick, quirky seating upstairs
Kitsch Inn
The Kitsch Inn is another contender in Les Houches, located just behind the Bellevue lift at the foot of the pistes. They have classic cheeseburgers on the menu as well as the Old blue burger, which comes with blue cheese and a veggie burger with feta, pea, bean and coriander. They serve up their burgers in bio buns too. Prices start from €14.50 for the veggie burger.
Why we love it: Great atmosphere, quirky furniture, easy to find location & good for families.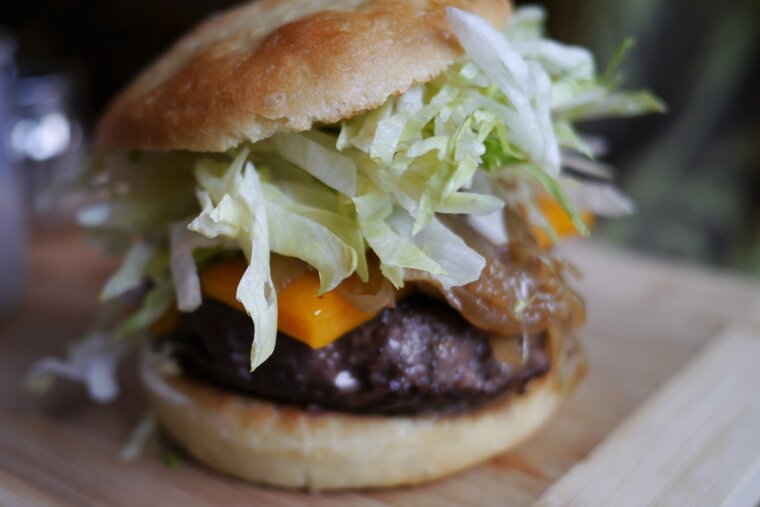 Bighorn Bistro
Bighorn Bistro is an American run restaurant in Chamonix Sud with three burgers on the menu. The Original Bighorn burger which comes with caramelised onions and cheddar, the Gauge burger - a blend of elk, bacon and beef blend and a Falafel burger with feta and red pepper for the veggies. Prices start from €13 for the veggie option without sides.
Why we love it: The tasty falafel burger, the location, really good coffee and American ales.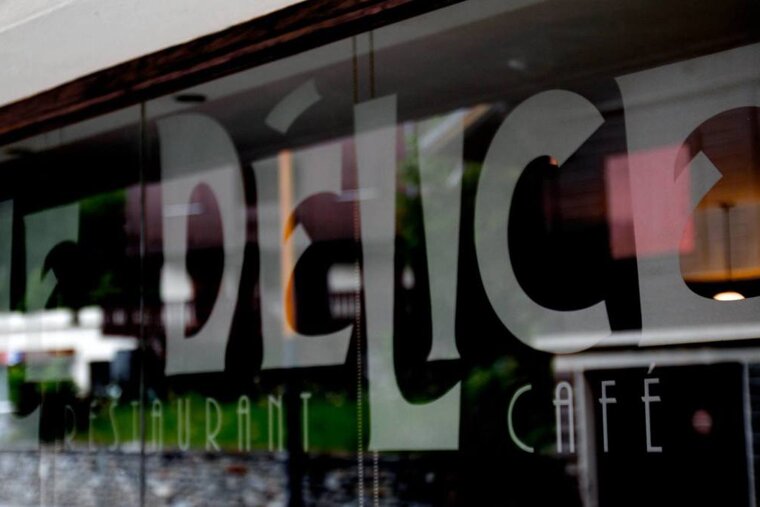 Le Delice
Le Delice in Les Houches is a great place to stop for lunch or dinner and they have two burgers on the menu - one vegetarian lentil burger with avocado and creme fraiche, or the meaty beef burger. This comes with a delicious tomato chutney, cheese and bacon. Both come with homemade fries. Priced at €15 or €16.50 they're both pretty good value.
Why we love it: Love the tomato chutney, good portion sizes, good atmosphere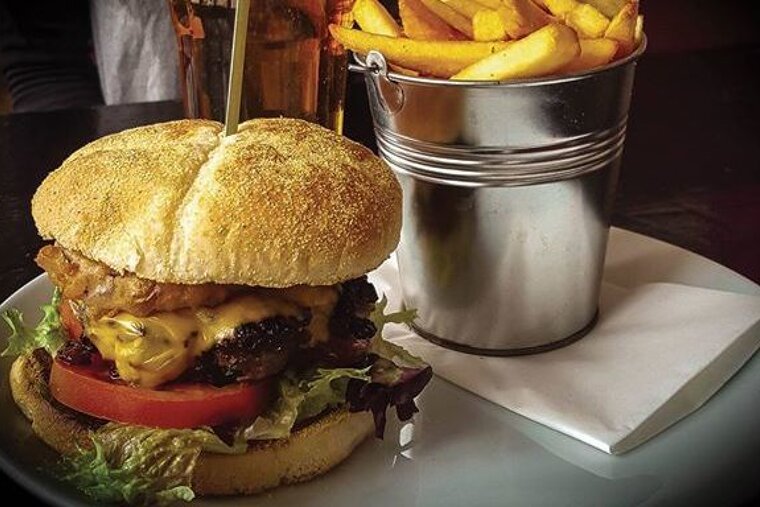 La Terrasse
La Terrasse is smack bang in the centre of Chamonix next to the river. They have a great burger on their lunch menu and on Thursdays from 17:00 - 19:00 you can enjoy a burger and a pint for just 10 euros, whilst you listen to live music in the bar.
Why we love it: Great location, reasonable prices, friendly staff.
Le Vert
Le Vert is just on the outskirts of Chamonix centre in Gaillands and has a lovely restaurant plus a bar where you can get enjoy a choice of grilled chicken burger with jalapenos and black pepper aioli, beef burger with cheese and gherkins or the spiced veggie bean burger. Prices start at €16 and you can add additional toppings for €1 each.
Why we love it: Good for families, good place to watch live sports
More inspiration...
If you're not in the mood for a burger, there are plenty of other choices of places to dine out in Chamonix, from 2 star Michelin to takeaway pizzas. The choice is yours.
Location