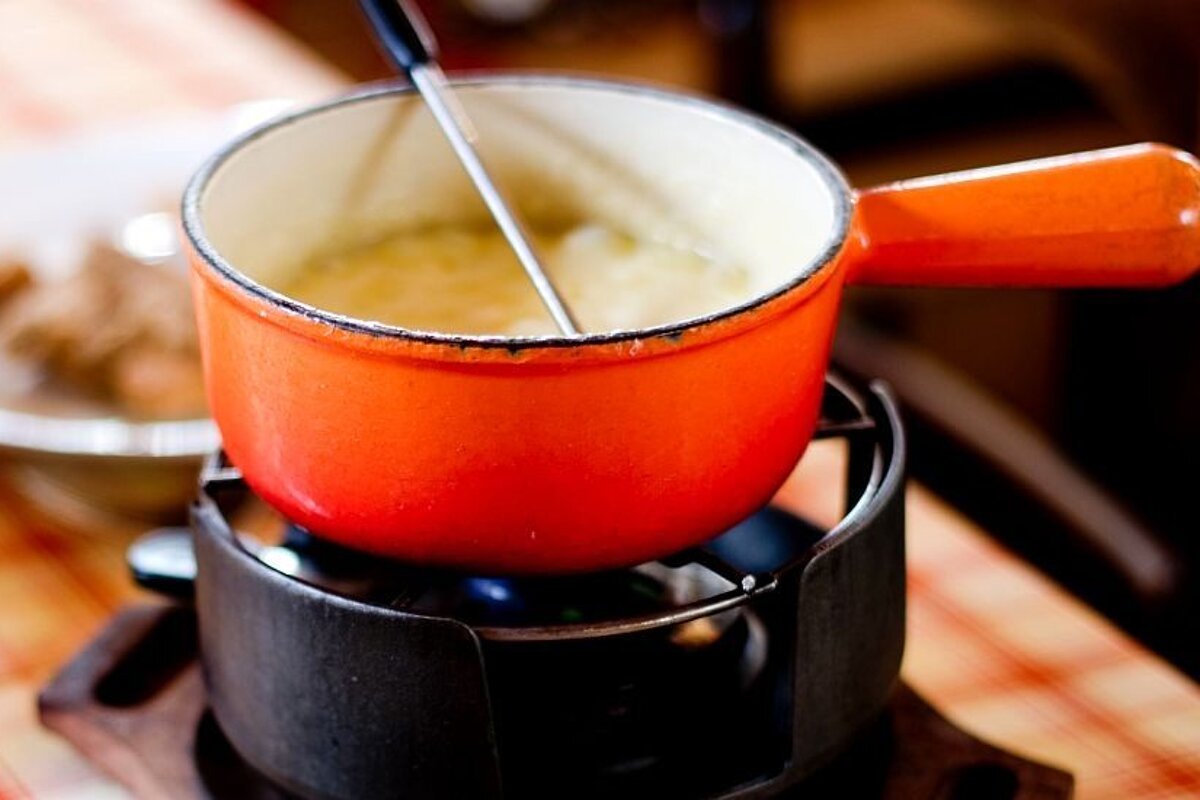 Best fondue in Chamonix
Must-visit restaurants for cheese lovers
All nutritional rules go out the window on a skiing holiday. Even committed dairy and gluten avoiders may find themselves suddenly possessed by the urge to eat half a kilo of molten cheese for supper.
The ritual of the cheese fondue is an integral and unmissable part of any ski holiday, and after skiing around a mountain in sub-zero temperatures, you merit the zillion calories in this ultimate cheese-fest...
Lots of restaurants in the valley offers Fondue Savoyarde, but here are the ones which we think really stand out.
---
Le Boccalatte
This is my personal favourite and go-to place for fondue anytime I have friends or family visiting. If you get to Le Boccalatte before 20:00 then you can easily get a table; otherwise it starts to fill up fast, so you may want to book ahead - also a good idea if you're in a larger group. The choice of fondues includes the traditional "Savoyarde", one with cepe mushrooms, one with tomatoes or one with herbs. You also have the option of having a fondue for one person - something you don't find in many restaurants. The food is all reasonably priced, the portions are a decent size, and if cheese isn't your thing they do a good steak and have an à la carte selection too. Expect to pay around 18€ per person.
Best for: Fondue for one & a good range of choice
Location: Just up the road from l'Aiguille du Midi lift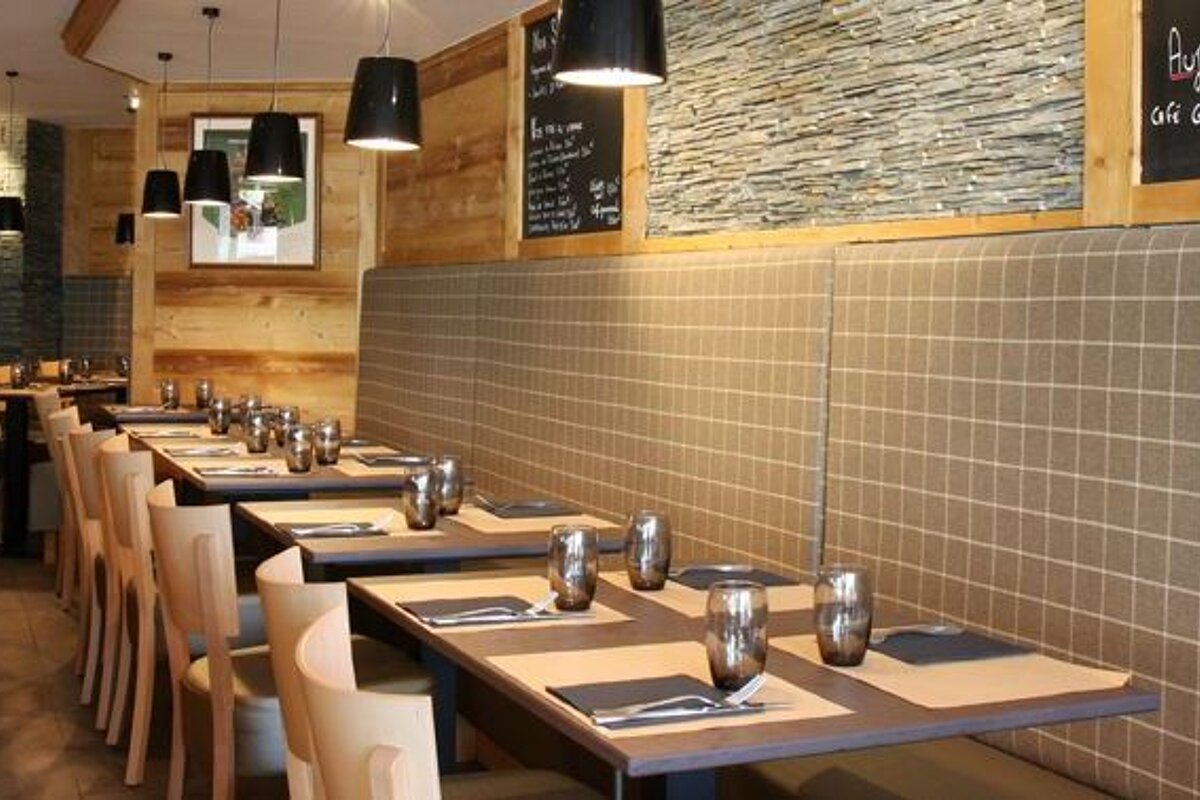 ---
La Caleche
Like the tardis, La Caleche is a lot bigger on the inside than it looks from the street with seating for around 300 people. If you don't mind dining whilst being stared down by a menagerie of stuffed animals and enjoy a more traditional & cosy setting to eat your fondue, then definitely add this to your list. The staff are happy to talk you through their extensive menu which includes a number of choices for fondues too - you can have Swiss fondue (with Gruyere) French fondue (with Comté) and Fondue cepes - our favourite. Expect to pay around 22€ per person.
Best for: Quirky, cosy interior
Location: On the main street not far from the post office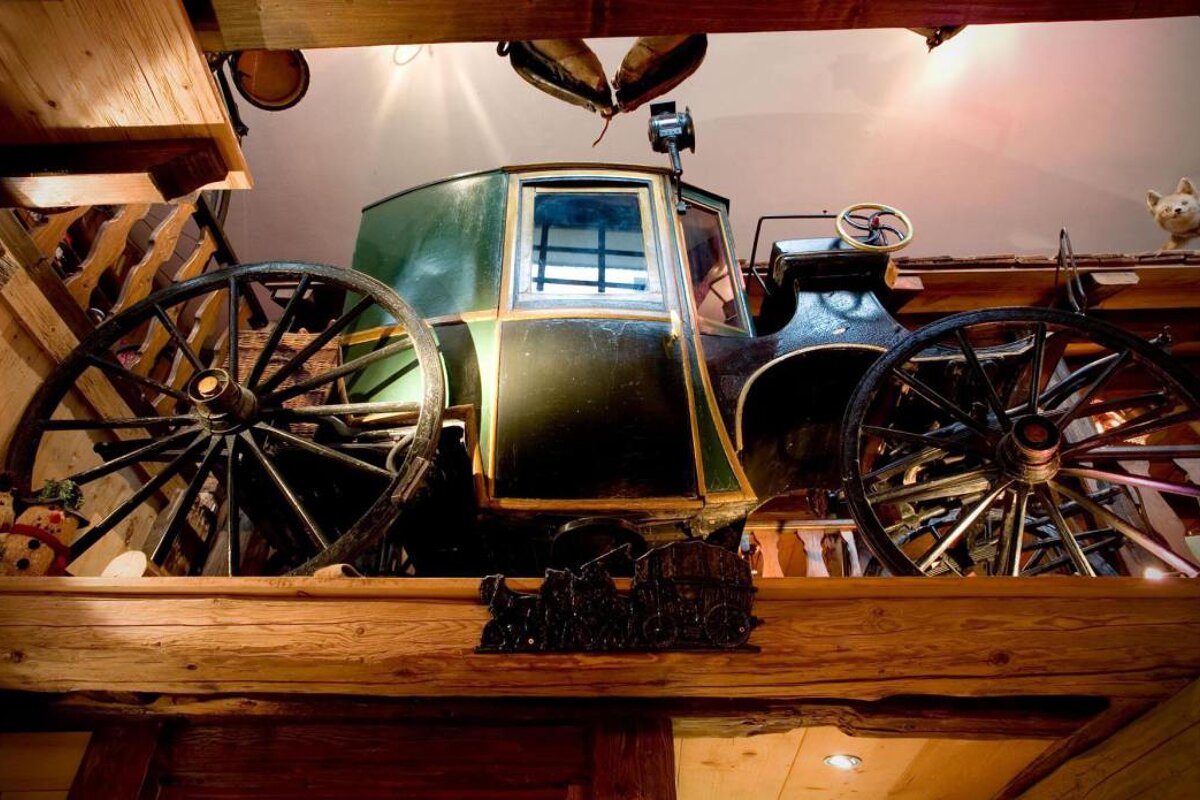 ---
Le Monchu
'Monchu' means 'monsieur' in the local patois Savoyard language, but Chamoniards used the word to refer to rich Parisian tourists who came to the mountains in the 19th and early 20th century in search for some fresh Alpine air. This restaurant, founded in 1972, is full of quirky knick-knacks, including old coffee grinders, 18th-century agricultural tools and Savoyard objects, which create a rustic and cosy atmosphere. Their fondues range from the traditional Savoyarde to the Royale, which includes champagne in the mix!
Best for: Tasty fondue in a rustic setting
Location: Set just by the river, in front of the Saussure & Balmat statue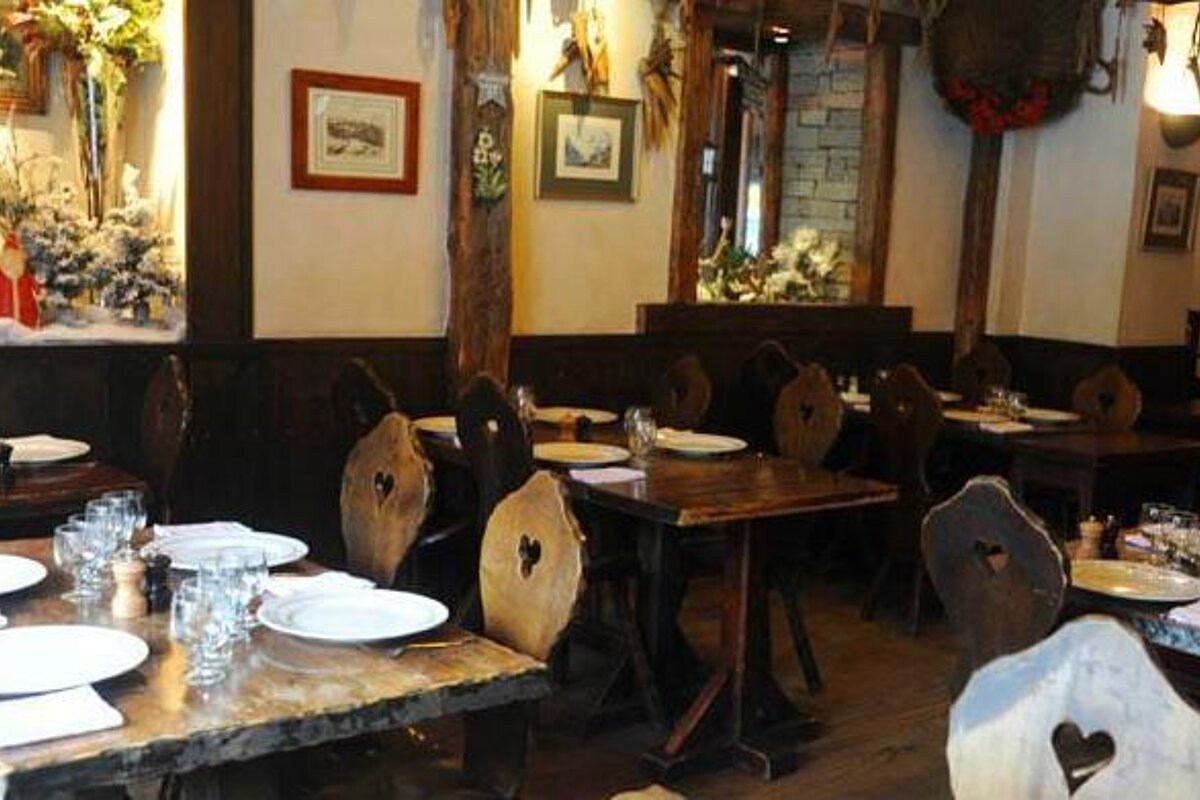 ---
L'Adret de la Flegere
Sadly you can't have a fondue at the Aiguille du Midi for safety reasons but, if you fancy a cheese-fest at altitude, you can get great views of the Midi & Mont Blanc from L'Adret de la Flegere situated at 1,913m. If the weather is good you can enjoy the views from their terrace, or sit inside and admire the view from their large windows instead. Expect to pay around 23€ per person (28€ with charcuterie).
Best for: Great mountain views
Location: At the top of the Flegere cable car (turn left)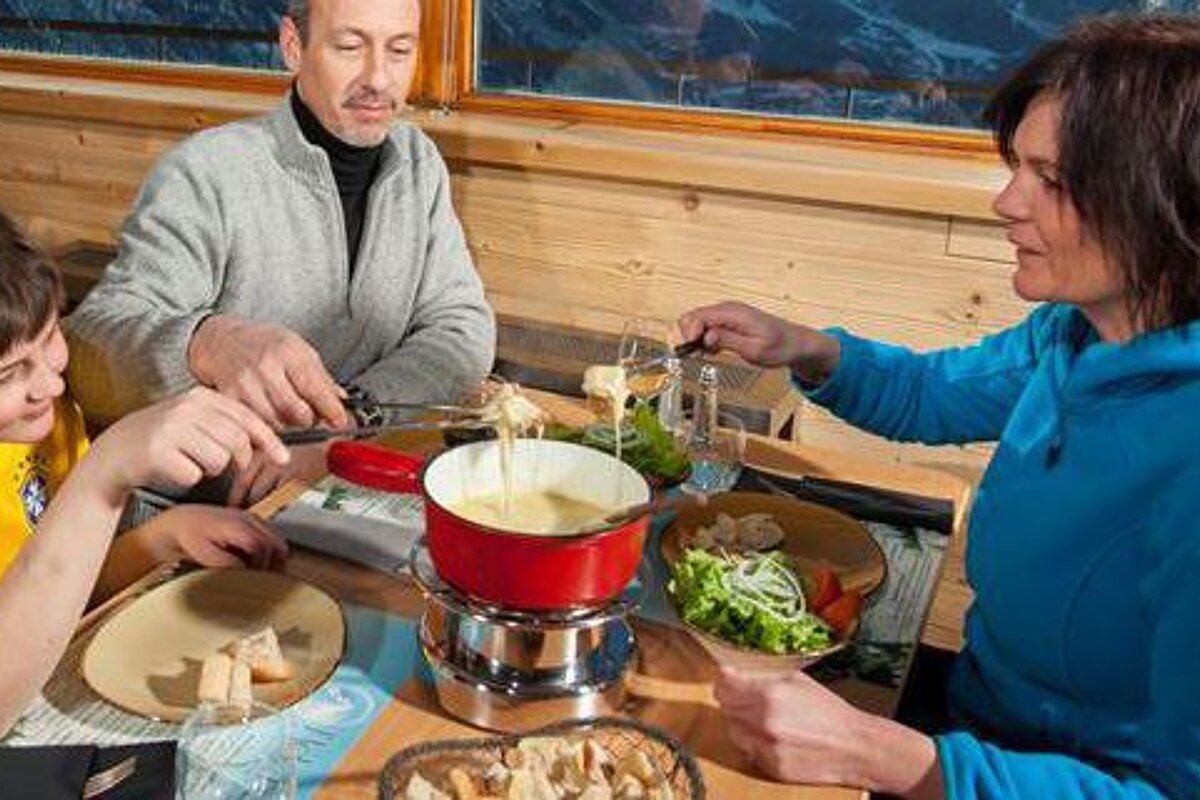 ---
Le Café Comptoir
You will definitely want to book ahead to get a table at the Cafe Comptoir as it's an incredibly popular place to eat, especially at lunch time. It's a small family run restaurant not far from the Vallorcine gondola and has a lovely modern chalet-style interior. Their Fondue Savoyarde is flambéed with armagnac and comes with Italian ham on the side. Expect to pay 19€ per person.
Best for: Piste side fondue
Location: Close to the train station & gondola in Vallorcine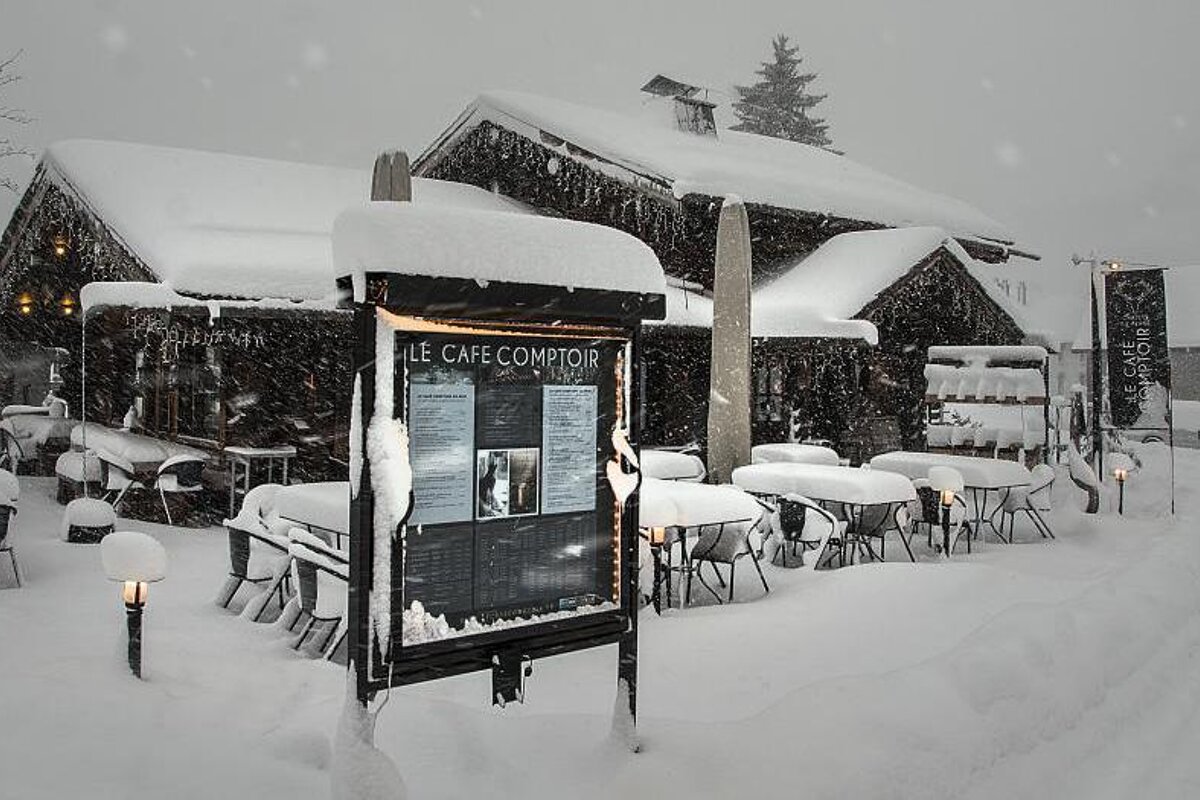 ---
Hotel l'Aiguille du Midi
The restaurant at the Hotel Aiguille du Midi is a charming, relaxed place to eat, and the bonus is that it's away from town and less crowded. They serve a fondue with a mix of Beaufort and comté cheese which comes with local smoked ham and a side salad. If you're staying at the hotel you can opt for the fondue over the 'menu du jour' - just ask for the local speciality menu instead. Expect to pay: 24€ per person.
Best for: French style fondue
Location: Les Bossons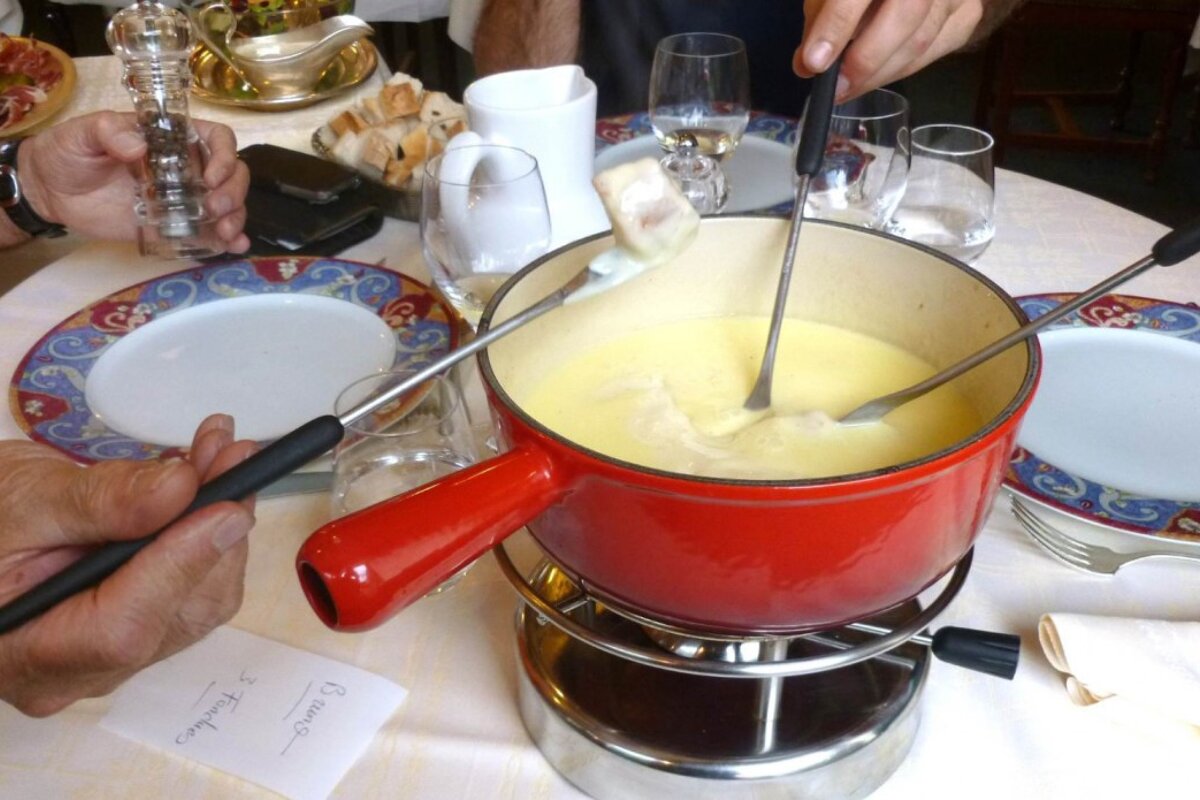 ---
Le Bistrot des Sports
Another place that's popular with locals is Le Bistrot des Sports. It's a no frills, traditional style restaurant that often has sport playing on the screen above the bar. They do a great fondue with cepes, but our favourite is the one with morelle mushrooms. If you manage to finish it all you may even get an egg cracked into the bowl to help you finish off every last bit. Expect to pay: 16.50€ (basic) - 19.50€ (with morelles)
Best for: Local atmosphere
Location: At the top end of the main street

---
La Cremerie du Glacier (Argentiere)
La Cremerie du Glacier restaurant in Argentiere is a hidden gem and well worth a visit in either winter or summer. Tucked away up a single track road to the side of the Pierre a Ric (homerun) piste of Grands Montets, it can be a bit of a challenge to get to in winter, but don't let that put you off. As well as a choice of 5 different fondues, including one with champagne, they also serve the best Croutes (in my opinion) that you'll find in Chamonix. Expect to pay 15-18€ per person.
Best for: A mini adventure to get there in winter
Location: Alongside the home run of Grands Montets in Argentiere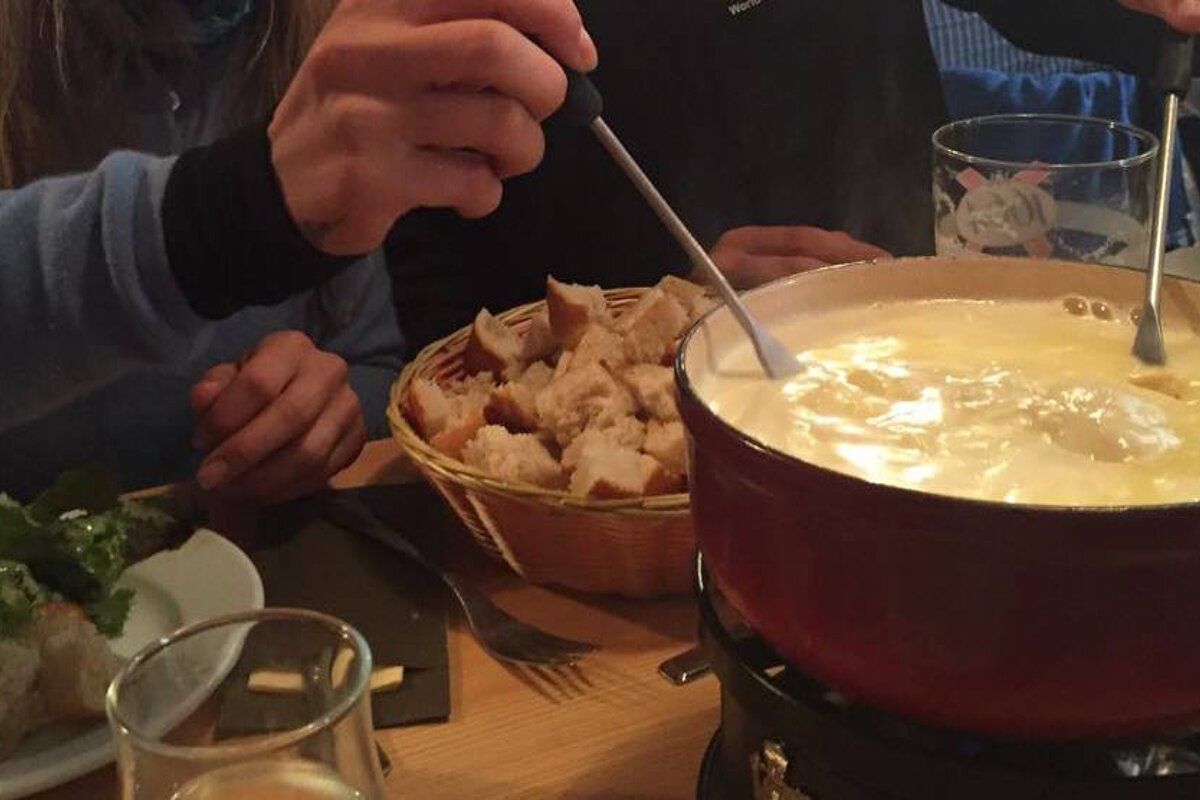 ---
DIY Fondue Night
Why not enjoy a fondue in your own accommodation? The dish is simplicity itself to make, and you can buy the ready-grated ingredients from most of the supermarkets in town. Top tip: Go to one of the Refuge Payot shops in Chamonix or Les Houches to get your cheese - they stock an excellent selection of local produce and can help you put together your recipe for a traditional French or Swiss fondue.
Best for: Budget-conscious skiers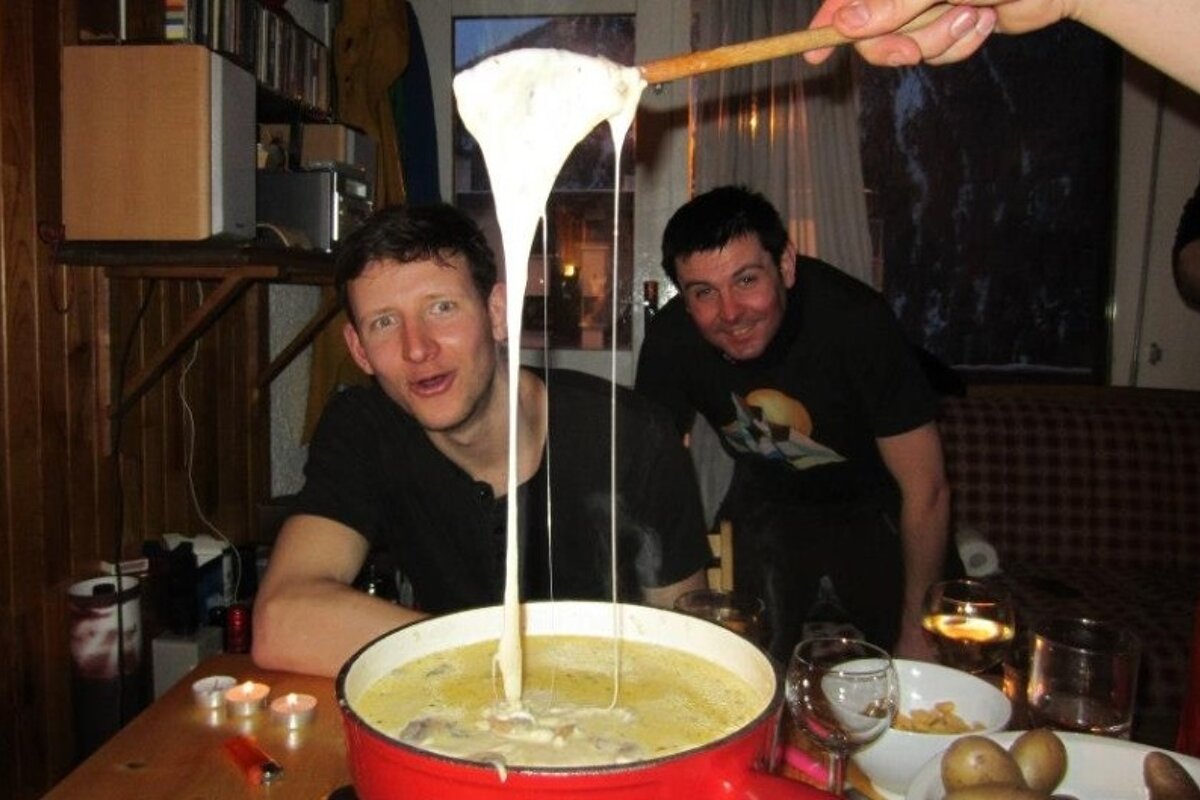 ---
Our Top Tips for Fondue Night
Try a fondue at lunchtime rather than in the evening. This way you will avoid hot sweats and broken sleep as you metabolise all that cheese.
Pimp up your fondue with a side of charcuterie & salad, mostly known as the "Fondue Complet"
If you're in a group of four, try 2 different types of fondue between you as most restaurants offer fondues for a minimum of 2 people sharing.
According to the locals, you should drink white wine and not red, with your fondue. Savoy whites, e.g. Apremont or Rousette, have the necessary acidity to aid digestion.
Don't drink water with your meal! Water solidifies the cheese and makes it harder to digest.
Agree in advance on the forfeit if you drop your bread into the cheese: the French generally have to buy the next bottle of wine. British forfeits are often less civilised, and generally involve doing something embarrassing or nakedness….
Enjoy!