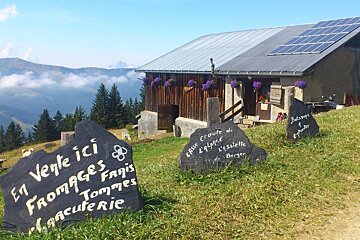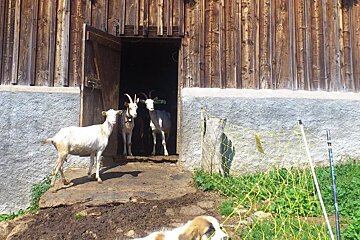 Tete du Prarion and La Charme, Les Houches
A gentle family-friendly hike with superb views and friendly goats
Les Houches is one of the most idyllic parts of the Chamonix valley in summer; not so steep or dramatic as some of the other areas, it has a more gentle landscape filled with meadows and forests.
Starting from the top of the Prarion gondola, take a sharp right out of the lift station and follow a narrow path signposted "Tête du Prarion" that goes up through a forest to bring you out onto a ridge. The ridge twists and turns over rocky ground for about 20-30 minutes until you come to an exceptional viewpoint at 1,969m. From here you can see for miles all around - not only can you see Mont Blanc but also the Aravis and the Fiz mountains as well as down into the Chamonix valley and the neighbouring Contamines-Montjoie valley. There is an orientation table so that you can get your bearings and put names to the multitude of peaks that surround you.
Retrace your steps and once back at the lift station turn in the direction of the Le Prarion Hotel-Restaurant and follow the signposts for Alpage de la Charme. An easy stroll of about 20 minutes will bring you to a traditional alpine goat farm, where fresh cheese is made on-site. You can take a seat on a wonderful plateau, looking out over Saint-Gervais, while you feast on local cheeses and charcuterie.
Once you've had your fill of cheese and scenery, you can continue past the farm and take the next path on the right. This heads briefly uphill before flattening out into a meadow, which is part of the ski area in winter - look up and you'll see the lift cables overhead.
Bear left and follow a trail which will take you over a small hill then back down to the Prarion Hotel-Restaurant. From here you can either stop for more refreshments on their sunny terrace or take the gondola back down to the car park.
Worth knowing
With this hike being so short, you can easily make a day of it by hiking from here across the Col de Voza to explore more of the Les Houches area, taking the Bellevue cable car back down to town.
Watch out for
The hike up to La Tête du Prarion is only short but it is quite steep and can be tricky underfoot, with lots of rocks and tree roots providing potential trip hazards. Keep an eye on small children and anyone who is a bit unsteady on their feet.
Who should go
This is a short hike that can be done in a couple of hours, even when going at a leisurely pace. It is ideal for children, as they will feel like they've conquered a mighty peak when they reach the Tête du la Prarion and will love seeing the goats at La Charme.
What to bring
You don't really need a map for this hike as it's well-signposted and easy to find. Although it is short, consider bringing a small backpack with drinks, snacks, suncream and spare layers of clothing in case of changeable weather.
Where to lunch
You can buy a platter of cheese, meats and bread at La Charme, or you can order lunches, snacks and drinks at the Hotel-Restaurant du Prarion.
Directions
This hike starts from the top of the Prarion gondola, which is at the far end of Les Houches. You can drive there and park your car at the bottom, or take the bus straight to the lift station.
Location