Top adventure sports to do in Chamonix
Thrills and adrenaline highs in Chamonix
Chamonix is known as the adventure capital of the world for good reason.
The whole valley is one massive playground with limitless options of ways to get your kicks, whether you like water-based sports, gravity sports or air-borne adventures, there's something to suit people of every ability and level of experience.
Here are a few of our favourites.
Watch this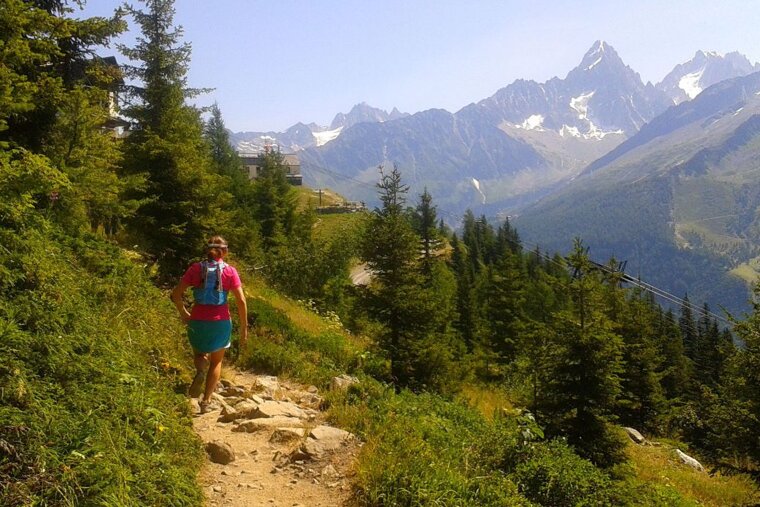 Trail running
Running may seem like more of a fitness chore than an adventure sport to many people but then they've not seen Kilian Jornet (widely regarded as the GOAT trail runners) in action!
Chamonix is the home of trail running, with countless high altitude paths and stunning ridges to traverse.
There are a number of specialised trail running camps and retreats that you can join to get the benefit of coaching and guided runs. Be warned though, it's addictive - next thing you know you'll have added the UTMB to your bucket list.
Mountain biking
Chamonix's steep terrain lends itself very well to downhill mountain biking and there are two designated bike parks in Le Tour and Les Houches where you can practise your berms and jumps.
For enduro riders there are so many natural trails you can ride here, with lots of tech to challenge even the most proficient of riders.
Bikes and safety equipment can be hired from any of the bike hire shops in Chamonix and most of them also offer mountain bike guides, who can show you the best trails and places to ride.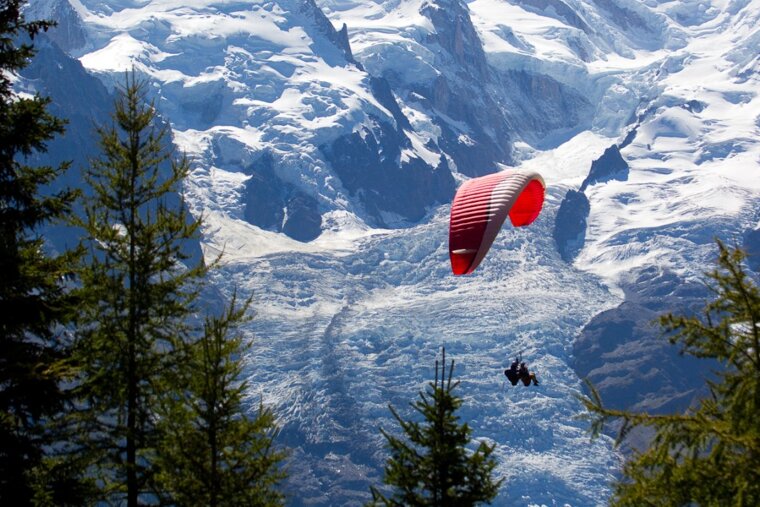 Parapenting
Take a leap of faith and launch yourself off the top of a mountain into the clouds high above the Chamonix valley.
Safely harnessed to a qualified parapente pilot, you'll float, swirl and ride the thermals back down to earth.
There are a number of take-off points in the valley, the most popular being Planpraz du Brevent.
However, if you want to get a bird's eye view of the glaciers, you can also take flight from Aiguille du Midi mid station or Les Grands Montets.
If you fall in love with the sensation of flying there are plenty of parapente schools in Chamonix where you can learn to pilot your own "wings".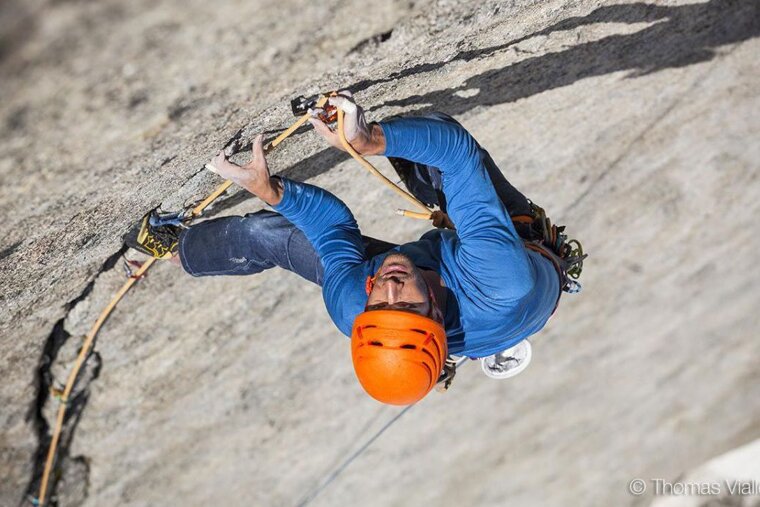 Climbing and mountaineering
From easy crags to high altitude multi-pitches, Chamonix has countless rock climbing routes.
Once you've mastered the basics you can go into the high peaks of the Mont Blanc Massif with a mountain guide to scale the famous granite walls of Pointe Lachenal, Aiguille de la Blaitière, Eperon des Cosmiques, amongst others.
Chamonix's high altitude terrain means that you can also climb mixed terrain such as ice and snow all year round, using crampons and ice axes to cross glacial terrain. Find places to climb in Chamonix in our activity guide.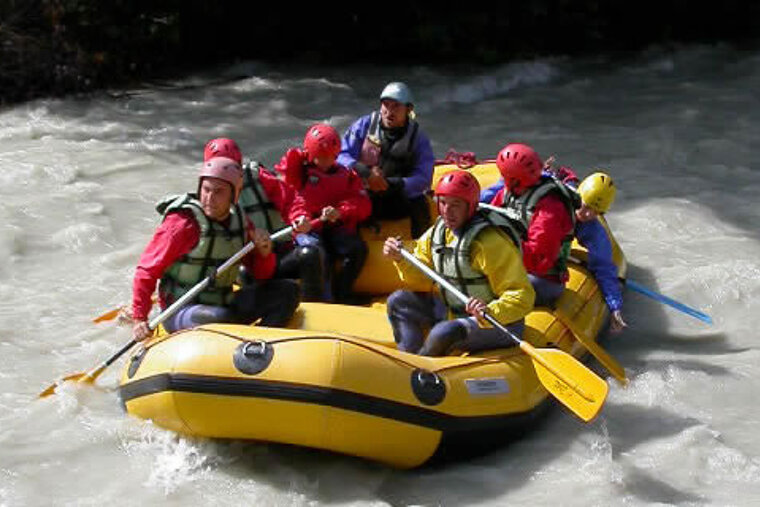 Rafting
We might not have the wildest rapids here in Chamonix, but the fast currents of the River Arve provide plenty of thrills and spills.
If you want to up the adrenaline factor then you can go through the Mont Blanc tunnel to the faster rapids of the Dora Baltea river in Italy, where you'll be hurled along the rushing waters of some of the most exhilarating grade 4 and 5 rivers in the Alps.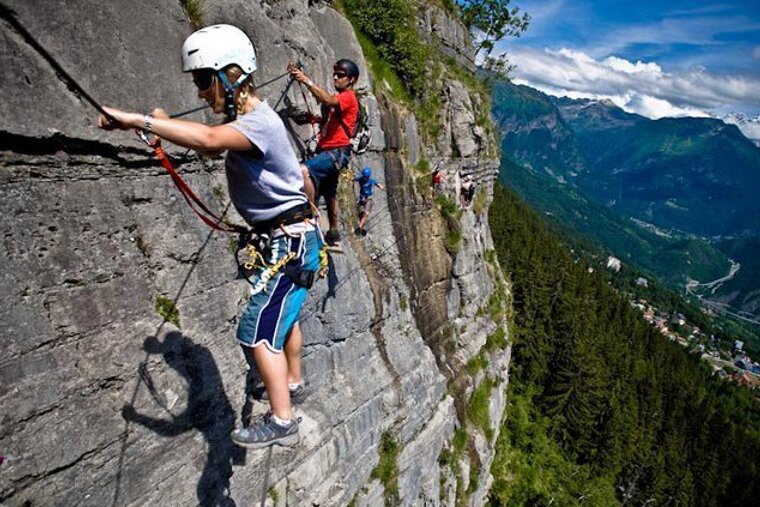 Via Ferrata
Channel your inner tightrope walker and step out onto a series of cables and ropes, suspended hundreds of metres above the ground.
Via Ferrata was developed during WWI by Italian soldiers as a means of travelling quickly across mountainous terrain.
It has since developed as a sport and is far more accessible than regular rock climbing as you do not need any experience at all. Often scary, you easily access much more exposed places with heart-stopping drops beneath your feet.
You can do this at Flegere, on the Evettes course, or the one down in Passy. Pick up the equipment you need from one of the local sports shops, or your mountain guide can organise this for you.
Sky diving
Take the ultimate James Bond challenge and leap from a helicopter, 5,000m above ground and higher than the summit of Mont Blanc.
Free-falling at a speed of around 200km/h, it's unlikely that you'll have the presence of mind to notice the jagged mountain tops whizzing past, but once that chute opens and you've remembered to breathe again, you'll be overwhelmed by the sight of the Chamonix valley beneath you.
It's an unforgettable experience.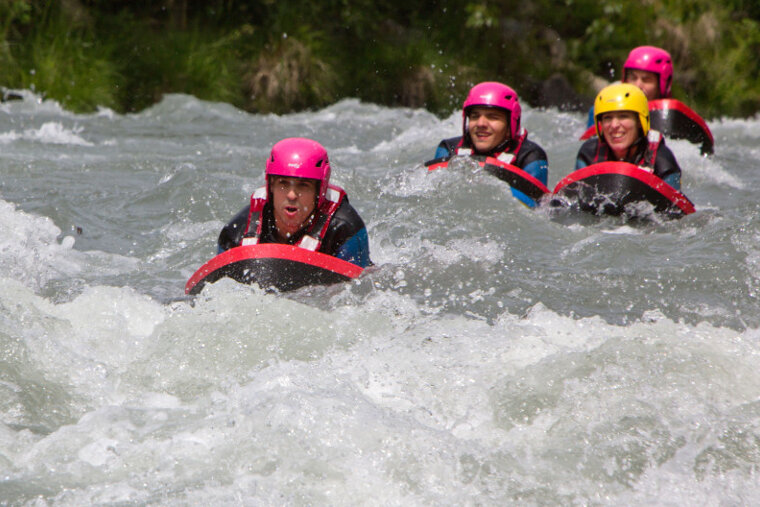 Hydrospeed
Get up close and personal with the river on a hydrospeed board. You'll be swept along on the fast currents, thrown about by the waves and buffeted from side to side like a piece of driftwood - but you'll be screaming with laughter the whole time.
This is especially popular on hot and sultry summer days, when all you want to do is cool off.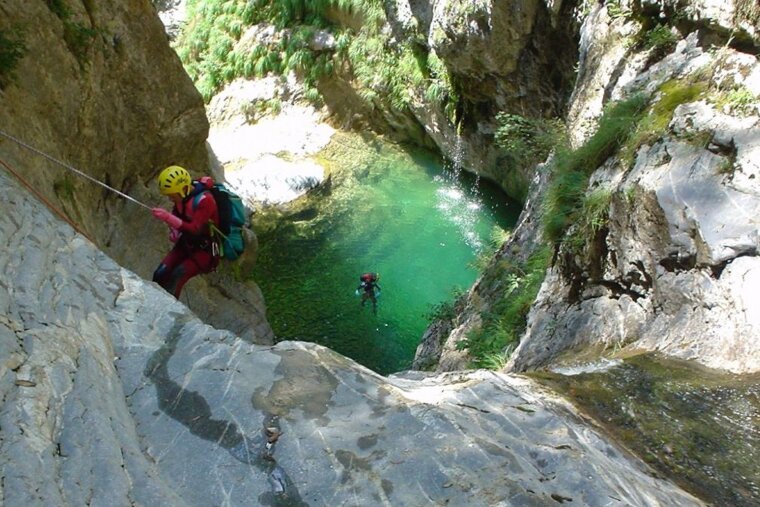 Canyoning
Wading through fast flowing rivers, sliding over rocks into waterfalls and leaping off terrifyingly high ledges into deep plunge pools are all part of the canyoning adventure.
You'll get kitted out with a wetsuit and boots before following your guide into the waterways of Barberine and Vallorcine, at the north end of the Chamonix valley.
You can make it as thrilling or as tame as you like, with all jumps and slides being optional.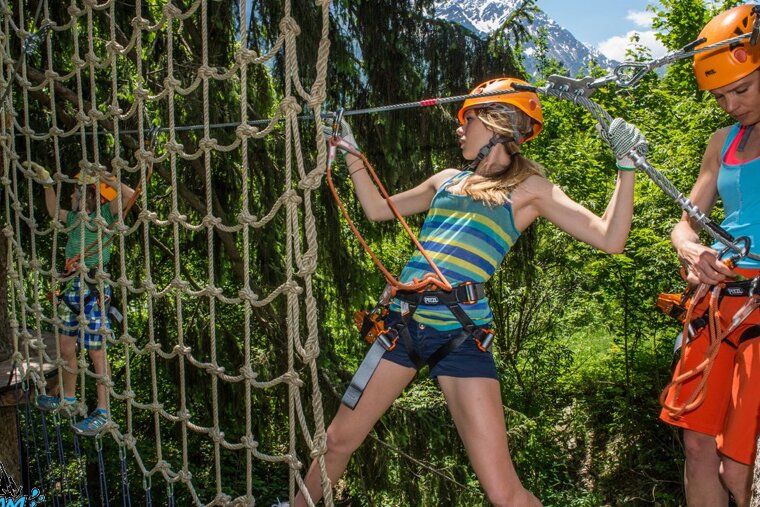 Treetop adventure parks
Adrenaline and adventure for the whole family, amongst the treetops at Les Gaillands.
A network of rope bridges, swings, nets and pulleys run through the forest with courses marked green, blue, red and black like ski piste grades.
The easiest ones are suitable for small children, while the harder ones will give even fit climbers a run for their money.
Watch out for the long "death slide" that crosses the lake at the end.