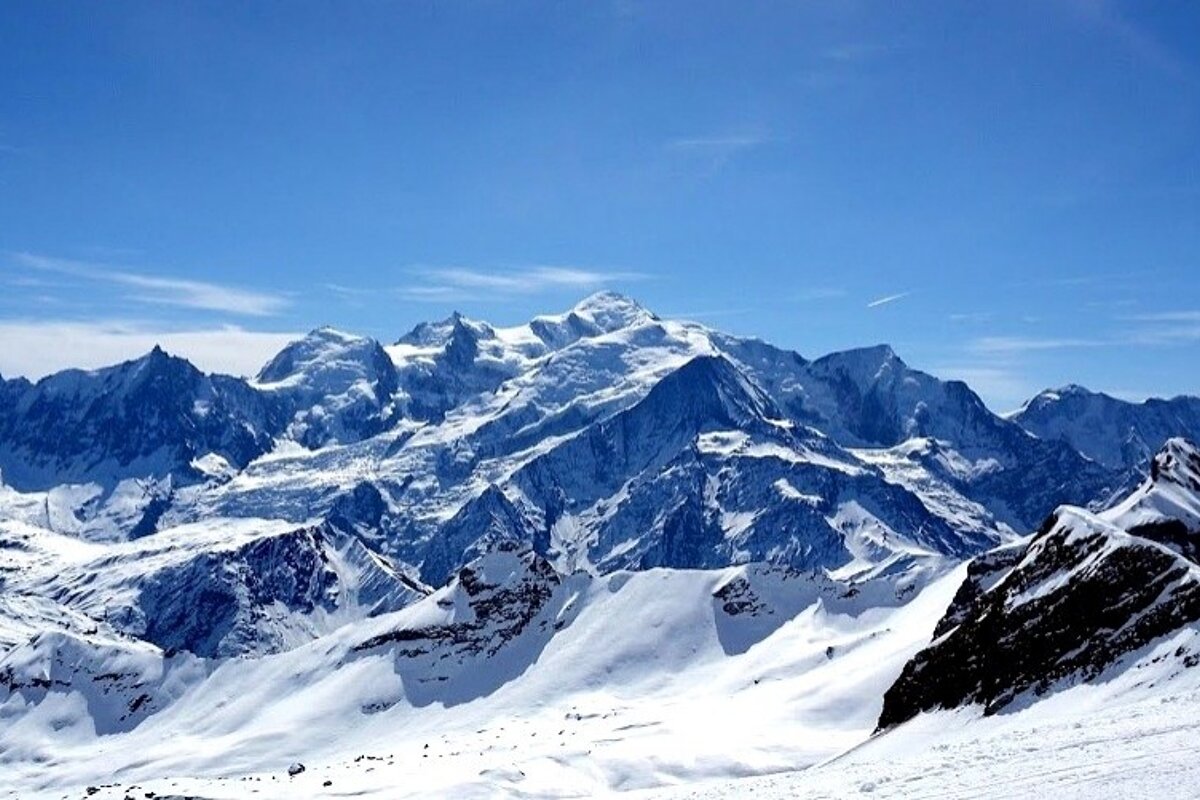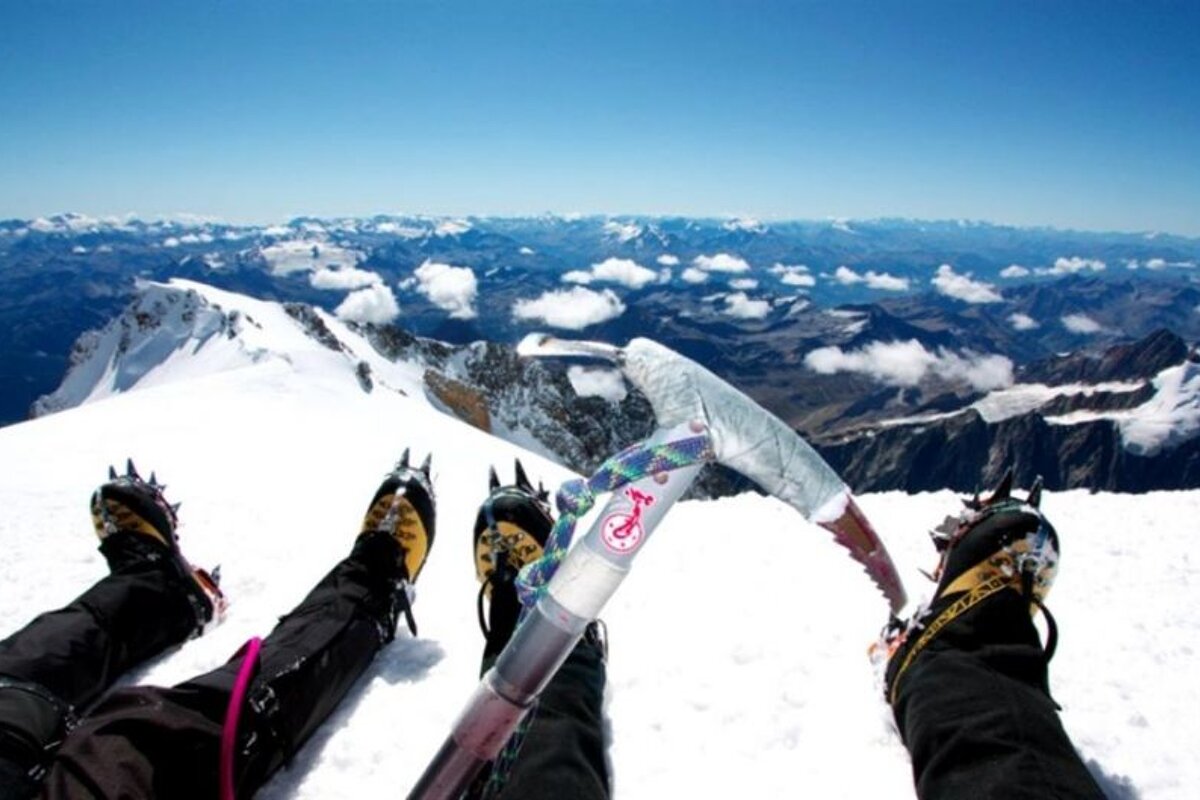 © climbingforcharity.org/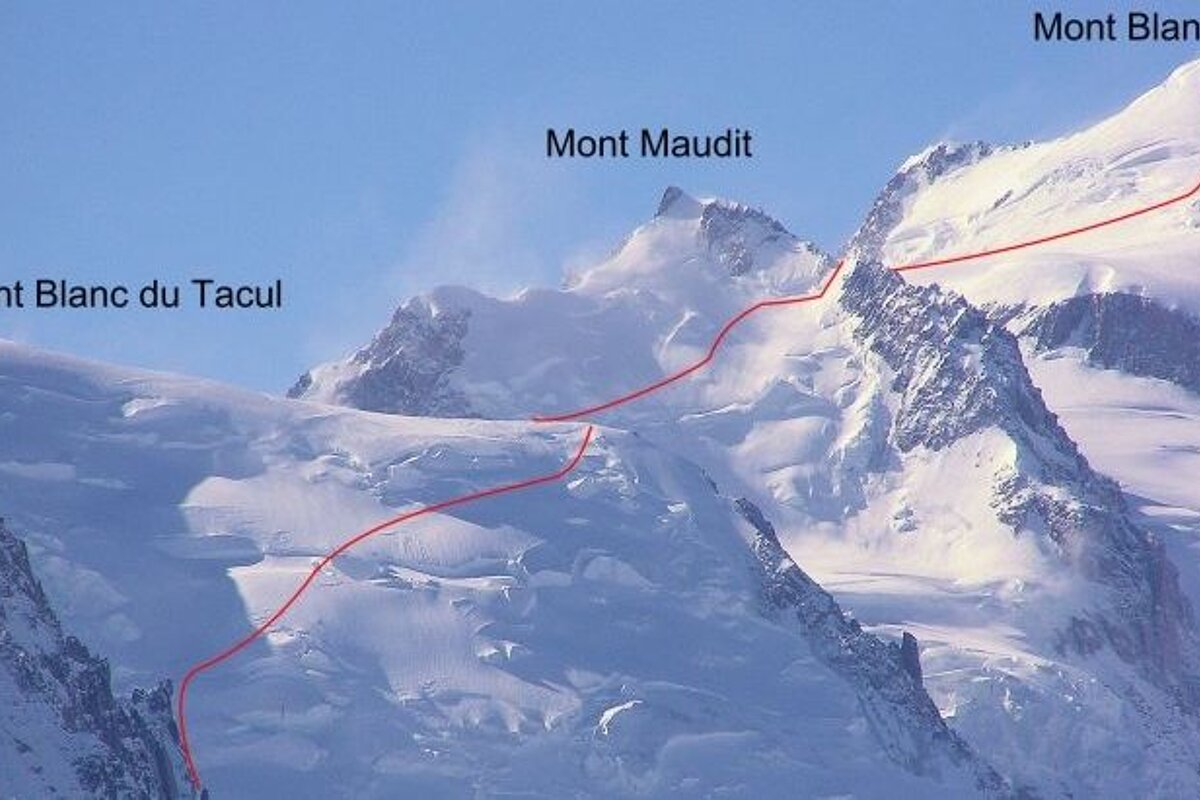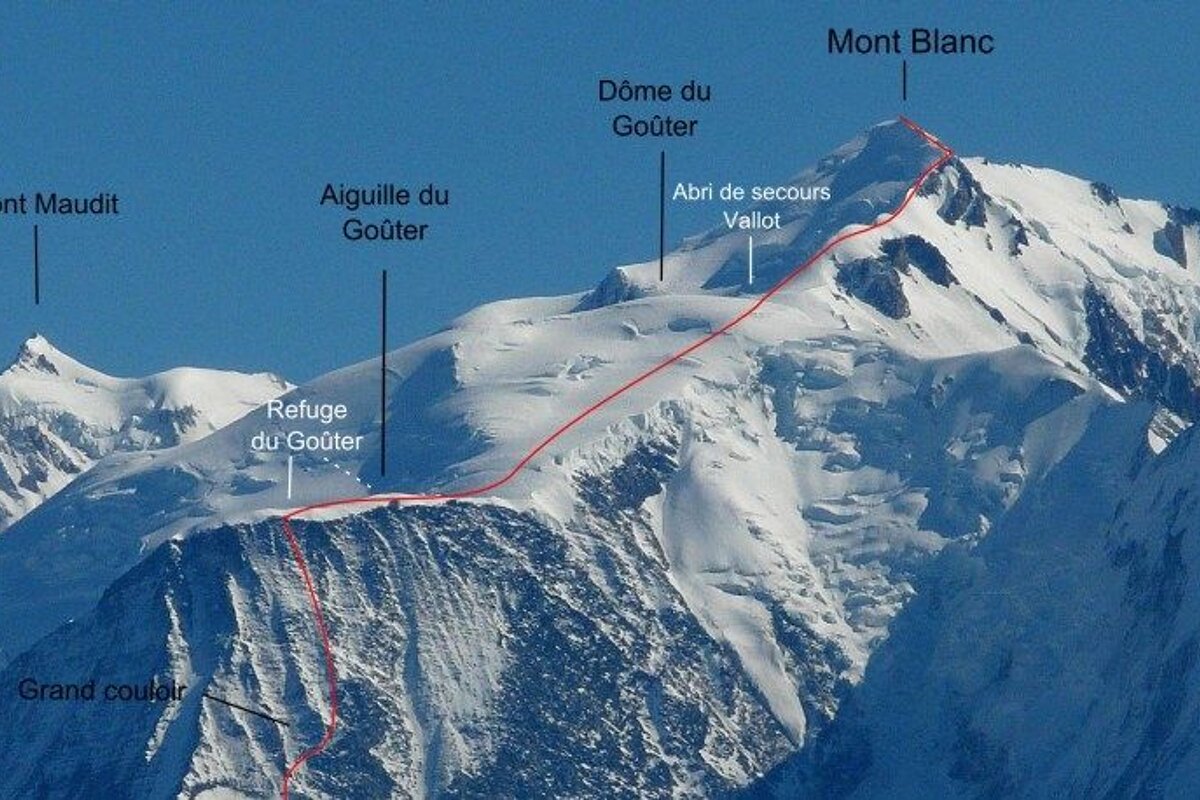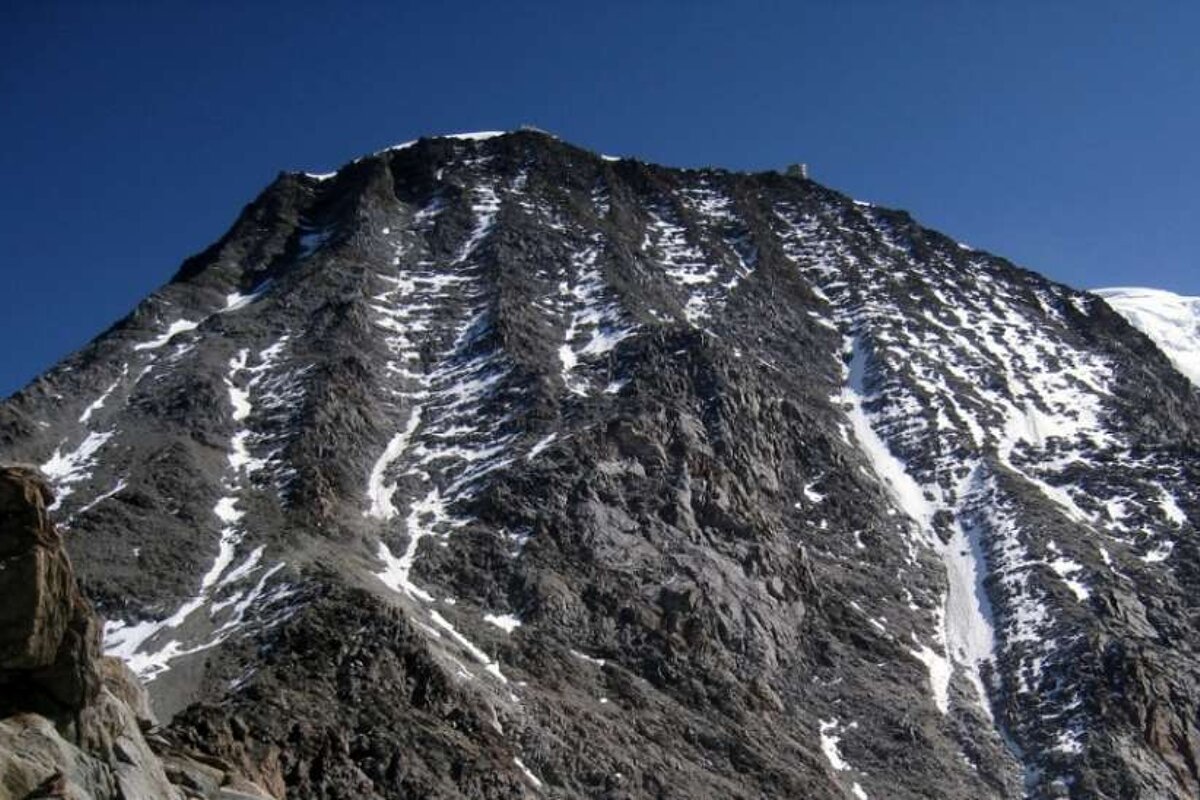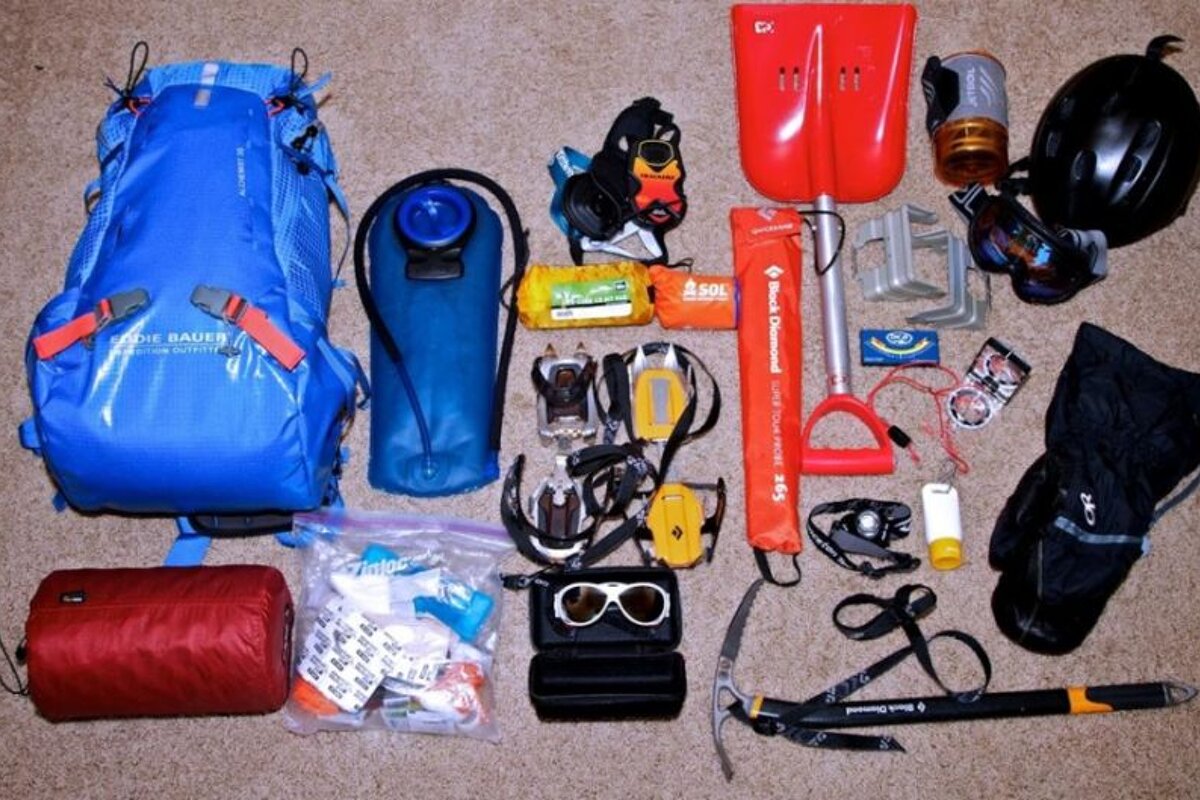 Climbing Mont Blanc
Guide to climbing Mont Blanc, Chamonix
Mont Blanc, literally translated as White Mountain, is the highest mountain in the Alps and true to it's name stays white all year round thanks to it's altitude of 4,810m and it's network of glaciers.
A historically famous summit and a highly ranked mountain in terms of it's topographic prominence (vertical distance between the height of the peak's summit above the lowest contour line encircling it), means that people travel thousands of miles to climb Mont Blanc. It is estimated that the summit is climbed by an average 20,000 mountaineers every year.
Climbing Mont Blanc is a tremendous challenge, requiring high levels of fitness, determination and mountaineering experience - which is often provided by a mountain guide for those not experienced in mountaineering.
---
Preparation & Organisation
For a successful climb of Mont Blanc, as with all mountaineering routes, preparation is key.
Physically you will not only need to be suitably fit but you will need to have tested your fitness at altitude. A first ascent of a 4000m and at least one night at more than 3000m will give you a better idea of how you body will cope under the effects of altitude.
You should have had prior experience in walking with crampons, climbing varied terrain and ridges with knowledge on how to adjust your rope length.
Both physical preparation and technique can be built into a program offered by an experienced Mont Blanc guiding company.
You will also need to prepared mentally for a demanding few days on the mountain with bad nights sleep and long days of continuous effort.
---
Equipment
Equipment required to climb Mont Blanc can be split into two categories; the essentials for all climbers and a recommended kit list. Please note that there is also an essential kit list for climbing the Gouter Route which is stipulated by the Mayor's office of St Gervais (in an official notice from 17th August 2017).
Essential & recommended equipment
Rucksack (40 litre)
Mountaineering boots
Ice axe
Crampons
Telescopic ski poles
Rappel device
Climbing harness and screwgate karabiner
Lightweight Helmet
Head torch
Warm clothing - eg. down jacket
Waterproof (Gore Tex) jacket with hood and over-trousers
Hat & buff
Sunglasses(Cat4)/ski goggles
Suncream
Lightweight gloves
Warm gloves/mittens
First aid kit
Water bottle (1 litre)
Food
Essential equipment (Gouter Route)
Warm, waterproof (Gore Tex) jacket
Mountaineering trousers and base layer
Mountaineering-specific boots and crampons
Harness and crevasse rescue equipment
Rope
Ice axe
GPS or altimeter
Hat, sunglasses, sun cream, ski mask
Additional equipment for experienced mountaineers only, climbing without a guide:
Navigation equipment : IGN Map, Compass & Altimeter
Avalanche pack (depending on route): Transceiver, Shovel & Probe
Crevasse rescue kit: 3 karabiners, 2 ice screws, self locking pulley, ropeman/tibloc, 2 slings & prusik cord
Most equipment can be hired or purchased in Chamonix.
---
Mont Blanc Routes
Normal route via Goûter
Alpine grade: PD (somewhat difficult). Ascent: 1450 + 1000m or 800 + 1650 (with overnight stop at Tête Rousse)
With an overnight stay at Tête Rousse, the altitude gain is higher (1650m), but you will be crossing the couloir at the right time and you can stop at the Goûter refuge on the way back.
This route is the most popular and "least" difficult route to climb Mont-Blanc, however there is a risk of rock and ice fall on the Gouter couloir.
Three Monts - Mont-Blanc du Tacul, Mont Maudit & Mont Blanc
Alpine grade: PD+ (somewhat difficult+). Ascent: 1200m.
More technical and physically demanding than the normal route, this itinerary is attracting increasing numbers of climbers. Descent via either Goûter or Grands Mulets.
With easy access from the Aiguille du Midi cable car and an overnight stay at the Cosmiques refuge, this route has become the second most popular route to climb Mont Blanc.
Grands Mulets and the Dôme du Goûter ridge
Alpine grade: PD+ (somewhat difficult +). Ascent: 700 + 1800m.
A classic on skis and frequently used for descents, this historic route is not recommended on foot because it means being exposed for too long to the risk of serac falls from the Petit Plateau. The alternative is to climb the north ridge of the Dôme du Goûter from the Goûter refuge before reaching the Vallot hut.
The original route used by Jacques Balmat and Michel-Gabriel Paccard in 1786, a very long route which is much less used now.
Italian normal route
Alpine grade: PD+ (somewhat difficult +). Ascent: 1300 + 1800m (or 800 + 1000m).
The normal Italian route is a long and beautiful snowy itinerary on a glacier that can be complicated. Possibility of an intermediate night stop at the Gouter refuge.
Royal Traverse: Miage, Bionnassay, Mont Blanc
Alpine grade: AD (fairly difficult) (exposed). Ascent: 1450+1100 +1650m.
Long expedition with sharp ridge passages that are very tricky.
Tournette Spur
Alpine grade: AD (fairly difficult). Ascent: 1700 + 1400m.
Long, exposed route in an adventuresome setting; involves committed climbing with traditional protection.
Innominata ridge
Alpine grade: D+ (difficult +). Ascent: 900+1500+800m.
Long, exposed expedition along a complicated route.
---
Safety & Risks
With nearly 100 fatalities every year in the Mont Blanc Massif, climbing Mont Blanc is not without risks.
However it is important not to confuse the difficulty of a route with danger, the easier and busier routes to Mont Blanc involve all the dangers inherent of the more technical routes.
To limit risks when climbing Mont Blanc it is important to factor in:
Altitude: Lack of oxygen at altitude can cause acute mountain sickness: headaches, insomnia, breathlessness, loss of appetite, nausea, vomiting… the main symptoms can appear even at 3,500m. Proper acclimatisation can help prevent AMS however once the symptoms appear there is nothing to do but start your descent.
Weather: At high altitude the weather can change very quickly, bringing all kinds of difficult conditions such as fog, cold temperatures, violent winds, snow, frost, storms and lightning. It is important to be able to recognise warning signs and to pay attention to forecasts.
Getting lost: One of the main dangers is getting lost in sudden cloud, particularly close to the summit or between the Aiguille du Midi and the Dôme du Goûter. Never set out without a map, navigation instruments and the knowledge of how to use them. Know precisely where you are during your entire itinerary.
Falling: The danger of falling increases with the steepness of the slope. Good technique and suitable roping methods are essential.
Busy periods The presence of other groups is reassuring, however the presence of other people offers a false sense of security. During the busiest periods (July and August), having to slow down and even stop for others adds further difficulties to crossings and can increase exposure to hazards.
Fatigue: Altitude, cold temperatures, height gain and increased effort can result in severe fatigue. It is important that group members look out for one another.
Crevasses: Appropriate roping techniques and crevasse rescue equipment on each climbers harness are essential as well as knowing how to use them.
Seracs Falls: Seracs can fall at any time, without warning, particularly under the Mont Blanc du Tacul, around the Petit Plateau and the Grand Plateau. Avoid these areas or if not, at least do not linger there.
Avalanches: After a period of bad weather, extra care should be taken on gradients of more than 30°. Remember to take an avalanche transceiver, shovel and probe and know when it is best to wait.
Rock falls: Whether natural or caused by other climbers, these demand the greatest care, particularly whilst within the Goûter couloir. Wearing a helmet is essential for this reason.
More infomation on routes, saftey and preparation can be found on the Fondation Petzl site here.
Watch this