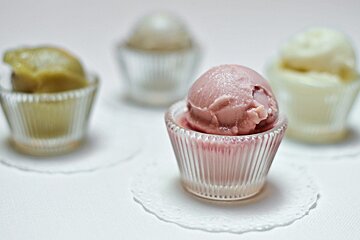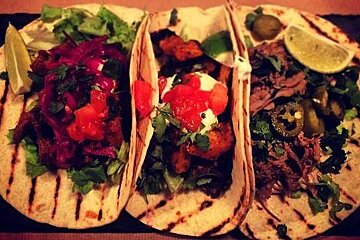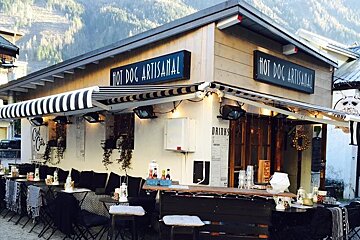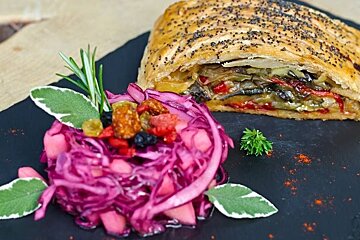 Our favourite vegetarian & vegan restaurants in Chamonix
Where to find the best veggie restaurants, cafes & takeaways
French cuisine is not known for being particularly veggie-friendly, however Chamonix has countless restaurants to choose from and you don't have to go far off the beaten track to find delicious vegetarian and vegan dishes.
Asides from the obvious pizza/pasta/curry/noodle options, here is our pick of the best meat-free dining venues in the valley.
---
Fine Dining
L'Impossible is without a doubt the best option in the valley for gourmet vegetarian and vegan dishes; run by the Italian Bucci family, everything is home cooked and prepared with love using seasonal ingredients. They propose great à la carte and set menu options, with dishes including sweet potato ravioli, pumpkin and chestnut soup, and even lemon no-cheese cake with saffron dairy-free ice cream. The menu is clearly marked as to which dishes are meat-free, dairy-free, gluten-free, etc. Be warned though, that dairy-free choices may include egg, so enquire when ordering.
Munchie has long been a favourite with veggies and meat eaters alike for their inventive and diverse dishes. Swedish-run but with a strong Asian influence, they always have a few vegetarian dishes to choose from and because the style of cuisine doesn't feature much dairy, they are usually suitable for vegans as well. The staff here are very helpful, so be sure to ask them when ordering if a dish contains any "hidden" ingredients commonly found in Asian dishes such as egg white or fish sauce.
A less pricey but still very enjoyable dinner can be found at Pointe Isabelle; the hip new hotel has an excellent restaurant. There is always a vegetarian option, which can usually be adapted to vegan on request but the menu is quite meat/fish dominated; we prefer to grab a table in the lively bar where you can snack on vegetable empanadas, spicy olives, and sweet potato, broccoli and coriander fritters over a few drinks.
Bizes is a cosy little bistro tucked away near the casino; all their food is grilled on a Josper oven, which seals in the juices and intensifies the flavour. Obviously this method of cooking lends itself well to slabs of meat, but the texture and taste of their vegetables is fantastic. The menu is very creative and uses lots of unusual seasonings, as much thought has gone into the vegetarian dishes as the meat ones and they can rustle up a fine vegan meal on request.
---
Apres Ski
A day on skis, followed by a few beers at apres-ski can give one quite an appetite, mostly for chips and burgers. And more beer. Our top choice for a good feed is Monkey in Chamonix Sud; they offer a more varied veggie-friendly menu than most places with options such as smoked tofu tacos, falafel wraps, burgers and so on - go there on Monday evenings 6-8pm when burgers are half-price and choose from the Marilyn Monroe (grilled halloumi, roasted pepper, aubergine, pico salsa) or the Mowgli (cauliflower and red lentil pakora, lemon pickled onions, onion chutney). They've recently added a peanut butter brownie to their dessert selection, which as well as being rich and chocolatey also happens to be vegan. Result.
Another great venue to satisfy your cravings is MBC; a Canadian micro-brasserie that brews its own beers. They have a few veggie options, including gargantuan servings of tortillas loaded with salsa, guacamole, melted cheese, jalapenos and sour cream. They have also recently added a vegan burger to their menu, which we have yet to sample but is definitely on the cards soon. Additionally, not everyone is aware of this but many beers contain animal products such as fish guts as part of the filtering process (I know, eurghh); MBC brews all their own beer on-site and gives a no weird fishy bits guarantee, so sup up!
The food at Le Vert is also excellent; the menu changes regularly and they always have a vegetarian option (which is always very tempting, rather than a half-hearted afterthought) and the chef is happy to veganise it if you give them a bit of notice. They do a cracking Sunday lunch with all the trimmings; we've even enjoyed a vegan Christmas dinner there and it was a triumph!
If you're skiing in Les Houches, then check out the Kitsch Inn at the bottom of the Bellevue cable car. Daily specials, homemade cakes and interesting vegetarian options - not much for vegans unfortunately but hopefully that will change in time.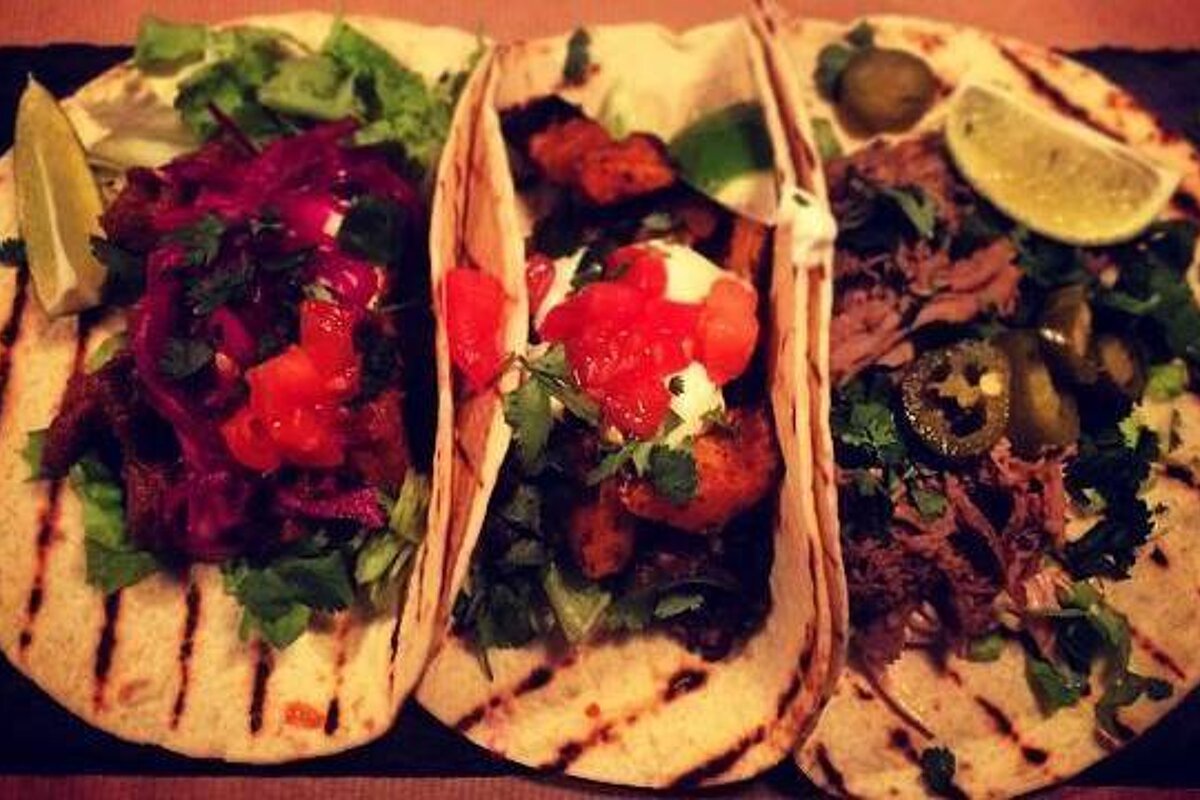 ---
Fast Food
For those late nights when you need something to line your stomach before falling into bed, La Maison du Burger offers a choice of about four veggie dishes; most of them contain cheese and/or egg but the burger soja is suitable for vegans, being made of cereals and soya protein. There is a list of allergens on the wall beside the takeaway counter which states that their chips are fried in vegetable oil, although we can't guarantee that the odd meat item doesn't get dunked in there as well.
Café Extreme in the centre of Chamonix is a sandwich bar with a wide range of bagels, wraps, baguettes and salads. Plenty of vegetarian choices and a few vegan options mostly based around grilled aubergine, tomato confit, avocado and olive tapenade; if they're not too busy they'll go "off-menu" and rustle you up a bespoke sarnie with whatever fillings you ask for.
Hot dogs aren't usually particularly veggie friendly but at Cool Cats you can tuck into a falafel-dog with a choice of sides including sweet potato fries, make it vegan by omitting the feta and yoghurt dressing. For a lighter bite you can enjoy the avocado tartine - grilled local farm bread topped with lemon marinated avocado, tomato and rocket.
Chamonix also has a branch of Subway, where you can choose whatever bread and filling you like. They offer a "steak legumes" for the vegetarians but be aware that it contains milk and egg, so is not suitable for vegans.
---
Lovely Lunches
One of the joys of living in France is sitting outside a café and looking up at the mountains whilst enjoying a leisurely lunch.
Green Soft Bar have a good choice of vegetarian pastas, paninis, sandwiches and salads - all freshly made and the super-friendly chef is happy to adapt them for vegans by swapping ingredients round if you ask when you order.
Café Bluebird, right opposite the Aiguille du Midi, make lovely fresh sandwiches, wraps and bagels to take away or eat in; there is a menu board on the wall but you can ask for whatever combination of fillings you like such as avocado or hummus with salad. They usually have soy milk for your morning café latte, or check out their juices and smoothies for a delicious energy boost!
Hibou's main achievement is how they manage to create so many tasty dishes in such a tiny space; pop into this miniscule delicatessen to sample their daily specials such as Moroccan tagine, Punjabi dal and roast aubergine passata - they sometimes even have vegan cakes! Their wraps and salad boxes are handy for taking up the hill if you don't have time to make yourself a packed lunch.
La Tete a Thé in Argentiere is the valley's only dedicated vegetarian restaurant; daily menus are prepared with care and imagination, there are usually a good few vegan choices as well, including their home made cakes and cookies. It's a friendly little place to while away an afternoon over tea and cakes.
One of the best lunch deals in the valley can be found at Restaurant Ghandi in Les Houches; for just 10€ you will be presented with a feast of Indian dishes with poppadoms, bhaji and a drink included. Many of the dishes are already vegetarian, but if you ask them they will happily make the whole set menu vegetarian or vegan.
---
Mountain Munchies
Now, we'll not lie to you, veggie options in the mountain restaurants are not plentiful. You may find a cheese baguette or tomato pasta but they will generally be depressingly bland and woefully overpriced - you're better off taking a picnic bought from one of the lunch venues mentioned above.
An exception to this rule is Les Vieilles Luges in Les Houches; a 250 year old alpine farmhouse run by the delightful Claude and Julie, they offer wonderful home cooked food that is a far cry from the usual canteen-style mountain fayre. If you book a table for one of their evening soirees, they will go out of their way to ensure that everyone is catered for - vegetarians and vegans alike will leave well fed and happy.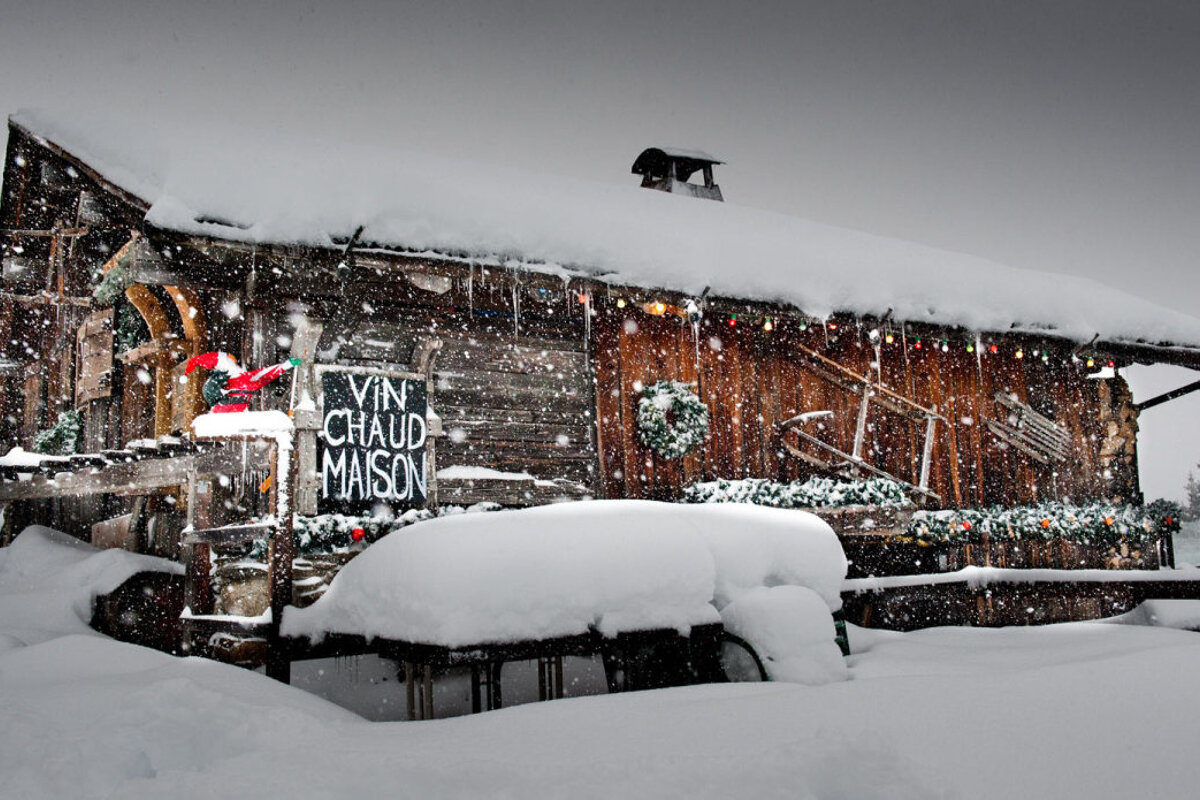 ---
Find our selection of the best of the restaurants in Chamonix.