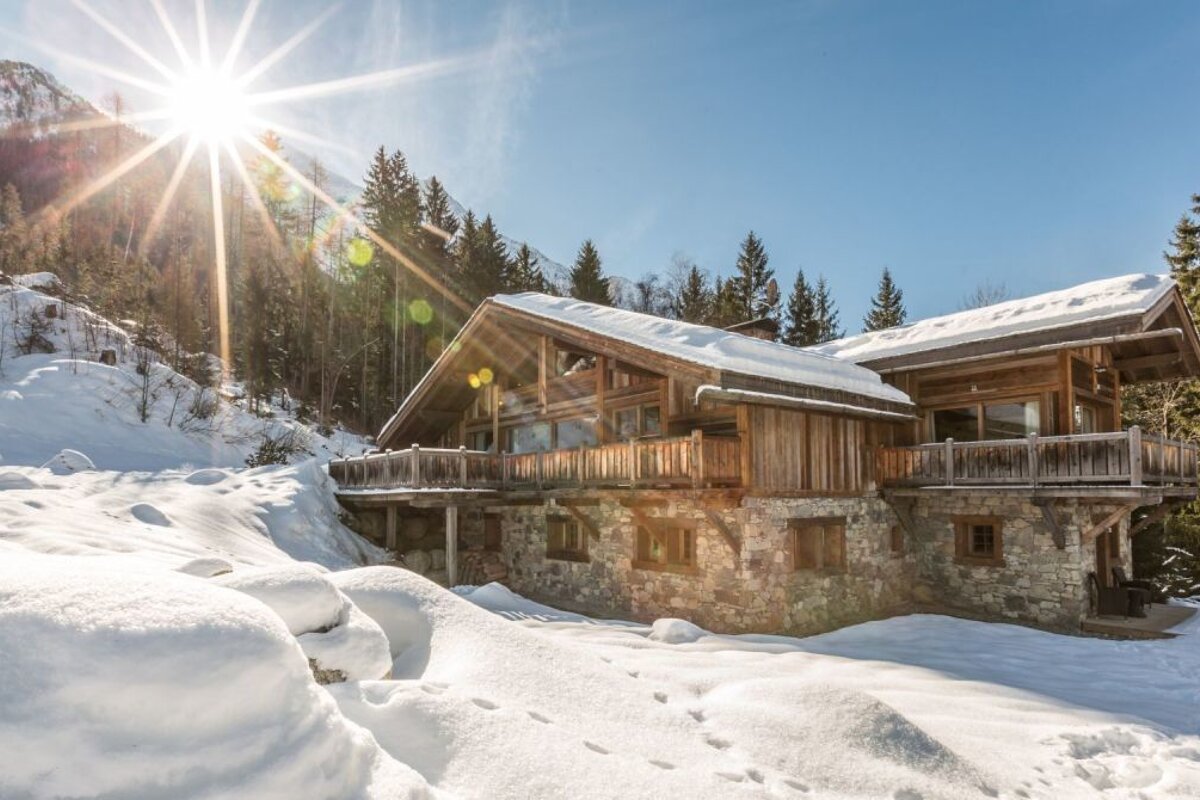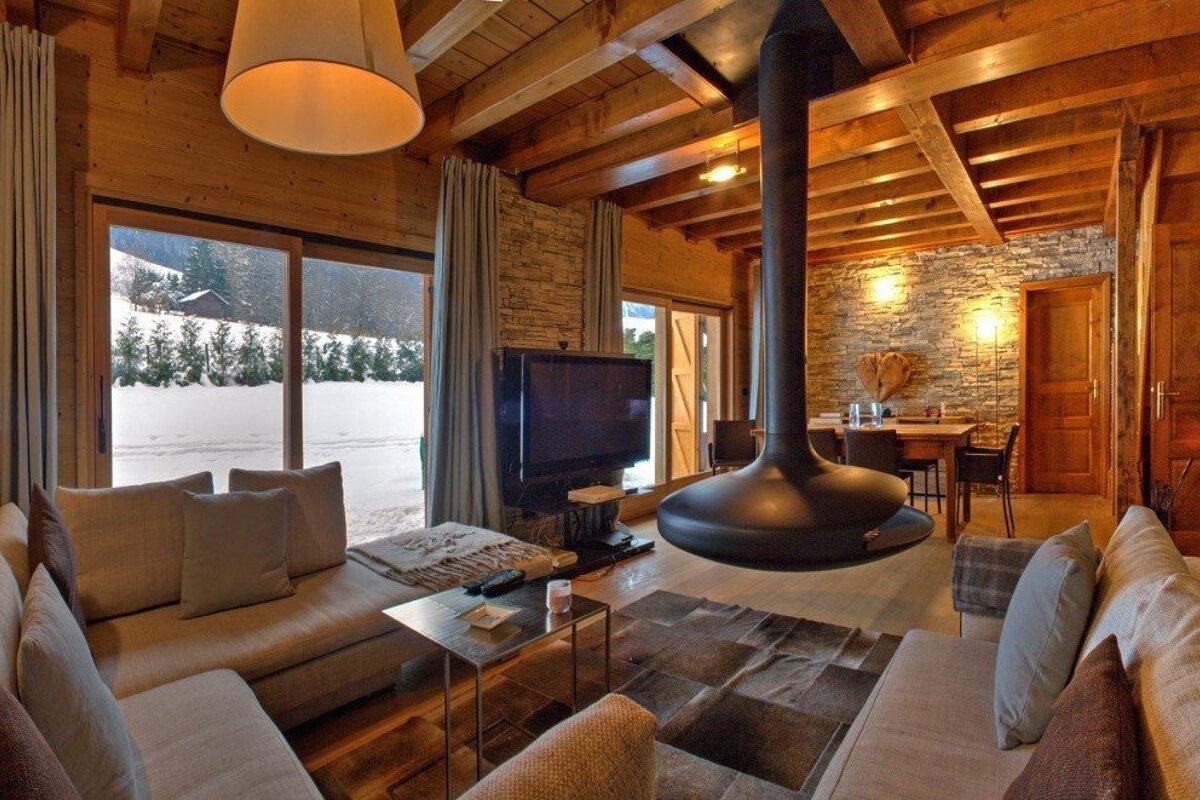 Chalet Guide to Chamonix
A guide to finding the perfect chalet in Chamonix
A luxury ski chalet in Chamonix embodies the quintessential winter sports holiday, who hasn't dreamt of staying in the perfect chocolate-box chalet after a day on the slopes? Even better if there's a plush sofa you can snuggle up on in front of a roaring fire or an outdoor hot tub to unwind in while surrounded by deep powder fields and high snow-capped peaks. That's exactly what staying in a chalet is all about.
There are literally hundreds of chalets in the Chamonix Valley offering a range of services from high-end, fully-catered luxury holidays to self-catering accommodation for short breaks. Whether it's a traditional Savoyard-style converted farmhouse or a contemporary Alpine abode, they're the perfect home away from home on your winter holiday or your summer escape to the mountains.
This guide will help you choose the perfect chalet for your holiday. Let's dive right in.
Things to consider when booking a chalet in Chamonix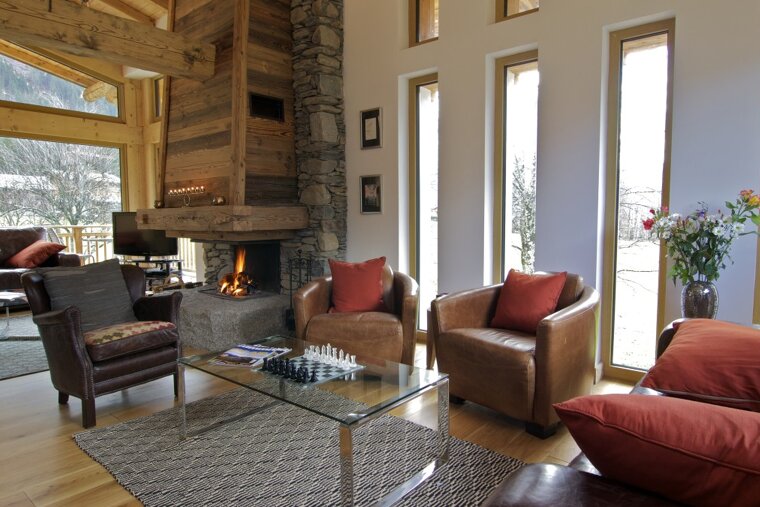 When planning your break away to a chalet in the mountains, here are a few things worth thinking about before you decide what to go for.
Book early
We recommend you book your chalet as soon as possible. Chalets usually sell out quite quickly and a lot of people book as early as January for the next winter season. Book your accommodation before buying your flights or train ticket, the reason being that availability may be limited and chalet start/end dates are not always as flexible as travel options.
As for the best time to stay in a chalet, they're usually open for bookings during the winter and summer high seasons – from December to April and from June to September. However, some chalet companies may offer their chalets up for interseason rentals, especially for large parties such as company retreats or events.
How long you want to stay
Most ski chalets in Chamonix are rented on a weekly basis only. You'll find that Saturday to Saturday rentals are most common, but increasingly with the times being as they are, dates can be flexible and some chalet companies may provide a mix of Saturday and Sunday changeovers.
Plus shorter and longer ski breaks are becoming more and more popular, so some chalet companies may be flexible on their rental dates on request. Summer chalet bookings in Chamonix are generally much more flexible on dates and length of stay, especially outside the peak months of July and August. This means that you can come for a long weekend, for ten days or for a few days mid-week more easily.
Size matters
Chalet holidays are suitable for all sorts of group sizes: couples looking for a romantic escapade, families, groups of friends and even large corporate retreats, as they usually have at least two bedrooms with some offering space for up to 15 people and more. Solo travellers and couples can opt for a room in a larger catered chalet while couples looking for independence can check out the charming one-bedroom converted mazots (small wooden huts traditionally used to store valuables and food) on offer in Chamonix. However big or small your group is, you'll need to know the exact number of people and the ages of the children coming with you on your holiday before booking.
Go shared or rent the whole thing
Many chalets in Chamonix can either be booked by the room or as a whole property. Catered chalets are more often than not rented by the room, meaning that you share the chalet and its facilities with other guests, while self-catered chalets are rented out as a whole property, exclusively for your party. Booking rooms in a shared catered chalet is a great option for small families, groups of friends and couples. Some catered chalets can also be rented out on a whole property basis for larger groups, or even if you'd just prefer private use of the chalet without using the full occupancy. To learn more about whether to choose a catered or a self-catered chalet, read below.
Know your wants and needs
There are hundreds of chalets on offer in Chamonix, some providing simple accommodation at the foot of the slopes and others boasting five-star luxury facilities. Most come with WiFi as standard, but check before you book if it's important, some have ski-to-door access and state-of-the-art boot warmers, some don't, and if you need a large terrace with breathtaking views, a cinema room, designer décor or a pet-friendly property, make sure you book as early as possible.
You'll also find that many high-end chalet companies offer concierge services who'll take care of everything, from your ski passes to your lessons, your equipment hire, chauffeur services to take you to and from the slopes or drive you around resort, private chefs and spas with massages on demand. You're spoiled for choice in Chamonix!
Catered vs self-catered chalets in Chamonix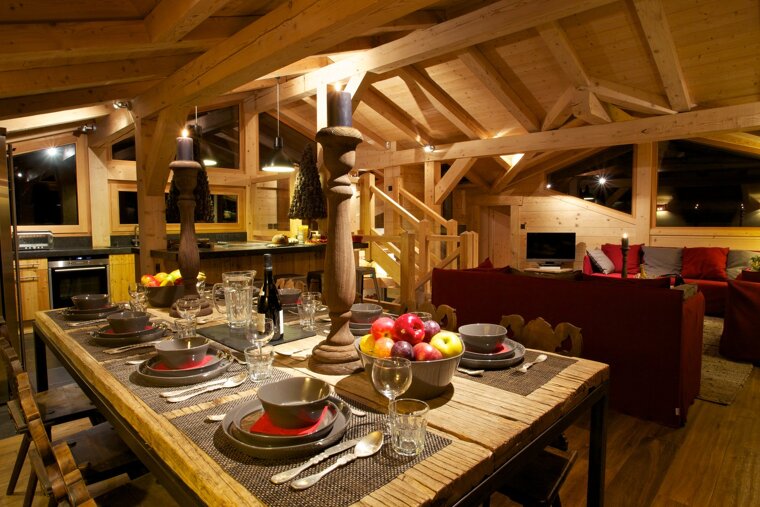 When booking your chalet in Chamonix, you'll find that there are two main options: catered or self-catered. Essentially your meals are included in the price of your chalet rental or they're not.
Catered chalets in Chamonix
Catered chalets include accommodation and meals under the same roof. Generally managed by one or more chalet hosts who take care of cooking, serving and cleaning, the chalets are usually half-board and include at least breakfast and dinner in the price of your accommodation. Usually rented by the room and priced per person, they suit small families and groups of friends, as well as couples and solo travellers who want an easy, effortless holiday with no cooking or washing up involved. Some chalets have triple or family (quad) rooms available and sometimes the chalet company may rent out a catered chalet as a whole property for large groups.
Pros:
Catered chalets are the best option for those searching for a hassle-free holiday, as there's nothing much you need to do other than enjoy your stay.
You'll wake up to the smell of freshly cooked breakfast, come back from skiing to homemade cake and tea, and sit down to a three or four-course dinner in the evenings.
Chalet hosts will also clean rooms and common areas.
Cons:
The price per person of catered chalets is usually higher than that of self-catered chalets. However, you also get more bang for your buck since chalet hosts will cook your meals and clean after you.
You will be sharing your accommodation with other people you haven't met before.
Worth noting: Chalet staff usually have one, sometimes two, evenings off during the week. When this happens, you'll get a continental, self-service breakfast left out for you by your host, as well as afternoon tea and cake. For dinner, you'll get the chance to sample the local restaurants. Alternatively, some companies provide self-service dinner, carefully prepared and left out for you, often in the form of a traditional Savoyarde fondue or raclette.
Self-catered chalets in Chamonix
Self-catered chalets include only the rental of the accommodation, so you need to take care of your own meals. They are ideal for those who want the chalet all to themselves, don't mind/like cooking and ordering take away, and are happy cleaning up after themselves throughout their stay.
Pros:
Self-catered chalets are rented out as a whole property, so you get the chalet all to yourself.
They are generally cheaper than catered chalets, which means that you'll have more cash to splash on Chamonix's great selection of restaurants.
If you have children, fussy eaters or those with specific dietary requirements in your group, it can be easier to cater for them in the comfort of your own kitchen.
Cons:
You'll need to sort out your meals and clean up after yourself.
Worth noting: Many companies can arrange mid-stay cleans and linen/towel changes if booked in advance, and self-catering nowadays is much easier than ever thanks to the array of catering options available. Some chalet companies provide welcome packs or can arrange shopping deliveries and private chef services. And in the post-Covid world, food and drink delivery services are springing up in resorts making flexible self-catering much more of an option. Gone are the days when self-catering meant someone cooking every night of their holiday (however, someone definitely still has to load the dishwasher I'm afraid!)
Luxury chalets in Chamonix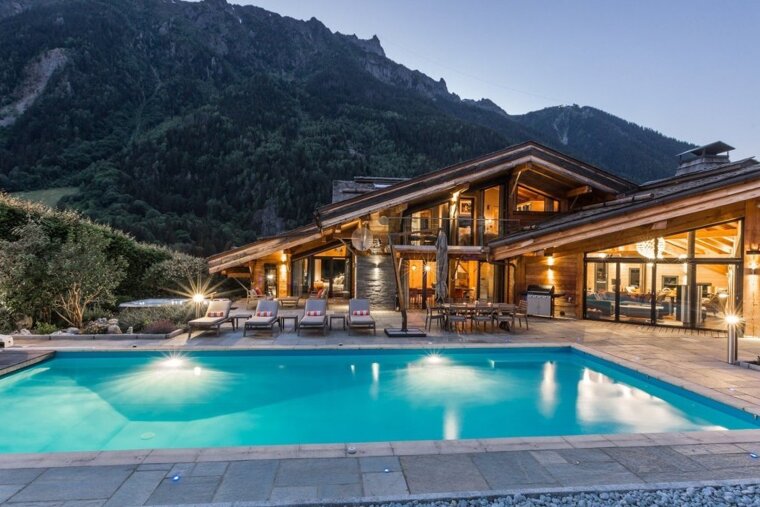 Luxury is in the eye of the beholder. What someone may find opulent, someone else may deem simple. However, Chamonix does have a great selection of chalets on the higher end of the spectrum.
What's included in a luxury chalet?
When we talk about luxury chalets in Chamonix, we refer to chalets boasting five-star facilities: large ski rooms with boot warmers, cinema rooms, stunning central-piece fireplaces, playstations, large chef-style kitchens, spa rooms and, of course, floor to ceiling windows so that you can soak in the views from the warmth of your living room. Luxury chalets usually come with concierge services that'll take care of everything for you, from ski passes to lessons, equipment hire, airport transfers, shuttle service to the lifts, etc. A private chef or a 24hr chauffeur can usually also be added as options.
Where can you find luxury chalets in Chamonix?
Chamonix is a wonderfully vibrant Savoyard town which means that luxury chalets within walking distance of the shops, bars and restaurants are much sought after. The areas of Les Moussoux and Les Pecles, just outside of town, have always been very popular. The first chalets were built here at the beginning of the last century and, with south-facing and slightly elevated positions, accommodation here gives close proximity to the centre, combined with jaw-dropping mountain views towards Mont Blanc.
Meanwhile, the rather exclusive Les Mouilles has much to offer. This is a quiet area on the edge of town, yet close to the five-star Hameau Albert 1er Hotel and its Michelin-starred restaurant, and a short comfortable stroll from the centre.
Other areas to consider for luxury chalets are Les Praz and Le Bois. Les Praz is a beautiful, tranquil Alpine village just a five-minute drive from the hustle and bustle of Chamonix town and only a short walk to the sunniest ski area in the valley: Brévent and Flégère. Le Bois, an incredibly charming and unspoiled village, is home to some of the most beautiful chalets in the whole Chamonix Valley.
Group chalets in Chamonix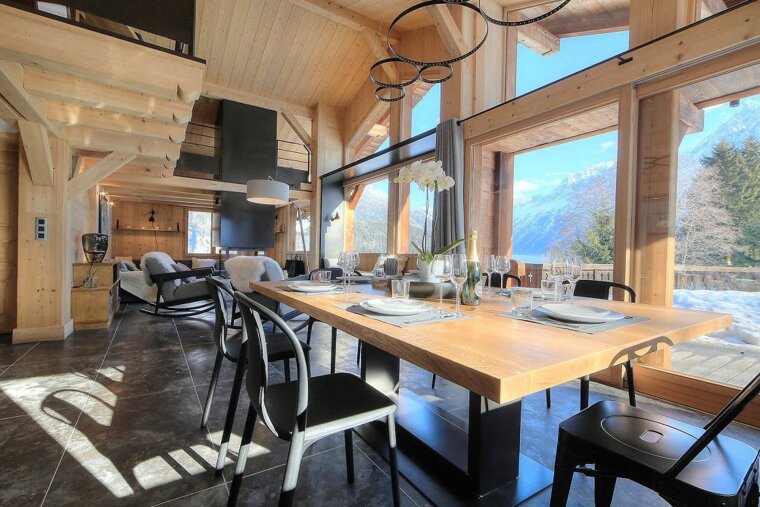 If you're looking to organise a corporate ski trip, Chamonix is the perfect place to host it. A charming Alpine village with great nightlife and loads of choice when it comes to group accommodation, Chamonix is situated in one of the most legendary ski areas in the world.
What should you look out for when booking a chalet for a big group in Chamonix?
If you're looking to make an impression on clients or employees, then you'll need to find a ski chalet that is close to whatever type of action your group is looking for. Ideally, you will be looking for a catered chalet in Argentière, giving your group easy access to the infamous Grands Montets ski area and a laidback après vibe, or in the Les Praz-Le Bois area, just a short walk from the skiing at Brévent and Flégère and a short hop into Chamonix itself. Many ski chalet operators in Chamonix offer interlinked chalets that can accommodate large groups and put on dedicated transport to whisk you around.
Family chalets in Chamonix
Chamonix is really well set up for mountain-loving families, with plenty of activities for all ages and a host of family-friendly chalets. The short transfer time to Geneva airport also means that small people's boredom levels are kept to a minimum.
Where can you find family-friendly chalets in Chamonix?
Family ski holidays tend to have their own unique requirements, the most important of which is finding a large ski chalet preferably with a garden big enough to build snowmen! While Chamonix itself has an understandable reputation for all things adventure and extreme, the ski area of Les Houches is a great family ski resort. With lots of large chalets situated close to the ski lifts, Les Houches boasts good-quality blue and red ski runs, a snow garden, a separate nursery slope and one of the best family-friendly ski schools in the Chamonix valley. Numerous large ski chalets offer family-focused accommodation in Les Houches with services ranging from in-house nannies, playrooms, cinema rooms, underground swimming pools and hot tubs to childcare.
Budget chalets in Chamonix
There are plenty of budget-friendly accommodation options in Chamonix, especially outside the main resort area.
How can you save money on your Chamonix chalet?
If your ski holiday is budget-driven, then the chances are you will be looking for self-catering accommodation to keep costs down. There are hundreds of options when it comes to cheap self-catering chalets, the main thing to bear in mind is that you need to keep costs down across the board – there is no point saving money on accommodation if you are miles out of town and end up forking out for taxis to transport you to the ski lifts, supermarkets and bars. With this in mind, those looking for a budget chalet ski holiday in Chamonix should try and source a place near the centre of town or close to one of the valley's bus stops. The bus service provides free access to all the local Chamonix pistes as well as to the main towns in the area, including Argentière and Les Houches.
Ski-in & ski-out chalets in Chamonix
The huge advantage of high mountain resorts is the ability to ski-in and ski-out of your chalet, thereby avoiding the twice-daily trudge across town in ski boots.
Where can you find ski-in & ski-out chalets in Chamonix?
Finding ski-in / ski-out chalet accommodation in Chamonix is rare but not impossible. If you don't like carrying your skis and prefer to put your gear on right at the door, then the best option is to base yourself either in Les Houches or in one of the chalets at the bottom of the Brévent ski area, on the Savoy piste. For wonderful ski-in / ski-out accommodation in Les Houches, there are chalets located right on the pistes by the Prarion lift and close to the ski school meeting points, lift pass office and to the town centre. It is worth remembering that, if you want to make the most of all that Chamonix has to offer in terms of other skiing areas and the endless entertainment on offer, then you should either hire a car or choose a chalet near a bus stop so that you can explore beyond your immediate confines.