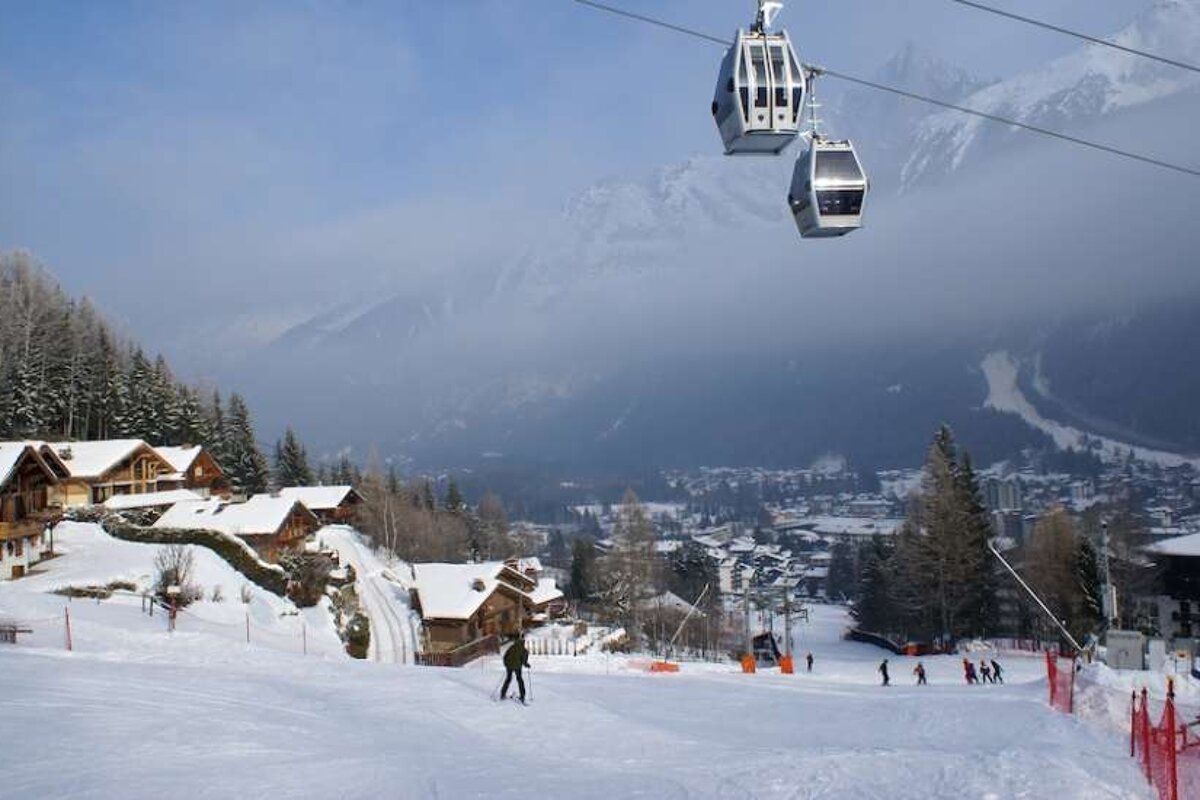 Beginner Areas in Chamonix Town
Beginner pistes accessible from the centre of Chamonix
Chamonix centre has two low altitude nursery ski areas which are easily accessible on foot or by bus, with bus stops right on the doorstep of each one.
Le Savoy is situated at the top end of town at the foot of the Brevent and Les Planards can be found just across the road from the Montenvers/Mer de Glace railway station.
Best beginner areas
Le Savoy
The Savoy nursery ski area has a very gentle gradient and the pistes are nice and wide, allowing you practise turns and build confidence before heading higher up the mountain. There are two drag lifts here that you'll need a ski pass for and a free magic carpet lift. There's a small cafe near the big drag lift for when you're ready to take a break too. If you're skiing in a group with mixed ability, the beginners can practise at Le Savoy, whilst the more accomplished skiers can head up on the Brevent gondola to the main ski area, meeting up easily later in the day as the home run from Brevent leads into the top of the Savoy ski area.
Les Planards
Les Planards is the bigger area of the two nursery areas in Chamonix centre, with short drag lifts (one short and one long) and a gentle gradient green piste to build your confidence on. When you're feeling confident on the green piste, you can progress to the longer drag lift, hopping off half way where you can start making turns on slightly steeper terrain. The next progression after this is to take the long drag all the way to the top. There's also a two-person chairlift accessing a steeper blue piste and a red run for those who are ready to progress. A restaurant with a large terrace offers the perfect place to take a break, or to join non-skiers in your group.
Beginner ski lessons
If you're learning to ski for the first time, Chamonix has plenty of choice of ski schools who teach children's ski lessons and adult's ski lessons. Children's lessons are determined by their age and ability, whilst adult lessons are determined by ability and interests.
Beginner ski passes
If you're joining a ski school as a complete beginner, you will probably start off in the nursery areas where you can buy a beginner ski pass for a minimum of 4 hours or 1 day at a time. There are different prices for each of Chamonix's beginner ski areas which you can find via the link below.
If you're a skier looking to progress after having already learnt the basics, you can buy a ski pass for the mid to high mountain ski areas from as little as 4 hours. You should consider buying a 'Chamonix Le Pass' ski pass rather than the 'Mont Blanc Unlimited Pass.' The Chamonix Le Pass pass is valid for Brevent-Flegere, Grands Montets (but not the summit lift), Le Tour-Vallorcine, Vormaine, Chosalets, Savoy and Planards.
Beginner ski hire
Pre-booking your ski hire in advance allows the hire shop to prepare for your arrival and smooths the process. A key thing you should consider when booking your equipment is how close your accommodation is to the ski hire shop, or to the foot of the pistes for when lessons have finished. Even if there are several equipment options to choose from, we recommend you go for the most basic. Beginner skis are short, flexible skis that are easy to turn or, if you're snowboarding, you'll have a shorter stiffer snowboard that's easier to control and generally cheaper too. You won't need to know about the technical aspects of any of the equipment as ski hire shops will advise you to get the best model for your ability and size once you've booked.
What should I wear when skiing or snowboarding?
Buying all the gear before you go can be daunting if you've never set foot in a ski resort before. The key items to bring with you, along with the obvious ski jacket, ski trousers and sunglasses, are as follows:
Layers - thermal tops and leggings, fleeces, hoodies, hats and a good pair of ski gloves and a helmet. Weather on the mountain can change pretty quickly, and you are much better off wearing layers of thinner items as opposed to a big, bulky jumper.
Socks - a variety of socks ranging in thickness, it may sound weird but in our experience hire boots can be quite painful with the wrong socks.
Sun cream - even when it's cloudy the sun here can (and will) still get you, and don't forget the underneath of your chin as the sun reflects off the snow too. Don't forget a lip salve with an SPF.
Piste map - make sure to always have one in your pocket while you're out on the mountain. You can pick up paper copies from the lift pass or tourist office once you've arrived in resort.
Location