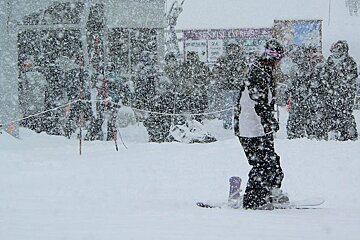 Bad weather ski areas in Chamonix
Discover the top Chamonix bad-weather skiing
Where to go when the cloud comes in, the snow starts to fall and you find yourself in white out conditions.
The trick is to head for the pistes that are tree-lined, as they help provide definition when everything else seems to be white. Keep in mind that the valley itself can be covered in an all-encompassing fog, but the top of the mountains can be bathed in glorious sunshine (check out the webcams).
Also, if it's lashing down with rain in the valley, it means it's snowing up top, giving you the best and freshest powder you're likely to ski on. And because it's a bad weather day, chances are, you'll have the mountain to yourself.
We don't mention Brévent and Flégère in this article as in our experience there's nowhere nice up there when it's a white out and heavy snow is falling, also the avalanche risk is usually high up there in these conditions. Also, some of the areas mentioned here are 'pushing it' when it comes to being fun in bad weather, and you might be better off staying in bed or heading to the nearest bar to sit it out.
Grands Montets in Bad Weather
When it's snowing heavily head to the Magic Forest at Les Grands Montets, and with some fresh snow this place really lives up to its name. Here the trees help to give some definition and reduce the whiteout that normally accompanies heavy snowfall. This means you can ride some fantastic snow while everyone else is either indoors or struggling with visibility.
Located in a triangle between the Tabé and Retour Pendant chairs this hidden spot can require a short hike out along the cat-track that joins the bottom stations of the lifts, but it's without doubt worth the effort to get access to some superb powder and tree runs.
From the top of Retour Pendant head straight down into the open (skier's left of the blue Coqs piste) then enter the wooded section. There are lots of rocks to drop here and with a fresh fall of snow they form the perfect pillow line, with each drop comes an explosion of powder. Lower down the trees become tighter requiring some commitment to turning accurately, although with a little searching it's easy to find open sections where it's possible to pull fast, sweeping turns.
The gradient here is fairly steep in places, which means even in deep snow it's difficult to get bogged down. Be careful not to pass over the cat-track (marked by a dotted black line on the lift map). If you do you'll be in the animal wintering zone and some very avalanche-prone, steep couloirs heading down to the bottom of the valley.
As this is off-piste, if you go, make sure you at least have a transceiver and shovel and know how to use them (see our Avalanche section).
Le Tour and Vallorcine in Bad Weather
Another favourite spot is the tree area at the back of Le Tour above Vallorcine (Le Domaine de la Balme), which offers some great terrain. When it's snowing, the front of Le Tour is normally in a whiteout so instead, you can take the long traverse round to the back through to the trees on the Esserts piste and then to the Tete de Balme chairlift and take that up to the top. It can be bitterly cold and windy on this chair in a snowstorm so make sure you are prepared with warm clothing.
From the top, follow the Tete de Balme chairlift down and then head skier's right into the open trees but don't go too far right as there are some very open and avalanche prone bowls beyond the trees. In the trees, the visibility is normally better and the woods shelter the snow from the wind, thus keeping it in good condition.
The terrain is less steep than the Magic Forest at Grands Montets. There are a few rocks to drop and lots of gentle rollers that often develop small cornices to jump off. It's easy to get carried away with the powder and go down too far, so you'll have to remember to traverse back skier's left to the bottom of the Tete de Balme chair - to avoid having to walk back up.
Again, this area is all off-piste and unpatrolled so if you head this way you need to take care and go equipped for avalanches.
Les Houches in Bad Weather
When the weather is cloudy or the snow is falling, it's well worth checking out Les Houches. The lifts here are far more likely to be open if high winds are causing closures elsewhere. Additionally, the avalanche risk is a lot lower in Les Houches after heavy snowfall, so whilst the rest of the valley is shut to allow blasting of avalanche-prone areas, Les Houches can pretty much open up straight away. The other advantage of Les Houches is that because nearly all of its pistes are cut through trees and forests the visibility is about as good as it can be in a white out.
Head over to the back of the ski area and try the Fontaines and Plancerts pistes. The runs down the front back towards Les Houches are also sheltered by trees and are awesome in fresh powder. With black, blue and red runs to choose from, you'll find a way down whatever your ability.