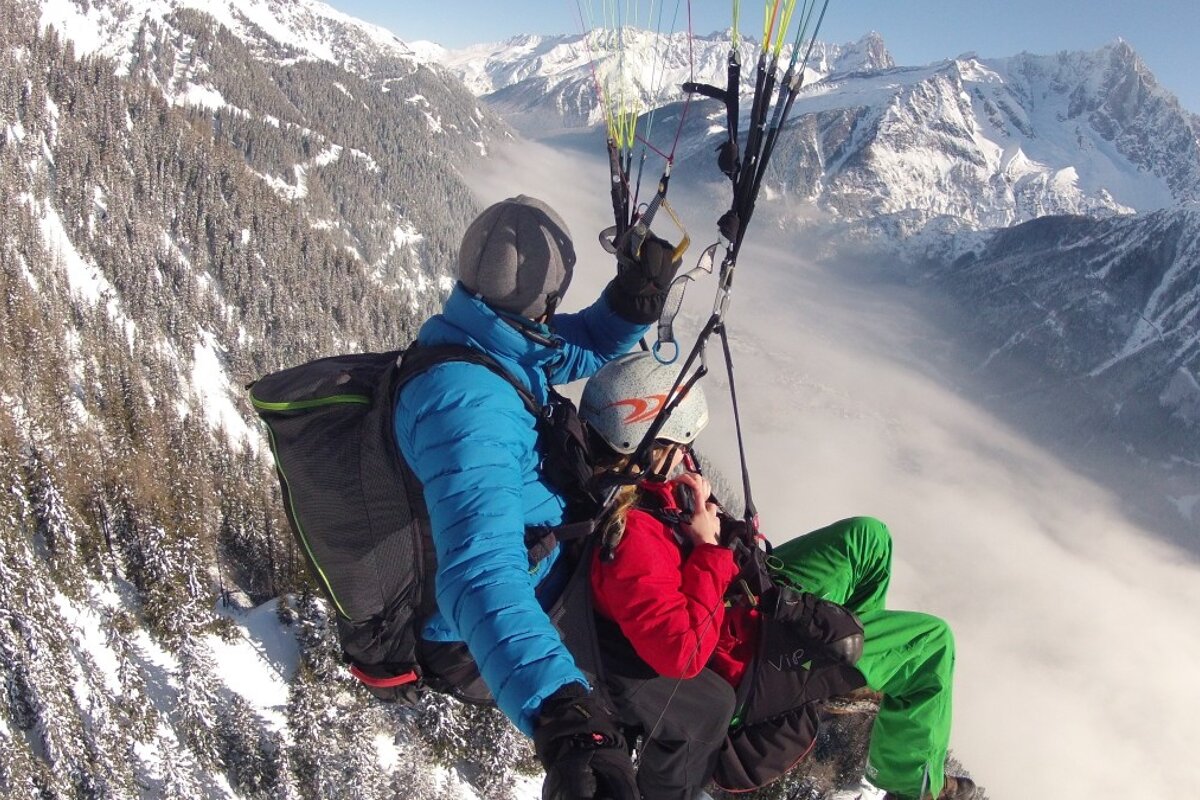 © Fly Chamonix - Sean Potts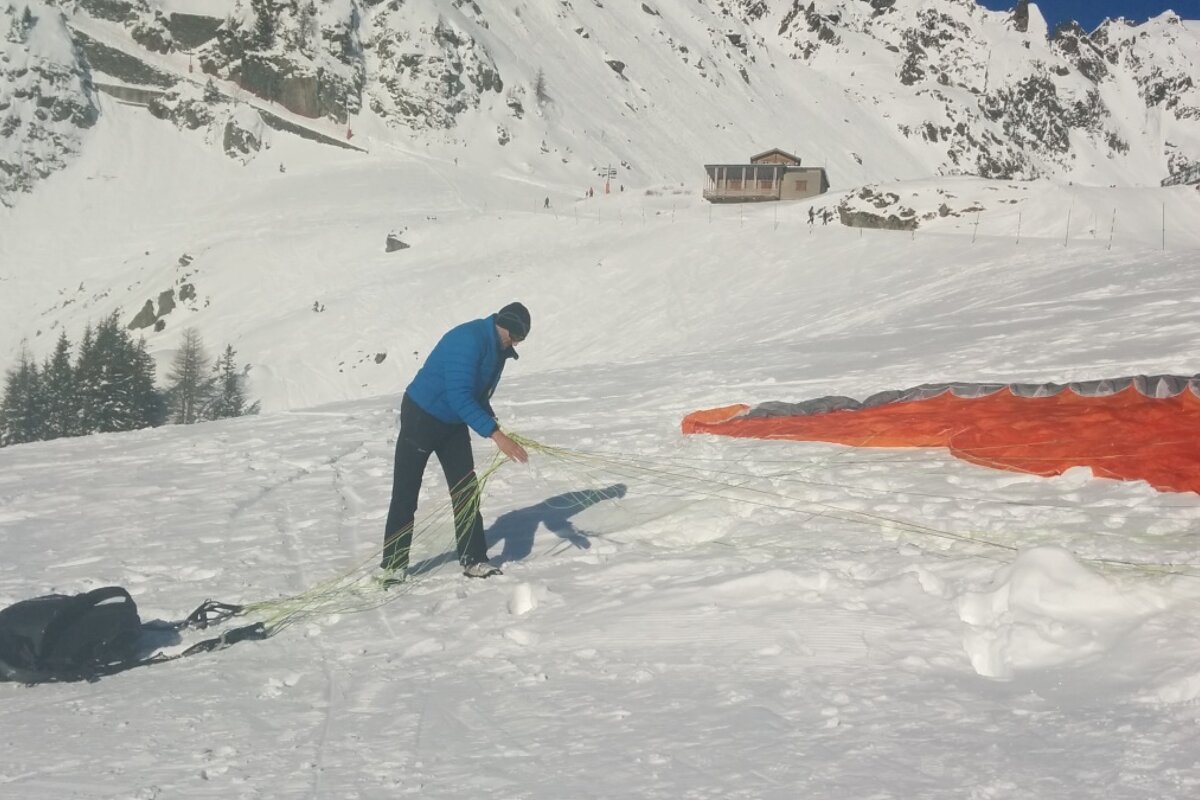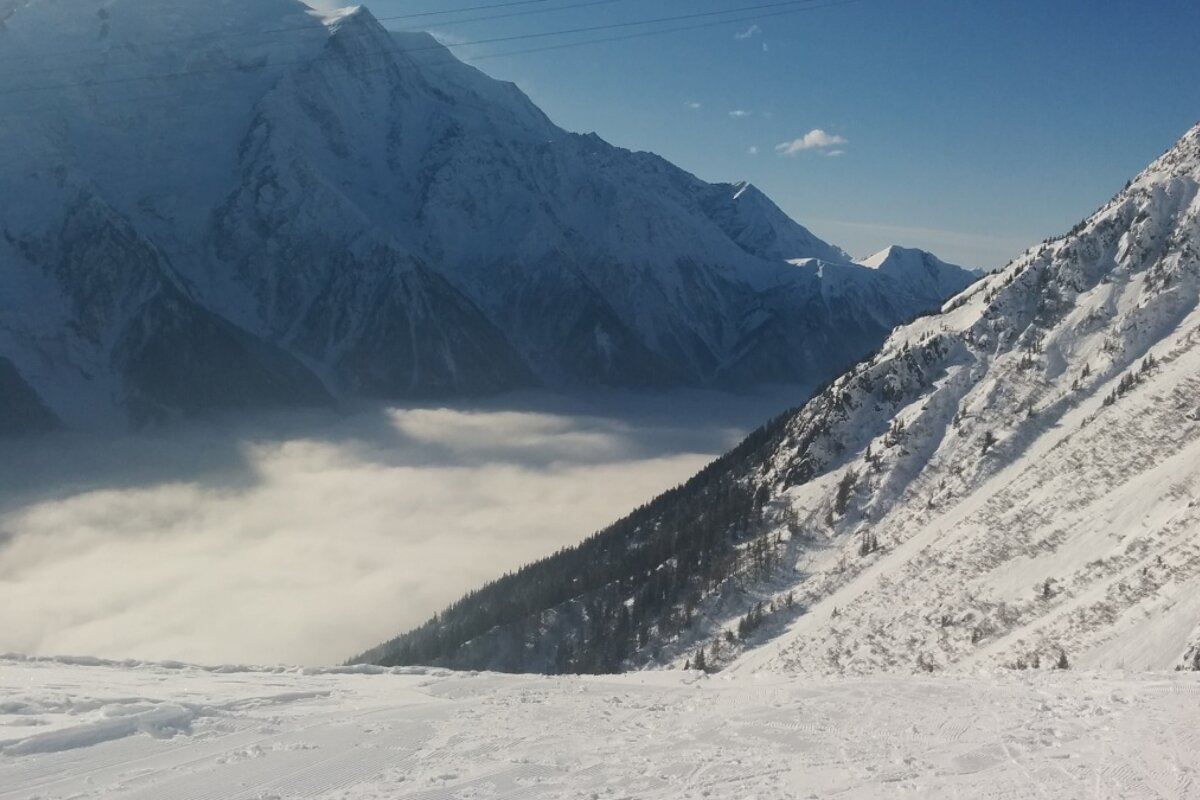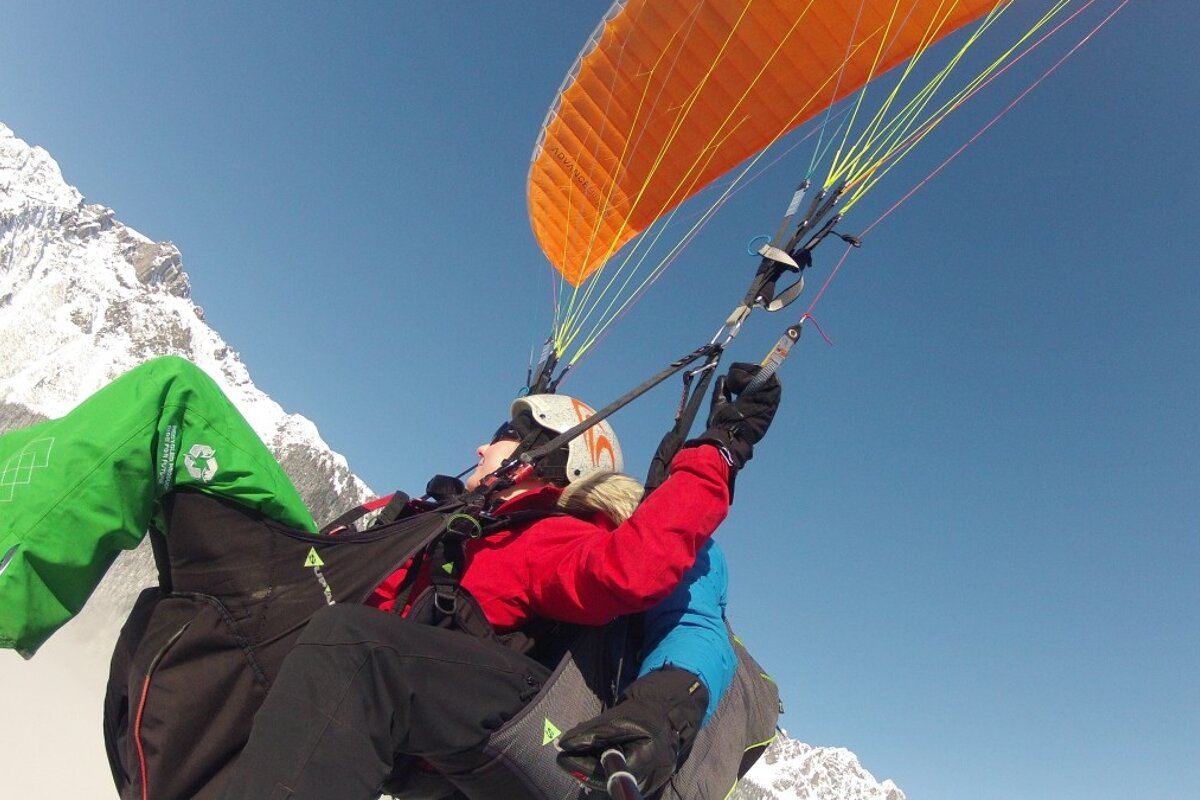 © Fly Chamonix - Sean Potts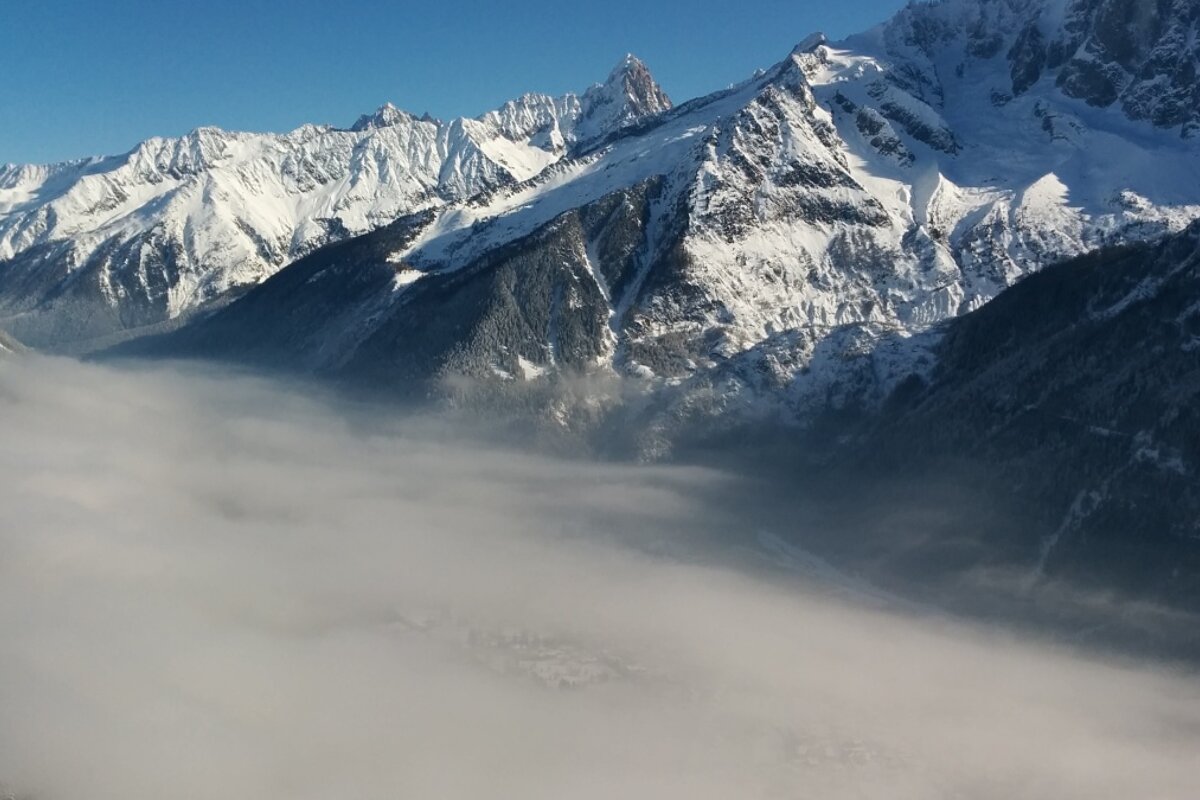 © Fly Chamonix - Sean Potts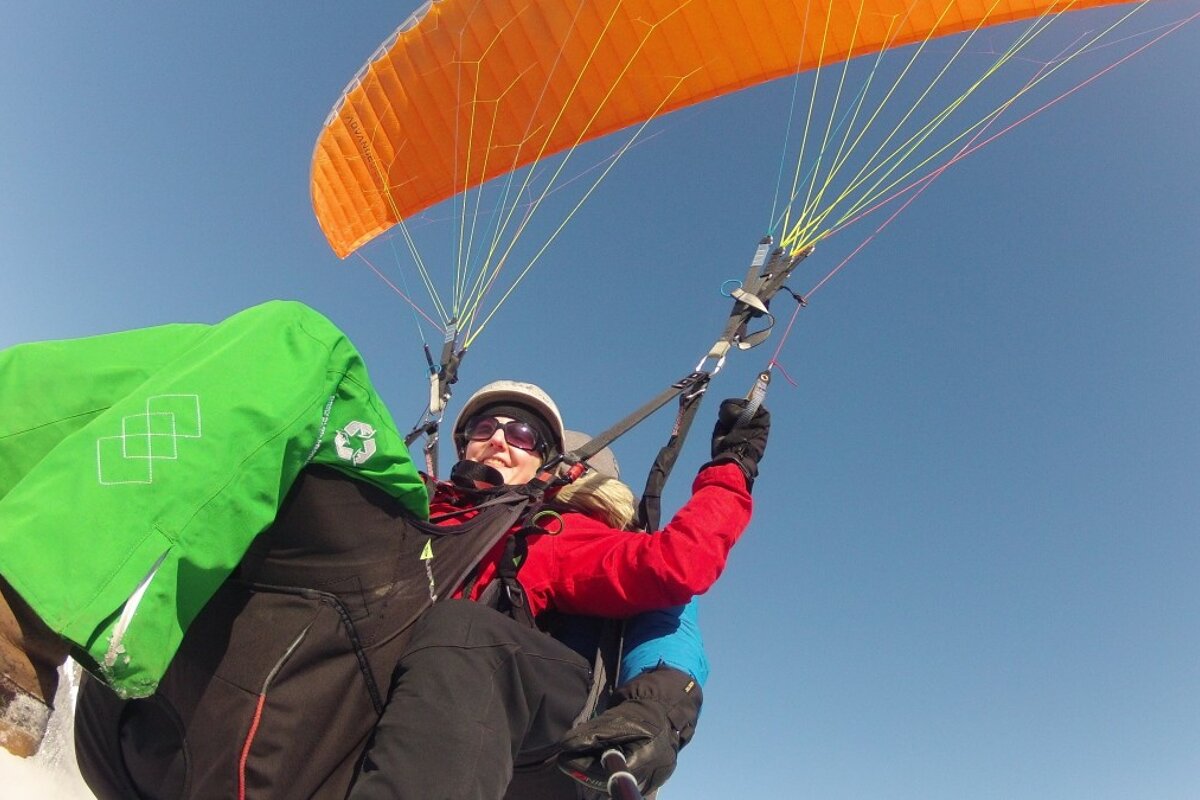 © Fly Chamonix - Sean Potts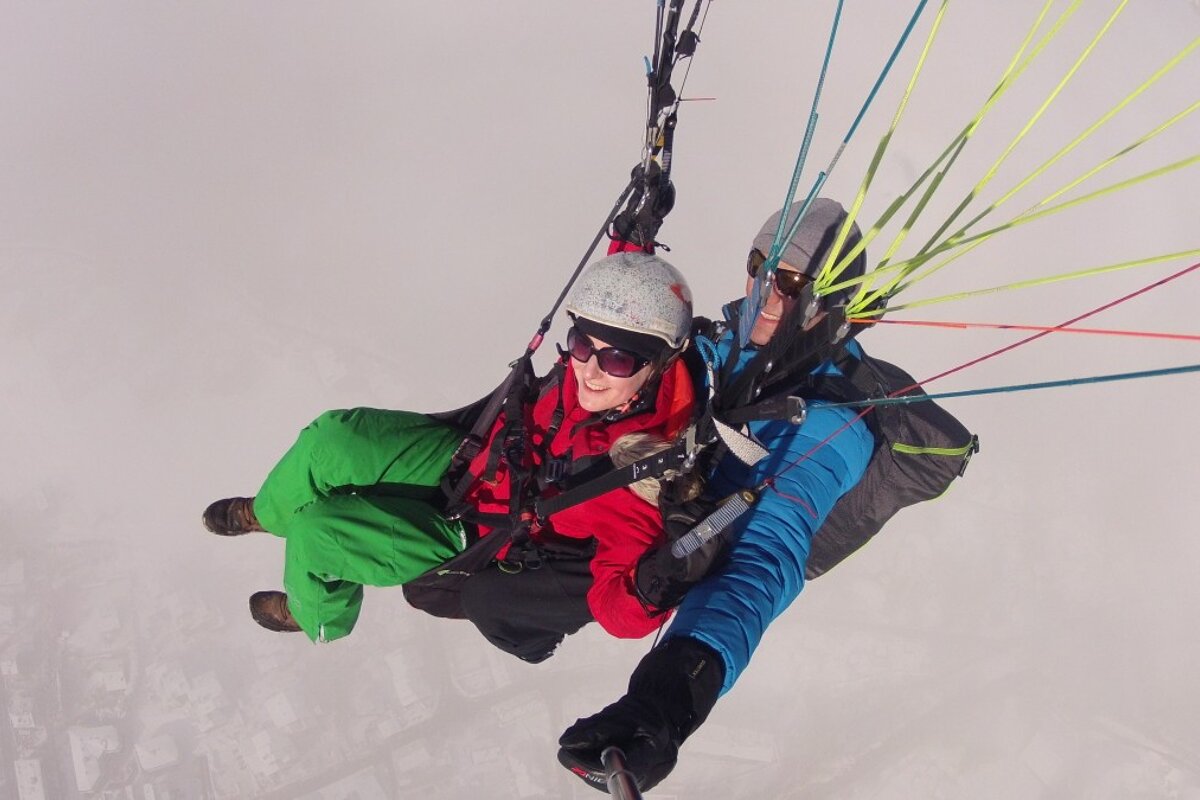 © Fly Chamonix - Sean Potts
Winter Paragliding in Chamonix
One of the best experiences to be had in Chamonix - Simply amazing!
This weekend I went paragliding for the first time, it is something that I have always wanted to do, having often gazed up at the Brevent skyline and seen the paragliders spinning about.
When the opportunity arrived through work, my mind ran away with me, I was actually going to have to jump of a cliff!! Arrrhh... Scared, excited - excited scared...
I was booked in to go with Fly Chamonix and once I had agreed to the flight, I promptly receive an email from Sean Potts, the owner of the business, to confirm all the details, including timings, meeting points, what to wear and weather conditions. I felt instantly reassured by the professionalism and all the detailed information. Now all I had to do is not have too many glass of wine on Friday night. (I am pretty sure flying and hangovers don't mix and given my tendency towards "theatrical" disasters, it probably would have ended badly - for me as well as Sean - although it may have made a entertaining story).
Saturday morning arrived, the valley was covered with cloud. Knowing Chamonix's weather pretty well, I wasn't concerned. Although there may have been cloud down here a couple of 100 metres up it could be a blue bird day. I checked the webcams and confirmed my suspicions were correct - it was a glorious sunny day up top.
I met Sean by the bottom of the Planpraz Brevent bubble lift. If I was still a little bit nervous, I wasn't for long - he is warm and friendly and instantly puts my mind at ease that I will not be jumping off a cliff, just gently running down a slope - which is exactly what it was. On the ride up in the cable car I discover that Sean has been living in Chamonix for 26 years, speaks fluent French, is a qualified Paragliding instructor and has literally done thousands of tandem flights. I was in fact Sean's second flight of the day. He has taken all ages up the mountain including a sprightly 92 year old who loved the experience so much on his first go at 89, he came back to fly several more times with Sean over the years. It goes to show that anyone can get involved in this fantastic sport and that age is just a number.
Once we were at the top of the cable car we hiked a little way up the green run that leads to the Parsa lift to reach the take off point. Sean unpacked the wing and spread it out, making sure all the ropes were in the right place, confirmed the wind direction and did all the safety checks. I was given a harness and helmet to put on and he explained to me the process of taking off. It is very simple, once our harnesses were clipped together and everything is in place, Sean would confirm if I was comfortable and ready and then we would run down the slope until the wing catches. He let me know that I would need to keep running for a bit once we had taken off just in case we momentarily touched down again.
So I was all strapped in and looking out towards the valley floor. Mental check list. Were my shoelaces tied? (loosing a shoe mid air is just the sort of thing that would happen to me), did I zip up all my pockets? including the ones with my phone and my keys in? Yes. Right, at this point I am out of excuses - I tell Sean I am ready. We start to run down the slope, it's fairly hard to get moving with the weight of the wing behind you but eventually we get there, and after we taken off I keep running like I was told - for quite a long time in fact... Sean had to tell me I can stop running and to sit back into the harness. The take off was incredibly easy and not in the least bit nerve-racking and then we are gliding along smoothly. I am overtaken by how amazing it feels to be in the air, completely weightless. The scenery is absolutely stunning and although I have seen these views regularly when skiing, it is quiet something else to be see Chamonix from this perspective.
As part the flight (€100), I have opted for Sean to use his GoPro to take some footage and get some photos. This costs an additional €30 as you get to keep the memory card. It is well worth it, as it is not easy fiddling with your phone/camera struggling to take pictures (I gave it a quick go) and you also end up missing part of the experience.
As we were gliding toward the Aiguille du Midi, Sean asked if I would like to have a go at flying. Naturally I said yes (good thing he has never seen me drive!) I took hold of the two steering levers. It very easy he said, keep them level when you are going straight, to change direction, look where you are going, make sure there are no other paragliders near you and pull on the left lever gently to turn left, or right to go right. Simple...Well apart from that I forgot to look where I was going initially (an insight into why I might not be the best driver), all goes well. I can really see why people learn to paraglide - so they can experience this freedom and explore from the air whenever they want. Within the first 10 seconds I already knew I would definitely have a go at paragliding again.
Before we landed, Sean asked my if I like roller-coasters and would I be happy to do some mid-air acrobatics. I jump at the chance. I love all types of fairground rides. Sean took us into a spin as we go through the cloud line and I was screaming like a little girl "wwwweeeee" - sadly at age 31, I still do that...
Landing is the same as taking off. You simply run as you hit the ground and keep going a little bit until the wing drops nicely behind you. Sean warned me that due to the recent heavy snowfall I would need to stick to the well worn path, otherwise I'd end up in deep snow, going nowhere. Naturally just after we hit the ground I veered off course into the deep snow and we ended up in a heap. We (luckily) were both laughing though and nothing was broken.
All in all, from start to finish, this flight is probably the most amazing experience that I have had in Chamonix, or elsewhere. Sean is extremely personable and professional, and I am confident he would be able to put even the most nervous flyer at ease. However, you don't have to take my word for it, Fly Chamonix ranks as the number 1 activity to do in Chamonix on Trip Advisor and every review is outstanding with an excellent rating. If you are only going to do one thing in Chamonix, this is it.
[Take a look at Jemima's video in the player above].
Location