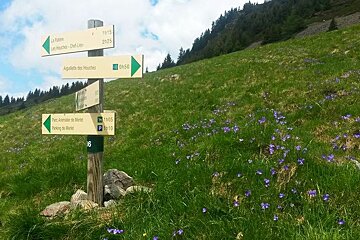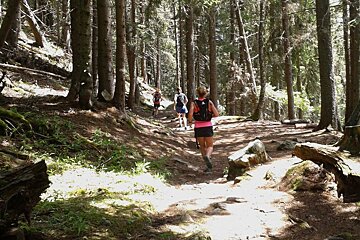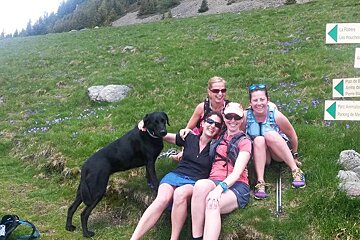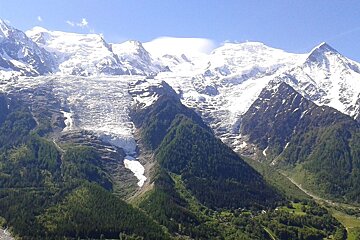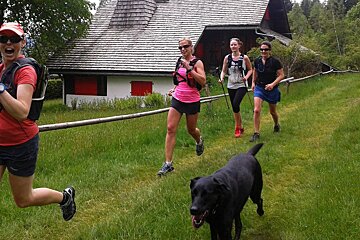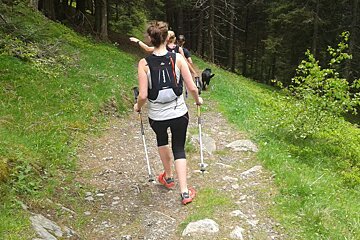 Trail Running to The Chalet de Chailloux
A short but steep trot up above the Merlet animal park
In an attempt to escape the heat of the last few days we decided to head up amongst the shade of the trees until we reached the cool breeze of the high mountains.
Starting from Les Gaillands we headed past the lake and the climbing wall to the start of the Promenade de l'Arve trail, taking a sharp right turn at the signpost pointing to Parc de Merlet. I've run as far as the park many times and it's a nice little calf-burner for when you want to put yourself to the test on a short steep run. I'd never explored the trails beyond though, so I was excited to see where we would end up.
Under the cool shade of the pine trees we picked our way over the gnarled tree roots and around the rocks on a narrow zig-zag path that climbs 500m in about 4km, bringing you out at the entrance to an animal park where typical Alpine species roam in large enclosures. Keep your eyes open for marmots, bouquetin, chamois, red deer and even llamas!
From here we wound our way up past the park and headed on up to Chalet de Chailloux; the path continued ascending at a steady (or relentless, depending on how knackered you feel) gradient, until we came out onto a wide open plateau and found ourselves in a paradise of soft breezes, colourful wildflowers and incredible views. The route is named after the old stone chalet that is used as a shepherd's hut, we kept our eyes out for Heidi's grandfather but we didn't see him this time…
From here we continued along a narrow footpath, following signs to Pierre Blanche - this is a fantastic flattish run where you can pick up some speed and have some fun hopping between the rocks. It's not quite along a ridge but high up enough that you can see for miles around. You'll soon come to another signpost for Pierre Blanche directing you back down and into the trees.
The next section of descent is really fun; fast enough to keep your legs spinning round but not so steep that you fear for your front teeth coming into contact with the ground. Keep following the signpost to Pierre Blanche and you'll soon come to a pretty little meadow brimming with flowers and harbouring another charming little chalet.
From here we carried on in the direction of Samoteux and Plan de la Cry until we picked up signs for Merlet again. This brought more lovely freewheeling descent on a soft springy trail that just seemed to pump energy back into our weary legs. Which was just as well as we thought that perhaps we'd done our uphill for the day (or at least that's what they told me to keep me going) but once we'd dropped down to 1450m there was still another 150m or so up steep switchbacks to get back to Merlet.
The path loops around and brings you back to the other side of the park, so you need to pick your way along the fence at the back to get to the final descent. This is exactly the same as the way you came up from Gaillands and is a fast exhilarating end to a great route.
The trails are in wonderful condition at the moment, firm and springy thanks to the summer showers that have broken up the hot weather. Remember to keep in the shade as much as possible and to take plenty of liquids with you, Chamonix is at 1000m even at valley level so it's easy to burn out quicker than you realise!
Distance: 20km
Elevation Gain: 1413m
Location