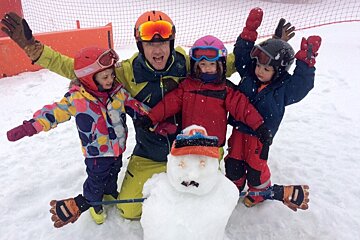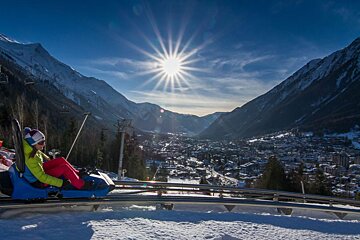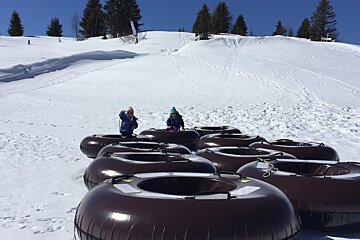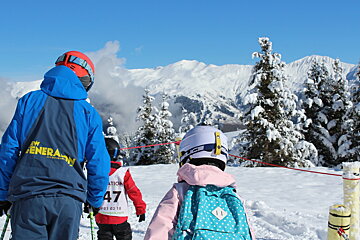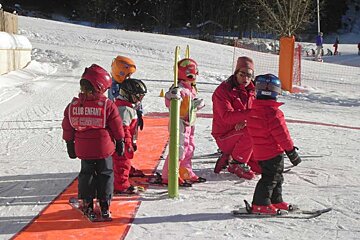 Skiing with toddlers & children in Chamonix
Young families & first time skiing with the little ones
Ski holidays with pre-schoolers have become increasingly popular over the last few years and although Chamonix has a reputation for being the home of all things extreme, you may be surprised to hear that it's also a great place to come with your little ones.
From children specific ski schools and lessons, to sliding down the mountain on giant inflatable rubber tubes, a mini roller-coaster, ice skating, torch lit descents, sledging, winter walks, a soft play area and great childcare, there's more than enough to keep your family occupied on a ski holiday here this winter.
---

Ski Schools
Once your child reaches the age of three, their legs are generally strong enough for the skis and they are able to communicate their needs more easily. Ski schools will not take children under three, so if you think your child is ready earlier, then you will need to teach them yourself or hire a private instructor. If you want to teach them yourself, you can find out more about the nursery & beginner ski areas in Chamonix in our guide. First time skiers will need a helmet, mittens & goggles in addition to skis (poles are not initially needed) and make sure they have enough layers on to stay warm. Remember to apply sun cream to their faces before they start and place a snack in their pocket, just in case. Lift passes are free for 3 & 4 year olds, and family passes are discounted - for two adults (parents or grand-parents), the first child pays full youth rate and then any other children go free (limited to 4 freebies). You can see this year's prices on our Ski Lift Pass page.
The two main ski schools that cater for the 3-6 age group in Chamonix are ESF and Evolution 2. Both companies offer full & half day sessions with English speaking instructors and have dedicated areas for your kids to learn how to snow plough, stop, turn and glide. Their first experience on skis will be in a 'snow garden' where your children can build their confidence whilst interacting with fun inflatables & characters, and by playing games. A 'magic carpet' travelator makes it easy for them to be taken up the slope, and drag lifts on the neighbouring nursery pistes will be introduced when they are ready. Three year olds and first-timers are likely to be satisfied with half day sessions, and all kids receive a medal at the end of their course. You can find out more about Children's Ski Schools and how to book your ski school lessons on our Ski Schools page.
---
After Ski Activities
If the kids are only skiing for half a day, there are plenty of other activities available in Chamonix to keep them happy. If you want to stay on the slopes, there are two areas which have 'fun parks' for families. The first is the most excellent Ski Camp and is located at the top of the Prarion gondola in Les Houches. Here you will find a snow tubing track (which is amazing fun!) sledging, zip wire, curling, igloos and tepees and other entertainment - all for free (although you will need a pedestrian lift pass to access the gondola). The second place with a dedicated family area is the Mont Blanc Legend at Flégère. This is a little winter village at the bottom of the Trappe green run. You'll find children's games & activities, treasure hunts and a BBQ. You can also go snow tubing at the Moon Tine cafe in Vallorcine on a dedicated slope. Take a look at the piste maps to help you find your way around.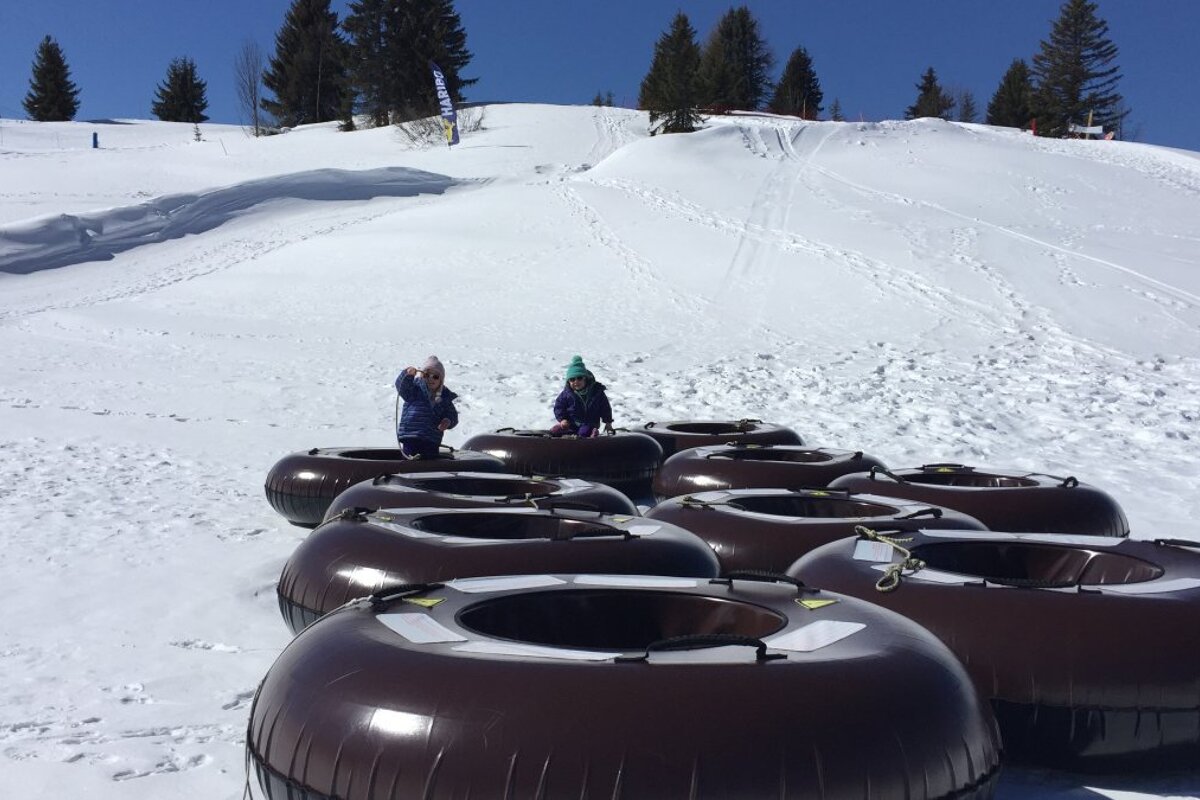 Sledging is not allowed on the piste, but if you head back down to the villages you will find dedicated sledging at most of the lower nursery slopes. Try the Savoy or Bois de Buchet in Chamonix, Les Chavants in Les Houches, or in Vallorcine, there is one just behind the tourist office. Most ski shops in town sell sledges (or your accommodation provider may have some you can borrow). In addition, at Planards in Chamonix there is the winter luge. This is a 1300m mini roller coaster - you board at the bottom of the hill and are pulled up to the top before the track loops you back down through the trees. Each sledge has room for two passengers, seat belts are fitted, and it's suitable for children aged three and upwards.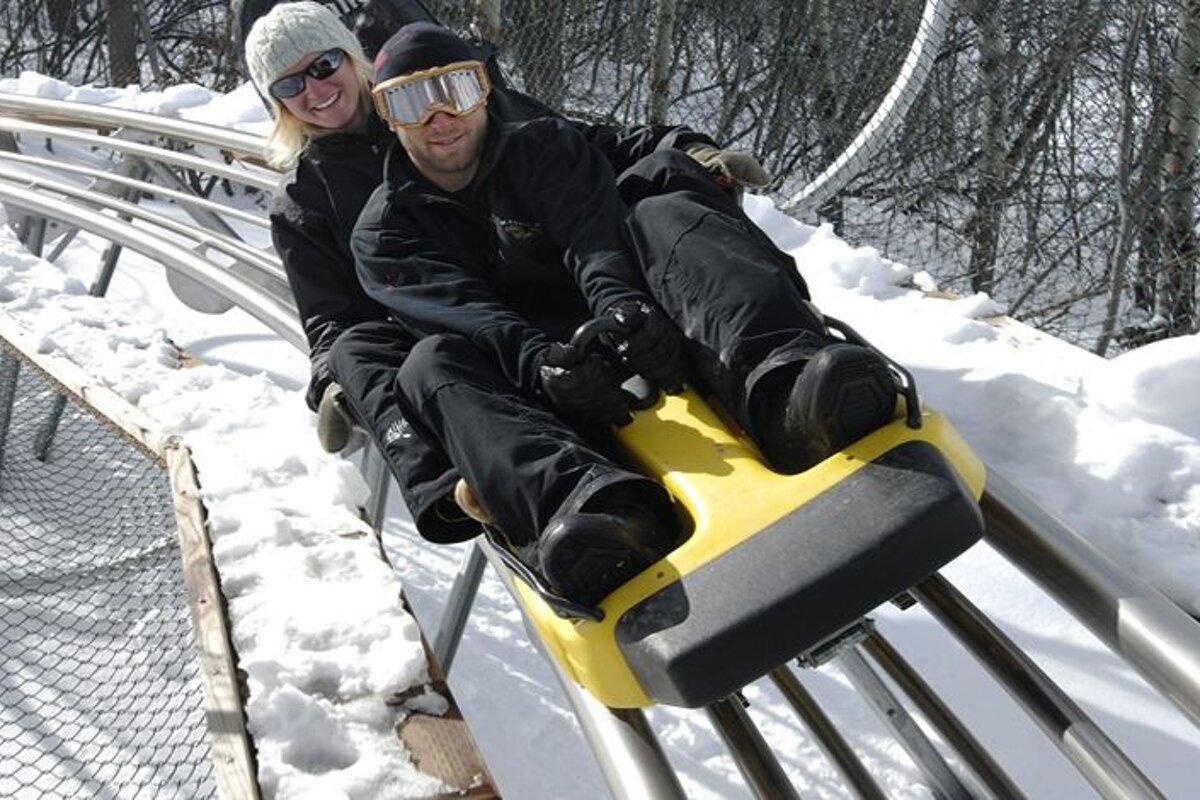 Just next to Planards is the traditional Montenvers cog railway that takes you up into the mountains to the Mer de Glace glacier (1913m). This charming red train is an attraction in itself, and once you get to the top you will find wonderful views, a glaciorium (an interactive & educational space) and ice caves (down 400 steps so perhaps not great for very little ones). You can also hire show shoes for free to explore groomed trails, and there will be children's events here every weekend in February.
Ice skating is available in both Chamonix (indoor, from age 6, outdoor free usage if conditions allow) and Les Houches (outdoor, open in the afternoons and evenings, skate hire available). Other activities you may like to consider for your children include snowman building, snowball fun, and if you want a real treat, try Husky dog sledding where the little ones can ride in a passenger sledge with you. Or for something a bit more gentle, you can always go for winter walks through the woods - try Bois du Buchet in Chamonix or Les Chavants in Les Houches.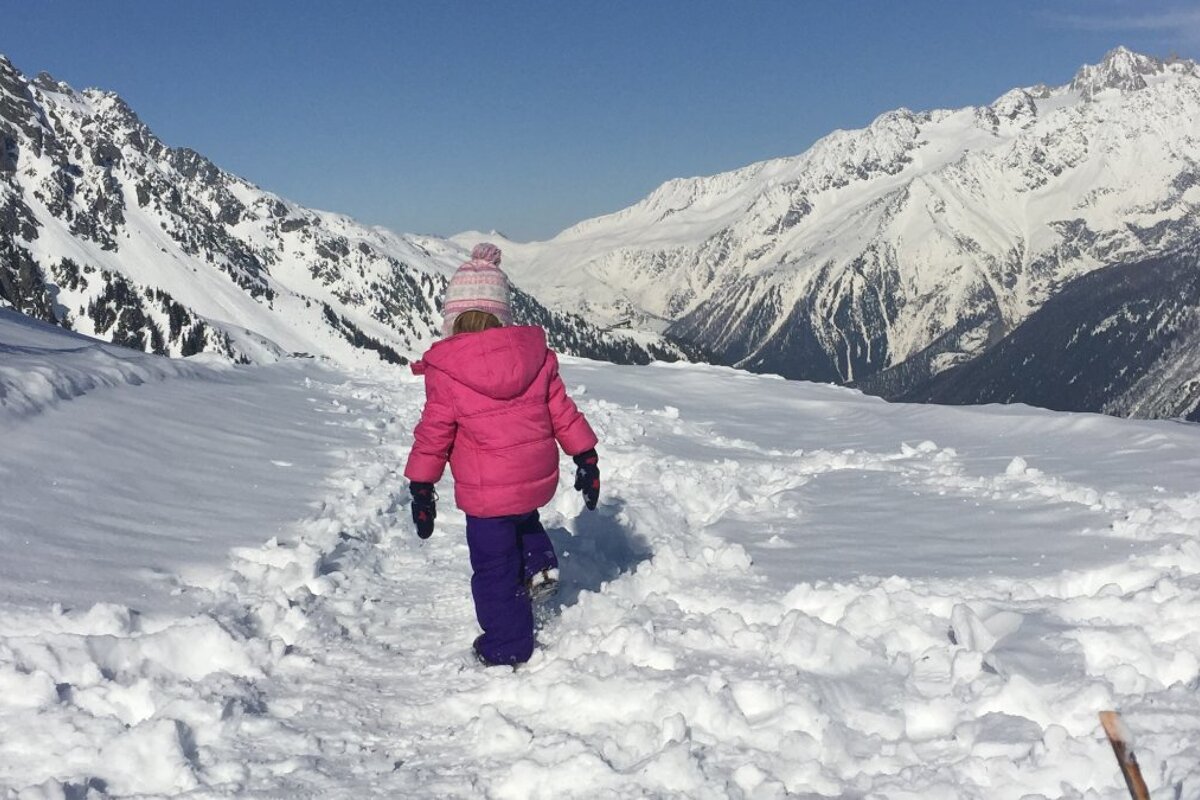 ---
Events
During the school holidays there will be plenty of child friendly events to explore. At Christmas, there will be a Christmas Village in Chamonix open every day with a market, parades, shows and Santa. Look out for torchlit descents at the Savoy and Planards pistes (wrap up warm!) ESF Chamonix holds a special 'Red' day on the 17th February 2017 where you'll find face painting, a tombola, music, parades and shows. Plenty more child friendly events will be added to our events calendar as the ski season approaches, so please do check it when you arrive.
For indoor fun, there is a small soft play area in Chamonix Sud, at La Petite Folie which also has arts & crafts materials and a lovely cafe. On Thursday mornings (not during school holidays), there is a Tots group that meets at the church hall off Place du Poliu from 10am to midday (best for babies and up to three years). And the swimming pool at Richard Bozon sports centre has special children's classes on Saturday mornings.
---
Childcare
There are plenty of specialist tour operators who cater for families and have in-house nannies to help with the child care. Children under three are generally too little to try skiing so some help with child care is essential if you plan on skiing yourself. Independent nanny agencies are also available in every resort, and should be booked well in advance of your holiday.
Bringing small children on a skiing holiday can be the greatest adventure and the most fun they can have in winter. And even if they don't take to skiing immediately, there are plenty of apres-ski activities in Chamonix that will keep them happy until they are ready to try again.