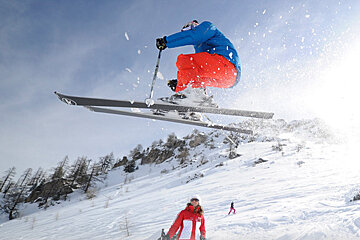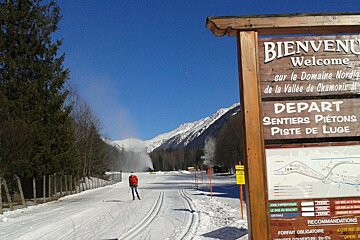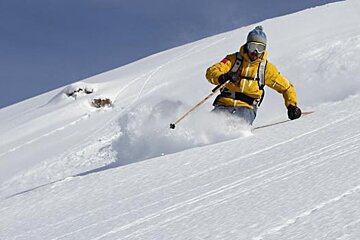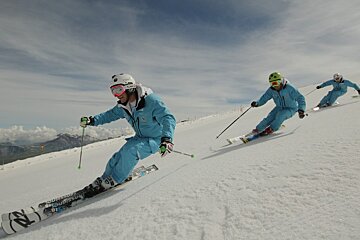 © European Ski & Snowboard School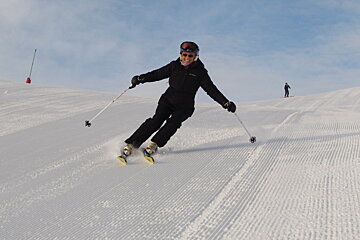 Choosing the Right Pair of Skis for You
Since your skis are fundamental to the enjoyment of skiing, knowing what to look for is half the battle. Before you take the leap make sure you understand the type of terrain you will be using them on and what will suit your needs. There are many makes and models of skis available today, each with their own unique features and functions. Although most skis are based on the carving model, there are differences in the width, length and flexibility that will compliment the type of terrain you are skiing.
So, what's important when selecting a pair of skis? Selecting the right pair of skis is an individual choice. If you ask around in shops or in the general skiing community about which type of ski to purchase you'll get a mountain of different answers. Be familiar with the various types of skis suitable to your skiing, as skis differ according to conditions. These days there is a vast range of skis suited to different conditions, weights, styles and gender.
Boots
All mountain skis are best suited to those who ski on and off piste with the same regularity. These carving style skis provide easy turning and will glide through fresh powder with similar style, and will continue to perform well in crud and slush. Popular all mountain skis include:
Volkl Kendo
Atomic Vantage
​Rossignol Experience
Skis
The term 'freestyle' also includes the twin tip model of ski. This new generation of ski has been around for the past 5+ years and allows skiers to ski forwards, backwards ('fakey') and sideways. Generally these skis are to be found on the foot of the energetic skiers in the snow park performing amazing jumps, spins, tricks and rails. Popular freestyle skis include:
Head Monster
Armada Invictus
Rossignol Temptation
Testing your new gear
Slalom, Giant Slalom (GS), Super G and Downhill are all part of the racing ski family. Racing skis are designed specifically for groomed runs, firm snow and high speed terrain. These skis have a sharp edge, making them faster and more responsive on firm or icy conditions. Race skis are primarily aimed at the advanced to expert skiers who are meticulous when it comes to flex, stiffness, and responsiveness as well as the liveliness of their skis. If trying out racing skis, caution is advised!! Some of the most popular brands of race and slalom skis include:
Maintenance
For unlimited fun in 'the white stuff' choose a freeride or powder ski. Freeride skis are excellent in tough conditions but are generally more suited to advanced or expert race skiers.
Designed with floatation, stability and lots of fun in mind, the suitability of a powder ski will largely depend on the body weight of the skier. A heavy skier will tend to need the use of a larger ski with a larger surface area and is approximately head height or above. A lighter skier is suited to a shorter ski that is on average at nose height.
Rockered skis sit lower in the middle than at the tip and tail, if you lay them on flat ground you'll see that they are slightly bent. This gives much better float in deep powder and makes it much easier to turn without catching an edge. They give all the benefits of a bigger ski, with the manoeuvrability of a much shorter ski.
Popular powder skis include:
Black Crows Anima
Salomon Rocker2
Dynastar Cham 2.0 117
Ski length
There are no steadfast rules about the size of ski to purchase. As you progress and skill level improves, the length of your ski will usually increase from shorter to longer skis. There are however a couple of basic guidelines to remember when selecting the appropriate ski length:
If scared of speed, choose shorter skis. They will enable easier carving turns and be more effective at low speeds. If skiing on carving skis, they should reach between your nose and forehead. For freestyle skiers doing tricks in the snow park, a shorter ski is definitely more nimble and advisable.
An experienced skier who skis in various snow conditions from crud to fresh powder should choose a longer ski which will keep your weight more centrally balanced and perform better in all mountain conditions.
Ski shape & flexibility
The structure and the materials used in the inner core and outer shell of the skis are indicators of whether your skis are soft-flexing or stiff. Previously, skis were made of wood and therefore designers were limited in their range of options. Although the core of the skis is now generally wrapped in fibreglass, part of the ski is still often made of wood and designers now talk about the longitudinal and torsional stiffness. If the technicality of ski design is a foreign language to you then follow these basic guidelines:
If the skis are rigid, they provide more support and stability. Longer skis will generally tend to be stiffer.
Soft skis may be more user-friendly but they do not always guarantee stability at speed; however, they will be more versatile and flexible.
Skis which are rounder in shape facilitate easier carving turns.
Versatility in all Conditions
Skis are either designed to perform at their peak under specific conditions, or to perform well on a multitude of different terrains. When purchasing, consider whether the skis are to be used largely on or off-piste.
Edge Grip
When we say 'edge grip' we mean the contact that the ski has with the snow in relation to the length of the ski. The shorter the ski, the less contact there is with the snow from tip to tail; the longer the ski the more stable and control the ski will have, thus improving the overall edge grip.
Rocker
Skis with a rocker shape are slightly bent so that they lift up at the tip and tail, with the section under the bindings making the most contact with the snow. They might feel a bit flappy on a firm piste but take them into powder and they really come into their own! The shape allows them to float and turn much more easily, giving the stability of a big ski but the manoeuvrability of a short ski.
Camber
Camber is the exact opposite to rocker and is preferred by piste skiers and park riders. If you lay a cambered ski on flat ground you'll see that the tip and tail make contact while the rises up like a small bridge. This gives increased edgehold, better precision and more speed - but also requires more control.
Flat
Flat skis are, unsurprisingly, the middle-ground between camber and rocker. They offer the benefits of both but to a lesser degree then either, they are best suited to people looking for easy transition between on and off piste.
Design & Colour
The design and colour of the ski is vitally important to your 'posing potential', sadly not much else!
Park / jibbing skis
Park skis tend to be light and flexible, giving you great maneuverability for jumping, spinning and sliding over all sorts of obstacles. You'll often see that park rats don't bother with poles as they don't really need them and they can get in the way when you're flipping and spinning through the air.
Popular park skis include:
Fischer Nightstick
Armada AR7
LIberty Transfer