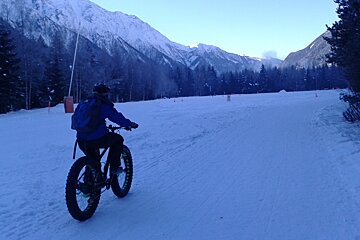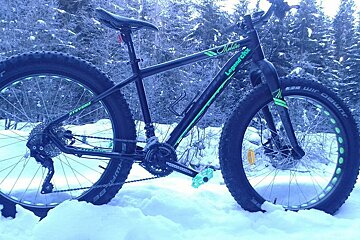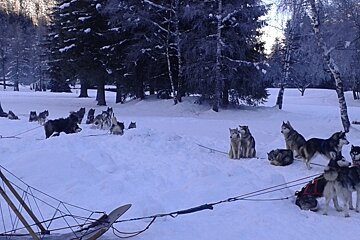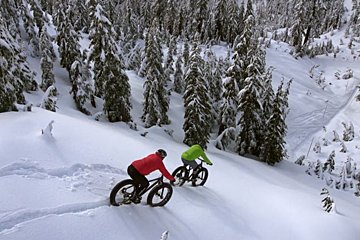 Winter Fat Biking in Chamonix
An alternative winter activity and lots of fun!
Chamonix is world-renowned as being the adventure sports capital of Europe and although we're in the middle of the ski season, I wanted to try something a little different.
If skiing and snowboarding are not for you, you're looking for an alternative winter activity, or like me your partner doesn't ski or snowboard (yet!) then there are a number of different activities you can do in Chamonix. I'd already been tipped off about Fat Biking so this was added to our list of things to do.
We set one morning aside and headed down to Legend CHX where we both hired a 'Stevens Mobster' Fat Bike. These bikes feature an aluminium frame, big fat Schwalbe tyres and slick Shimano gears. With 4.8 inches of rubber, the oversized tyres give these bikes a distinct look like no other bike I've seen before. They're pretty different to the standard mountain bike tyre widths of around 2 inches.
I've got to be honest…when I first jumped on the bike I was a little bit scared - who rides a bike on snow and ice right? My usual ride is an Alpinestars Al-Mega, which I've never ridden in snow and only once ridden in icy conditions which didn't end so well. However, as we rode up out of the Legend driveway and onto Avenue de l'Aguille du Midi we both realised it was a piece of cake!
After a quick circuit around Chamonix town centre and a stop off to put on more layers, we got familiar with the set up and headed off to the Petit Balcon Nord biking / hiking trail. (You can join this trail from beside the Richard Bozon Sports Centre by the river and it's really well marked all the way up to Argentière).
As we did the ride mid-week the trail was nice and quiet, although we did come across a few walkers who were pretty intrigued by our bikes. One lady stopped to take a photo, which was either down to the good-looking bikes, or the fact that two crazy people were out riding in -7 degrees Celcius temperatures...
The trails were nice and wide and although they were completely snow covered, the bikes handled really well. With all that surface area, the fat tyres gripped the trails easily which gave fantastic stability. It was fairly easy to pick up speed on nice straight runs and the scenery along the way was to die for.
We rode the trail up to where it meets the Flégère lift car park and after a short ride on the main road, we rejoined the trail at the Golf Club. Having hiked from Argentière to Chamonix the day before, we knew how hilly it started to get soon after this point, so after a quick blast up and down the side of the snowy Golf Club fairways, we headed back towards town. On our way, we came across one of the husky sledding operators who had twenty-something huskies chomping at the bit and howling in anticipation of taking their clients onto the snowy trails (this maybe something to do on our next trip?)
Not wanting to cut our ride short, we found another trail that followed the river which took us back in the direction of Les Praz. Once we hit the main road again, we doubled back but took a less well-trodden route through the trees. This was a really good test of our Fat Bike handling. The narrow trail and plenty of sharp turns challenged our ability to stay on. Falling off wouldn't have been an issue though as there was a good 1.5 foot of snow each side to soften any landings we may have had. Our last 30 minutes was spent cruising around the trails that wind in and out of the Nordic Ski tracks of Les Bois and Bois du Bouchet behind the Sports Centre.
This is a great alternative winter activity with a fantastic combination of physical exertion, exploring and stunning scenery all rolled into one - I can't recommend it enough.
Who can do it?
Anyone! Legend CHX stocks a range of different Fat Bike frame sizes, so if you can ride a bike, you can go Fat Biking. The staff were super friendly and we'd definitely go back to them again.
How much is it?
We rented Fatbikes for €22 for 1-3 hours (including helmets if you want them). Longer durations are available, so ask at the shop for prices - there's also a sign outside with all the prices if they happen to be shut for lunch when you get there. Until 5th Feb they also have FREE test sessions so you've got no excuse not to give it a try!
What to wear
Warm layers and a good set of gloves that are light enough for you to work your brakes and gears, but cosy enough to prevent you getting cold. As for trousers, go for something warm but pretty close fitting so that you don't get them caught up in the gear mech. You might want to protect your ears and face from the cold too.
Where to go
Speak to the staff in Legend for some suggestions on the most suitable trails in the valley. Pick up a map from the tourist office or a Magasin de Presse and away you go!
-
Follow more from Ali in her blog.
Location