Another action-packed UTMB week came to a close yesterday, with the final few runners coming across the line yesterday afternoon. The full results for the races have just been announced this morning in this press release:
The 2016 UTMB® offered 7500 registered runners over the four scheduled races a suffocating edition in every sense of the word. The heat weave that started on Monday gave way to fierce thunderstorms yesterday evening, creating a complicated situation for the large field of runners still out in the mountains. In addition, several incredible scenarios and comebacks spiced up each race during this memorable 2016 edition, and captivated this year's spectators who showed up in droves.
Suspense throughout the UTMB®
The UTMB® offered a both incredible and uncertain outcome, both for the men and women. The 41-year-old Ludovic Pommeret ran an epic race to achieve one of his most resounding wins. The Northern French Alpine native went from near disaster -at midnight on Saturday, he was forced to walk from Les Contamines to Les Chapieux due to head and stomach aches, teetering somewhere around 50th place - to incredible success when several hours later, he ran his now "resuscitated" body past 49 people to take the lead. Contrary to deep field of favorites, such as Alberto Hernando (ESP), Miguel Heras (ESP), Ryan Sandes (RSA), Jason Schlarb (USA), Thomas Lorblanchet (FRA), Tofol Castanyer (ESP), Diego Pazos (SUI), and Didrik Hermansen (NOR), all who dropped out (as with 42% of all participants by 09:00 this morning), Ludovic Pommeret was able to recover his strength kilometer after kilometer. He joined, just 30km from the finish, American Zach Miller, who had been in the lead since the start, as well as Gediminas Grinius (LIT), before "leaving them in the dust" on the climb to Catogne. He expanded his lead on the climb to the Tête aux Vents (km 158), in temperatures rising to over 30°C, before running to victory in 22 hours in front of Gediminas and American Tim Tollofson, who finished the race strong. The Americans placed three runners in the top 6, making the United States the standout country for this edition.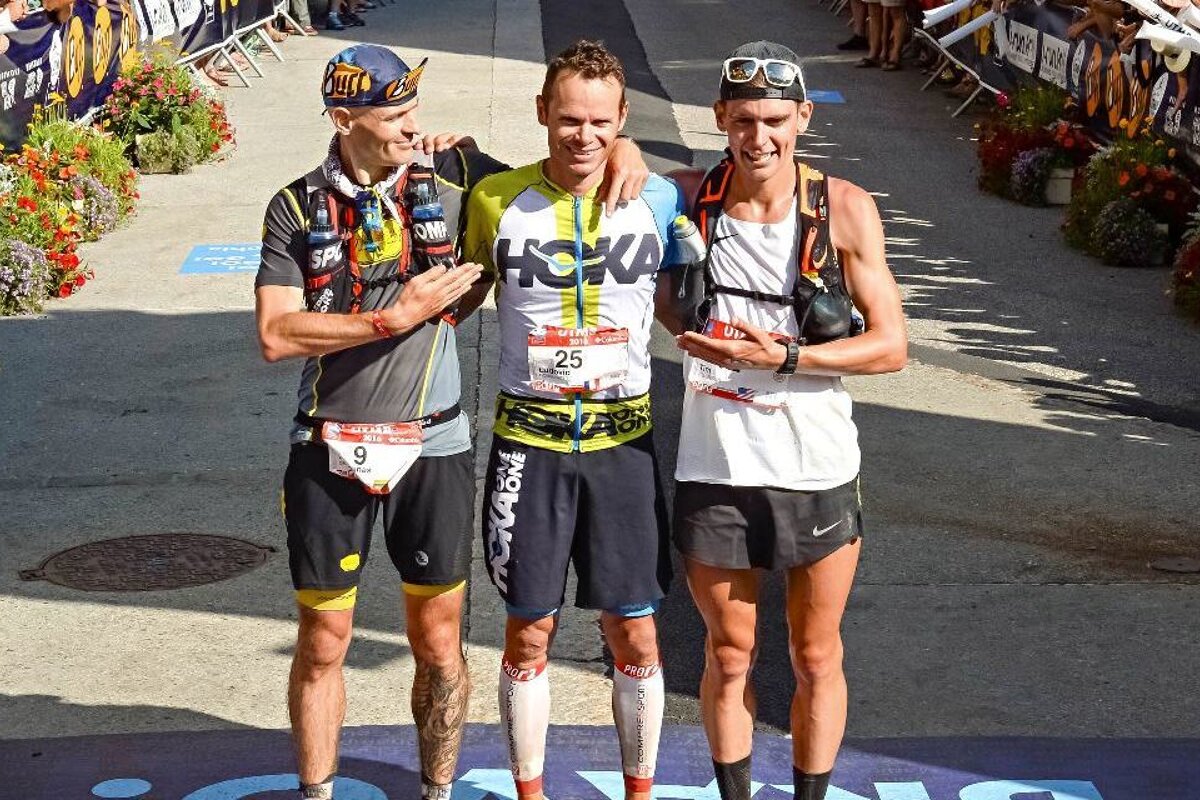 The women's race was equally astounding and uncertain to the very end. Caroline Chaverot (FRA) and Andrea Huser (SUI) battled for first for more than 25 hours. The two favorites were never more than 20 minutes apart during the 170km race, with Caroline in the lead from start to finish. Her lead dropped to 7 minutes at La Forclaz (km 147), and then to 4 minutes soon thereafter. Everyone feared a repeat of 2015 for Caroline Chaverot (she dropped out in Vallorcine after having led the entire race). However, on the climbs to Catogne (km 147) and to the Tête aux Vents, Caroline built a more comfortable 10 to 12 minute lead to finish victorious in 25hrs and 15min, 7 minutes head of the 45-year-old Swiss nurse. "Just like last year, I had cramps, but this time around I was able to go all the way," explains Caroline Chaverot."This victory is especially sweet, since it was a constant battle with Andrea. It's not like I had a two-hour lead. At one moment I almost gave up on winning when she was on the verge of catching up, thinking that 2nd place wouldn't be so bad. I had to really dig deeper than ever before to ensure the win,"concludes the woman who succeeds Nathalie Mauclair and Karine Herry among the victorious French women of the UTMB®.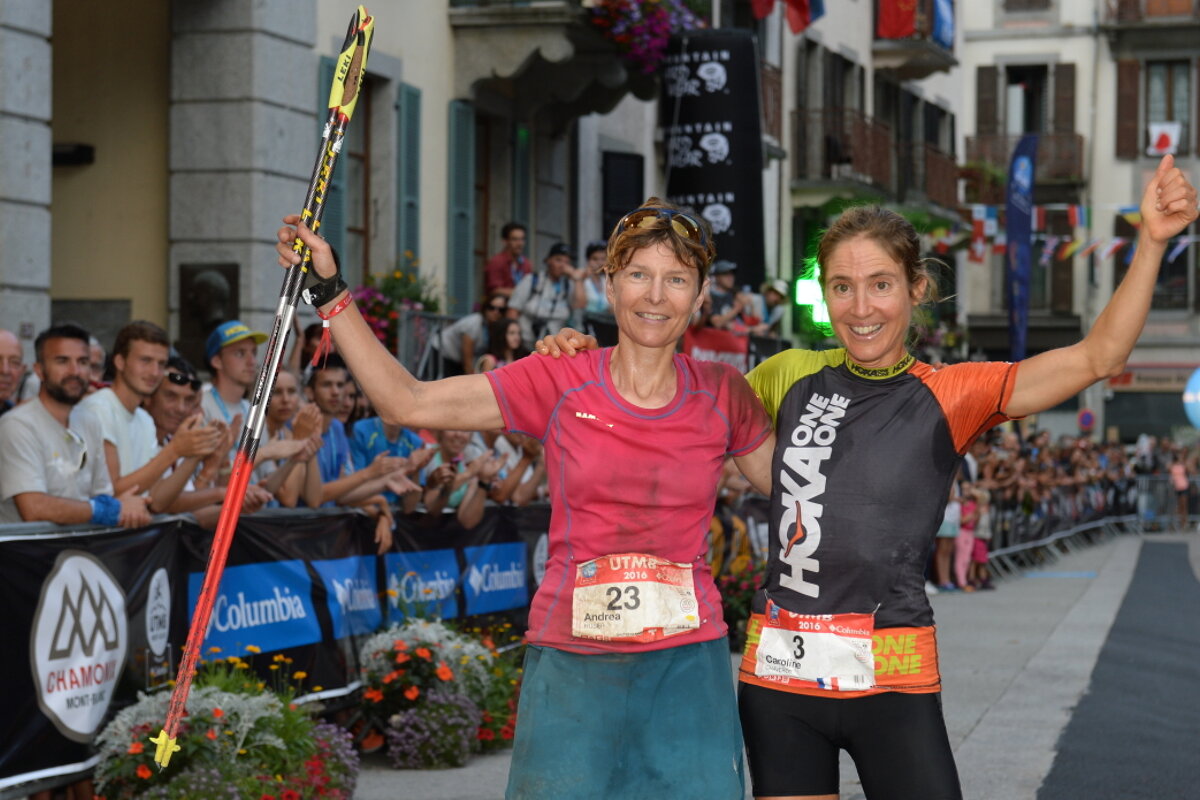 While a downpour ravaged the course at the beginning of the evening, a similar battle played out for 3rdplace between Spaniard Uxue Fraile and Frenchwoman Juliette Blanchet. The latter could not keep up during the last twenty kilometers, ceding the third spot on the podium to the Spaniard (27hrs 10min).
Revelation on the CCC®
On the CCC®, 1386 finishers succeeded in crossing the finish line (65% of all participants). Michel Lanne was the fastest among them, winning this year's edition in 12hrs and 10min. For his first participation in a UTMB® event, the mountain rescue professional from Annecy's PGHM fulfilled one of his longtime dreams. Once again, the top spot was up in the air until the very end, with a group of three runners hot on the Frenchman's tails: the 22-year-old Ruy Ueda from Japan, Italian veteran Giuliano Cavallo, and Frenchman Clément Molliet. The three men finished in that order at Triangle de l'Amitié square in Chamonix; only 15 minutes separated first from fourth place.
For the women, Scandinavia showcased a new sensation and proved the incredible strength of the Nordic trail-running field by placing Mimmi Kotka on the podium's highest step. Brit Jo Meek and Spaniard Teresa Nimes Perez fought hard for the last two spots on the podium.
An overheated TDS®
Under sunny blue skies and extremely warm temps, Spaniard Pau Capell, the current leader on the l'Ultra-Trail® World Tour, won the race in 14:45, almost a half an hour in front of fellow Iberian Yeray Duran and Italian Franco Colle. The first Frenchman, Ugo Ferrari, finished just off the podium in 4th place.
For the women, local runner Delphine Avenier took first place in front of American Meredith Edwards and Christelle Bard (FRA).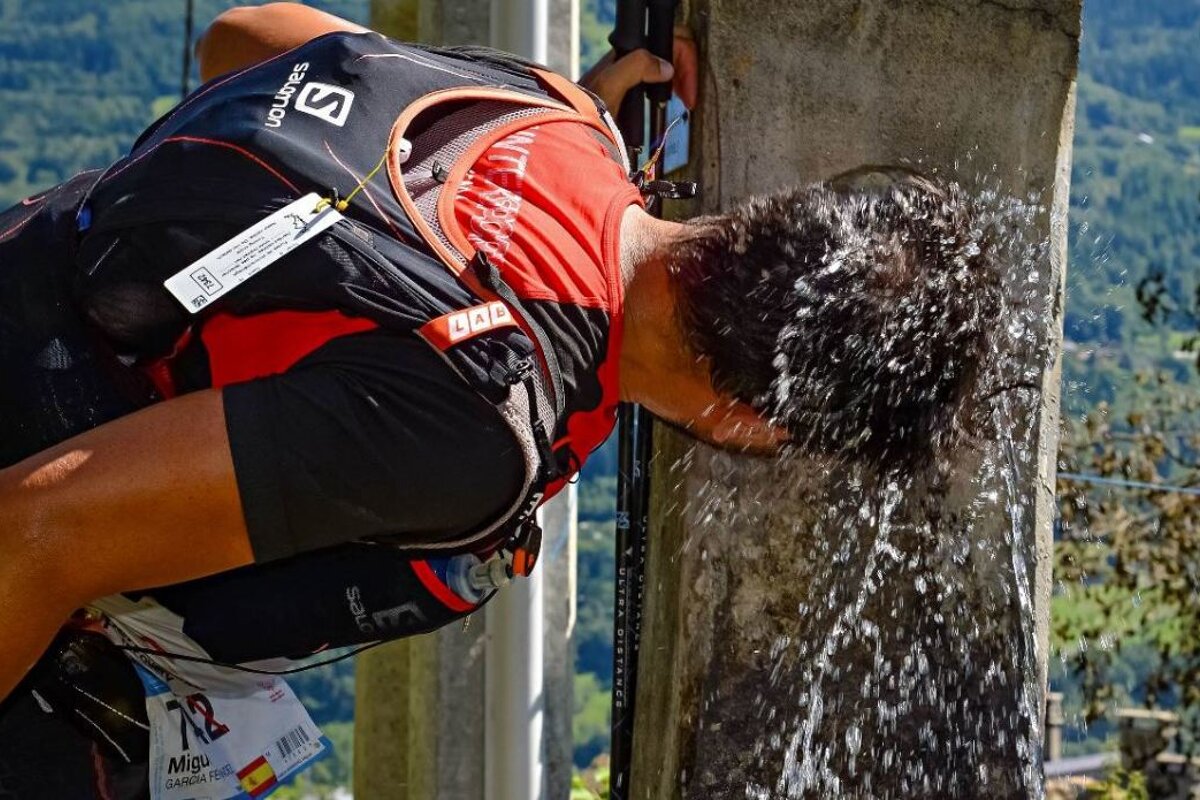 And number four for Xavier
Xavier Thévenard (FR) decided to enter the only race missing from his list of wins in Chamonix. The OCC is now his after finishing first in 05:28:37 on the 55km course. He won with a fifteen minute lead over Moroccan Rachid El Morabity, four-time Marathon des Sables, and Thibaut Baronian (FR).
Spain looked to be slightly under the weather compared to past years, where Spanish runners have stood on each and every podium. Nevertheless, Mercedes Arcos won the OCC, and Paul Capell and Yeran Duran both placed in the TDS® (119km / 7250m vertical gain). "During this fantastic 14th edition we all felt and shared a positive energy, an incredible message of hope for our Italian friends and all those suffering throughout the world," said Catherine Poletti, director of the UTMB®.
"I am certain that everyone will take away great memories from this edition: a fantastic natural mountain setting, a shared passion, commitment, pleasure and pain, laughter and tears, celebration, as well as a unique spirit and shared values between the organizing team, all participating townships, the volunteers, the extraordinary athletes, our partners, the media, and of course the spectators," concluded Antti Karava, Marketing and Communications director for Columbia Sporstwear International.
---
UTMB®
Men
1st: Ludovic POMMERET- FR - 22:00:02
2nd: Gediminas GRINIUS- LTU - 22:26:05
3rd: Tim TOLLEFSON- USA - 22:30:28
Women
1st: Caroline CHAVEROT- FRA - 25:15:40
2nd: Andrea HUSER- SUI - 25:22:56
3rd: Uxue FRAILE AZPEITIA- ESP - 27:10:22
Race Statistics
Number at the start: 2555 including 258 women (10.10% of participants)
Number of finishers: 786 (30.76% of participants) including 59 women (7.51% of all finishers) (22.87% finishing rate for the women)
Total number of abandons: 1079 (42.23% of participants)
---
TDS®
Men
1st: Pau CAPELL - ESP - 14:45:44
2nd: Yeray DURAN LOPEZ - ESP - 15:14:07
3rd: Franco COLLE - ITA - 15:32:45
Women
1st: Delphine AVENIER - FRA - 18:46:24
2nd: Meredith EDWARDS - USA - 18:59:26
3rd: Christelle BARD - FRA - 19:29:06
Race Statistics
Number at the start: 1794 including 174 women (9.70% of participants)
Number of finishers: 1060 (59.09% of participants) including 111 women (10.47% of all finishers) (63.79% finishing rate for the women)
Total number of abandons: 734 (40.91% of participants)
---
OCC®
Men
1st: Xavier THEVENARD - FRA - 05:28:37
2nd: Rachid EL MORABITY - MAR - 05:43:23
3rd: Thibaut BARONIAN - FRA - 05:43:48
Women
1st: Mercedes ARCOS ZAFRA - ESP - 06:54:13
2nd: Lara CRIVELLI - ITA - 07:34:06
3rd: Sonia LOCATELLI - ITA - 07:34:19
Race Statistics
Number at the start: 1414 including 356 women (25.18% of participants)
Number of finishers: 1232 (87.13% of participants) including 317 women (25.73% of all finishers) (89.04% finishing rate for the women)
Total number of abandons: 182 (12.87% of all participants)
---
CCC®
Men
1st: Michel LANNE - FRA - 12:10:04
2nd: Ruy UEDA - JPN - 12:15:20
3rd: Giuliano CAVALLO - ITA - 12:19:21
Women
1st: Mimmi KOTKA - SWE- 13:42:46
2nd: Jo MEEK - GBR - 14:09:34
3rd: Teresa NIMES PEREZ - FRA - 14:14:01
Race Statistics
Number of participants: 2129 including 319 women (14.98% of participants)
Number of finishers: 1386 (65.10% of finishers) including 215 women (15.51% of all finishers) (67.40% finishing rate for the women)
Total number of abandons: 741 (34.81% of all participants)
Congratulations to everyone that took part this year. Next year's event will take place from 28th August to 3rd September 2017.
More Chamonix Insights...