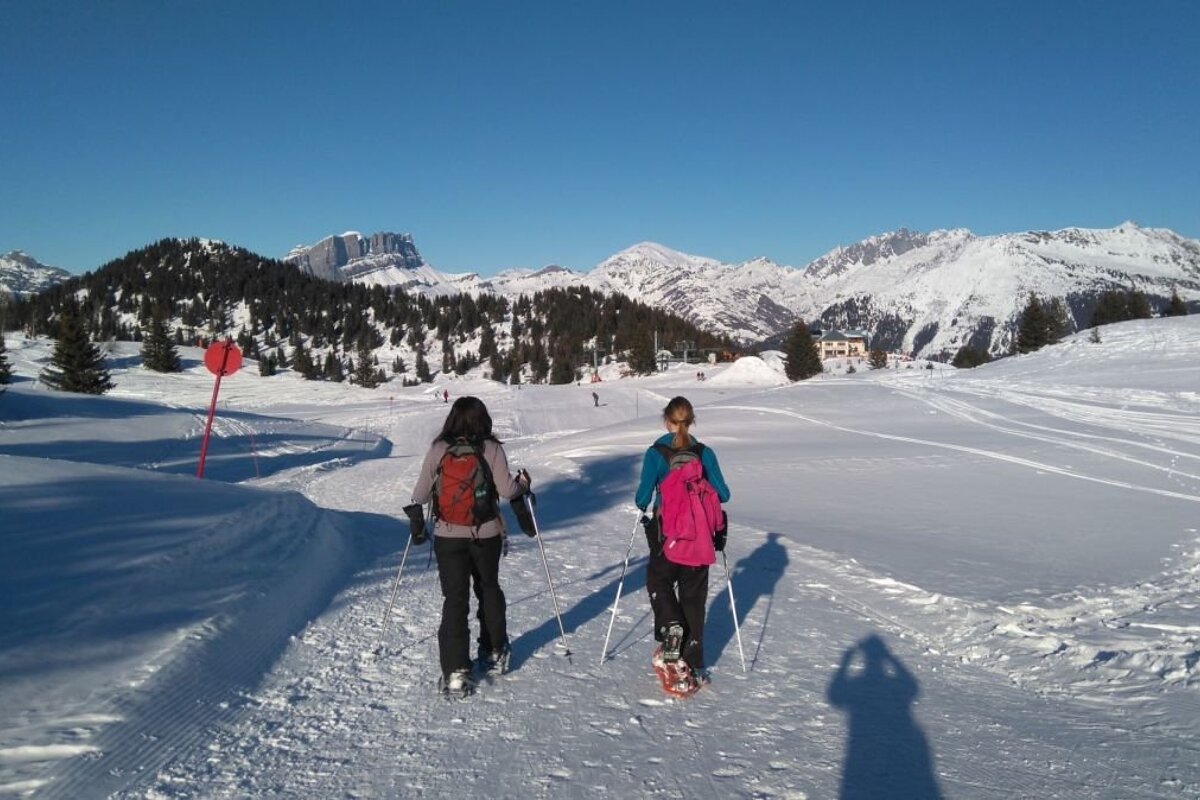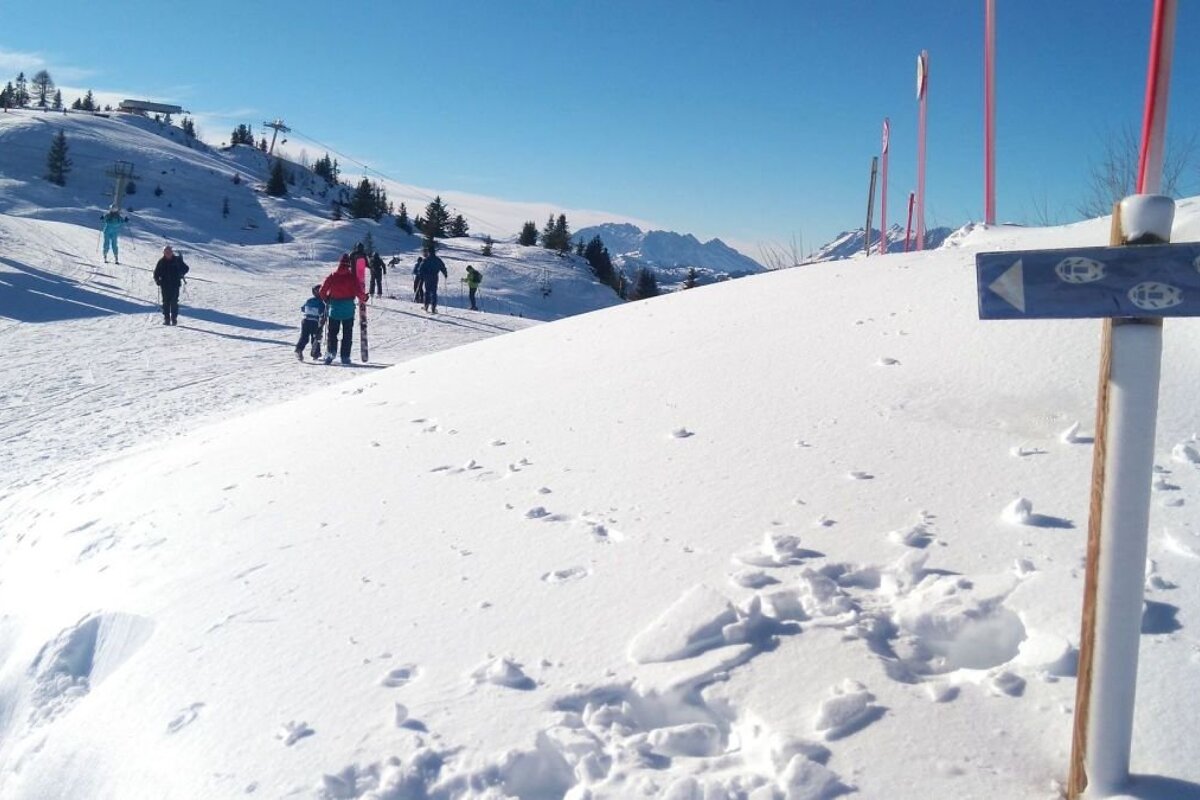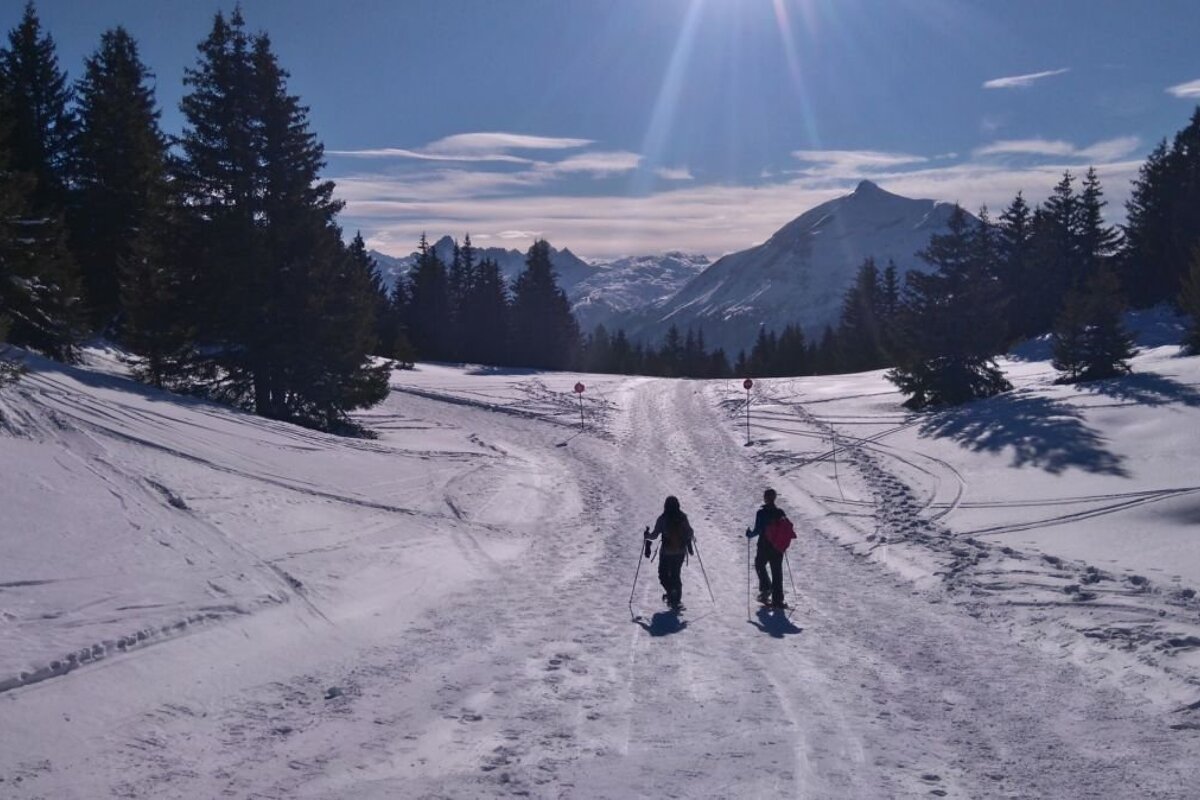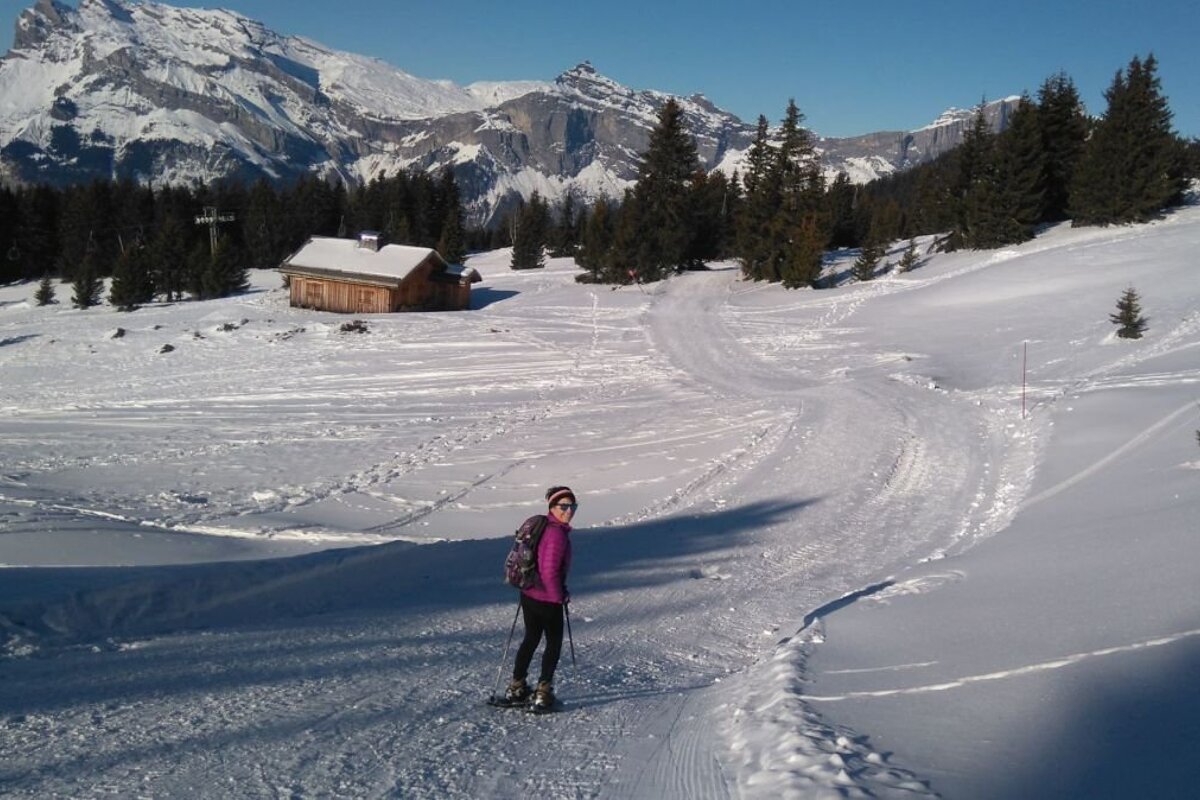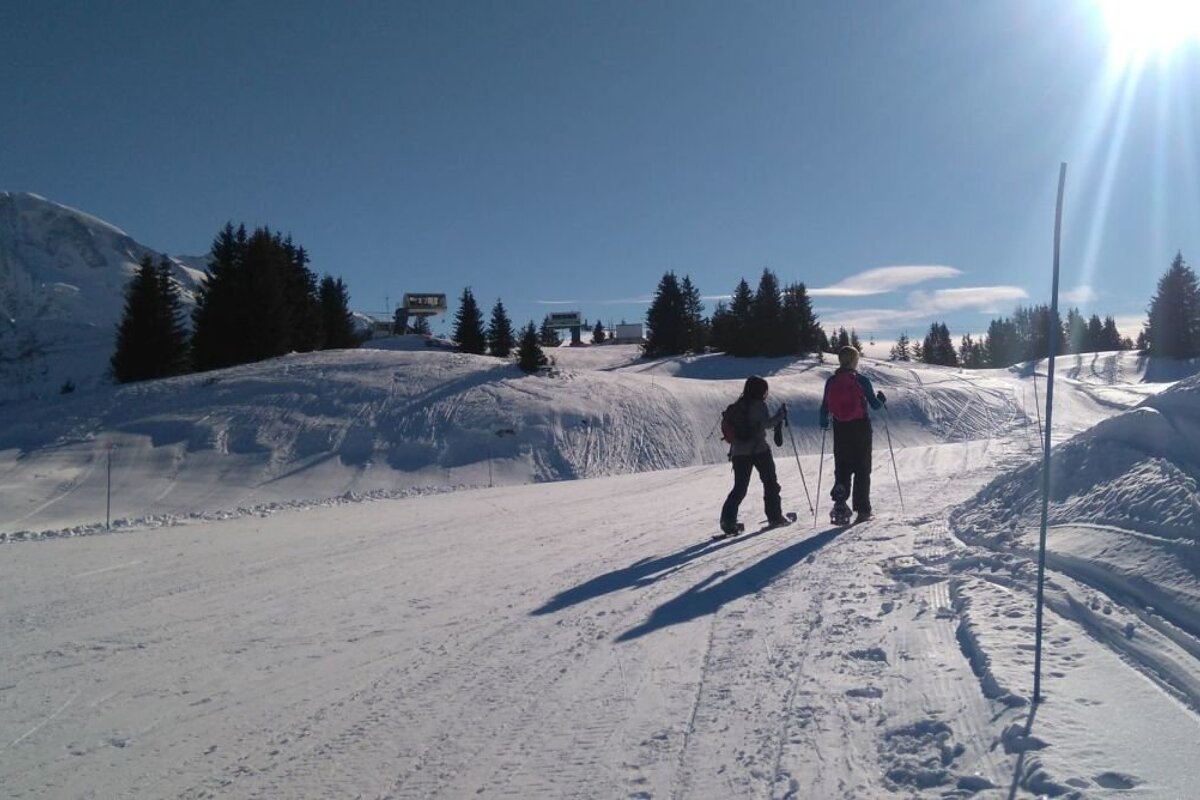 Snowshoeing in Les Houches
Exploring the nordic trails at the top of the Prarion gondola
There's more to Chamonix than skiing and when the weather is as beautiful as this, snowshoeing is the perfect way to enjoy being in the mountains.
Despite being bright and sunny, the temperature is still bitterly cold and the thought of going up to the top of Prarion for a hike didn't seem so appealing when we were huddled at the bottom of the lift, waving the kids off to ski school.
Strangely enough, it felt better up top than it did down below though, with warm sunshine hitting us as soon as we got out of the gondola. A few minutes of faffing about with snowshoes and gloves, then we were off, following the blue signs in the direction of the Hotel Prarion.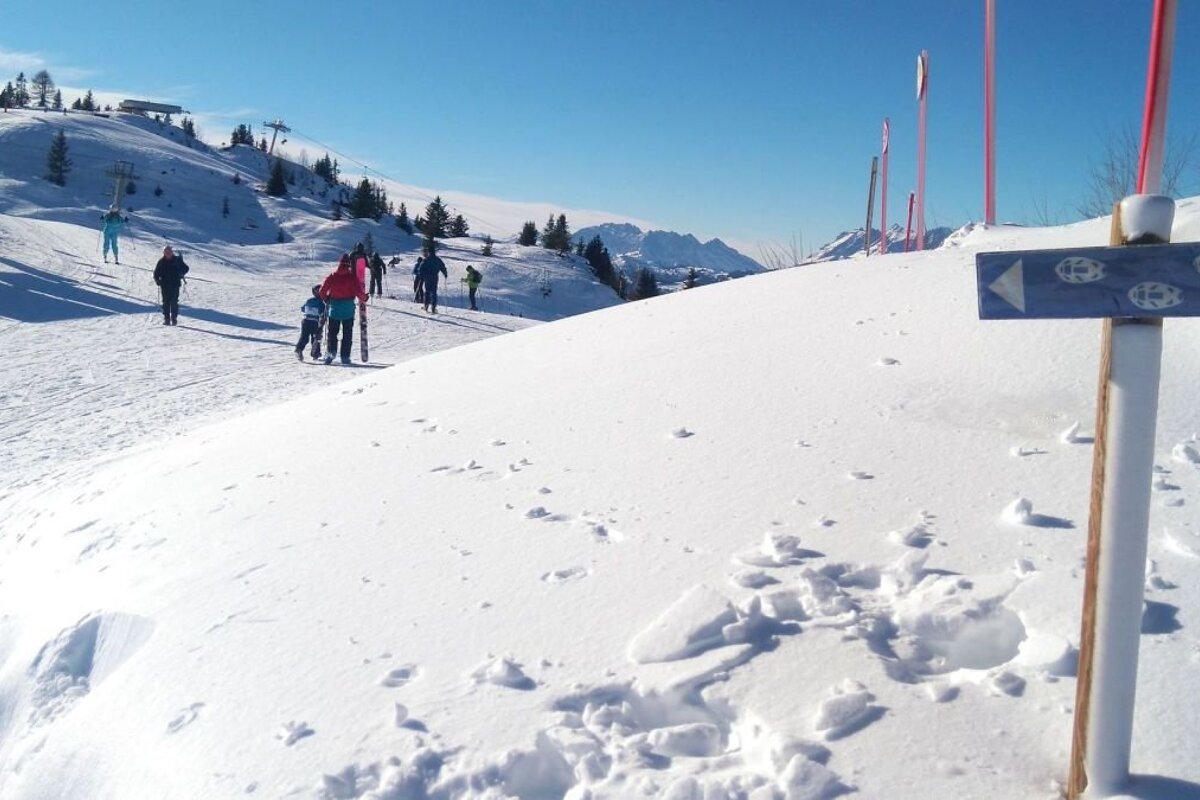 Getting to the tracks involves trekking alongside and crossing over the ski piste, which can feel a bit hairy when a hoard of fast but wobbly snowboarders come pelting towards you. It's not far though before you turn off to the right and pick up the first marker for La Charme.
The gently rolling track takes you in and out of pine forests and across the Prarion plateau in a big loop, which cuts across the ski pistes from time to time. At an altitude of 1850 metres, you have spectacular 360° views of the Fiz and Aravis mountain ranges as well, of course, the Mont Blanc massif.
We ambled our way around, in no great hurry and with lots of natter to catch up on; the sunshine combined with a bit of light exercise had us shedding our down jackets in no time. The snow was in perfect condition for hiking on; crisp and fresh with no icy bits to cause concern about performing the splits unexpectedly. There is no way to walk gracefully when wearing snowshoes by the way; you have to have your feet farther apart than usual to avoid catching them on each other and you lift your knees higher than usual to avoid tripping, so you end up walking a bit like Mick Jagger in full strut. Or maybe that's just me...
The loop took us about an hour and a half, so with a bit of time to spare we trekked across the Ecole piste to check out something we'd heard good things about. Just beyond the bottom of the chairlift is an area called the Ski Camp - a fantastic little play zone for kids with wigwams, zip wires and climbing frames (quite how they scramble about on this stuff in ski boots is beyond me, but they do). If you find yourself over this way, with or without les enfants, you must have a go on the luge! Grab an inflatable rubber ring and drag it up to the top of slope, then hop in and whizz back down again. Surprisingly fast, loads of fun and definitely not just for the kids!
If you have a Les Houches or Mont Blanc Unlimited lift pass, access to the nordic trails is free of charge; if not you can buy a pedestrian pass for 17.50€ (14€ for children and seniors). The snowshoes are fairly cheap to hire and most sports shops stock them; there is one right opposite the Prarion gondola if you don't want to be bothered carrying them very far!
Directions
At the top of the Prarion gondola, walk up to and past the Hotel Prarion, continue along the side of the piste opposite until you reach a track on the red with a red signpost that says La Charme on it - this is the start of the nordic trail.
Location