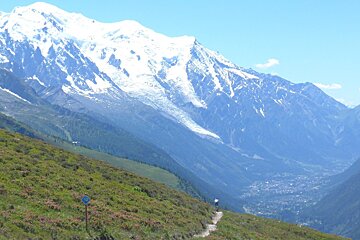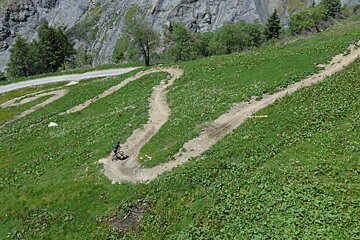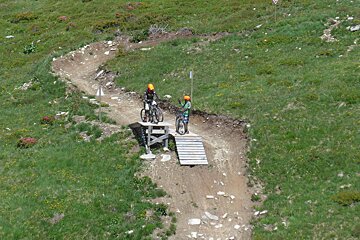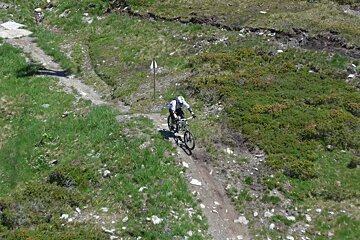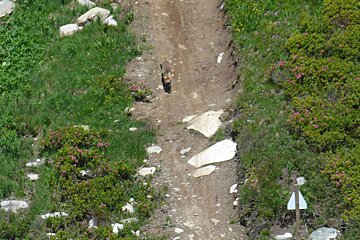 Mountain Biking in Le Tour
Do you only ride park? Chamonix's bike parks are open for buisness
Chamonix has a reputation for having some of the finest alpine singletrack in the world, and with such good natural trails, the purpose made trails have been overlooked by many and have lagged behind the standard of say Whistler or Les Gets.
However, just as eating in Michelin starred restaurants every night might leave you wanting a simple greasy burger*, sometimes you just want quick and easy mountain bike trails. (*This might not be true, I've never tried, but if anyone wants to pay for me to eat Michelin starred food every night, please contact Chamonet!)
Les Houches has seen the most bike trail development recently, with 2013's creation of the DH track from the Prarion gondola. The track's had no new features added, but some maintenance work has been done and it's riding well. Unfortunately the Les Houches trails take a good few days to dry out after rain, and it's rained this week. Not only that, but several of the world's top downhill riders, including world champion Manon Carpenter, have descended on Les Houches (presumably to test mud tyres!) so any illusions I have of riding fast are likely to be shattered by passing blurs.
Instead, now the Charamillon gondola has opened, I headed up to Le Tour. Compagnie du Mont Blanc is keen to encourage mountain biking at Le Tour and has built a third green trail this year for beginners on the hill to compliment the existing blue and red trails.
The gondola was the usual squeeze for me and my bike, owners of longer wheelbase bikes will struggle a bit to fit them in, but they do go.......just. After the greenhouse of the gondola, the open air of the Autannes chairlift was a welcome relief, and after a spring of pedaling up the hills, so was the 724m gained with no effort what so ever. Looking down from the chair it was clear that the Les Chevreuils blue trail running from the top had seen some work, and that lots of riders of all standards were out enjoying it.
Dropping into the trail from the top of the chairlift I discovered that not all the trail had been worked on! On the whole it's a good introduction to Chamonix biking for riders who've got a bit of experience on a mountain bike, but not much. The trail is fairly smooth without being completely flat and the corners and gradients are never that extreme. However, in some places the damage from winter and the spring storms hasn't been fully patched up and a few folk were struggling a little with the loose rocks. It's in better shape than last year though, with the corners being a bit less abrupt and easier to keep your flow on.
Down to the middle of the mountain and it was time to see what the brand new green graded Les Marmottes track was like. It's aimed at beginner mountain bikers and it was quickly apparent that ridden slowly and cautiously it should be a great introduction to the sport. With a smooth surface, wide track and gently banked corners and rolls it's never too intimidating, but has more interest than the 4x4 track next to it. More advanced riders shouldn't think that it'll be no fun though, as ride it fast and suddenly gap jumps appear between bends and the gentle rolls can be doubled up. Just watch out for the loose surface that's yet to fully bed in in the corners.....
If the green was good, how would the older red graded Les Cerfs trail down from the Charamillon gondola be? Closed was the answer. It turns out that the track suffered quite a bit of damage in the May storms and will take some time to re-open. Work is being done through, with some of the lower sections now completely re-built. Fingers crossed it gets finished soon.
Only two more lifts are left to open for biking in the valley, and both start this weekend [27th/28th June]. Grand Montets with its Lavancher trail accesible throughout the bike ban and, best of all, the Vallorcine gondola. Home of long singletrack descents and the infamous Vallorcine DH track. Can't wait!
-
Follow more of Graham's MTB trips in his Chamonix Bike Blog.
Watch this