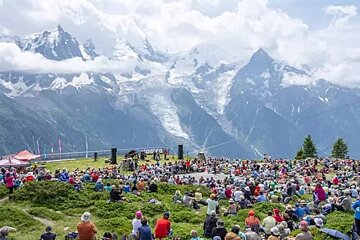 Cosmo Jazz Festival, Chamonix
Free Chamonix jazz music festival in the summer
The Cosmo Jazz Festival is an imaginitive mix of live music and different mountain locations. This entirely free festival is the fruit of the imagination of André Manoukian.
With live concerts set in some of Chamonix's most amazing locations; the top of the Aiguille du Midi, Lac Blanc and Grand Montets.
Back in town it's time for the Apérojazz, where the streets will resonate to the jazzy sound of brass bands that are let loose on the town. In the evening, the musicians gather together at the Cham Jam sessions until the end of the night.
For programme details, use the link above to visit the website.
Watch this
Venue
Various locations in the mountains and the Chamonix valley.
Location