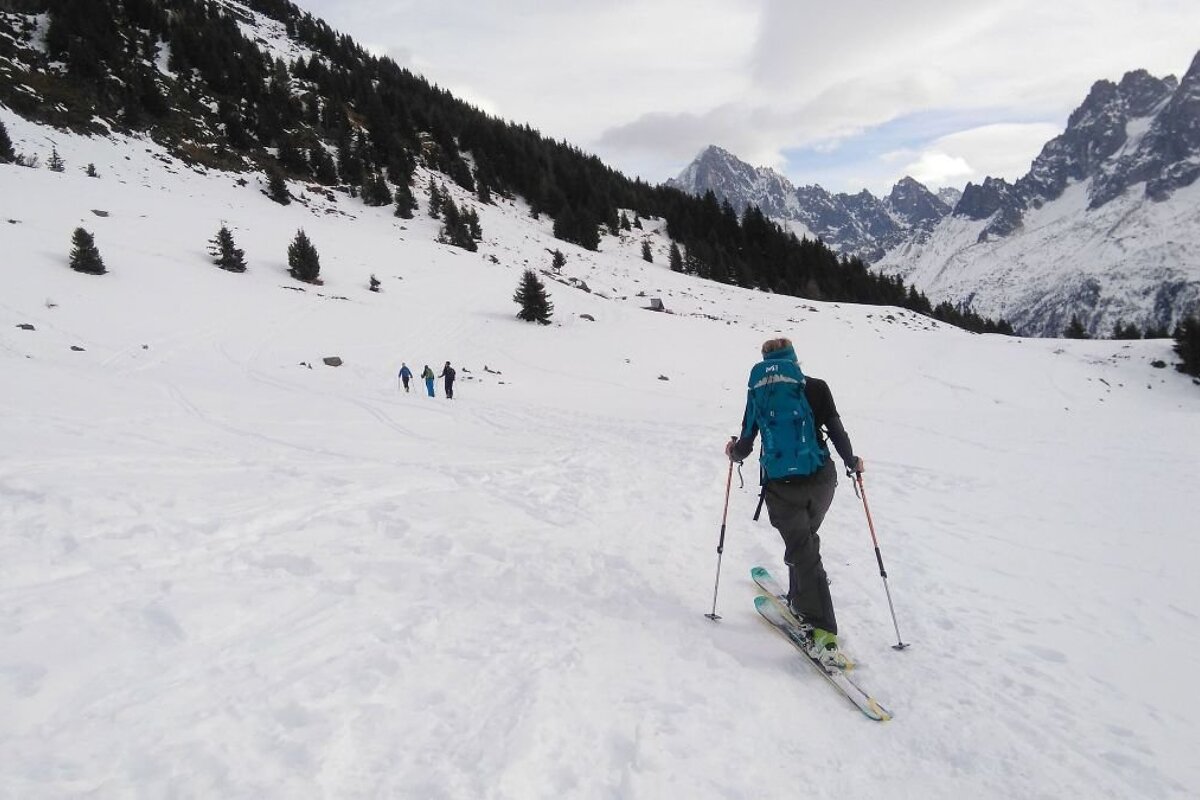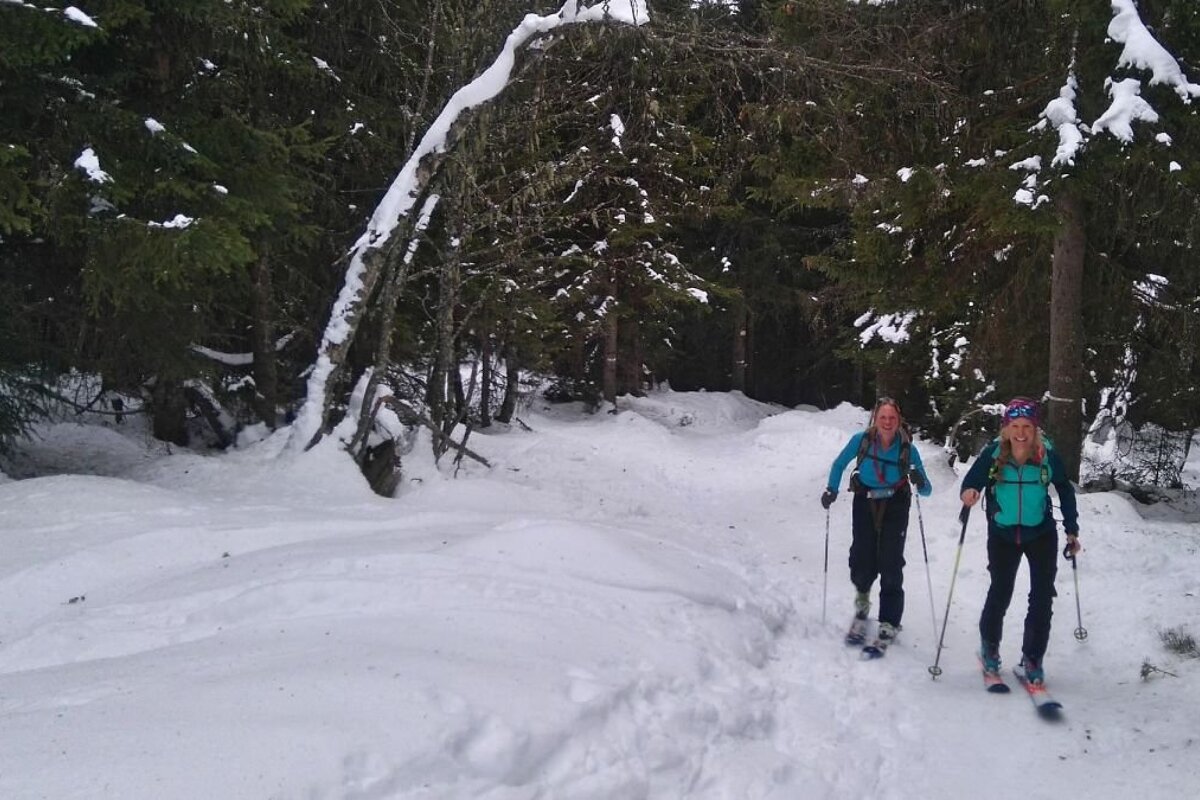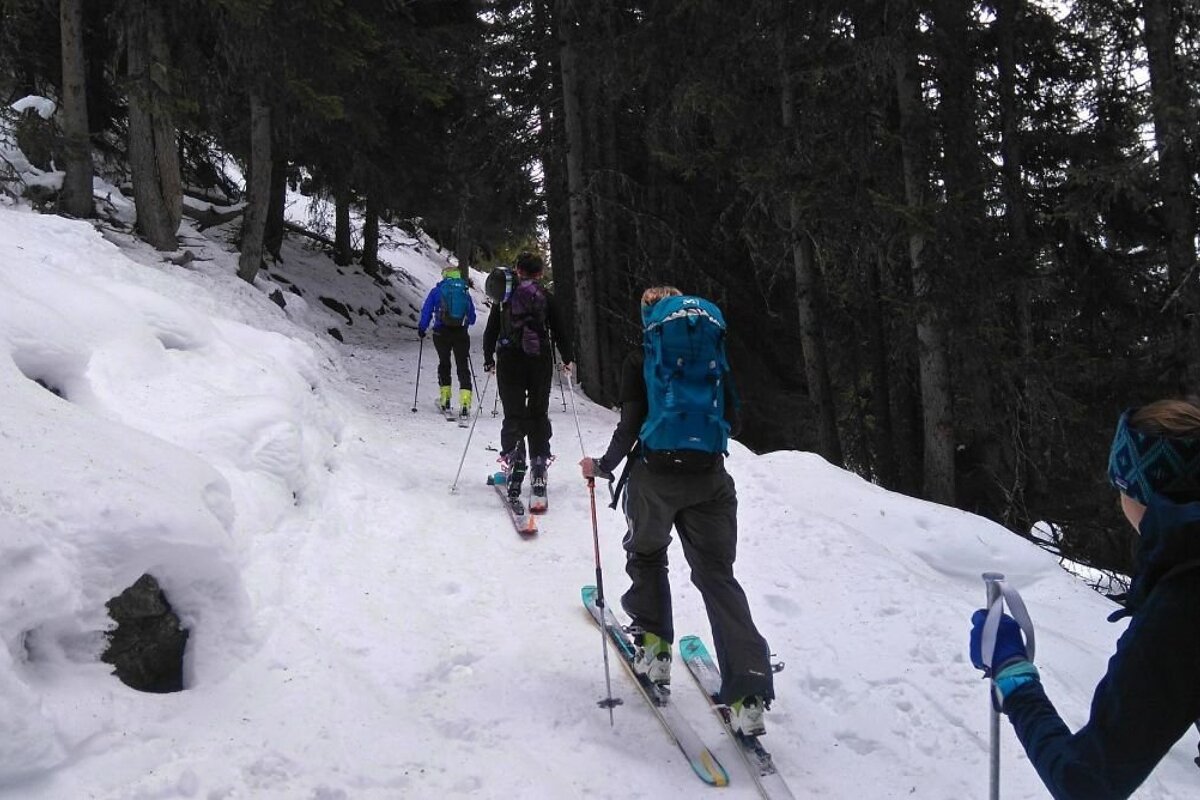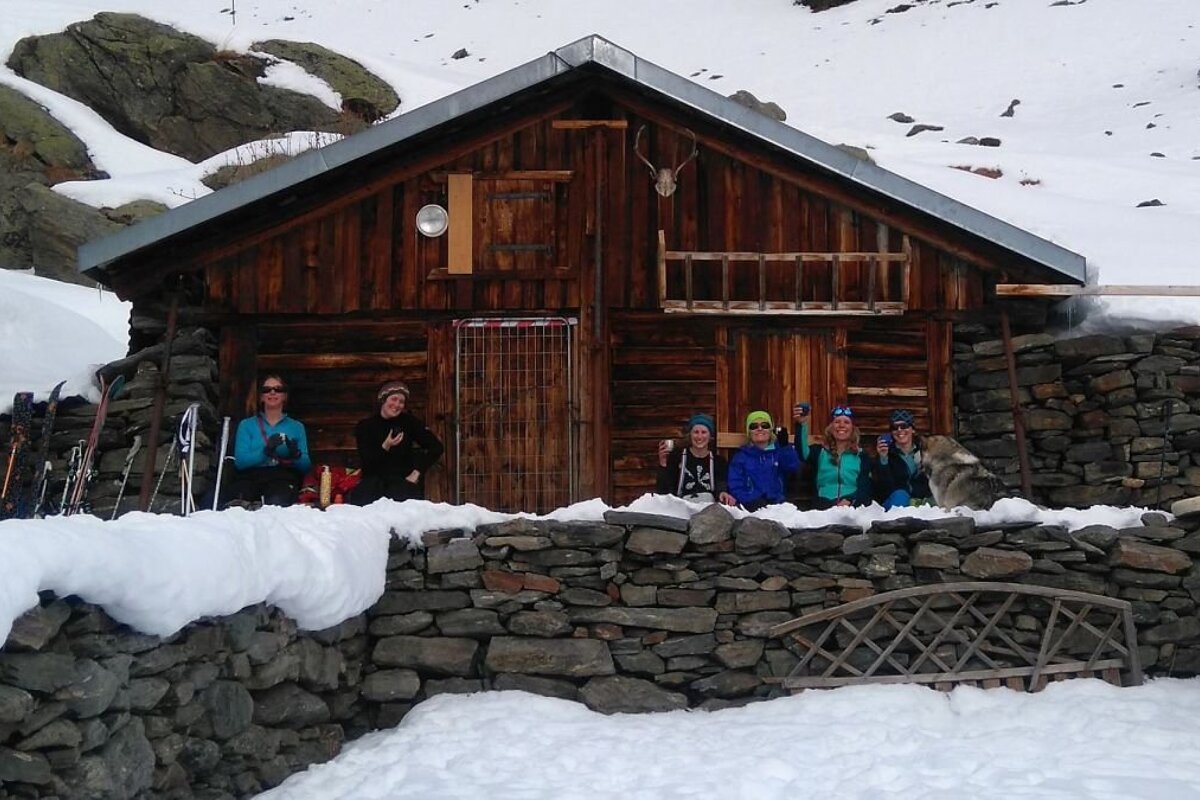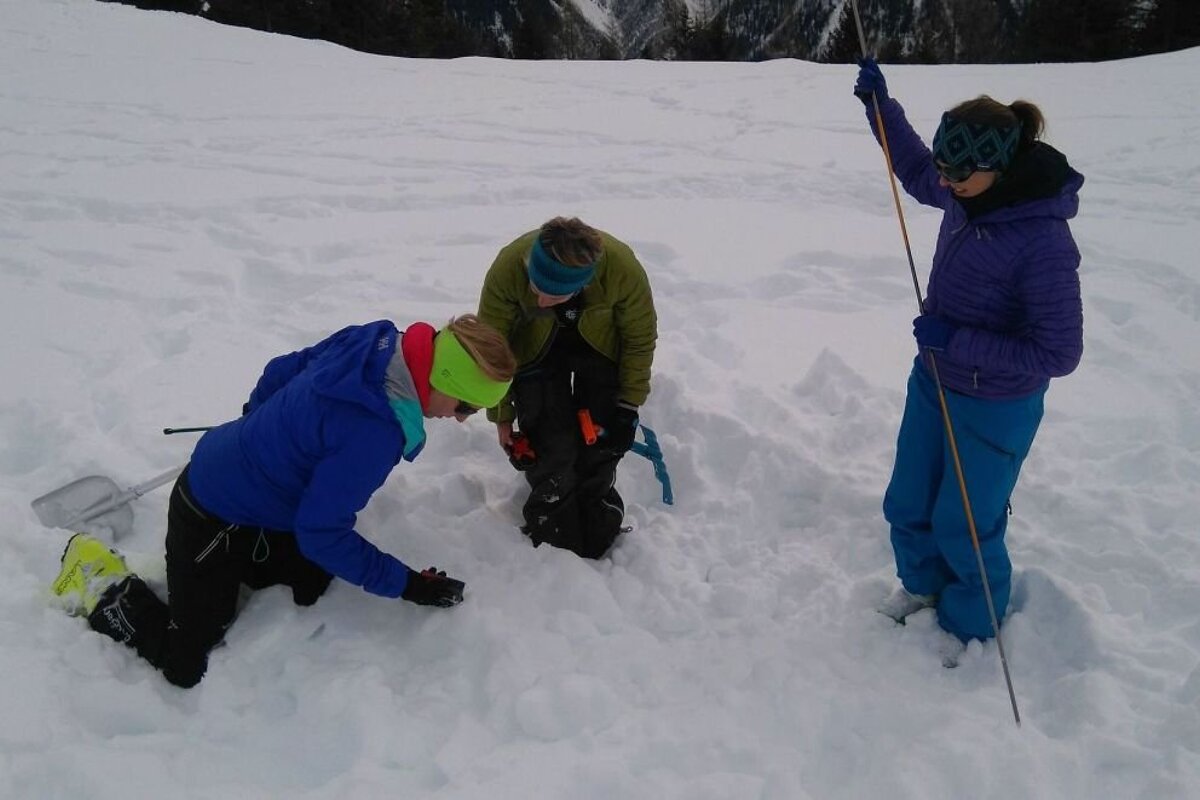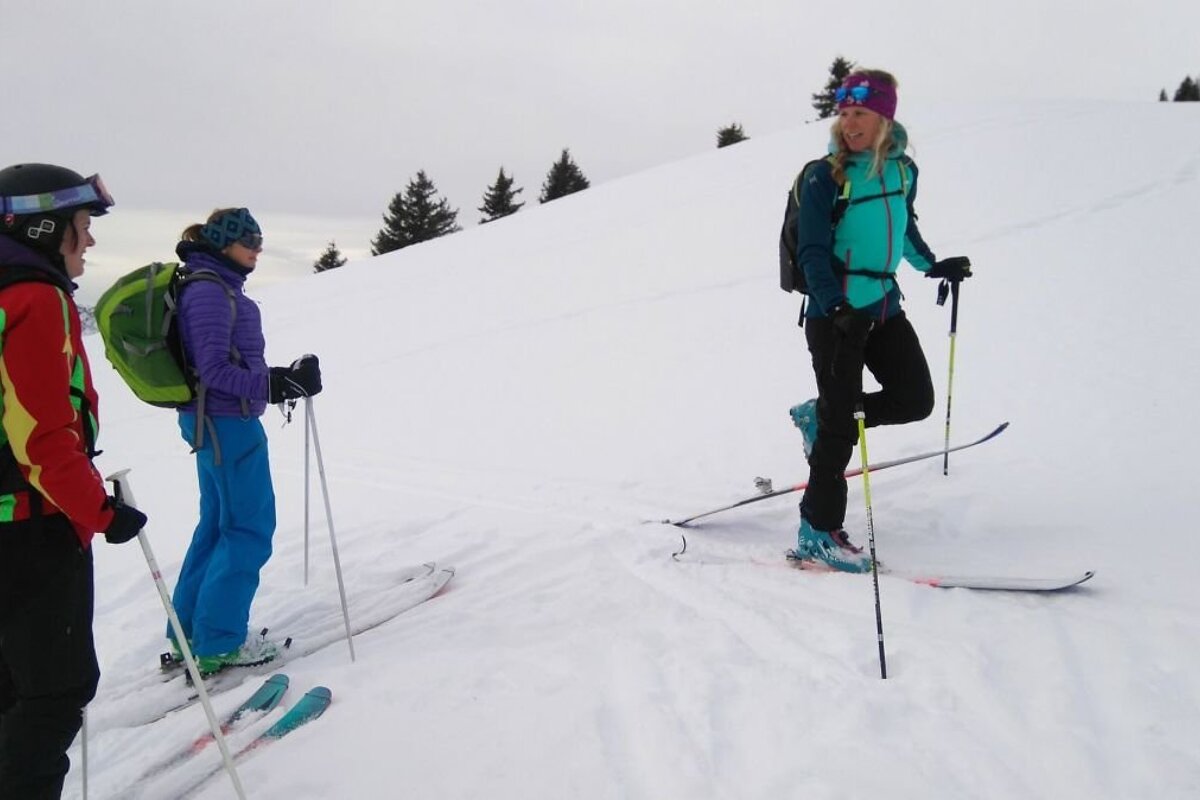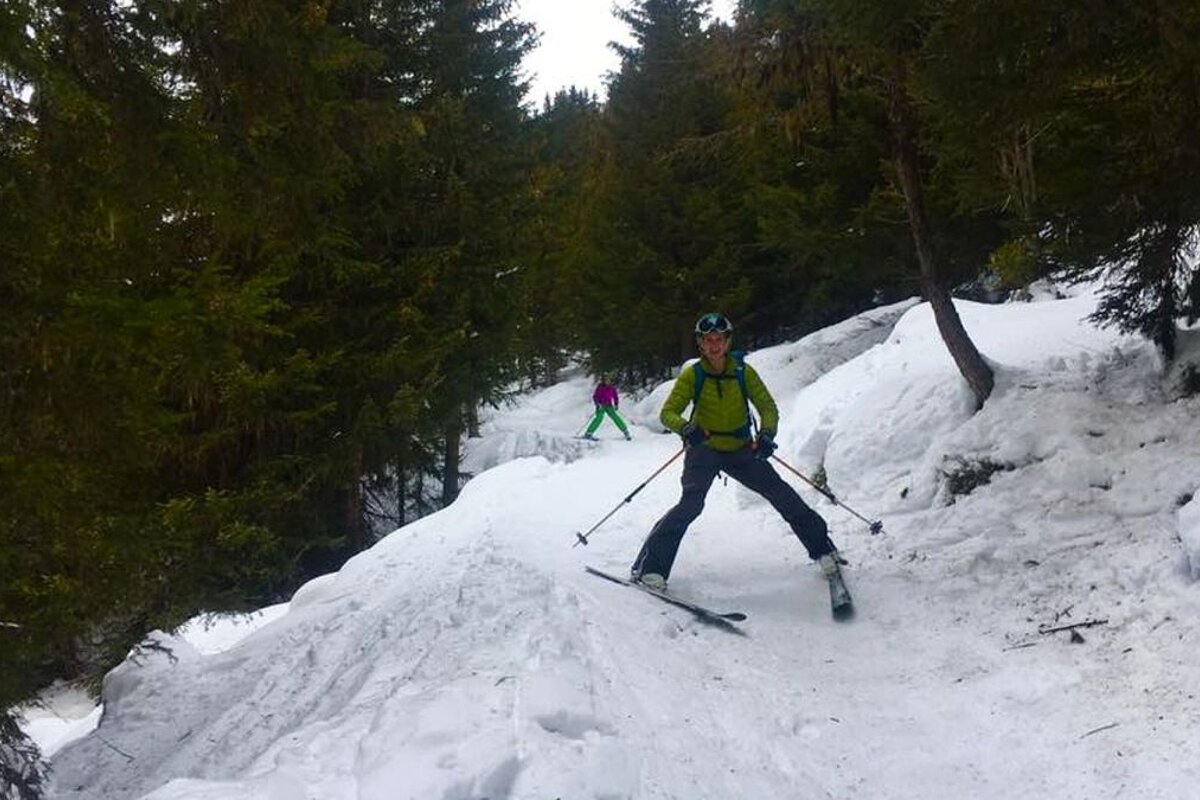 Aiguillette des Houches Ski Tour
Adventure ski touring, avalanche training and extreme snow ploughing
Living in Chamonix means that you become friends with the best kind of people - the kind that like to go on adventures. These adventures can be as big as summiting Mont Blanc or as small as top-roping your first climbing route; this weekend my adventure was ski touring a route that I'd never done before with a group of similarly novice "randonneurs".
Our group was lead by Rachel Kerr, an independent ski instructor who has explored all the Chamonix touring routes and was keen to share her passion for the backcountry with us. We drove up the steep winding road from Les Houches train station, up through Coupeau to the tiny hamlet of La Flatiere - little more than a cluster of old stone chalets at the edge of the forest. After a bit of faffing about with skins and bindings we clambered up to the start of the trail and began climbing up the narrow hiking trail that leads to the Aiguillette des Houches.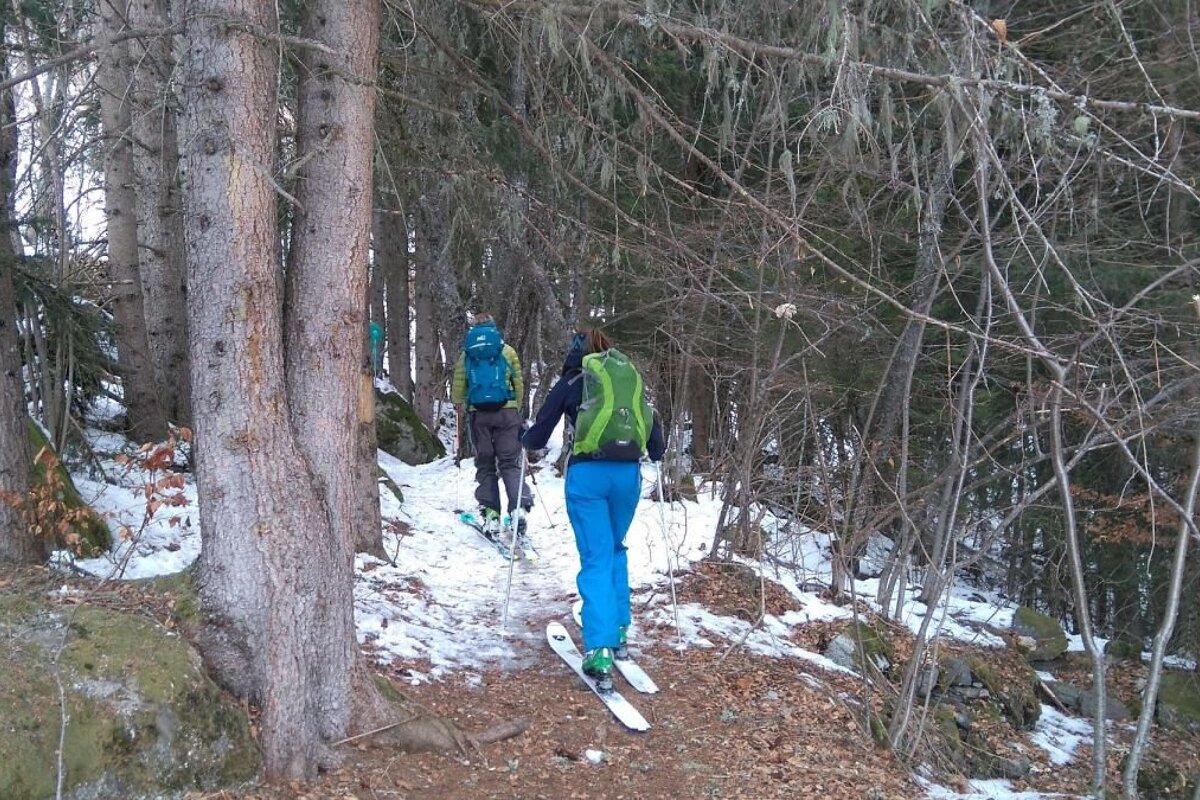 There were a few bare patches towards the start and as the trail is used by everyone from snowshoe hikers to ski tourers, it has been bashed into fairly uneven lumps with the odd stone and tree root poking through. Once we'd cleared the first few switchbacks though it was fine and we all fell into a nice rhythm, encouraged by Rachel's infectious enthusiasm for being out in the mountains.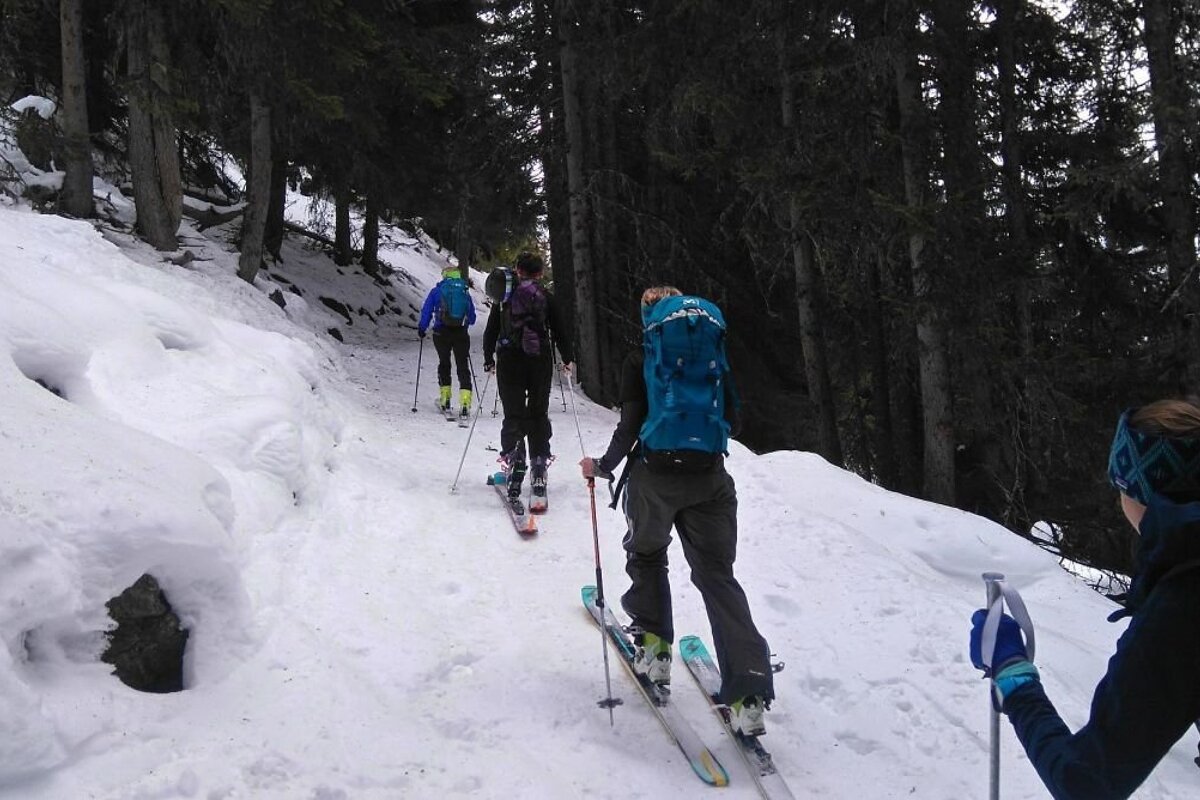 None of us were expert ski tourers and we were happy to tootle along at a comfortable pace, all the better for catching up on a bit of gossip along the way. The majority of the ascent is through the forest; twisting and turning up through the trees with occasional glimpses down into the valley below and of the Mont Blanc Massif on the other side. Although not particularly steep, it is quite a slog, taking around 1.5 hours of consistent ascent to reach the plateau at Chailloux. During this time Rachel zipped back and forth, leading at the front and then dropping back to bring up the rear, offering tips and advice along the way.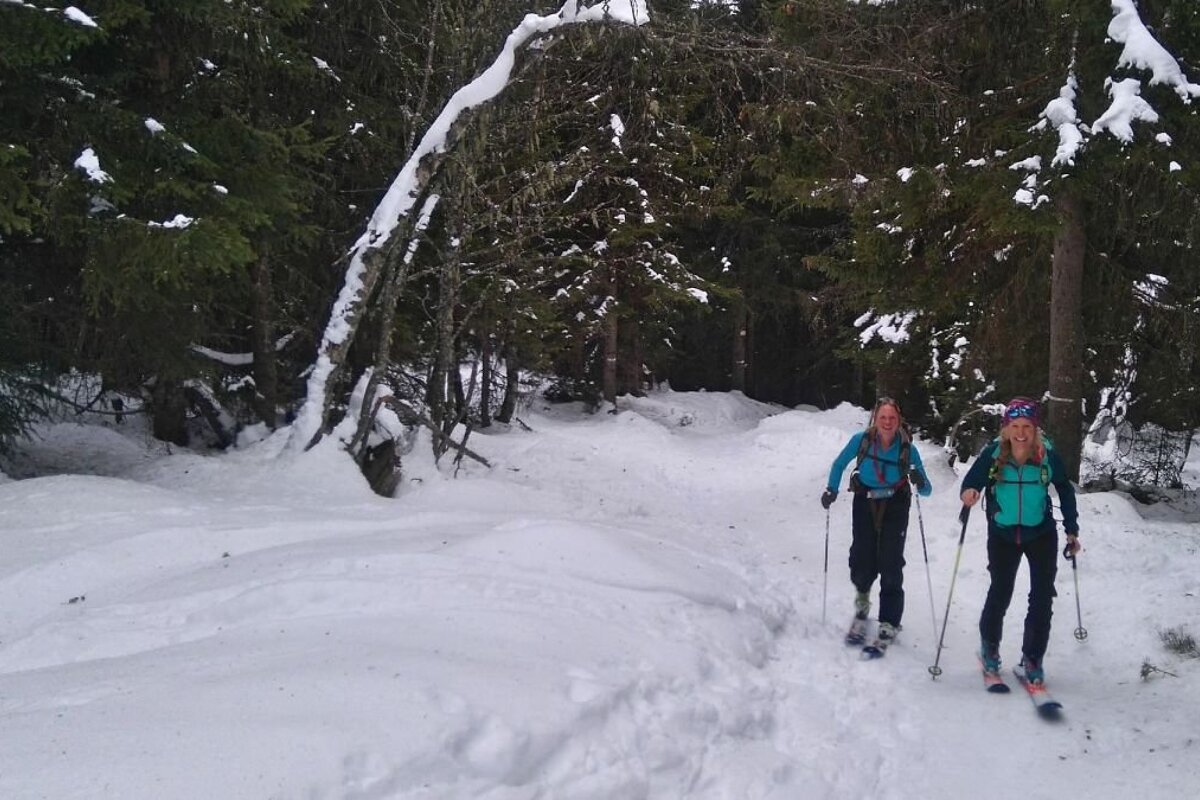 At about 1900m the path flattened out, the trees cleared, and we found ourselves on a beautiful wide plateau with stunning views all around. The terrace of the little shepherds' hut at Chailloux was a welcome place to stop for a flask of coffee and bite to eat before we started the next phase of our day.
While we were busy scoffing and nattering, Rachel snuck off and buried a couple of avalanche transceivers in the snow. She then split us into two teams of three and challenged us to find them using our own transceivers, probes and shovels. Most of us had done a bit of transceiver training before and were fairly confident that we knew what we were doing but it was a sharp reminder that it requires regular practice to get familiar with the equipment and the technique.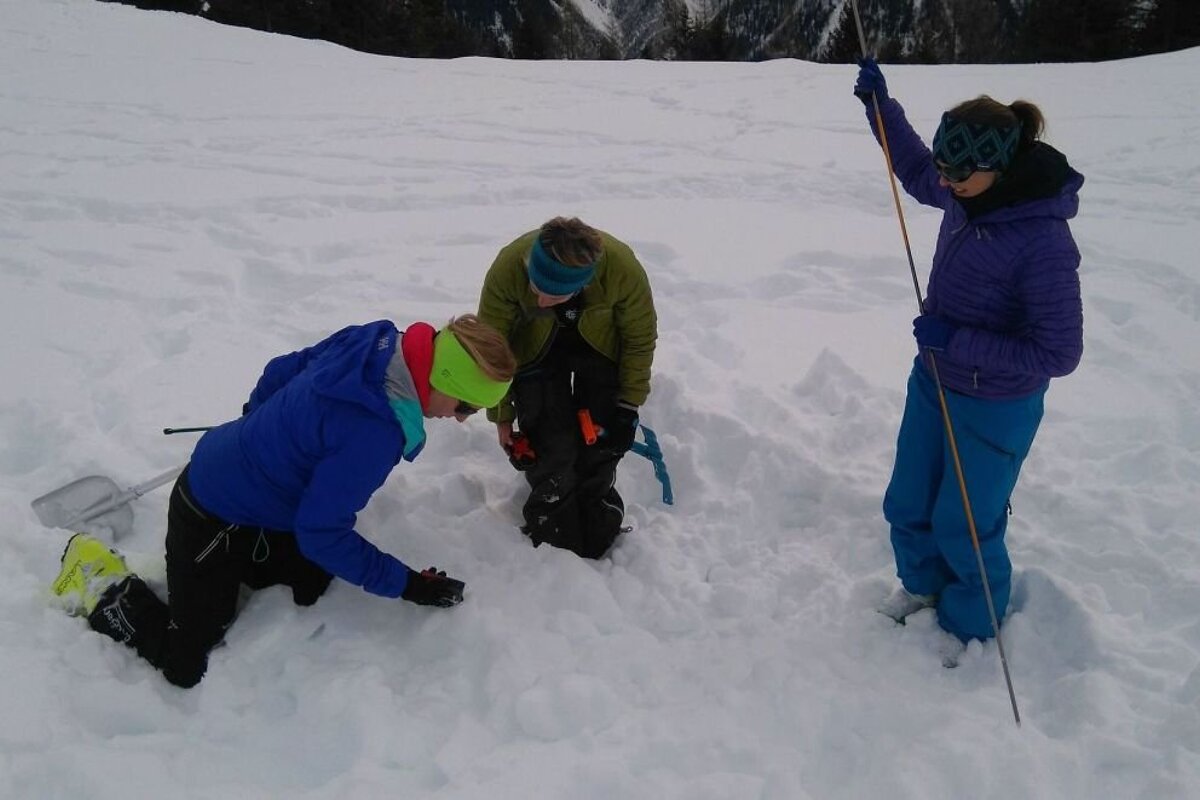 After we'd recovered the buried transceivers we skinned a bit higher up the hill to practise our kick-turns; Rachel demonstrated with perfect poise and graceful balance while we attempted to copy and ended up looking more like the Ministry of Silly Walks but we all got there in the end, another thing that takes a bit of practise to get right!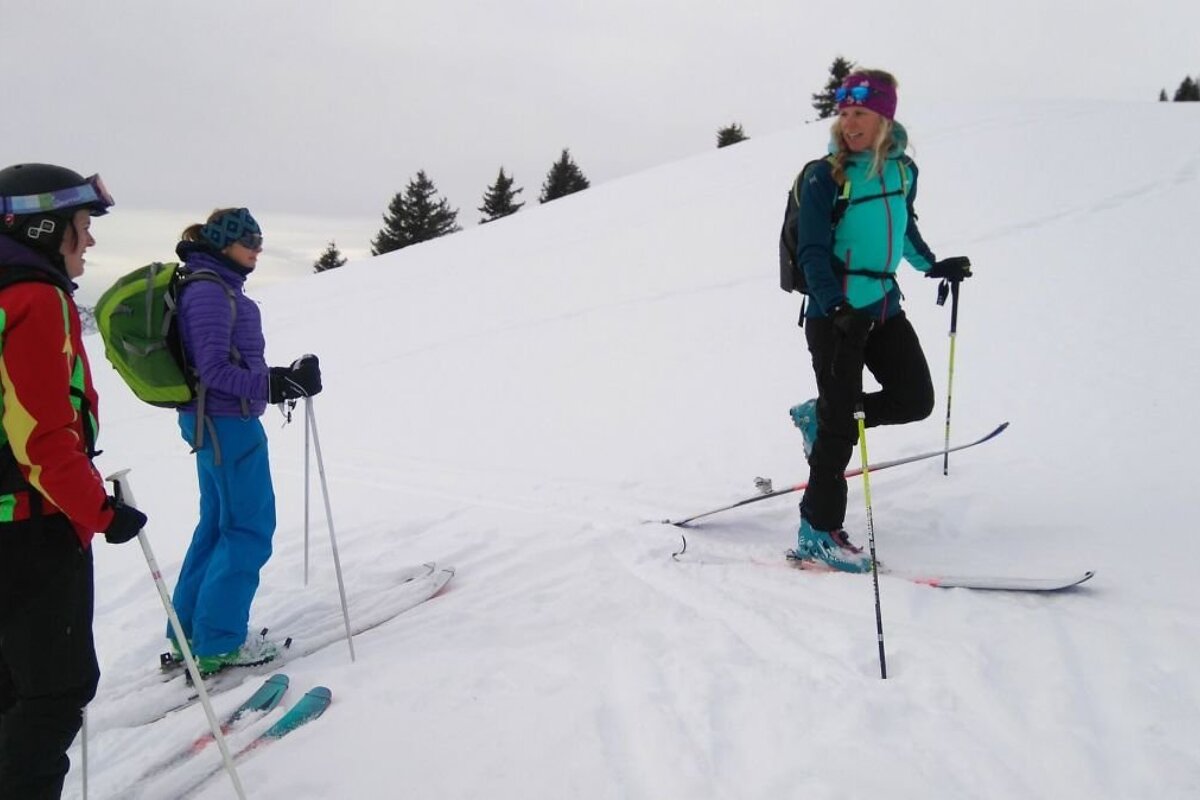 Our extra little climb earned us a few powder turns for our efforts and then we had only the matter of skiing back down the hiking trail to get to where we started. Downhill is the easy bit, right?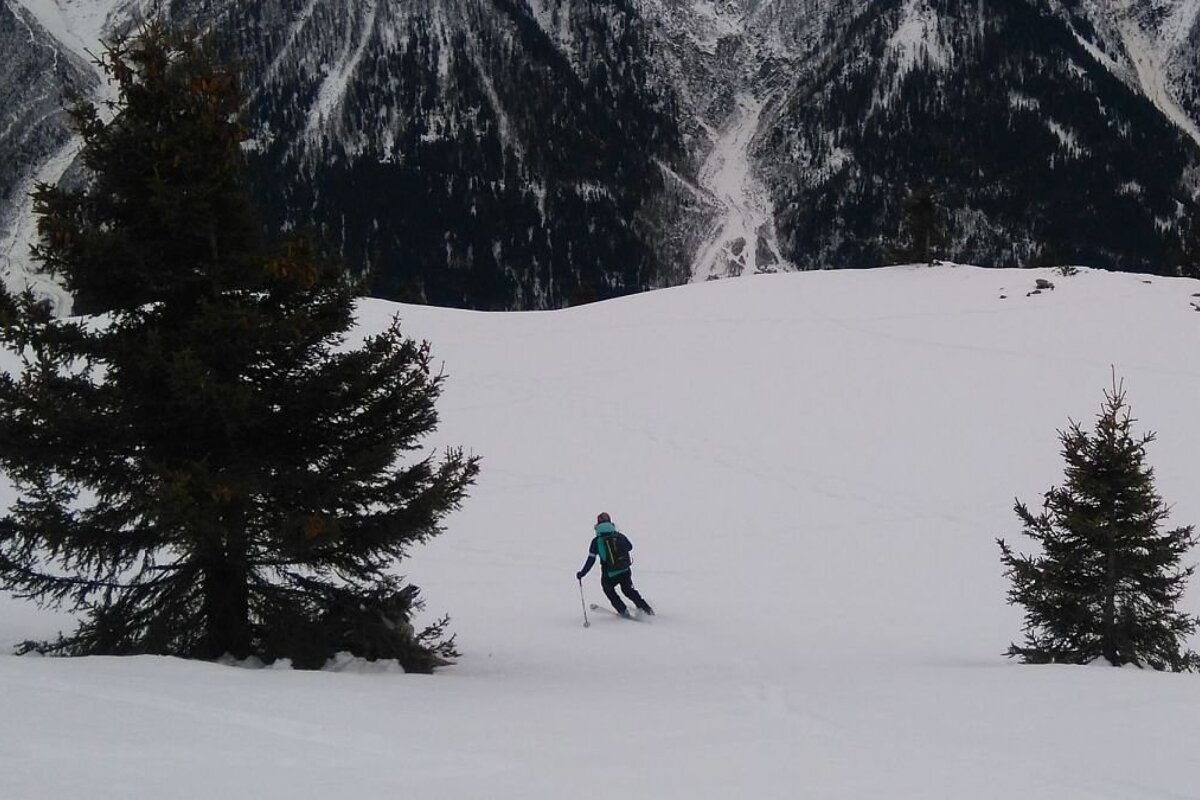 Erm, no! Not when it's on a narrow path riddled with rocks and tree roots, with hairpin bends and the occasional icy patch. Rachel advised us to get into the deepest snow plough possible and go for it; never has the snow plough stance been so fiercely employed by half a dozen determined women. After a fair bit of careering and skidding about and one tumble into a hedge we finally came to a halt at the bottom of the trail. All of us with trembling knees, burning thighs and great big smiles; it was hard work but hilarious, more of an adventure than we had bargained for!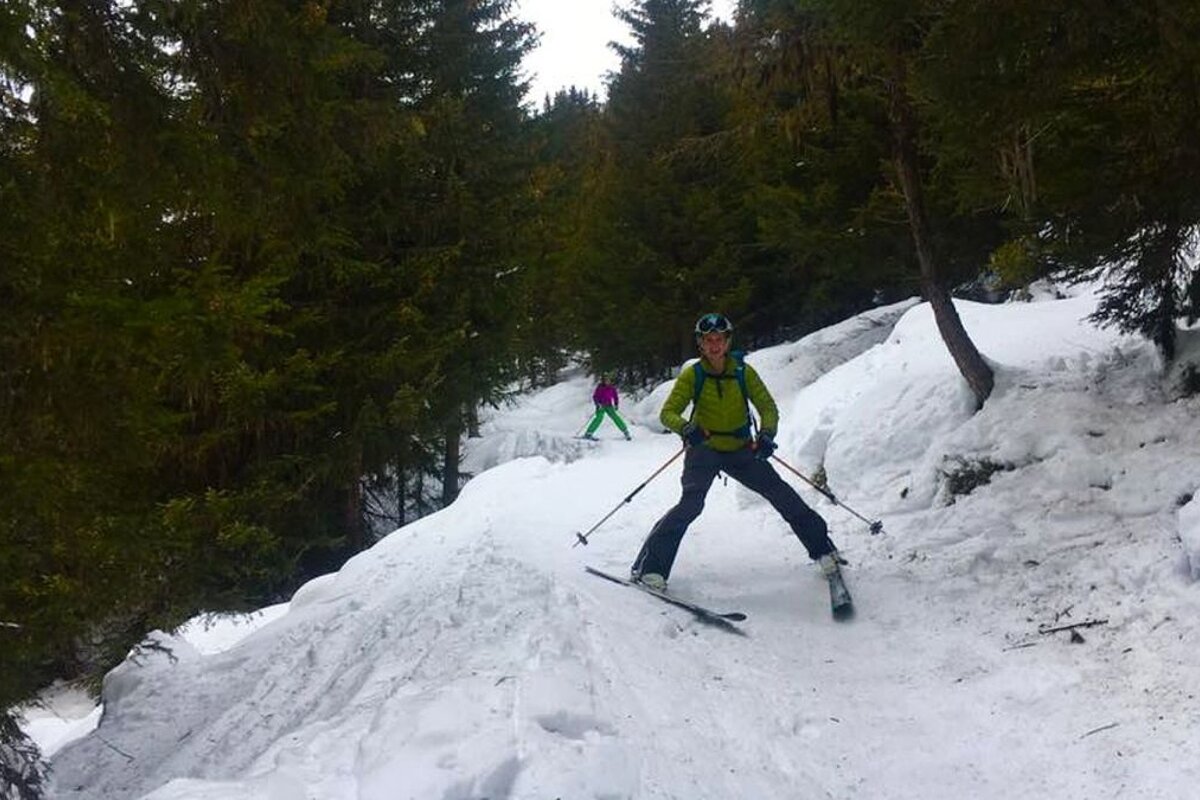 Location