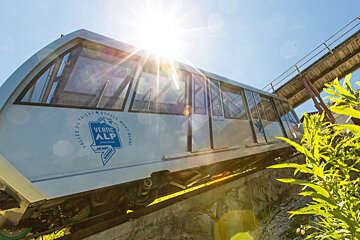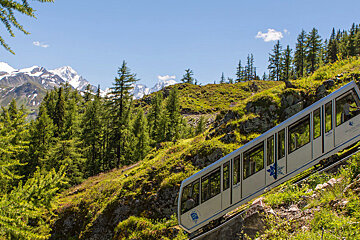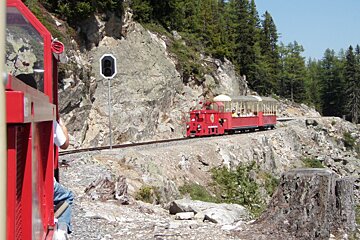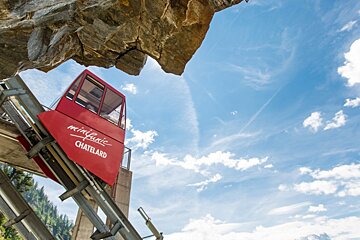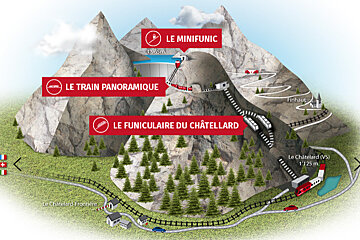 Verticalp Funiculars & Train, Chatelard
Journey up to the Emosson Dam just over the Swiss border
At the edge of the France-Swiss border lies the 'Verticalp' experience, which is made up of a steep funicular, a panoramic train and a smaller funicular taking you up to the Emosson Dam.
The journey to the top is in three stages, the bottom leg of which is the most impressive - the funicular takes you up the hillside above Chatelard on a track that reaches 87 degrees incline (that's the steepest you'll ever get on a train!) On the way the track divides and you pass another cabin on the way down.
Once you're at the top you join the little panoramic train that snakes around towards the dam on a narrow gauge track, leaving you wondering how on earth they built it so high on the mountain side, and from the end of the train you jump on a much smaller red funicular cabin to the top of the dam.
The views of Mont Blanc are spectacular, and the journey takes just under an hour to complete. To get there, take the Mont Blanc Express train to Chatelard - direction Martigny (timetables can be found here). In July and August the first funicular up is at 08:30 and they run every 30 minutes. You're recommended to get there at least 15 minutes before departure.
There is a café at the top of the Dam for anyone needing refreshments.
Directions
To get to Chatelard:
By Train
With the Mont Blanc Express from Martigny (30 mins) and Chamonix (1 hour).
By Bus - From Martigny, to col de la Forclaz (summer only) and Finhaut (Switzerland), and from Chamonix to Vallorcine and Châtelard.
By Car - From Martigny, by col de la Forclaz (30 minutes), or from Chamonix, by Col des Montets (30 minutes).
When to come
The site is open from the end of May to the end of October. Find timetables and prices on the VerticAlp website.
How to get passes
You can book on line before you arrive, or just turn up at the station and buy your tickets there.
Location