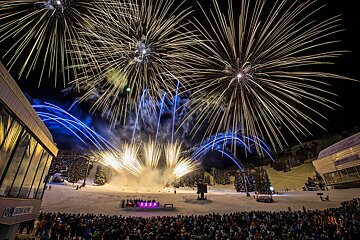 New Year's Eve, Chamonix
Celebrate NYE in Chamonix
Wondering what to do this New Year in Chamonix? All the bars hold their own parties, restaurants often lay on a special menu and perhaps some entertainment.
Come midnight the hoards of merry revellers head the centre of town for the big countdown – not an official event as such, more of a long-held tradition. On the stroke of midnight you are advised to duck as champagne corks and fireworks are unleashed in celebration!
Likewise, planning ahead is advised if you have your heart set on ringing in the New Year in a particular bar or club – some of them are ticket only, so enquire in advance to avoid disappointment.
To check out exactly what is offer in the Chamonix bars check out the rest of our Events Calendar to find places to go for the best New Year's Eve this year.
Dates for this event
December 2023
December 2024