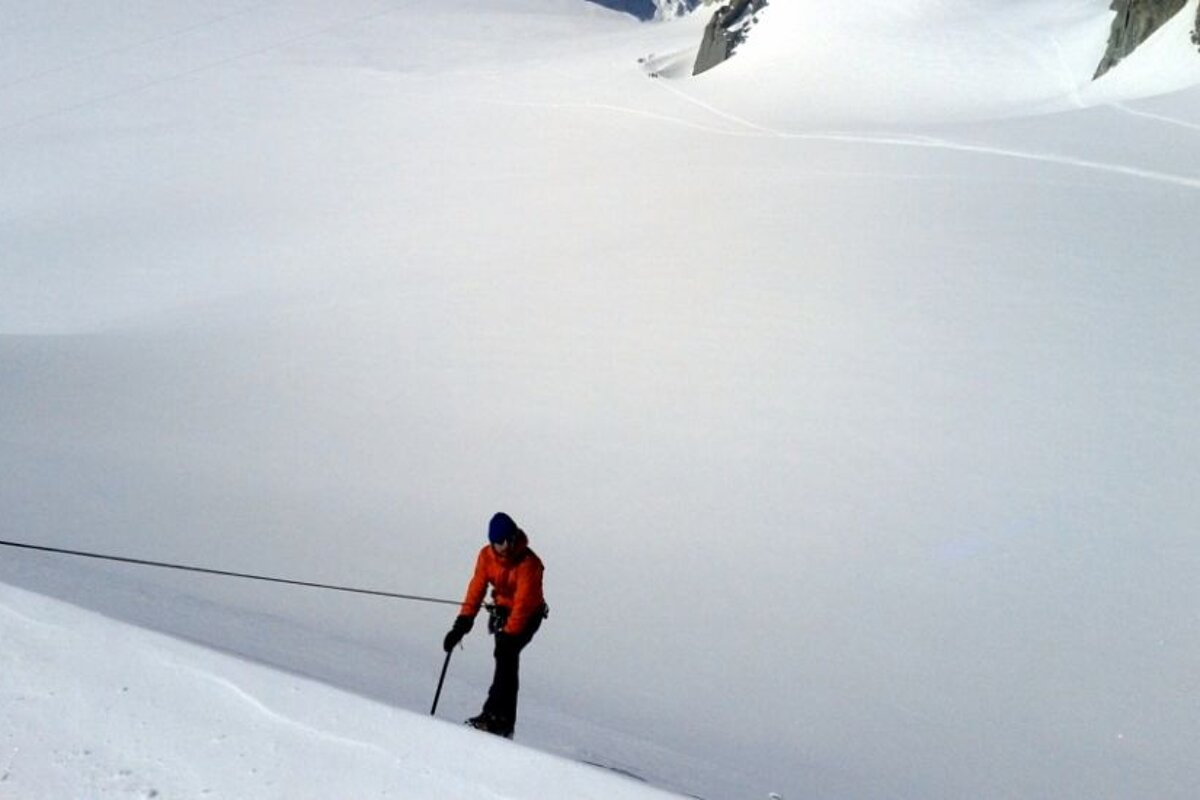 Starting Off in Mountaineering
Equipment, Procedures and Sourcing Information
There are numerous companies and Chamonix guides operating in the Chamonix Valley who offer courses for beginners. IFMGA guides are the only people legally able to operate in the Mont Blanc Massif, and are all of a very high standard.
Mont Blanc is such a well-known mountain
---
---
that many people arrive in Chamonix intending to "tick it off their list" without being fully aware of the knowledge and experience needed. Guides have even met people attempting to hike up in trainers with no equipment! The OHM (Office de Haute Montagne) has produced a new website explaining the necessary precautions for attempting a trip up to the summit.
---
Equipment & Clothing for Mountaineering
Below is a brief list of the basics you will need for summer alpinism:
Thermal long sleeve shirt
Thick socks
Warm hat
Sunglasses (Category 4 glacier glasses)
Warm gloves (at least 2 pairs)
Fleece Jacket or woollen jumper
Spare warm jacket
Waterproof/windproof outer layer (Gore Tex is very popular)
Boots (must have stiff soles for crampons)
Additional equipment for basic alpinism includes:
Crampons
Mountaineering Axe
Helmet
Harness
Prussik Loops(for crevasse rescue)
Rope
Sun cream (minimum SPF 30 and UVA and UVB resistant)
Lip Salve (high SPF)
Rucksack (40 litre maximum)
First Aid Kit (lightweight, with paracetamol and blister kit)
Emergency shelter (bivvy bag or similar)
First of all, don't worry if you forget anything. Chamonix has some of the best gear shops in the world, and if they don't stock it, you don't need it! And you don't always have to buy kit either. Many shops will rent crampons, ice axes, rock shoes and other useful gear. You'll usually have to leave a deposit (credit card swipe or passport), but the gear is usually high quality and it's often far cheaper than buying. Most sport shops in Chamonix will stock all the latest gear, and carry a huge selection for you to choose from, they should also have an excellent range of guidebooks, in various languages, covering the Alps and even farther afield. The best place for maps, reference books and guides in Chamonix is Le Maison de la Presse, located in the centre of town.
Discounts – unlike many places in the world getting discounts in shops in Chamonix is very hard. If you are a professional (Guide, Accompagnateur, etc) you may get a 10% reduction, but otherwise forget it. Producing a mountaineering club card will get you nowhere.
---
Packing your Equipment
A few reminders if you are travelling by plane:
Security – The days of packing your heavy climbing gear in hand luggage are long gone! Anything sharp such as ice screws, axes or crampons must be in hold luggage. Ropes should also be stowed in the hold as should carabiners.
Rucksacks – Anything with loose straps, like a rucksack, will usually have to be dropped at the "Out of Gauge" baggage area. Save time by taping up loose straps before you travel.
Weight Allowances – Many airlines have cut their baggage allowances to 20kg or less. That means you'll have to be smart when packing. Try and get as much clothing as possible into your hand luggage. Also think about what you can do without, and whether you can buy it/rent it in Chamonix. If planning on staying in huts and hotels you can do without a sleeping bag and a towel for example. You might choose to rent boots and crampons, thus saving several kilos. Disposables such as camera film, suncream and shower gel can all be bought in Chamonix, so why waste your baggage allowance bringing them from home?
---
The Best Time to Come
For summer rock climbing and alpinism, mid June to the end of September offers the best weather and conditions. For winter alpinists it is actually possible to climb in the massif throughout the year if you are competent enough. Ice climbers generally find that December to March are the best months to find quality ice in the valley. Good ice can be found in the high mountains any time between September and May. Off piste skiing conditions can vary greatly, but January to March are usually best, while ski tourers generally enjoy mid February to the end of April.
---
Sources of Route Information
Before setting out on a route do as much research as you can. Routes change over time due to erosion, rock-fall, receding glaciers etc The following are a few sources of information:
Local Knowledge – Ask around and speak to other climbers, they may have done the route recently and have some useful knowledge. Good places to meet fellow climbers are at the Maison des Guides and Office de Haute Montagnes (both located in the same square as the Tourist Office and church). Bars commonly frequented by gnarly mountain types are the Bistro des Sports and Elevation.
The Office de Haute Montagne (OHM) - Located opposite the Tourist Office in the town centre, a visit here is a must for any climbers in the area. Knowledgeable staff, maps, guide books, and a "Cahier de Course" (routes book) mean that a trip here is rarely a wasted journey.
Local Mountain Guides - Guides will often have a good idea of whether a route will be in condition or not.
Guide Books & Maps - Check all of them as descriptions of the same route can vary considerable from one guide to another. It's worth checking when the guides were written to see which is likely to be the most up to date. To save carrying the book on the route, either write out the route description or get a photocopy. A decent map is indispensable, even if you think you know the area well.
---
Climbing Etiquette
Unfortunately the popularity of climbing in the Chamonix area now means that some routes can get extremely busy. If you find yourself in a queue or a busy part of the route just remember the following:
Always be polite
Try and find out which language is understood by the majority of people there in case you need to explain or discuss anything
Guides with clients will generally (but not always) be quicker than you. It may be better to let them past to help alleviate the queue. They'll often know the route well and may even help prevent you getting lost
Don't try and pass other groups unless it is safe to do so. Remember that falling off may not just injure you, but may knock other parties off too
Try and look at the route ahead to prevent logjams wherever possible
Extend the same courtesy to others that you would expect yourself
Remember that parties descending will usually be quicker than those going up. It may be better to wait for a few seconds to allow a team to descend past you rather than make them wait several minutes while you climb past them
---
Emergency Procedures
In the event of an accident, you should first of all assess the situation. It is safe for you to help or are you putting yourself in unreasonable danger by trying to help ? Move any casualties to a safe position (if reasonable to do so), and administer First Aid. If required, call the emergency Services using the numbers below:
Rescue Service
Telephone Number

France (& International) Mountain Rescue (PGHM)

Compagnie des Guides Chamonix

Maison de la Montagne Chamonix

Chamonix Hospital

Chamonix Pompiers

112

+33 (0)4 50 56 16 89

+33 (0)4 50 53 00 88

+33 (0)4 50 53 22 57

+33 (0)4 50 53 84 00
When you telephone, be prepared to give the following information:
Who? Your name and the telephone number you are calling from.
What? Type of accident, number of victims, seriousness, type of injuries etc.
Where? Your location, including the route you are on and your altitude.
When? Time of accident.
Weather? Always include wind speed (in km/h) and visibility.
Helicopter rescue around Chamonix can be exceptionally fast and the pilots are used to extracting people from highly inaccessible places. If you are involved in an accident or witness one, don't hesitate to ring for rescue if you need one. The rescue services are professionals and are happy to be used. If someone you know is rescued they will either be taken to the hospital in Chamonix or directly to Sallanches hospital or if need for medical assistance then the heliport in Les Praz.
NB – If you phone for a helicopter, remember to make the area as safe as possible before it arrives. Loose ropes, clothing, hats etc should all be packed away. The wind from the rotors can cause these to be blown around and they can interfere with the rotors and the engine with catastrophic consequences!
If you are unfortunate enough to end up at the Hospital for treatment, remember your European Health Insurance Card (EHIC), your insurance documents and passport. In an emergency these documents should be brought to the hospital as soon as possible by a friend.