Cycling to Chamonix.. from Wales
There are more conventional ways to get to Chamonix, but this was worth the the effort
There are numerous ways to get to Chamonix, but with Geneva airport only a 1.5 hour transfer away, this is often the most popular way to reach the Rhone Alps region. In fact, this has been the only way I've ever visited Chamonix from the UK until recently when I decided to cycle there from Pontypridd in South Wales.
I'm the proud owner of a 1991 Alpinestars Al-Mega DX mountain bike and have been riding it since I bought it second hand in 1993. When I looked into the history of the company it was surprising to read that it took its name from the English translation of 'Stella Alpina', which is an Italian high mountain flower. This got me thinking…could my Alpinestars actually make it to the Alps? Could I make it to the Alps? Chamonix seemed like a good destination to have as an end goal so the adventure planning began in earnest.
As a bit of a sports nut, I absolutely love Chamonix and all that it has to offer in both the winter and summer months. On a recent winter trip I managed to pack snowboarding, snow shoeing, fat biking and paragliding into the schedule and was already eager to come back before the plane had touched down again in the UK. This trip would be a little bit different though, with 767 miles separating me from getting to Chamonix and some pretty big hills to conquer along the way.
My first three days took me from Pontypridd to Newhaven via stop overs in Bath and Southampton. Prior to this adventure the furthest I'd ever ridden was 55 miles in one day. Now I was riding 70-80 miles a day back to back which took a bit of getting used to. From Newhaven it was a 4 hour overnight ferry crossing to Dieppe where I picked up the well-travelled London to Paris route known as the 'Avenue Verte'. I was treated to lovely long sections of traffic free trails and reached Paris on my 5th day. The Alpinestars had picked up a bit of a bottom bracket clunk which was worrying, but after a good clean and some tender loving care, we were back on the road and ready to go again.
Navigating from Paris to Chamonix was made easy with the Michelin range of local maps. These are brilliant if you're thinking of biking to / in / around the French regions. Each day I was chipping away at the miles and enjoying the experience of passing through French towns and villages that I'd never normally see. On the whole the weather was fairly kind to me but on my 9th day in the saddle, I was drenched from head to foot. My shoes were like mini swimming pools and I had a big moment of self-doubt, especially as I started to approach the Jura Mountains. Hill climbs had become a regular feature of my last few days and I'd got into a tried and tested mental routine to deal with them. Let the bike do the work, find a nice pace, relax my shoulders, count pedal strokes up to 20 then repeat.
Climbing out of St Claude towards Bonneville on day 10 was the toughest hill climb (or so I thought). The D124 took me up and over the mountains with an 8km climb that went from the valley floor to 1049m. It seemed to be never ending but the sun was out and the views were outstanding. I was rewarded with getting to Bonneville and seeing the Alps ahead of me. Not far to my goal now.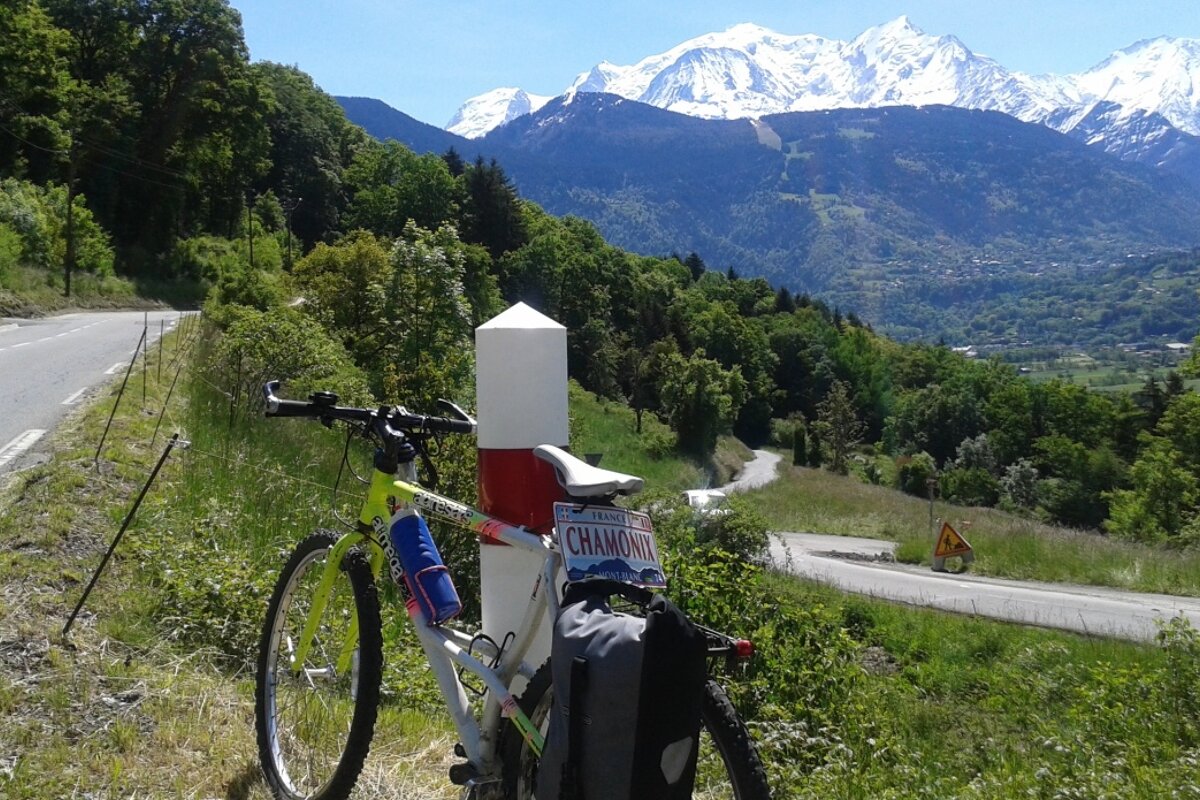 My final day of riding felt a bit surreal. I 'only' had 37 miles to do which felt like a bit of a luxury so I set off fairly early and was met with a mini heat wave. For cyclists to get to Chamonix, there's no option but to ride the D roads from Sallanches up into Passy and Servoz before dropping down to cross the N205. The final sting in the tail was conquering the Vaudagne hill which I had to get up and over before dropping down into Les Houches.
Ask a 4 year old to draw a picture of a wiggly worm and they'll probably replicate the hairpin bends and switch backs of this hill climb. It was hot, dry, my legs were almost spent and I got overtaken by a jogger on the way up. "I bet he hasn't run from Wales" I thought. That made me feel better. Slowly but surely I made it to the top and enjoyed the rapid bumpy descent into Les Houches. From here I was on familiar roads, pedalling at speed through quiet streets which are normally heavy with ski / snowboard traffic in the winter. Mont Blanc was glistening in the sunlight and I was just minutes from my final destination. Hello Chamonix, I missed you!
767 miles, 10.5 days, 28,000+ feet of climbing. That's how to get to Chamonix by bike.
Location