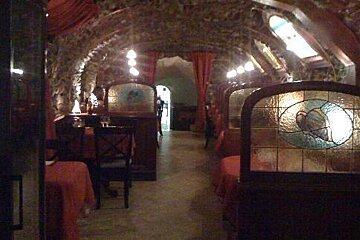 Le Caveau Restaurant, Chamonix - Centre
A cheap and cheerful Chamonix restaurant popular with locals on the main high street
Fantastic pizzas, good service and all in a little cave. You can dine in a little cosy booth, or for larger parties there's the bigger 'cave' at the back which has more space.
Offering a fairly broad and eclectic menu, they serve simple and tasty food here with the pizzas taking the star spot and their cheesy garlic bread is not to be missed. If you're waiting for a table then you can grab a drink in the little bar area and befriend the owner's dog who sits quietly at the entrance, greeting diners with a tail wag.
We recommend you book a table here a few days in advance as this is a really popular spot with locals and holidaymakers alike.
Location