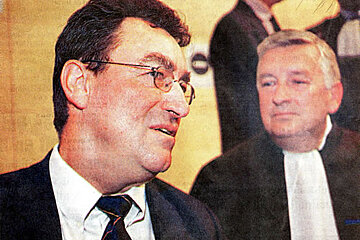 Mont Blanc tunnel disaster, verdict announced
"This catastrophe could have been avoided" was the verdict of the court case following the Mont Blanc trial which after months of evidence and questioning concluded on 27 July 2005.
Relatively heavy penalties were announced for those deemed responsible for the tragedy. These varied from from six months closed prison sentence for the Director in charge of tunnel security; to four months with suspended sentence for driver whose truck caught fire in the tunnel 24 March 1999.
The families of the victims were satisfied with the verdict and penalties imposed, but many would have preffered to have seen more state officials on trial.
Since the beginning of the proceedings, the Association representing the families condemned the absence and non-implication of the French and Italian governments who continue to favour road transport to the detriment of alternative rail, river and sea routes. It is these political choices that are ultimately responsible for the heavy goods traffic and associated risks these create.
Disbelief at Mayors of Chamonix prosecution
The mayor of Chamonix Michel Charlet (left of photo), was condemned to six months suspended prison sentence for his part in the Mont Blanc tunnel catastrophe. Although he had no direct authority with regards to the running of the tunnel, the mayor was considered guilty since he was responsible for the town's fire brigade, and for not having complained sufficiently with regards to the circulation passing through the tunnel and its associated security implications.
His retort was that yet again today, thousands of HGV are circulating through the commune of Chamonix, against his will and better judgement. Moreover, he is unable to have this traffic prevented.
Photo credit : Dauphine Libere | Greg Yetchmeniza