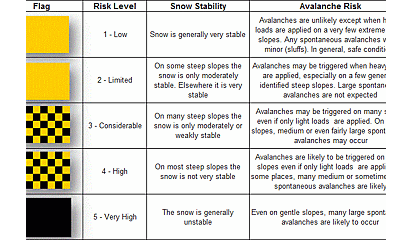 Avalanche bulletin Chamonix
Discover the latest Chamonix avalanche conditions
The Chamonix avalanche bulletin is produced by Météo France and is only available in French, however the visual part of the avalanche bulletin (BRA) is simple enough to understand.
Book My Mountain Guide Book My Ski Hire
Météo France provide a daily avalanche bulletin from November onward. It is separated into 3 areas for the Haute Savoie region. Chamonix is covered in the Mont Blanc area.
The Avalanche diagrams relate to the dangerous aspects, these are highlighted in BLACK. The level of avalanche risk is also indicated by the number, which correlates to the risk factor table 1-5, and can often be split into two altitude levels.
If you do not know how to interpret these diagrams and are heading off-piste, then consult a member of the Piste Security Team or ask at the lift station where they will have up to date information. You should never consider going off-piste without the appropriate knowledge, equipment or a local mountain guide. Read more in our Avalanche Safety Guide.
---
Emergency Numbers
15: SAMU (medical emergency)
17: Police
18: Firefighters ('pompiers' are also paramedics and can respond quickly to heart attacks and other emergencies)
112: Europe-wide emergency number