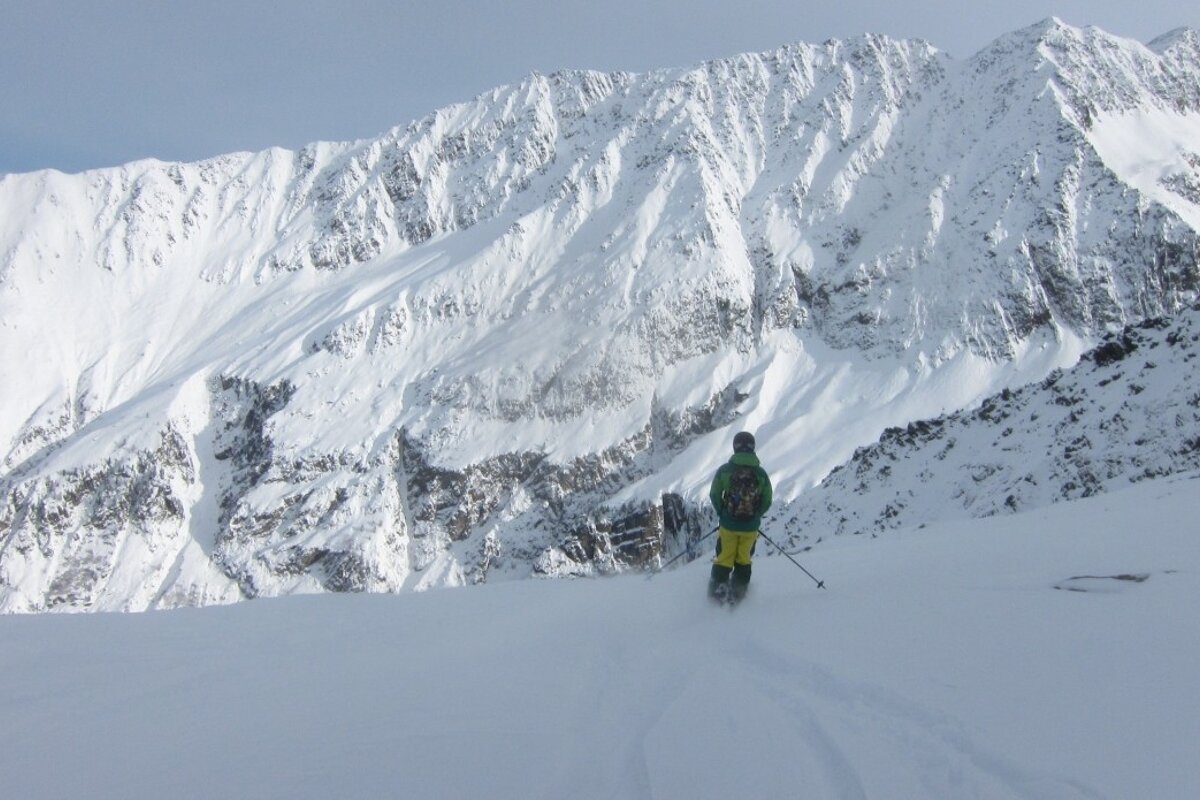 Off-Piste Skiing in Les Grands Montets
Off-piste glacier skiing with great snow all season long
Les Grands Montets is always the first ski area in the valley to open and the last to close. Early in the season (December to early January) it's often quite rocky off-piste as it can take several metres of snow before there is a sufficient base. By mid to late January conditions are normally pretty good.
Book My Ski Hire Book My Off-Piste Lesson Book My Mountain Guide
Because the top of this ski area is on glacial terrain, it can also take a while for the very top cable car to operate because the glacier has many open crevasses which take a while to become covered by the falling snow.
As well as the really obvious stuff between the pistes, there's plenty more off-piste in Chamonix within easy reach for just a little bit of effort. The lifts in the Grands Montets area give access to endless exceptional steep and deep off-piste powder and glacial terrain, but because it is so easy to get to from the lifts it can tend to get tracked out very quickly on a powder day. When venturing off-piste always take the proper equipment with you (for the benefit of others as well as yourself) and, unless you specifically know where you are going, you should seriously consider opting for the services of a mountain guide (who, when you go with a group, will cost you less than a night out – small price to pay for the advantage of an expert) or a ski school.
Favourite off-piste routes in Les Grand Montets
Route 1 : Combe de la Pendant
The Combe de la Pendant is a huge bowl above the village of Le Lavancher. The top area of the bowl only has one pisted black run – the rest of the area is a freerider's paradise. The pitch is steep without being scarily so and you can usually be guaranteed to find great snow here after a fresh snowfall. The only drawback is that everybody seems to know this so you find that by mid-morning it's already fairly well tracked out. The lower section of the bowl has some good pitches through small bushes and trees but don't forget to traverse skier's right back to the Retour Pendant chairlift or you'll find yourself heading through the woods all the way down to Le Lavancher.
Route 2 : Runs from the Bochard Lift
From the top of the Bochard traversing skier's right onto the lower edge of the glacier enables you to either head straight down and rejoin the Bochard piste or to get into the Herse triangle by climbing up a small moraine into the bowl below. The small climb and traverse are usually enough to keep the snow relatively untracked for a little while here. The options are endless from Bochard: one of our favourites is following the ridge between the main bowl and the Combe de la Pendant. There are usually plenty of drifts and little cornices to have fun in before you reach the little U-shaped gully we call the cigar. There's nearly always a cornice on its right side, almost like a natural halfpipe, which is fun for slashing or dropping off.
Route 3 : Runs from the Herse Chairlift
The Herse chairlift has some great off-piste below it too. Head left or right – it's all open. If you traverse far right it gets a little rockier but pick your way through and you'll find yourself above a large bowl called the Combe des Amethystes. There's a GAZEX avalanche tube above the bowl so you know that it should have been blasted and will be safe. As you enter the bowl there's normally a large cornice above it with a steep landing, great fun for dropping if the slope below isn't too mogulled. From the bottom of the bowl head left to get back to Lognan on the cat track or carry on down left of the Hotel Refuge to rejoin the Pierre a Ric piste that leads back to Argentiere.
Route 4 : Blanchots and Pylones
If you don't like the idea of going completely off piste, Grands Montets has several runs that are unbashed but still marked and patrolled. Two of which start at the top of the Herse chair: they are Blanchots and Pylones. While in fresh snow they can be great, it doesn't take long before they turn into mogul runs, so beware of them if you don't like bumps and it's been a few days since the last snowfall.
Route 5 : Top of Grand Montets cable car
From the top cable car at Grands Montets the marked runs are the same – unbashed but patrolled so they can become mogulled within a few days after a snowfall. From the top of the Grands Montets all of the runs are on glacier. While the marked runs are patrolled, if you head off-piste you should be wearing a transceiver, a harness and be equipped and trained to performing crevasse rescue.
Route 5a : Face of the Grand Montets
A definite favourite. From the top of the Grand Montets cable car, walk down the steps from the top station and take a right turn (instead of the usual left), cutting below the cable car. The pitch here is steep but with good snow it's fantastic. If it looks icy, it's best avoided as you don't want to slide here since there are sometimes there are open crevasses below. If you cut skier's right you can normally find some fresh powder before opening the throttle for a flat-out descent all the way to the top of the Herse chair. There's a whole plethora of routes from the top of Grands Montets, and the best thing to do if you're not familiar with skiing or riding on glaciers is to hire a guide or go with someone that knows the area well so you can enjoy the high mountains in relative safety.
Route 5b : Point du Vue
The Point de Vue route is one to try. It's marked all the way and leads to the edge of the Argentiere glacier with its stunning seracs and crevasses, which are always worth a few photos.
Route 6 : Magic Forest
It's not all high-mountain glaciers and powder fields at Grands Montets, there are also some great tree runs for when the weather turns bad. The Magic Forest often lives up to its name with its bouncy pillow lines and tranquil glades. Situated in the triangle between the Tabé and Retour Pendant chairs. The lower edge is marked by a footpath that leads to the bottom of each of these chairs. Depending on how far left or right you go, you have a good walk to whichever chair you think is closest (it's never more than a ten-minute walk either way). The good thing about the walk is that it deters most people, so you can normally find untracked powder here for days after the last snowfall. When it's snowing thick and fast these lower chairs often keep running and the trees help with visibility when it's a whiteout, which is a winning combination that'll keep you doing lap after lap of waist-deep powder while everyone else has stayed indoors. Make sure you don't go past the footpath. If you do, you'll be heading into the nature reserve below and taking a couloir to the bottom of the valley. These can be fun, but are avalanche prone and not for the faint-hearted!
Before Heading Off Piste...
Before you head off piste, here's a few things you should be thinking about:
Take a course in avalanche awareness and practice the techniques learned. Henry's Avalanche Talk is one way to find out more with regards avalanche safety and there are several companies who run courses in alpine resorts throughout the winter.
Look at the weather and avalanche forecasts for France, reviewing the degree of local avalanche risk also. Henry's Avalanche Talk produces a translation of current avalanche conditions in English and PisteHors is also an excellent reference place.
Don't ignore advice given by local mountain guides or others if advised to ski a certain path, or to keep a specific distance between fellow members in a group
Plan the route carefully, evaluating all different options and assessing all elements of danger. Look at the timings for each route. Inform others of your route, and when you expect to arrive back
Attach your transceiver properly to you and DON'T FORGET to turn it on, test the signal is working, and make sure you have all the necessary equipment. (A transceiver is of no use if the user has not been trained in its use, it is turned off, or it is in a rucksack - unless you want just your bag to be recovered).
Read more about understanding avalanches & how to try to avoid them.
Location