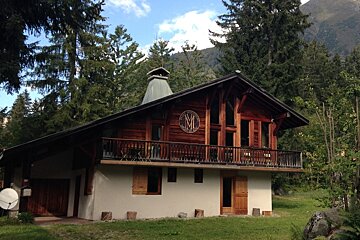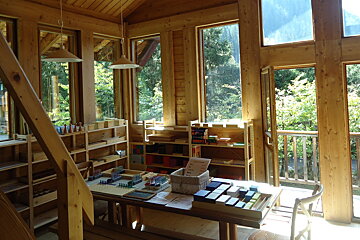 © montessori-montblanc.fr/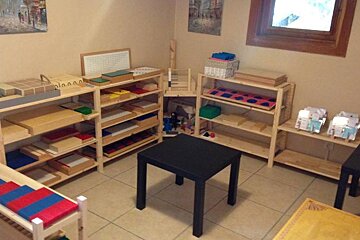 © montessori-montblanc.fr/
© montessori-montblanc.fr/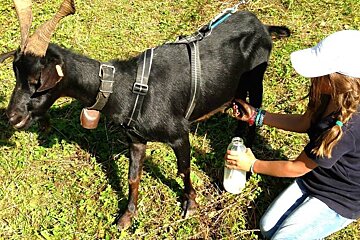 © montessori-montblanc.fr/
The Montessori Primary School in the Chamonix Valley
Bilingual school in Chamonix
Set in the woods along a small private road next to the Grand Montets ski area in Argentiere, there is a beautiful traditional chalet where children aged between three and twelve are enjoying a different sort of education. This is where the Ecole Montessori Mont Blanc is based, a primary school in Chamonix that employs the Montessori method of education.
This little school is bilingual with both French and English teachers, and lessons are taught in both languages. The children learn the same curriculum subjects as traditional school but in an environment where the child learns according to their own needs and sensitivities. There are two mixed age classes, the nursery section for 3-6 year olds, and the primary class for 6-12 year olds. The classrooms are limited to 12 children in the 3-6 class, and 15 in the 6-12 class. With three teachers throughout the school the amount of personal attention your child receives is unbeatable when compared with the other schools in the valley. The 3-6 class is taught almost exclusively in French whilst the 6-12 year olds have half a day in French and the other half in English. The school attracts an international clientele, and parents are encouraged to be involved in some way with the children's education. The school does not receive any state funding, so income has to be raised by charging school fees (currently 8000 Euros per annum).
So what are the advantages of sending your child to this school as opposed to the state schools in the valley? Well, first of all, your child learns at their own pace. They learn how to work independently, (teacher directed activity only accounts for roughly 20% of the work), they have freedom to choose their own activities whilst the teacher observes and guides their learning. A range of materials designed to develop children's practical, sensorial, mathematical, language and cultural learning are on hand for whenever the child shows an interest. Harmonious social relationships are developed and good manners are insisted upon. There is a strong emphasis on the outdoors, and the school is linked to a small farm with horses, goats and chickens. Creativity flourishes, curiosity rewarded.
If you are thinking that this sounds a bit too New Age for you, then remember that some of the world's most successful business people have been educated according to Montessori principles. Larry Page & Sergey Brin (founders of Google), Jimmy Wales (founder of Wikipedia) and Jeff Bezos (CEO Amazon) have all publicly acknowledged that their Montessori education helped to create the free-thinking, self-motivated individuals they became.
For any parents who would like to move to Chamonix Valley but are wondering about placing their children in French school without any French language skills, then the Montessori school may be a good choice to help your child transition gently into a French speaking environment. Add to that the Montessori philosophy, and it may be that this school is the one that will work best for your kids. And if you are thinking of spending just a winter season in Chamonix, then the school may be able to enrol your child just for the winter term if places are available
Contact the Montessori school via their website École Montessori du Mont-Blanc - Chamonix.
If you are moving to Chamonx full time, there are two other types of school in the valley where you can enrol your children (from three years and over). The first option is the state primary school, and you will be allocated a place in the nearest school to your home (Les Houches, Les Pelerins, Chamonix or Argentiere). The second option is the Jeanne d'Arc school. This is a semi-private Catholic school by Chamonix Sud and has just under 400 pupils. Both of these options have all their lessons in French, and there is an obligatory nap after lunch for the three year old children.